Smartwool Intraknit Merino 250 Thermal Bottom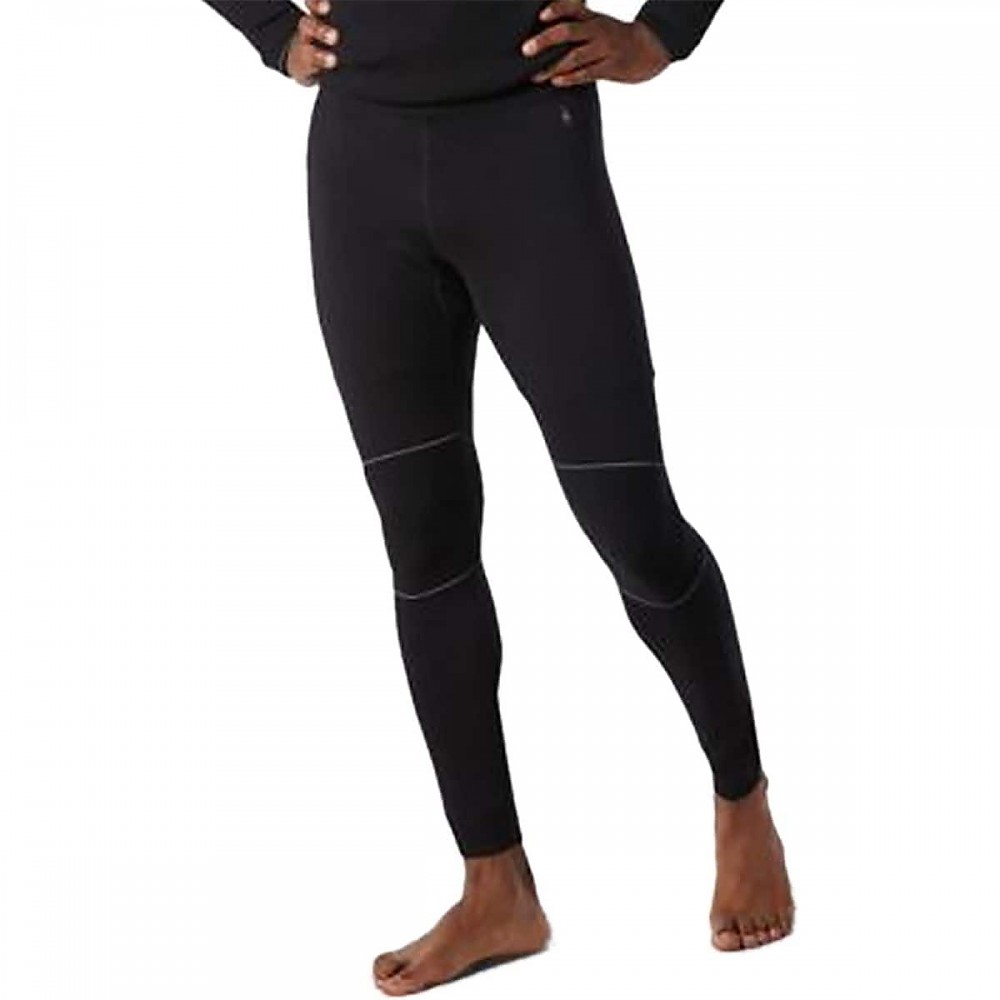 The Smartwool Intraknit Merino 250 Thermal Bottom combines 100% Merino wool with an innovative construction that uses 3D modeling to create a warm, comfortable base layer. Made for active use it moves with a body in motion, gentle hiking or hard driven climb alike. Feels pretty good in a winter camp or home on the couch as well.
Pros
100% Merino wool
Comfortable against the skin
Shaped and tailored to eliminate excess material
Extra wide waistband to resist rolling
Cons
No fly
Crotch wear?
Waist band roll
Smartwool takes a technical leap forward with their newly designed Intraknit Merino 250 Thermal Bottom and I've had the pleasure of extensively testing it over the last five months. Along with their Intraknit Merino 250 Thermal 1/4 Zip, I spent a lot of time wearing this base layer over the Winter. Definitely enough testing to give you a comprehensive look at this updated take on granddad's long johns.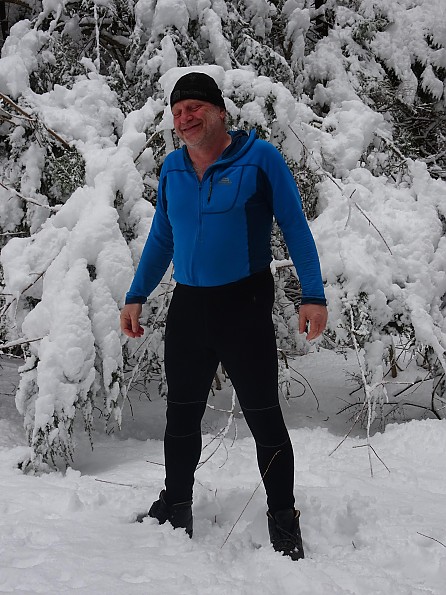 Before we dig into the review I thought it might be useful to go over a few basics about wool. Not everyone has discovered the joy wool brings on trail yet, so it seems fair to bring them up to speed. If you've already read my review of the 1/4 Zip Thermal top you've seen this part before and can skip down to the Intraknit section. Check that out even if you've seen the other review to see how Smartwool used the process on the bottoms.
Wool is prized for outdoor activities because it naturally has qualities that make it useful on trails, mountains, boats and pretty much anywhere. Depending on weight and weave it can keep you warm when wet, it dries rapidly when given a chance, wicks moisture from the skin, breathes well to ventilate when active and best of all, it resists odors and even if it becomes smelly will recover when given a chance. So if you've ever wondered why, despite the lower prices many synthetic garments offer, some folks insist on investing in wool, you now understand a few of the reasons. If you want to dig into the details further Smartwool has a brief, but more detailed version of the basic facts on their web site: What is Merino Wool?
I've mentioned weight and weave already and will be talking about weight in the course of the review, so it might be helpful to talk about what those terms mean. When it comes to outdoor gear, gram weight is a common measure of fabrics used in clothing and shelters to give folks a relative idea of the material being talked about. Most often abbreviated with a simple "g", gram weight is generally assumed to be a grams per meter linear measurement when talking about yarn or line and a grams per square meter when talking about fabric. Relative is the key here, as numbers can be used as a rough guide when comparing fabrics.
The reason the numbers don't have more specific meaning is that weave plays a big role in how a wool fabric will perform as well. Different methods of putting fabric together result in a variety of qualities which impact how a garment breathes, wicks and ventilates as well as how it retains heat. I'll be talking about weave in the review as well as we dig into Smartwool's new Intraknit fabric.
One other thing to consider when looking at wool garments is the type of wool used and whether it is blended with other natural or synthetic textiles. While Smartwool uses blended fabric in some of their items such as the Intraknit Merino 200 line which uses a wool poly blend, the Intraknit Merino 250 Thermal Bottom is 100% Merino wool.
Smartwool Intraknit:
Let's talk about what Smartwool has done with their new Intraknit process. This innovation allows them to seamlessly weave different fabrics together. Using 3D body mapping they cover specific areas with a variety of material. Let's take a really close up look.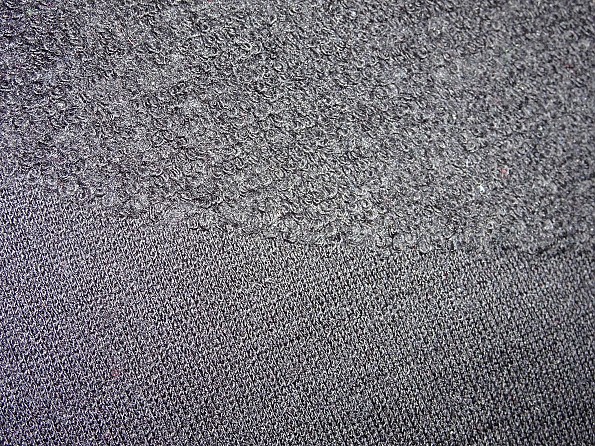 This is a really close view of the interior of the area where the butt meets the legs. The upper area has a pronounced terry loop to the weave which transitions seamlessly to a lighter weave. This extra wool increases the ability to absorb and move moisture when sweaty or hold in more heat when cold.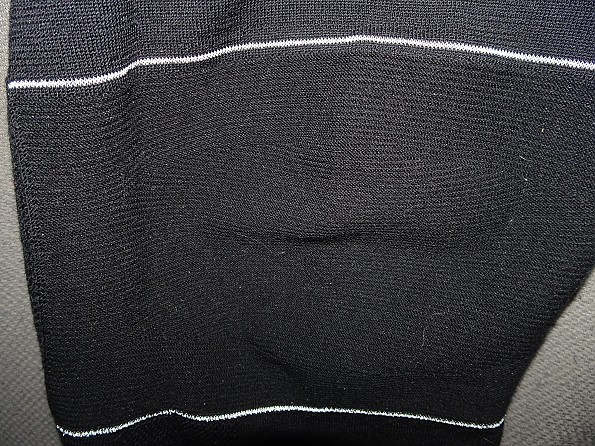 Looking at the exterior of the front of the knee area you'll note how the single piece of fabric creates articulation by shaping the panel by altering the angles of the weave. It is the shaping you'd get from tailoring multiple swatches of fabric with no seams to create friction or wear.
So now that we've talked a bit about wool in general and this new Intraknit thing in specific, I think we're ready to take a look at this base layer bottom.
Fit & Comfort:
Smartwool describes the cut of the Intraknit Merino 250 Thermal Bottom as a Slim Fit. That generally implies close fitting with the material following the body line. Given the Smartwool sizing chart I requested the L size to accommodate my Winter waist which tends to expand towards 36" during the cold months. This left me with a longer inseam than the 30" I need, but that posed no problems at all.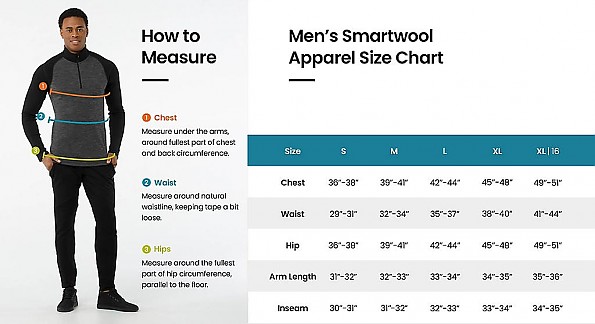 I would describe the sizing as accurate with the line of the garment following my body closely. Unlike baggier undergarments, the Smartwool Intraknit Thermal Bottoms seemed to move with the legs very well rather than being carried along by outer layers. As mentioned, though I had a few more inches of leg than I needed, it rode with my body and I had no sense of extra material floating around.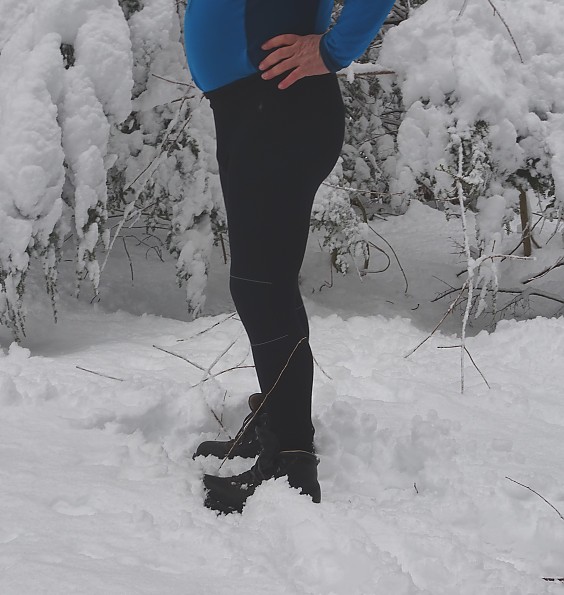 Comfortable is definitely a word I would use to describe the Thermal Bottoms. You can really get a sense of how they wrap around the body, even a human one rather than the model type you find in the magazine ads. You can also get a sense of the articulation in the knee, it has a natural, slight bend to it. This really adds to comfort when climbing as the knees can do their thing without pulling the legs up from the ankles or pulling the waist down. Kicking snowshoes up to reach  the next step is easier when you don't have to fight your underwear.
Breathability & Wicking:
Folks who love to wear wool likely rank its ability to breath and wick moisture high on their reasons why. While the 250 weight wool retains more warmth compared to lighter, 150 weight layers, it was still capable of venting through the weave. The vent panels created by the Intraknit process really helped in that regard.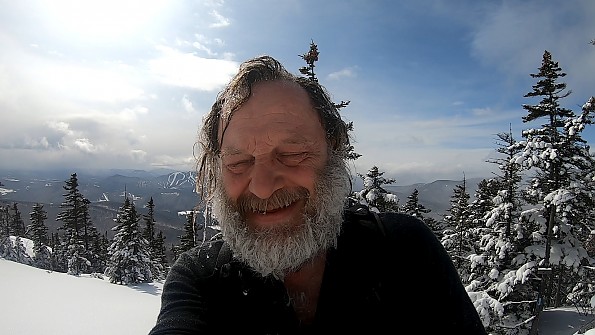 A sweaty speed climb of Puzzle Mtn left my head sweaty, but my legs were dry.

Normally in the cold I make great effort to avoid getting sweaty. I'm often out for multiple days and can't afford to wet out my clothing. In the name of testing I did a rare day hike up Puzzle Mtn in Maine's Grafton Notch and pushed myself hard. Despite a sweaty head and some dampening of the Intraknit Merino 250 Thermal 1/4 Zip, my lower body remained surprisingly dry. I could feel the terry panels had wicked up some steam, but they did not feel wet. There was no sensation of a bellows type airflow, but moisture was being vented through the weave continuously to great benefit.
Warmth & Layering:
The Men's Intraknit Merino 250 Thermal Bottom seemed to hit a sweet spot for me as far as warmth. It was warm when I needed it to be without being too warm. I found that unlike other years, I didn't need to wear multiple base layers to adjust to varying conditions. I wore these Smartwool bottoms on days ranging from above freezing to sub zero, with only a pair of boxers inside and hiking pants or knickerbockers over the top. Just for testing purposes I hiked one day with another thin synthetic layer inside. The 250 Thermal Bottom rode over the top comfortably, but I noticed that the synthetic layer was blocking the venting process. I didn't have anything in terms of a base or mid layer that would have worked on top of these bottoms so can't speak to that, but I really feel this bottom base layer works great on its own.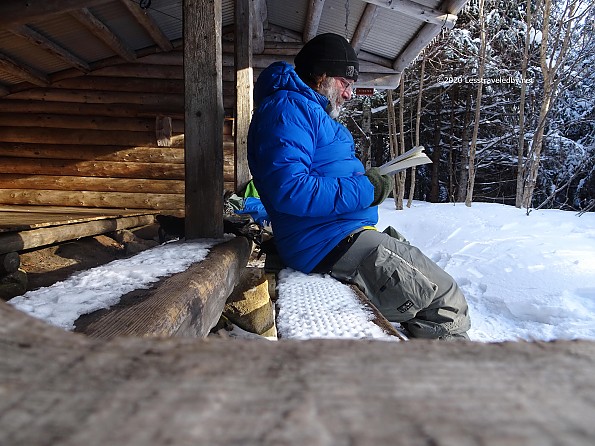 Baldpate Shelter on a 10°f afternoon in the same pants I wore to climb that morning.
Since I wasn't sweating them out during the day I continued to wear the Intraknit Merino 250 Thermal Bottoms in camp and to bed. My longest trip was for three nights and I wore them the entire time. Usually on really cold nights I will pull on my Patagonia Nano Puff Pants for standing around camp and even wear them to bed if going sub zero. This year I carried them, but only put them on once. When setting up camp I'd take off my shell pants and put on the lucky plaid fleece pants I've camped in for a decade. This was comfortable well below freezing and I found that I was staying out to watch the stars for longer during middle of the night Nature appreciation breaks.
Features:
Beyond the innovative Intraknit weaving discussed earlier there aren't a lot of moving parts on this base layer. Smartwool used a 2" elastic waistband to try to avoid having it roll. While it held on admirably for a few months the lack of a fly sort of doomed it from the beginning.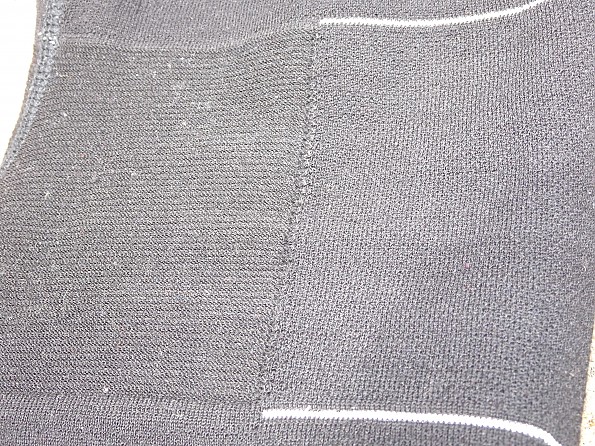 We looked at the front of the articulated knee earlier, but here you can see how Smartwool engineered the rear to avoid seam friction. The horizontal seams are above and below the tender area at the back of the knee while the vertical seam lies flat and flexes with the leg. A lot of thought went into how this garment is put together.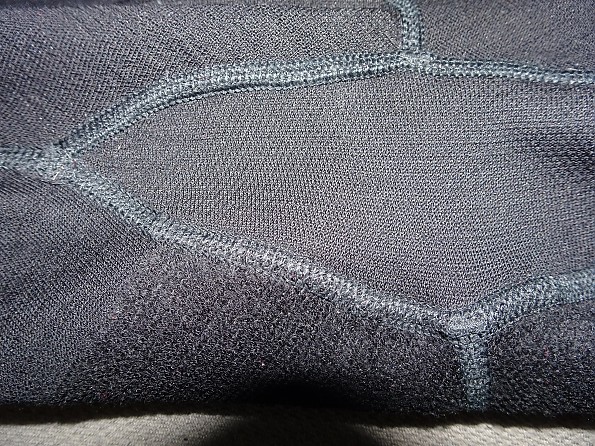 This closeup of the interior of the crotch shows off the flatlock seams. You can also see the terry loop wicking panels at the bottom in contrast to the high ventilation panel in the center.
Construction & Durability:
Smartwool used 100% Merino wool in a 250 weight weave to great effect in this base layer bottom. Pure wool can't be beat for taking sweaty abuse and staying functional. Even if you work it hard enough to make it stinky, which isn't easy, it recovers with some time to air out. The flatlock stitching was well done throughout the garment.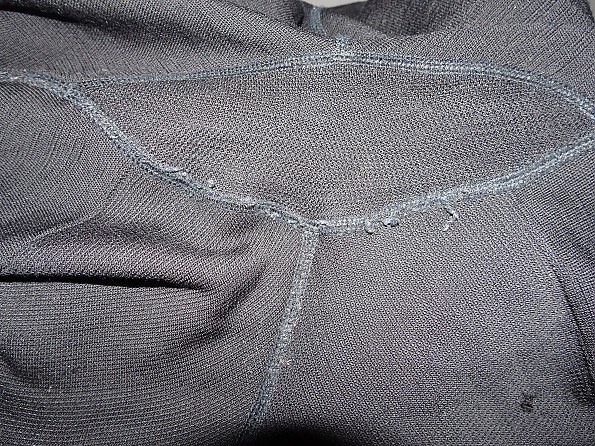 One area that seemed to show signs of wear was the crotch seams. I often noticed black lint collecting on the seams of my outer layer and you can see some deterioration in the stitching. The garment remains functional and doesn't seem to be coming apart though.
Other than that and the waist band roll, the Intraknit Merino 250 Thermal Bottom remains surprisingly intact despite months of heavy use and multiple washings. While they are a bit of an investment with a $130USD MSRP, they appear as though they will last for a few seasons of heavy use, or perhaps many years of what the average person asks of their base layers.
Testing Conditions: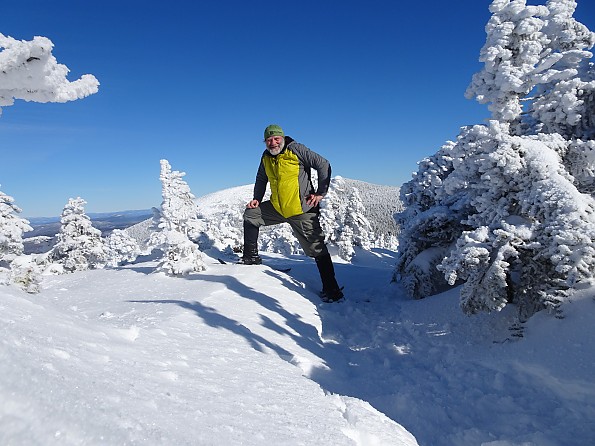 I wasn't about to take off my pants to show off the Intraknit Merino 250 Thermal Bottoms on this 5°f summit, but I was glad to have them on for this Baldpate climb early this year. Testing started the day after Thanksgiving and continues to this day, though I'm only wearing them in camp these days. Over that time I wore them for day hikes, snowshoeing and a few multi night mountain treks. I also wore them around the house because we keep the thermostat low and the Smartwool Intraknit Merino 250 Thermal Bottom were cozy in my office.
Conclusions: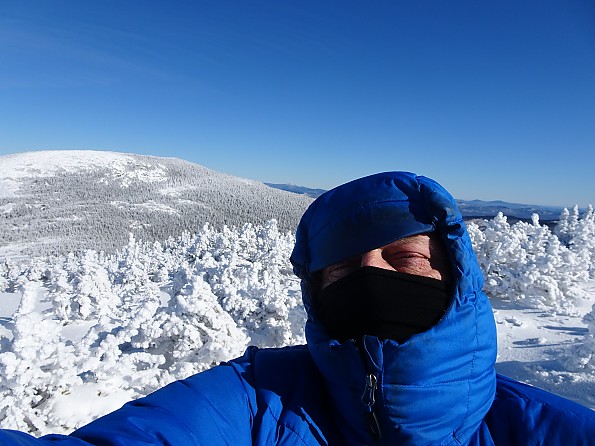 When people think of heading out into the wilds of Winter, big outer layers are often the first thing that comes to mind. There are definitely times when big, puffy things are needed, but to me, base layers are the key to staying out there for days at a time. Smartwool, long my go to for hiking socks, really has come through here with a layer you'll not only enjoy wearing for warmth, but for comfort as well.
I can't say enough about the ability of Merino wool to deal with moisture coming off an active body. Its ability to grab it in vapor form before it has a chance to accumulate enough to become liquid is a life saver when stomping up mountains in deep cold. I still had to regulate my activity, but that cushion saved me from wetting out my base layers on more than one steep pitch.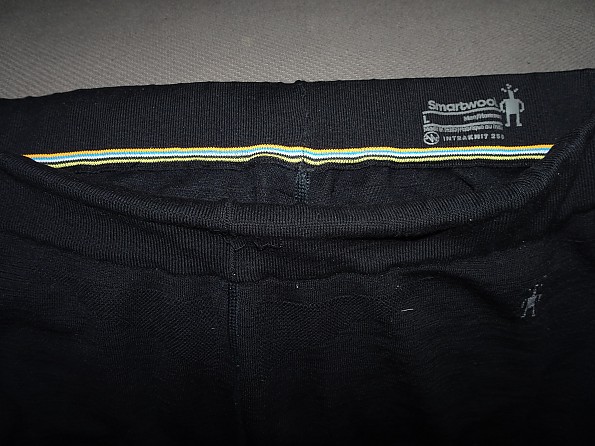 I was sad to see the brave 2" elastic waist band begin to show the toll the lack of a fly condemned it to. While it may have been able to hold back my expanded Winter waistline, being pulled down frequently for nature calls was more than it should have been expected to withstand. It still functions in this shape, but is less comfortable than it once was. Not sure of what the thinking was, but I for one would have preferred a fly.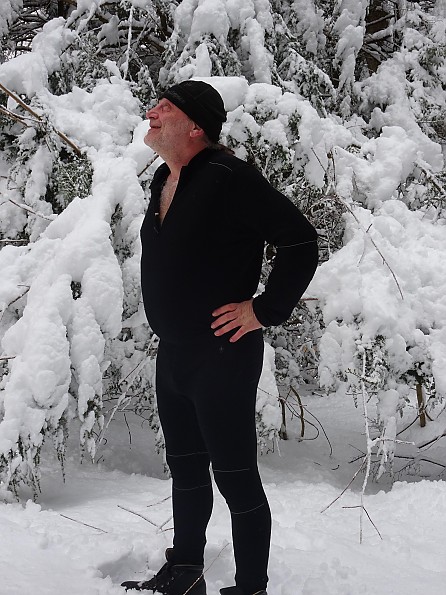 Overall I was really impressed with the Intraknit Merino 250 Thermal Bottom both in terms of comfort when active and how it regulated temperatures when active or at rest. It worked well for me when climbing in the Mahoosucs & Whites, or just snowshoeing locally. It was pretty comfortable around the house too so it was worn for months and has held up well. These thermal bottoms have been comfortable in camp and under the quilt long after it warmed up enough not to need them during the day. I think once Summer comes on they will actually be too warm to sleep in for most folks. They are meant for the cold and that is where they shine.
Experience
I tested the Smartwool Intraknit Merino 250 Thermal Bottom extensively for over five months. I've been wearing base layers since I was a kid on the farm, but they have changed a lot since then.
Source: received for testing via the Trailspace Review Corps (Sample for testing and review provided by Smartwool)

Your Review
Where to Buy
Help support this site by making your next gear purchase through one of the links above. Click a link, buy what you need, and the seller will contribute a portion of the purchase price to support Trailspace's independent gear reviews.
You May Like
Specs
Men's
Price
MSRP: $130.00
Historic Range: $72.99-$130.00

Garment Weight
284 g / 10.02 oz

Material
97% Merino Wool, 2% Polyamide, 1% Elastane

Inseam
30 in / 76 cm

Fit
Slim Fit

Women's
Price
MSRP: $130.00
Historic Range: $78.00-$130.00

Garment Weight
284 g / 10.02 oz

Material
97% Merino Wool, 2% Polyamide, 1% Elastane

Inseam
30 in / 76 cm

Fit
Slim Fit

Recently on Trailspace