Smartwool Intraknit Merino 250 Thermal 1/4 Zip

The Smartwool Intraknit Merino 250 Thermal Quarter Zip brings 100% Merino wool in a comfortable and warm weave. This shirt works as a base, mid, outer and only layer depending on conditions, activity and the wearer's temperament. Versatile enough to handle a wide variety of cold weather activities.
Pros
100% Merino
Comfortable weave against skin
Quarter zip
Breathes and wicks very well
Slim Fit reduces excess fabric
Layers well
Long waisted for tucking
Cons
Would have loved a half zip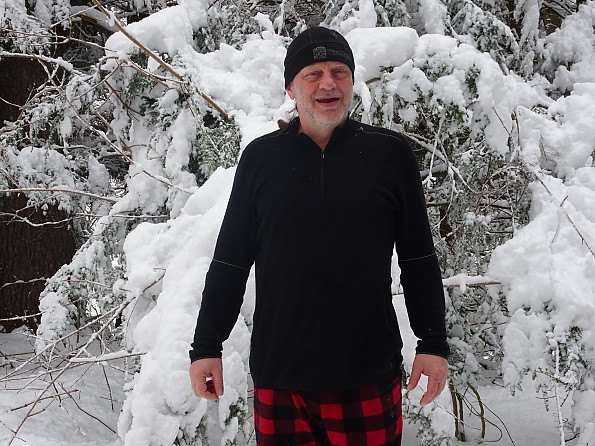 Smartwool takes a technical leap forward with their newly designed Intraknit Merino 250 Thermal 1/4 Zip and I've had the pleasure of extensively testing it over the last four months. Along with their Intraknit Merino 250 Thermal Bottom, I've pretty much lived in this shirt over the Winter. Definitely enough testing to give you a comprehensive look at this versatile cold weather shirt along with my thoughts on the subject too.
Before we dig into the review I thought it might be useful to go over a few basics about wool. Not everyone has discovered the joy wool brings on trail yet, so it seems fair to bring them up to speed. I'm not writing the history of wool here or anything, so don't worry, I'll try to be brief heh.
Since ancient times, wool has been...no I said I wasn't going to do that. In the modern era, wool is prized for outdoor activities because it naturally has qualities that make it useful on trails, mountains, boats and pretty much anywhere. Depending on weight and weave it can keep you warm when wet, it dries rapidly when given a chance, wicks moisture from the skin, breathes well to ventilate when active and best of all, it resists odors and even if it becomes smelly will recover when given a chance. So if you've ever wondered why, despite the lower prices many synthetic garments offer, some folks insist on investing in wool, you now understand a few of the reasons. If you want to dig into the details further Smartwool has a brief, but more detailed version of the basic facts on their web site: What is Merino Wool?
I've mentioned weight and weave already and will be talking about weight in the course of the review, so it might be helpful to talk about what those terms mean. When it comes to outdoor gear, gram weight is a common measure of fabrics used in clothing and shelters to give folks a relative idea of the material being talked about. Most often abbreviated with a simple "g", gram weight is generally assumed to be a grams per meter linear measurement when talking about yarn or line and a grams per square meter when talking about fabric. Relative is the key here, as numbers can be used as a rough guide when comparing fabrics.
The reason the numbers don't have more specific meaning is that weave plays a big role in how a wool fabric will perform as well. Different methods of putting fabric together result in a variety of qualities which impact how a garment breathes, wicks and ventilates as well as how it retains heat. I'll be talking about weave in the review as well as we dig into Smartwool's new Intraknit fabric.
One other thing to consider when looking at wool garments is the type of wool used and whether it is blended with other natural or synthetic textiles. While Smartwool uses blended fabric in some of their items such as the Intraknit Merino 200 line which uses a wool poly blend, the Intraknit Merino 250 Thermal Quarter Zip is 100% Merino wool.
Smartwool Intraknit:
Normally I'd wait until later in my review to discuss the materials and construction, but I think it is important to understand what Smartwool has done with their new Intraknit process. This innovation allows them to seamlessly weave different fabrics together. Using 3D body mapping they cover specific areas with a variety of material. Let's take a really close up look.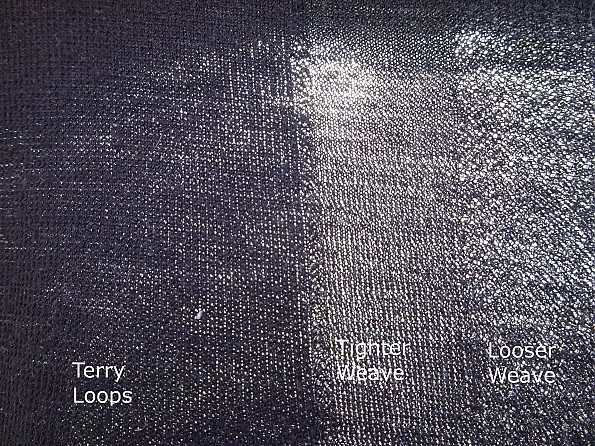 With some light shining through it you can see an example of three different weaves from the shoulder yoke area. On the left the tighter weave has been enhanced with terry loops which transitions seamlessly to the weave without terry and then on to a more open mesh weave on the right. That area rides down the spine with the mesh increasing air flow through the fabric there.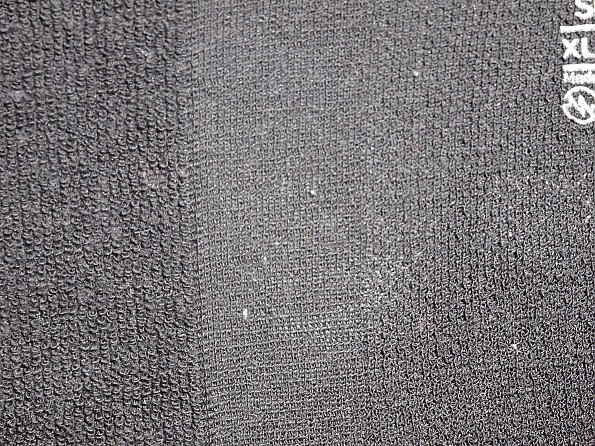 Here is that same area under normal lighting. You can see the how the fabric transitions from zone to zone smoothly. This is the interior of the shoulder yoke area after months of use and despite the zones of varying materials it remains intact with no signs of separation or stretching.
So now that we've talked a bit about wool in general and this new Intraknit thing in specific, I think we're ready to take a look at this shirt.
Fit & Comfort:
Smartwool describes the cut of the Intraknit Merino 250 Thermal 1/4 Zip as a Slim Fit. That generally implies close fitting with the material following the body line. Given the Smartwool sizing chart I requested the XL size to accommodate my 47" chest.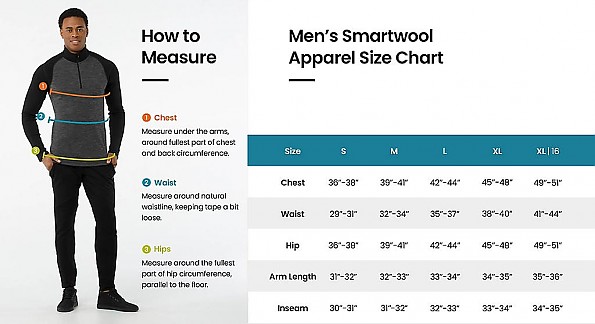 Not really needing the XL sizing for the rest of my body left me with a looser fit. I would say the sizing is accurate or slightly looser than expected, so those like me may not need to size up to fit an odd dimension. The only area I really noticed the extra material was the hem falling well below my waist. That was actually an advantage when it came to tucking the shirt in so I had no issues there. I measure the sleeve seam as roughly 23" from pit to cuff and the torso seam as roughly 21" from pit to the hem at the waist.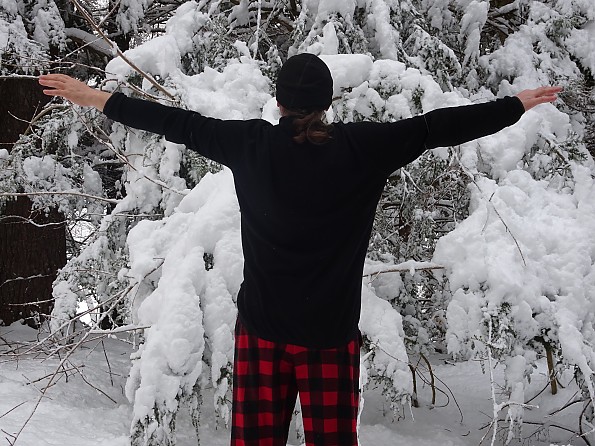 With Smartwool's flatlock seam construction and tailoring with an eye for activity including well shaped shoulder yoke and lightly articulated elbows the Intraknit Merino 250 Thermal 1/4 Zip was made to be worn. At rest or working hard heading up a snow covered mountain, this shirt felt like it belonged on my body. It didn't get in the way of action and never created any sense of friction or abrasion. I could go on at length, but all I'd be doing is repeating myself saying that this shirt was a joy to wear alone or with other layers.
The sleeves did not have a thumb hole or loop, but I didn't have any issues with them climbing up my arms. The cuffs were close enough to keep snow out when the shirt was worn alone, but loose enough that I could push them up to my elbows when things got steamy.
Breathability & Wicking:
Folks who love to wear wool likely rank its ability to breath and wick moisture high on their reasons why. While the 250 weight wool retains more warmth compared to lighter, 150 weight shirts, it was still capable of venting through the weave.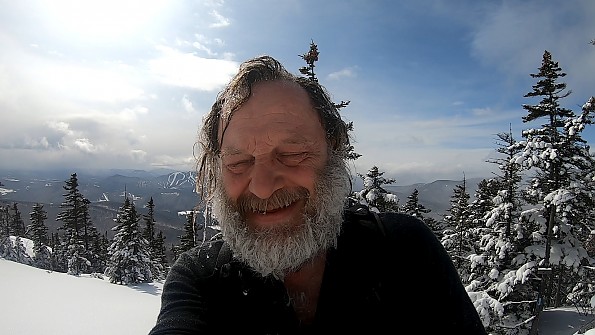 A sweaty speed climb of Puzzle Mtn was a perfect test of venting and breathing.


When worn as an outer layer, either alone or with a lighter wool layer underneath, both aspects were apparent. The 250 weight Intraknit Merino definitely was more of a barrier to air movement than the 150 weight of the Houdini Desoli Zip or the 135 weight of the WoolPro Skylark Ultralight Crew. Despite that additional material there was noticeable airflow while active. The picture above was taken from video I shot while making a fast and sweaty push up a 2800' climb. Note the ice on my face as evidence that I was pumping out some moisture heh. The Smartwool Merino 250 Thermal did its job and remained relatively dry the whole way up.
On occasions when I paired this shirt with a lighter wool base layer I really noticed how it pulled moisture from the inner shirt and passed it into the air without ever feeling damp. I could feel the slight clamminess inside that told me I was sweating, but the base layer never felt truly damp and the Smartwool shirt had no feeling of being moist to the touch. The wool pulled the moisture as intended creating a much more comfortable environment than I expect when climbing mountains.
Warmth & Layering:
The 250 Intraknit Thermal 1/4 Zip, like other wool shirts I've owned, is a bit contradictory in the way it balances warmth with breathability. When I first put this shirt on I felt both features almost simultaneously. There was an immediate sense of warming, but also a feeling as though the shirt was exhaling heat through its weave. Worn alone in a 50°-60° environment while sitting still it was not enough to be comfortably warm. Add a little activity to generate some heat and it was enough for me well below freezing. With heavy activity, but no wind, it was enough to hike for hours at temps around 20°F.
The 250 Intraknit Thermal line is among Smartwool's warmest base layer options, but cold weather comfort is all about layering. One thing I really liked about this shirt was how it worked well with other layers, above, below or both. I frequently paired it with a lighter weight wool shirt underneath which I found added a bit more wind resistance. That pairing also worked really well at managing sweat in colder temps.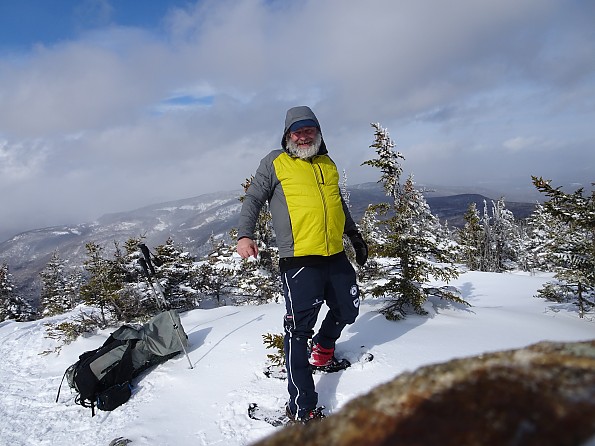 W. Baldpate summit after a single digit climb that benefited from several layers of Smartwool.
Layering wasn't just functional, but also very comfortable. There was no sense of friction or binding. The shirts just sort of melted into one another and went unnoticed. Paired with the Smartwool Smartloft-X 60 Hoodie, which I recently reviewed, temperature and wind resistance comfort ranges could really be extended. A light shell over the top to block heavier winds completed a pretty versatile layering system.
Features: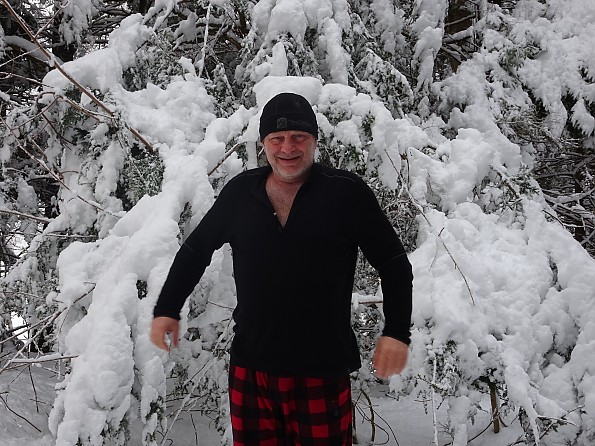 I will start out by praising the 8" quarter zip that Smartwool chose to use on this shirt. This easy pulling nylon zipper opened up a nice venting window when things got steamy on trail. Whether layered or alone, I found great joy in being able to quickly dump excess heat if a steep pitch got me all fired up. My only complaint is that I would have preferred them to extend the zipper even further like the Mountain Equipment Eclipse Hooded Zip-T which I reviewed a few years back. That zip reached past the end of my sternum, exposing even more area for venting. I appreciated what I was able to do with this shirt. While a 1/4 zip is the standard for base layers, I just knew a few more inches would have made it even better.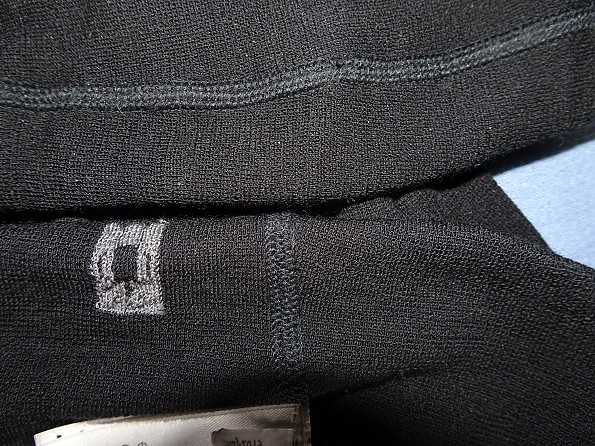 The flatlock seam used throughout is very low profile keeping abrasion from being an issue. The joined material remains soft and flexible so there is no sense of binding or resistance to motion. In the picture above you can see the exterior of an arm seam at the top and the interior of a torso seam below. This stitch is very tight, yet lets the material flex freely and as you can see, leaves a low profile that doesn't abrade skin, wet or dry.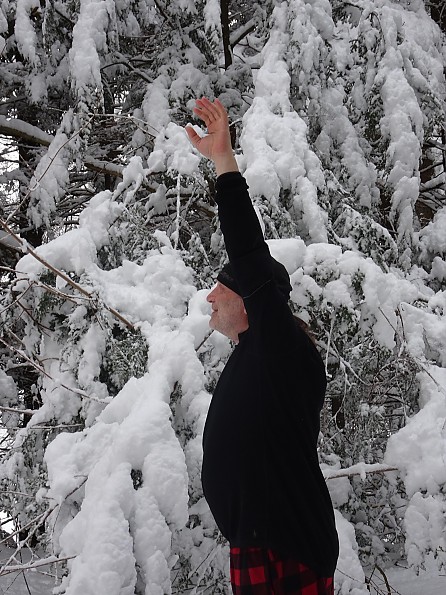 I really liked the long waist on the Intraknit Merino 250 Thermal 1/4 Zip. Here in this demonstration pose you can see that even with arm extended over head there is a long tail hanging down. On trail that long tail would be tucked in and preventing any snow from sneaking past causing me shriek which is an avalanche danger heh.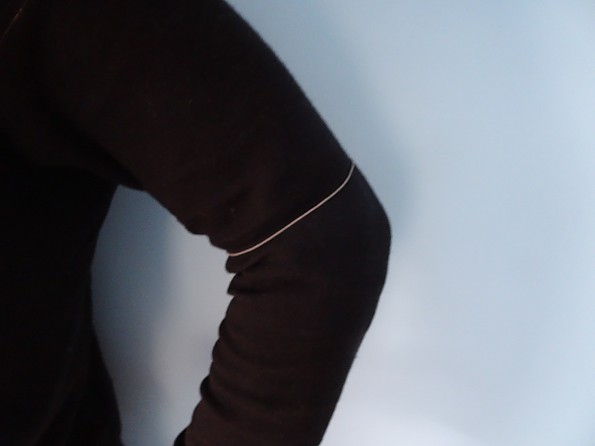 One other feature I noticed and appreciated was the slight articulation of the elbow on the sleeves. For me at least it seemed to accommodate my arms natural position when using poles in the snow. I really think this little bit of tailoring is a big part of why this shirt layers so well. Both the shoulders and elbows are points where layers are at risk of binding and I had no problems like that at all.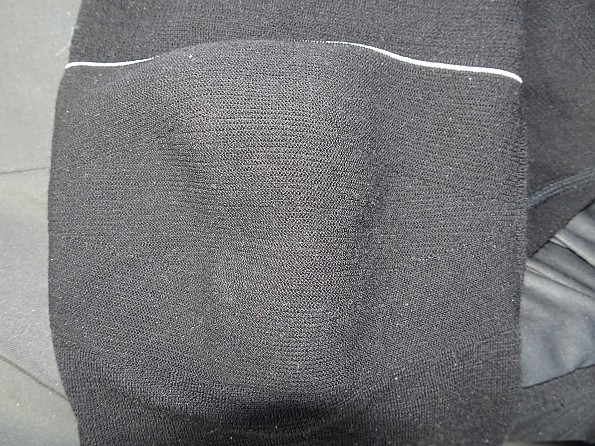 Taking a close look at the elbow you can see how Smartwool used their new Intraknit process to both shape and reinforce the elbow. This not only added comfort to the shirt, but added protection to an area that is often one of the first to wear out in a wool base layer. Depending on how you are viewing you may want to look at that picture in full screen mode to see the multiple sections and how they are joined into a shaped section of fabric.
Construction & Durability:
Smartwool used 100% Merino wool in a 250 weight weave to great effect in this shirt. Pure wool can't be beat for taking sweaty abuse and staying functional. Even if you work it hard enough to make it stinky, which isn't easy, it recovers with some time to air out. The flatlock stitching was well done throughout the garment.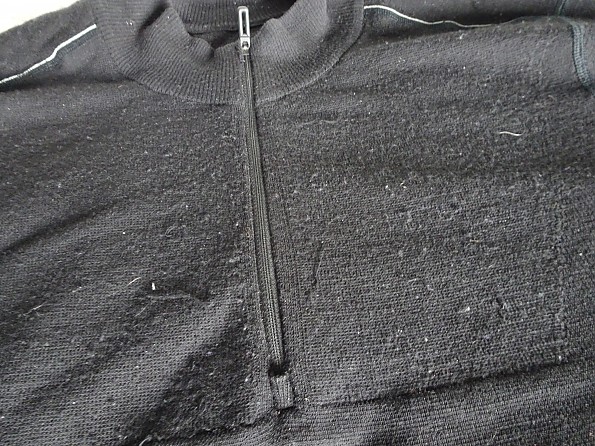 As I mentioned at the start of this review, I have virtually lived in this shirt for the last four months. Looking closely at the chest panels you can see some pilling and wear. This area takes a lot of abuse from pack straps, jacket zippers and hands. The fact that I wore this shirt as my only layer while carrying a 57lb winter pack certainly explains a lot of this wear. Given the amount of use and several washings I don't find this wear to be unexpected. Actually I'm sort of surprised that it has held up this well given the heavy use.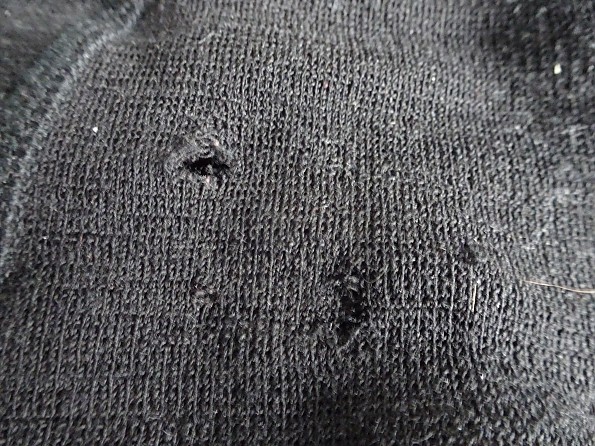 Other than that there are few signs of wear on this shirt with the exception of these two little holes in one arm. I wore this shirt without other layers a lot on trail and I'm guessing I snagged a tree at some point. The arms, torso and waist show no signs of stretching. It really looks much as it did when it came out of the box other than the chest area and the one arm. Again, wearing a base layer as outerwear exposes it to much more damage than when worn under another layer as intended.
Testing Conditions: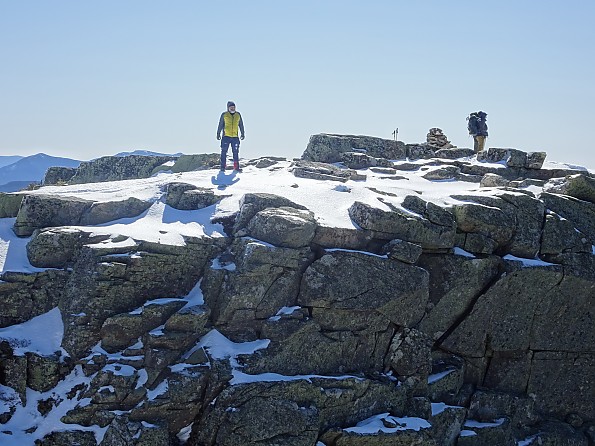 Bondcliff facing into a sub zero windchill breeze. Definitely a good day for layering!
I tested the Smartwool Intraknit Merino 250 Thermal 1/4 Zip from late November through April in weather that ranged from mid 50°F to about -10°F. Day hikes, snowshoeing, bus stop trips with my daughter and just sitting around the house were frequent activities. I also did several multi-night Winter season backpacking trips in the Mahoosuc and White mountains. Oh and a few nights of back yard testing in the hammock too because sometimes you just have to sleep outside.
Conclusions: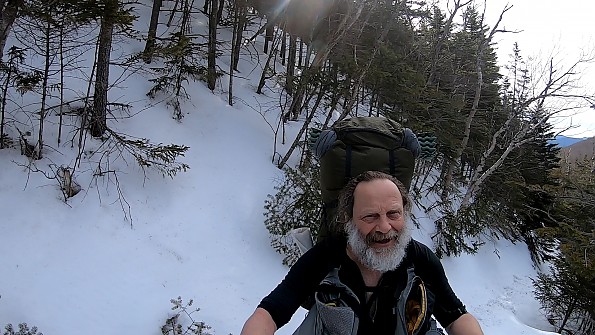 Opening the 1/4 zip and pushing up the sleeves to keep cool hauling heavy pack up Bond.
Long a fan of Smartwool socks and a fan of wool layers in general I was pretty excited to get a chance to test the Intraknit Merino 250 Thermals, top and bottom. The 1/4 Zip did not disappoint in the least I have to say if I'm being fair. If I wanted to be a little unfair I'd gripe about wanting a half zip instead, but this shirt really worked for me.
As a steam engine it is always a challenge to manage heat and moisture in cold weather. I've long been a fan of using wool layers in all four seasons to help me deal with that challenge. Most of my experience has been with lighter weaves, around the 150g point or heavier wool sweater type garments. Given the chance to experiment over the last four months I've really come to appreciate the versatility of this 250 base layer. I've used it alone, with layers below, above and both. I really like layers that play well with one another and this shirt really did that for me.
For now I'm comfortable giving this comfortable wool layer a pretty high rating. I say comfortable twice because I'm wearing the shirt at the moment and it really is. Functionally it worked for me on trail. I think folks who hike colder would really appreciate how it works with other layers. Most folks will find this shirt works best with other light layers or a jacket in cool or cold temperatures. Sweaty folks like me will appreciate that it is warm enough to wear alone in the cold when active and great wicking ability.
My cold weather testing has pretty much wrapped up, though I see it snowing out the window as I write this heh. I will be continuing my testing of the Smartwool Intraknit Merino 250 Thermal over the next few months to see how I like it in warmer weather. In camp and especially as sleepwear will be the focus on the update I'll be adding to this review later along with another look at wear.
Experience
I've been a big fan of wool layers for many years now. As a snow season backpacker it is vital to staying out in the cold for days at a time.
Source: received for testing via the Trailspace Review Corps (Sample for testing and review provided by Smartwool)

Your Review
Where to Buy
Help support this site by making your next gear purchase through one of the links above. Click a link, buy what you need, and the seller will contribute a portion of the purchase price to support Trailspace's independent gear reviews.
You May Like
Specs
Men's
Price
MSRP: $150.00
Current Retail: $150.00-$155.00
Historic Range: $39.99-$155.00

Garment Weight
298 g / 10.51 oz

Material
Merino 250 wool

Zipper
8 in / 20 cm center front zipper

Fit
Slim Fit

Women's
Price
MSRP: $150.00
Current Retail: $154.95-$155.00
Historic Range: $47.98-$155.00

Garment Weight
252 g / 8.89 oz

Material
Merino 250 wool

Zipper
8 in / 20 cm center front zipper

Fit
Slim Fit

Recently on Trailspace