Houdini Desoli Zip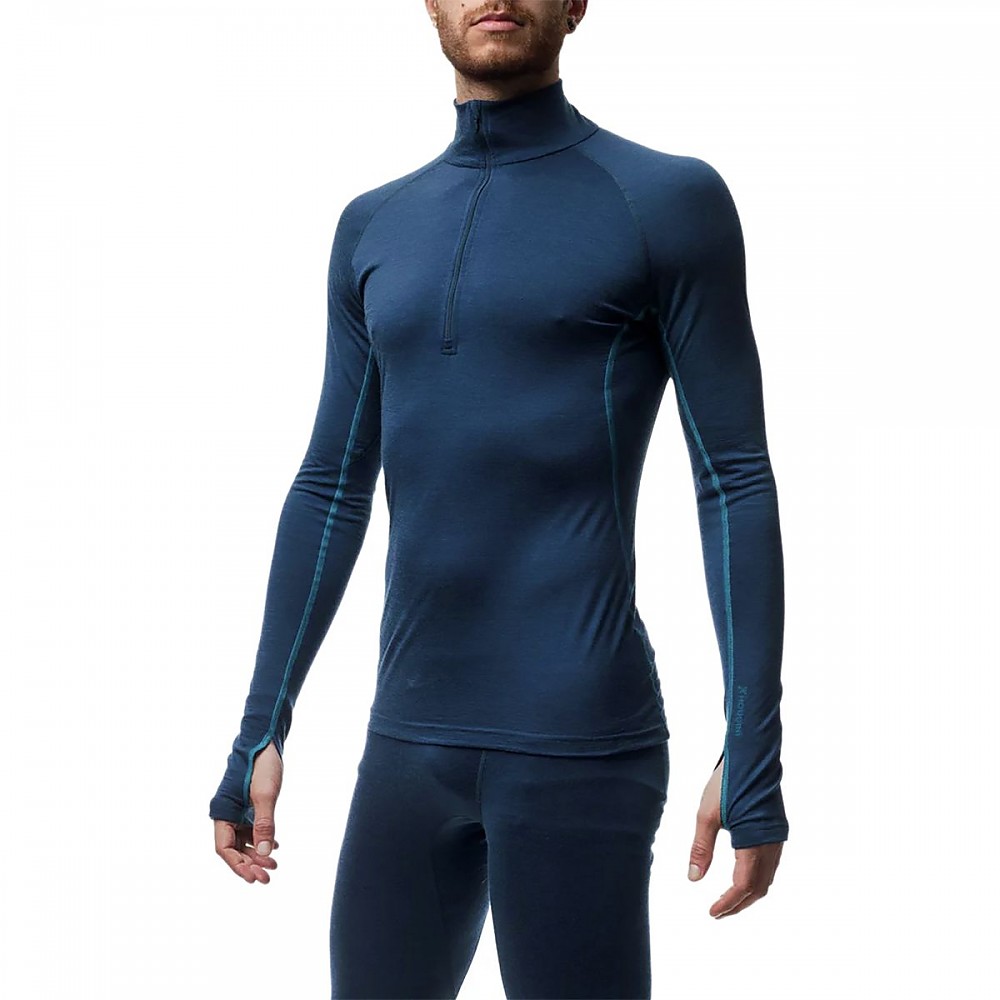 The Houdini Desoli Zip is labeled as a base layer, but the 150g/sqm weight of the 100 percent Merino wool makes it double as an excellent backpacking shirt. The slim fit combined with the long arms and torso work well with various pack sizes. Soft wool and precise, flat stitching provide wonderful comfort that held up very well to use and abuse.
Pros
Comfortable against the skin
Cooling shirt when sweaty
Warming shirt when dry
Very durable
Houdini will recycle it for you
Great smell-reducing Merino wool
12" zipper
Cons
Pricey if you want current year colors
Adds unwanted heat in some situations
Slower drying than my other wool shirts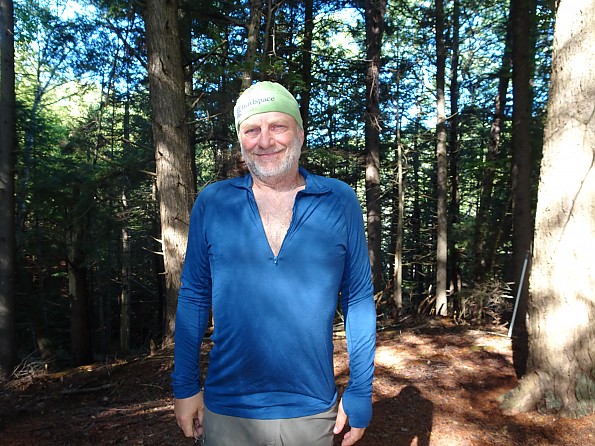 Houdini impressed me with their Alpha Houdi a few years back so I took a chance on a couple of their Desoli Zip Merino wool shirts this year. I meant to use them exclusively for backpacking, but they were pretty comfortable so were used for some lounging as well. This review is based on my use as a backpacking shirt. It was used very little in a layered application.
Fit & Comfort:
Catching some old stock on sale meant grabbing what was available in terms of size and color. That meant that I ended up with one XL and one XXL. Despite the extra material on the larger shirt they both ride close to the body in a true slim fit. Both sizes are really a bit larger than I need, but that may have added to the feeling of freedom of movement.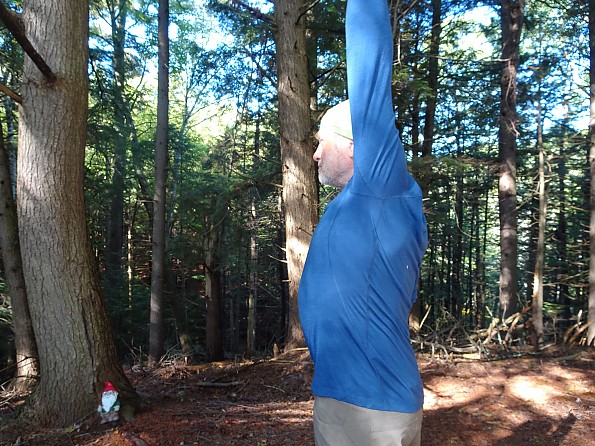 Fully raised arms didn't raise the torso leaving the waist covered. The Desoli seemed to be happy to mold itself to body contours and then stay there. You can see how loose the material is in some spots, yet it doesn't sag. The flat stitching combined with a design that avoided seams in high friction spots made these shirts great for under a pack.
Breathability, Moisture, Warmth & Cooling: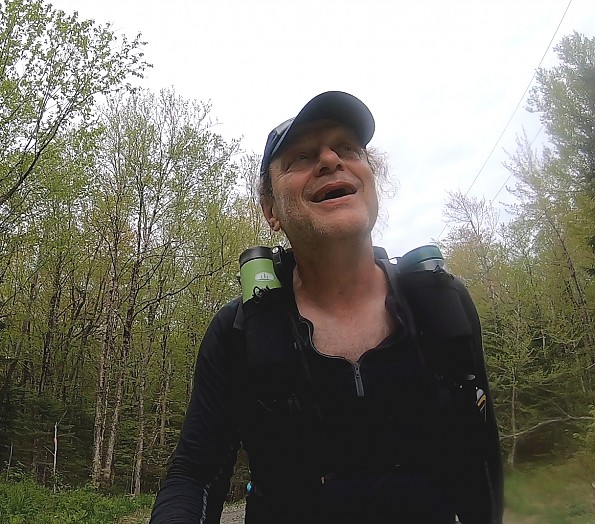 Steamy morning road walk near Round Pond on the Cohos Trail.


I'm lumping all these things together because of the way a wool shirt works when used for three-season backpacking, as I use them at least. The Desoli Zip seemed to have a noticeably denser weave than other similarly weighted wool shirts I've worn such as the  WoolPro Skylark Ultralight Crew. There was less sense of open air flow through the material. As a wicking material the Merino wool distributed moisture well, but once soaked that lack of ventilation seemed to inhibit drying.
When dry the Desoli definitely trapped some warmth. That is good in camp, but also meant hiking warmer than necessary at times. As someone who is going to break a sweat anyway this wasn't an issue for me. Other less sweaty folks might not enjoy that feature, but to me that is how you turn on the cooling effect of the wet material, so an accepted downside. Once wet the shirt definitely did the cooling job well, though it didn't seem to dry much in the process. It also didn't seem to dry very well hanging in camp compared to other wool items I've used.
Construction & Durability: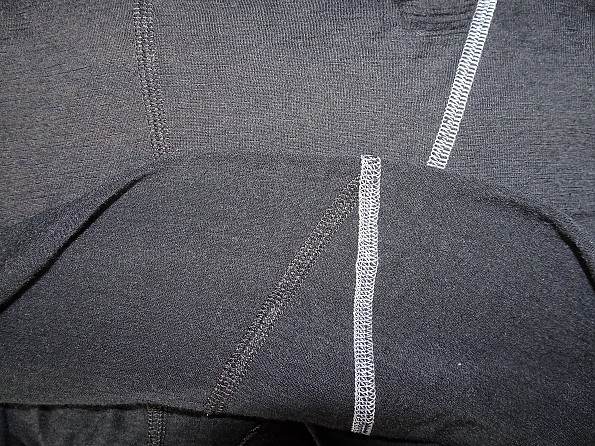 Enlarge to see detail. Material is folded up so you can see exterior seams above and interior seams below.


Houdini has again impressed me with their attention to detail when it comes to the stitching on the Desoli Zip. Everywhere you look the flat stitching is perfectly even and smooth. The shirt was designed so the stitches aren't in high friction areas which helps with both comfort and wear.
                                  Held up to window with sunlight shining through.
The material itself is a 100 percent Merino wool with a 150g/sqm weight. It has a slight flexibility to it, allowing stretching without losing its shape. This works well with the slim fit to keep the shirt close to the body.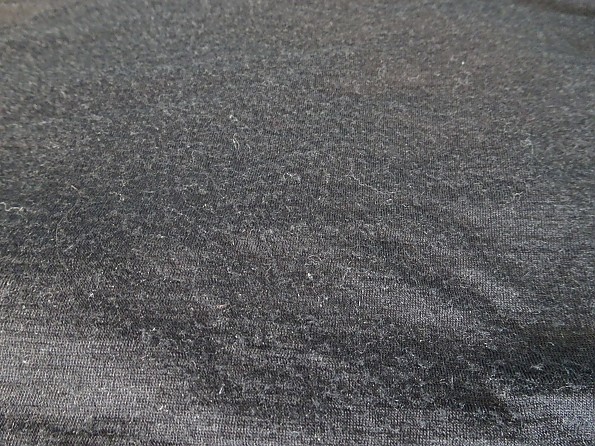 Macro closeup of back of shirt where pack yoke rode. Very light pilling.
Despite many days of use on trail under a loaded pack even the high impact areas show little signs of wear. No holes were created by stick pokes or boulder grazes. The only signs of wear are some minor pilling where the pack yoke rides and perhaps some sun fading on the shoulders of the black shirt. I fully admit that I didn't baby these shirts as suggested by Houdini when it came to washing. They have even ended up in the dryer a few times, but show very little wear.
Features: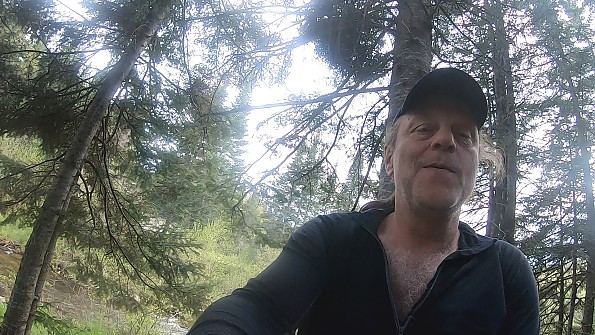 Deer Mtn State Park first night SOBO on the Cohos.
The deep, 12-inch zipper was a really nice addition to this version of the Desoli. Being able to open that area up allowed for much better cooling on trail. The whole front of the shirt vented keeping the moisture moving nicely.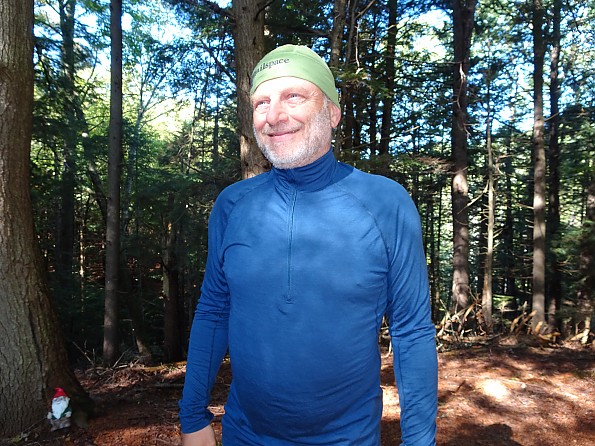 Look how happy I am about that neck coverage.
Fully zipped it covered not just the chest but also the base of the neck. Great for cooler, windy days on trail or for in camp. Surely a great feature when used as a base layer, but I really liked having this adaptability in a trail shirt.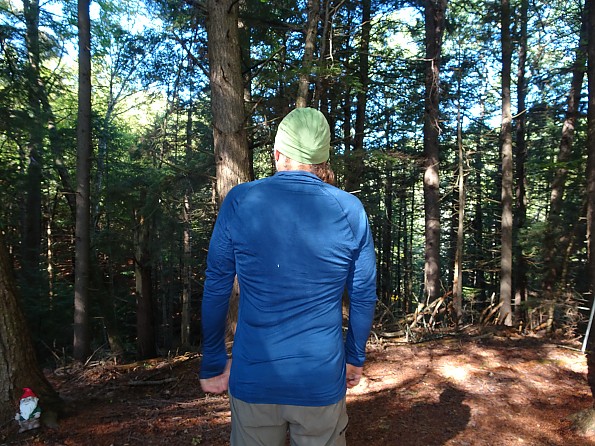 Another feature I really appreciated was the length of the torso. Admittedly, this shirt is oversized for me, but the way it stayed down under a pack was great. It was easy to keep in place and didn't end up climbing up my back.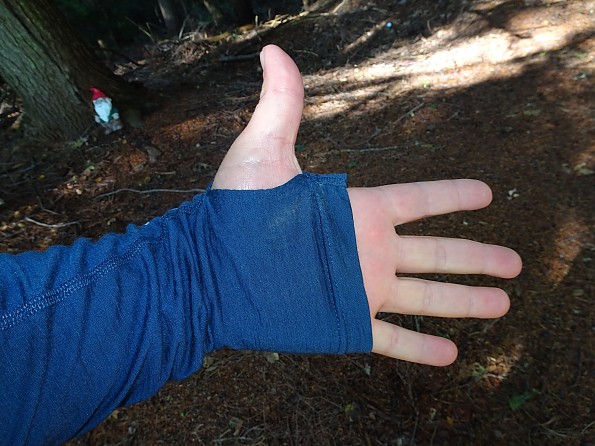 Houdini's idea of a thumb hole is more than just a string to keep the sleeve down. Extending over most of the palm it works as sort of a half glove when in use. Great for keeping bugs off the back of the hand or for keeping warm in camp.
Testing Conditions: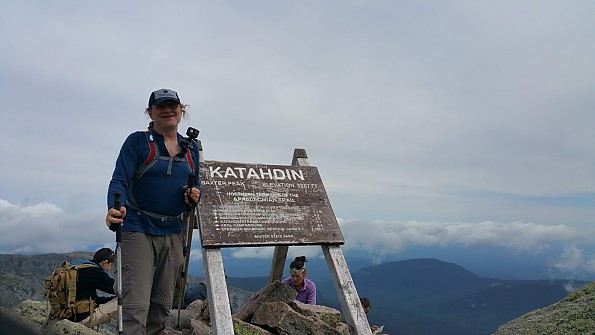 Two nights at Chimney Pond = Easiest summit ever!
Most of my use was as a backpacking shirt on trips ranging from overnight to a couple of weeks. Trips included some time on New Hampshire's Cohos Trail, Maine's Baxter State Park plus killer Grafton and Pemi loops. There also was some use for day hiking and a little couch sitting.
Conclusions:
I'll end this review where I started by saying that I am impressed with Houdini as a company. They make useful and durable clothing that functions well for me on trail, but they also seem to have a conscience. Check out their sustainability page if you have a few minutes to see what I mean by that. From manufacturing, to use, to recycling, they are trying to do what they can.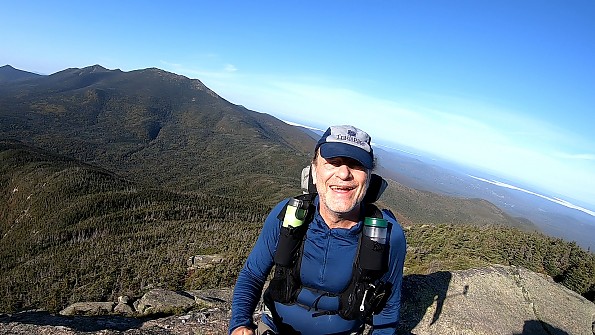 First climb of the day smile on Garfield before heading over Franconia Ridge.


Talking about the Desoli Zip in specific I am again impressed. While a bit warmer and wetter than some of the other wool shirts I've used on trail, this one might end up being my favorite. The comfort of the fit is a joy. It just feels good on the body, with or without a pack. While a bit pricey if you purchase the current season's colors the durability of the Desoli makes it a good value even if you don't get it on sale. After a full season of heavy use both shirts appear almost as new. Even running them through the dryer a few times hasn't done noticeable damage, though I do feel guilty about forgetting not to do that heh.
Ignoring the price there are a couple of negatives that shouldn't be ignored. Once soaking wet, whether it be from rain or sweat, the Desoli Zip was slow to dry compared to other wool shirts I've used. The doubled material of the collar was especially slow to dry. For use as a hiking shirt the Desoli was also warmer than other wool shirts I've used in this application. I think all of this goes back to the weave of the material being less open than shirts like the Woolpro Skylark. Since it is really designed more as a base layer this makes sense and it performs well in that application I'd imagine.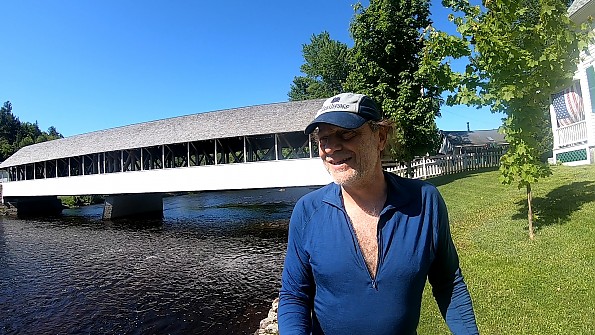 Relaxing at the Stark Village Inn after not dying of heat stroke.
Finally we should talk about the biggest reason I spend money on wool; It doesn't stink! The Houdini Desoli shirts were excellent in that regard. Despite my proclivity toward being a steam engine, which meant these shirts were soaked most of the time, they performed admirably. I found that after four or five days of being soaked with sweat that the material began to stiffen up, making them a bit uncomfortable to put on again if dry. The shirts were not smelly in any way at that point. A quick rinse and squeeze was enough to wash enough salt out to keep on wearing them if desired. A less stinky shirt leads to less stinky everything so to me is well worth the investment.
Overall I am totally comfortable recommending the Desoli Zip for use as I've described. Pretty sure it will work as a cold weather base layer too, but I really liked it as a trail shirt. Houdini has a lot of other stuff I haven't tried yet, but based on my experience with their products so far I intend to keep looking to see what they come up with.
Experience
These shirts were used over a five-month testing period. I have been using wool trail shirts for several years now.
Source: bought it new
Price Paid: $56 for one, $52 for the other + shipping

Your Review
Where to Buy
Help support this site by making your next gear purchase through one of the links above. Click a link, buy what you need, and the seller will contribute a portion of the purchase price to support Trailspace's independent gear reviews.
You May Like