WoolPro Skylark Ultralight Crew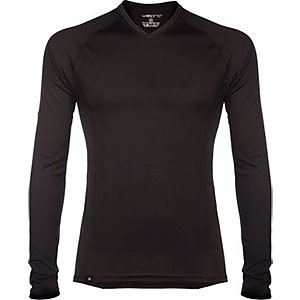 Comfortable and versatile this 100% Merino wool shirt functions as a cooling shirt when wet, yet warms when dry, and also makes a nice base layer under a rain jacket or other outerwear. Cooling function works best for those who sweat a bit to begin with, as otherwise it will probably warm you up instead.
Pros
Nicely tailored fit
Wool reduces odors very well
Cools nicely when wet
Warms when dry, especially as a base layer
Fast drying
Cons
Material, at least in black, really shows sweat stains
Possible durability issue with arm stitching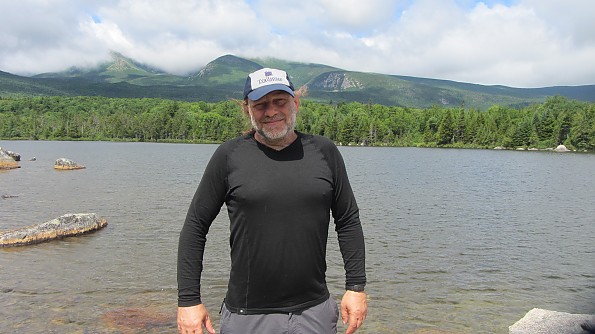 Form fitting comfort without restriction, perfect for exploring Baxter State Park.


I was a bit hesitant when offered the chance to test this shirt because the idea of wearing wool in summer seemed crazy for a steam engine like me, but I'm really glad I gave this shirt an opportunity to show me what it was all about. From the first time I put it on it kept providing pleasant surprises as I learned the many ways I could put it to use.
Specs:
Claimed weight of 5 oz on website. My size Large test shirt weighs 6.6 oz on my scale.
Priced at $64.99 on the WoolPro site at time of review.
An early season visit with the family to Sandy Stream Pond on our way out to Whidden Ponds for lunch.


The WoolPro Skylark is cut to ride close to the body, but without restriction. This is accomplished by tailoring which allows the shirt to conform to various body types easily. As a reference I measure roughly 43" around my chest and 23" from shoulder to wrist. Stocky and a skosh shy of average height I'm not a model clotheshorse. Still this shirt seems to conform to my shape quite well.
The wide V-neck allows a nice amount of venting whether the shirt is used as a base layer or alone. The hemline extended well down my hips which kept the shirt from riding up and in hot weather wicked sweat out from under my pack.
The material itself felt comfortable on my skin both when new and after extensive use. By using panels at the shoulder and torso WoolPro moved seams out of high friction areas.
Note the look of the material and the neckline here right out of the box. We'll be coming back to look at this area again later to see how it wears.


I think before getting into the various functions of the Skylark shirt it would be helpful to look at what it is made out of. If you are like me you may tend to think of wool as a heavier material best suited for cold weather layers or thick hiking socks. The folks at WoolPro claim their Cool Knit Merino 135g weight is the lightest knit on the market today.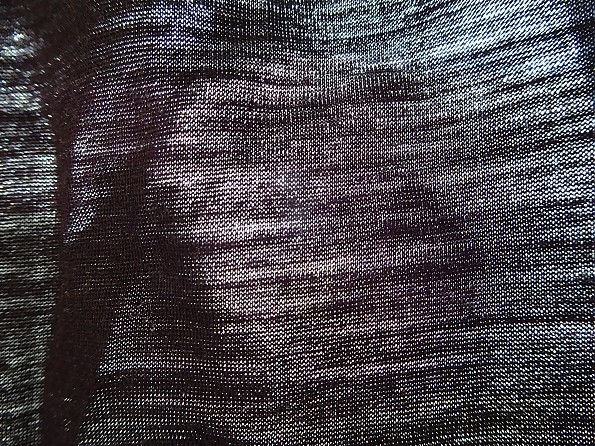 Closeup of a single layer of the Cool Knit material.


I can't vouch for that claim, but I can definitely see light when I hold a single layer of the stuff up against the sun. Go ahead and check out the full sized version of that picture and you'll be able to get a good idea of the open mesh nature of that weave. It is full of tiny openings packed close enough together to neither look or feel as though they are there. As a fur bearing mammal I appreciated that this mesh didn't catch and pull on my pelt.
Breathability and Moisture:
That fine wool mesh allows some air to move through it even when in contact with the skin. With the wide V-neck exposing the top of the torso there was good airflow even with a pack on.
The merino fibers pull moisture away from the body well with a pronounced cooling affect when the shirt is the only layer worn. With the tail left out it pulled moisture from behind the pack to a greater degree than I've seen from my synthetic shirts such as the Patagonia Capilene 1 Silkweight Crew which I reviewed last year. Moisture seems to really spread throughout the material rather than leaving some areas dry and others soaked.
Warmth/Cooling:
Pretty certain this is the first time I've had to talk about warmth and cooling for a single item. This shirt is capable of either one depending on user and conditions. It can be used as a base layer under raingear or a light jacket. As a base layer it creates a nice pocket of warm air close to the body, especially with a loose outer layer like raingear or a windbreaker.
Turning the Skylark into a cooling shirt simply requires adding water and as a steam engine that is never a problem for me. Once wet, whether from steam or a water bottle, the Cool Knit lived up to its name. Even on warm, muggy days with little breeze the surface evaporation created a very noticeable affect. Increased airflow magnifies that affect proportionally, for better or worse, depending on conditions. Wet and wind mean things get really cool really fast so pairing with a windbreaker may be necessary at times.
Here is that neckline again three months and a heck of a lot of miles later. Note the material is in good shape and the neckline has almost no distortions.


The WoolPro Skylark was assembled using the Merrow ActiveSeam stitch. That isn't surprising given that the company was founded by members of the family behind the Merrow Sewing Machine Company which has been making industrial sewing machines in the US since 1838. The stitch is designed to have a very low profile to reduce friction against the skin. It also is touted to be an especially flexible and strong stitch.
Of course when you make your own sewing machines you can customize them for your product line and that is exactly what WoolPro did. They have put a lot of work into how this shirt is made from the materials right through production.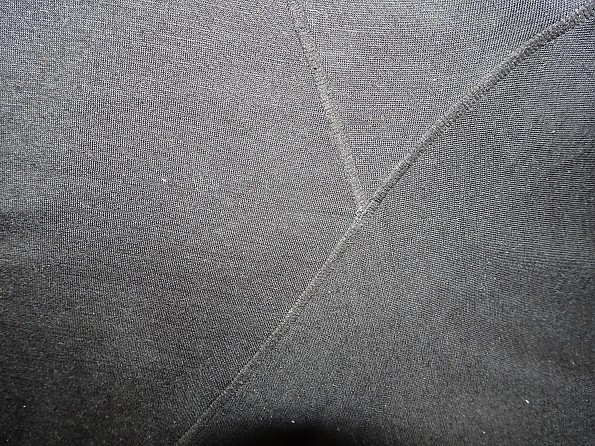 This view is of the front of the right shoulder where the arm meets the front and shoulder top panels. Note how that stitch has held up in a high friction area where the pack strap comes over the top.


The stitching and material have both held up well after extensive testing. There is some very minor pilling across the surface of the material in a relatively uniform manner. The heaviest friction areas where shoulder and waist belts ride show little if any noticeable additional wear. The stitching on the arms near the wrist is the only area I have noticed evidence of friction wearing. At this point it remains a cosmetic issue and I am watching to see if it progresses to a bigger problem or not.
Abrasion: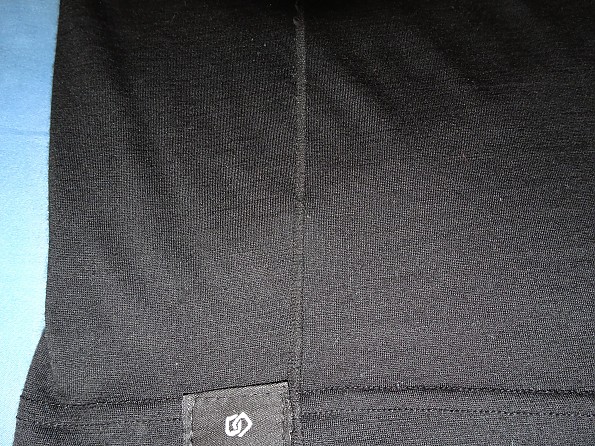 This is the lower portion of the right torso where we can see the front and side panels meet the hem. Another high friction area due to pack belt contact with no real signs of wear.


As mentioned, wear is relatively uniform rather than localized. High abrasion areas under the shoulder straps and belt show no signs of abrasion.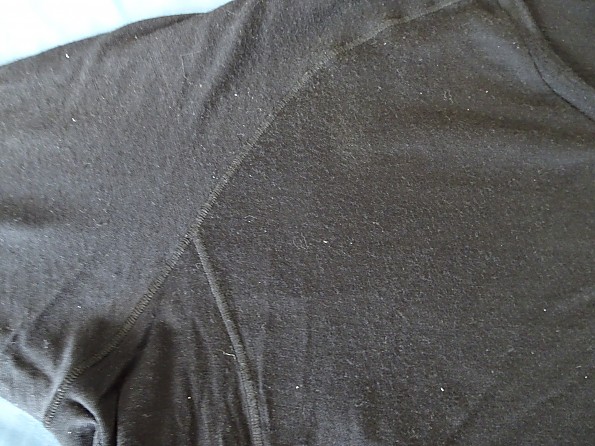 This is that same right shoulder area we looked at earlier with different lighting and focus to bring out the surface texture. Note the light pilling which I believe is mostly due to machine washing as it occurs throughout the garment.


The material itself does show some signs of wear. This appears to be more a result of the machine washing it was subjected to than on-trail wear based on its uniform nature.
Testing Conditions: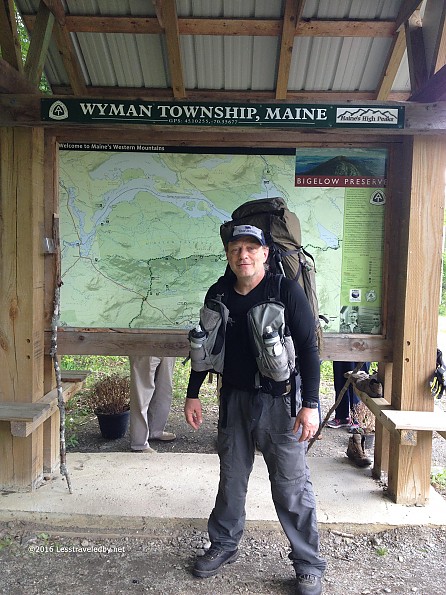 Heading out for the first big test. The Bigelows on the AT in hot and muggy 90° weather. That pack is so tall because I had two food bags in there for a planned 15-day expedition style test hike.


I used the WoolPro Skylark as my primary trail shirt for the entire summer. On day hikes with and without a pack as well as backpacking trips that ranged from overnighters to a week. Temperatures ranged from low 40°sF to low 90°sF and humidity levels from nice to yucky with some rain sprinkled in there as well.
Besides on trail use I also made an effort to simulate a longer period of use by washing the shirt in a machine more frequently than was necessary. The shirt was machine washed a total of five times during the test period using a small amount of biodegradable soap and a cold water cycle. Hand washing was used as the cleaning method in all other cases. The shirt was never machine dried.
Conclusions: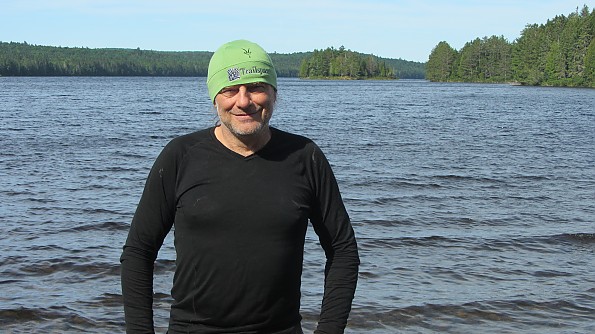 Back at Baxter State Park finally hanging out at Webster Lake years after the epic Hudson Brook flood episode. Those sweat stains came from the hike in which was still a lot easier than last time we tried to get there.


As I said at the start, I was somewhat skeptical about a wool shirt for warm weather use. WoolPro only talks about using this shirt up into the 70s and after pushing those limits and using this shirt up into the 90s I am no longer a skeptic. The Cool Knit fabric lives up to its name. So long as I had sweat left to keep it wet I could feel the cooling affect especially if there was any air movement. For those who are going to be sweating anyway this shirt works well in a cooling shirt application.
If you aren't sweating the shirt acts as a bit of an insulator. That is nice if you are putting it on in the morning before you leave camp. On the other hand if you are the sort that doesn't sweat when hiking this shirt might be best reserved for use as a base layer under raingear or a windbreaker as it may be too warm.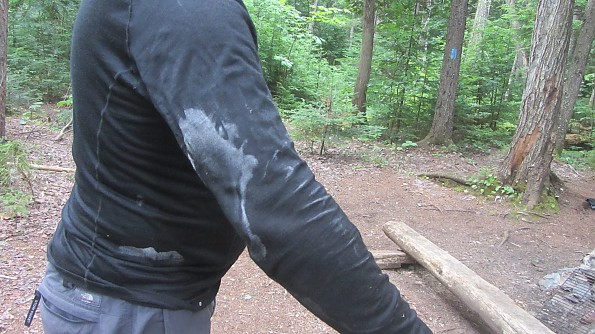 It appears the angle of my hiking pole sent all the sweat to my elbow that day. A quick dunk and a squeeze was all it took to wash the salt off the surface every few days as needed on longer trips.


A few last things before I stop talking about sweat; this shirt in black really showed some ugly sweat stains after long steamy days on trail. If you're worried about looks I'd say go with the light blue color instead as that might not look so funky. The good news is that a quick dip in a pond followed by a gentle wringing and some time on a line between the trees was all it took to freshen the Skylark right up.
Speaking of fresh I really have to spend some time talking about how nice I smelled on trail this year thanks to this shirt. As a steam engine who spends most days on trail soaked in sweat I've gotten used to my synthetic trail shirts becoming demonic in nature after a few days requiring sequester in a zip bag and replacement with a fresh shirt. The WoolPro Skylark on the other hand simply refused to stink despite my best or worst efforts.
I wore this shirt for an entire week on the AT while schlepping 15 days food up and down mountains in 90° heat. Most nights I'd hang it on a line to air out and dry, but on the sixth night I wrapped it around my clothes bag and used it as a pillowcase. As further testament to this shirts no-smellability after leaving the trail due to injury the next day I got a ride home with my wife, daughter, and father-in-law after a week on trail with the windows closed the whole way. Talking about it later they all assumed I'd had a shower before getting in the car.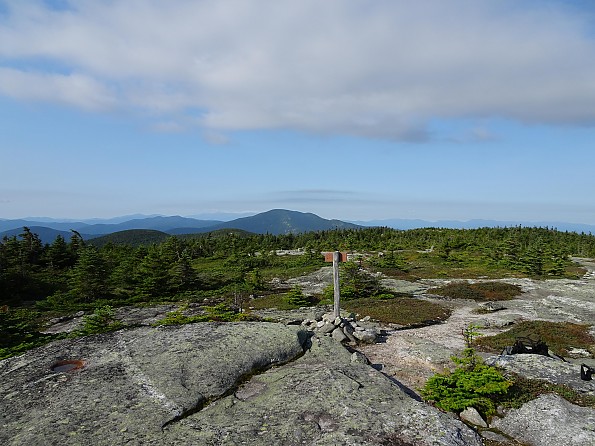 Only had time for a few quick landscape shots on the East Baldpate summit so no shirt selfies were taken. After a sweaty morning climb the 30mph wind up top had me shivering and ready to move on after just a few minutes.
There are some things to keep in mind about this shirt though to make sure you aren't asking it to do what it can't. While I found it great in a wide range of conditions, from early morning cold to mid afternoon way too hot, once it was wet it lost its ability to act as insulation by itself. As an example, after steaming to the top of East Baldpate coming back onto the AT from the Grafton Loop I arrived moderately soaked in sweat to find a stiff breeze blowing at the exposed summit. Stopping to grab a few shots of the amazing views I soon found myself shivering. Within just a few minutes I went from hot to chilled and was faced with a choice of either putting on more layers or hiking on.
Another case where this shirt might cause issues is for folks who don't normally sweat when hiking. When dry it acts as an insulator which might be uncomfortably warm and perhaps even lead to sweating. I got used to breaking a sweat sooner than normal in this shirt, but I was going to sweat anyway. Such folks will find this shirt more useful for cool conditions and as a baselayer.
While I didn't get a chance to see how this shirt would work as a winter base layer I did use it under raingear a few times and with a windbreaker. In both cases it worked very well I thought. I especially liked how I felt a bit less clammy in my rain jacket. It was also noticeably warmer when I wore it alone under my motorcycle jacket on early morning rides to the trailhead. Most cooling shirts feel chilly in that case, but so long as the Skylark has a windbreak it seems to hold heat very well, even at highway speeds.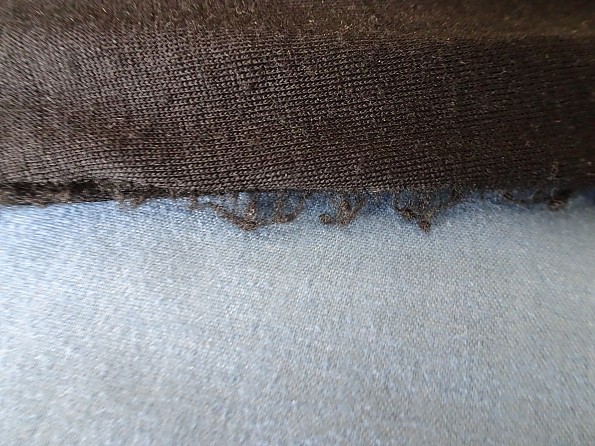 Closeup view of the frayed section of the sleeve stitching. The arm has no holes in the seam and the interior looks perfectly fine. This may just be a minor cosmetic issue.


My only real concern about this shirt is an issue with some fraying of the arm sleeve near the wrist. I have seen this same pattern of wear on some of my other long sleeved trail shirts and I'm guessing my arms must rub against my torso as I walk. That means this may not present as an issue for others, but it is something I am keeping an eye on. So far it is only cosmetic and really only noticeable if you know where to look.
The wear on the rest of the shirt has been quite minimal. The light pilling I attribute to the machine washes which were done in the name of testing. If I purchase more of these shirts, and I believe I will, I intend to stick to hand washing only to extend the life of the garment.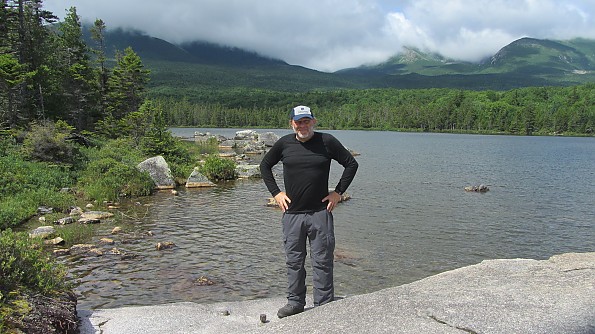 Can't leave you with a sweat stain picture so here we are back at BSP looking almost as good as the mountains behind me.


My testing experience has left me feeling pretty comfortable making a strong recommendation on this shirt and despite the washing and the wearing pretty comfortable in the shirt too. It can help keep you cool when it's hot, warm when it's cold and dry when it's wet which seems like a pretty versatile shirt to me. Pairing it with other layers can extend its functionality. Comfortable, durable and darn hard to make smell demonic is my final word on the WoolPro Skylark.
Source: received for testing via the Trailspace Review Corps (Sample provided by WoolPro for testing and review)

Your Review
Where to Buy
Help support this site by making your next gear purchase through one of the links above. Click a link, buy what you need, and the seller will contribute a portion of the purchase price to support Trailspace's independent gear reviews.
You May Like