Smartwool Smartloft-X 60 Hoodie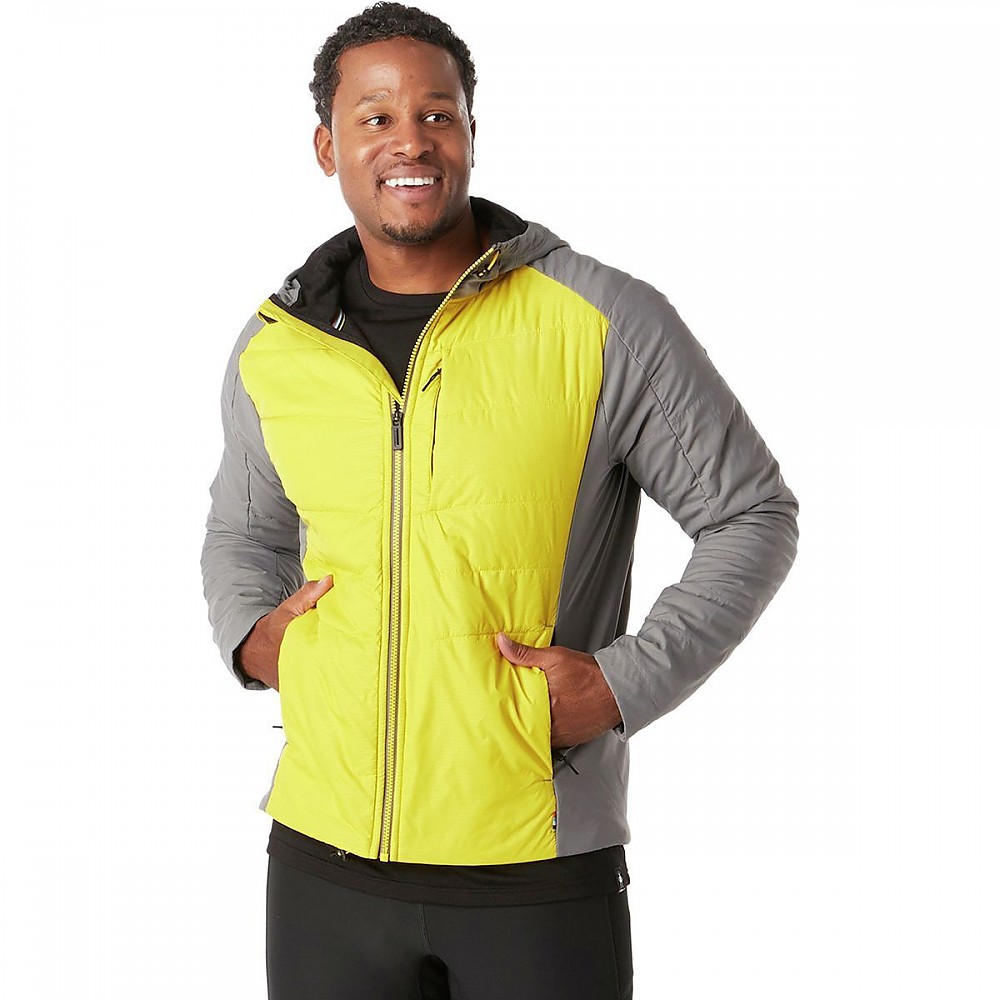 The Smartwool Smartloft-X 60 Hoodie is a lightweight jacket designed for active use in moderate conditions. Smartwool uses its blend of recycled wool and polyester as the primary insulation in a low profile application that works well with other layers above or below. Folks who snowshoe, ski uphill, or climb winter peaks will appreciate the balance between insulation and ventilation this very breathable jacket has found.
Pros
Comfortable in action
Better wind resistance than down
Wool lining and insulation resist odor
Excellent vapor transfer
Water resistant exterior
Cons
Might benefit from a pit zip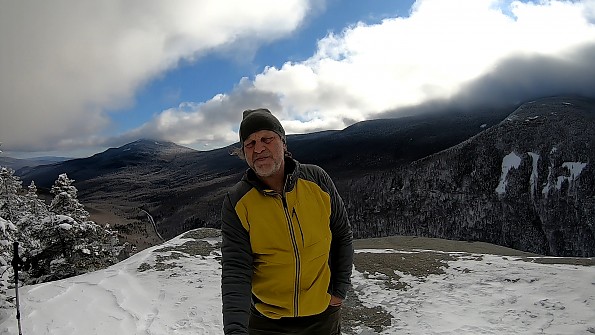 Up on Table Rock in Grafton Notch (Maine) facing a sub-zero wind before my winter beard grew in.
Smartwool is a name associated with socks, but they have a lot of other ways to put wool to good use. The Smartloft-X 60 Hoodie is made for active use with flexible materials and a low profile wool blend insulation layer. I've been testing this jacket extensively over the past three months and wanted to get this review out based on my cold weather experiences. In a few months I'll update with what I learn about this interesting jacket as the temperatures warm up.
Fit and Comfort:
Smartwool describes the fit of this jacket as "regular" which implies a slightly loose fit without being baggy, and I would say that is an accurate description. The arms fit a little closer than the shoulders and torso, but there is no sense of restriction. (There is also a Smartloft-X 60 Vest, in men's only though.)
Based on the Smartwool size charts and my ~48-inch chest measurement I opted to test the men's Smartloft-X 60 Hoodie in the XL size. This gave me the intended loose, but not baggy, fit.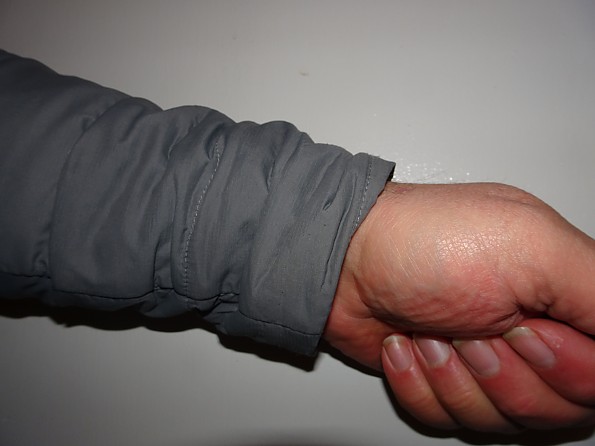 Close fitting cuffs need no elastic and protected without binding.
The roughly 22 inches from pit to cuff sleeve extended past my wrist. When pushed back the close fitting, non-elastic cuff slid nicely out of the way. Gloves were able to ride inside or outside depending on how they fit best with no extra cuff impeding their fit. There are no thumb holes or loops, but I never felt a need for them. When wearing the hoodie inside a parka the sleeves stayed in place just fine.
The fit certainly contributed to the comfort of this jacket as there was little sense of restriction. Weighing in at 22.3 ounces/632 grams the hoodie is a bit heavier than a similar down jacket, but never felt like it. The materials also came into play there. Everything felt flexibly soft and willing to move with my body. I'll talk more about this later in the Construction and Materials section because Smartwool has some innovative stuff going on with this jacket, inside and out.
Warmth: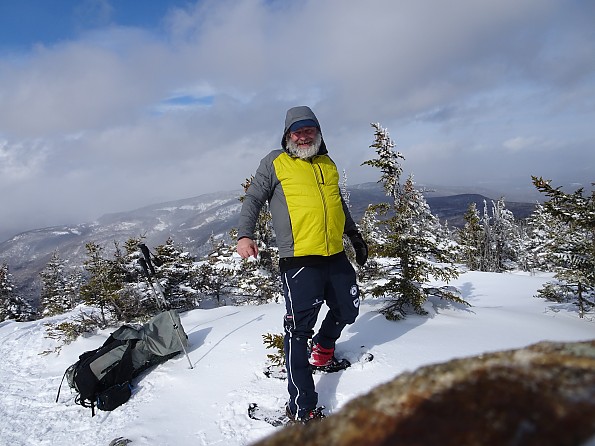 Puzzle Mountain summit with the Mahoosucs behind me. Perfect spot for some wind protection.
First, we should talk about just what sort of jacket this really is. It is made for activity in the cold. It is as much about letting excess heat and vapor out as it is about keeping heat in. The wool blend insulation they label Smartloft-X 60 seemed to provide more of a wind block than the down of the Ternua Loughor Jacket I tested a few years ago. While this lent the jacket a bit more thermal retention when at rest, its breathable nature kept it from being overwhelming when active. To be clear, the hoodie blocks some wind, but you'll still want a shell for high winds or extended rest.
Warmth is a really subjective thing, so hard to quantify. Taking the little one to the bus stop every morning is a great way to gather data on standing around though. Based on the anecdata I collected there I found the Smartloft-X 60 was enough for standing around for 20 minutes or so in temps above 20°F. A strong or gusting wind cut into that comfort time as that highly breathable insulation layer only stops some of the wind. Add a wind shell though and I think my feet would get cold before my torso. Without a shell, standing around for longer or in colder temps seemed uncomfortable.
On the other end of the anecdatal spectrum I had a chance to do a steep climb out of a campsite that woke to a 1°F dawn. With the hoodie over a 250 weight wool base layer I was able to balance my tendency to generate tremendous heat with the deep cold. There was a definite need to do some rest stepping to avoid sweating. I'll be talking about this more later in the Breathability and Moisture section, but it was a neat feeling to manage temperature and vapor so well. The jacket held on to enough heat to stay warm while moving. When I reached the summit it took only a few minutes for me feel the cold hit and I threw on a parka. Warm while active, but no match for single digits and a stiff breeze.
Layering:
The roomy "Regular" fit of the Smartloft-X 60 Hoodie seemed perfect for adding a variety of layers inside. Most often I paired it with a single 250 weight wool base layer and the two worked very well at both warming and venting. In colder conditions I added a Woolpro Skylark (Yes, the original is still in service after four years, though it has a few holes) or even the much warmer Mountain Equipment Eclipse Hooded Zip-T. There was plenty of room to add layers in the torso and shoulder areas, but the sleeves are closer fitting. I made a point not to wear anything too thick so as to avoid killing the great mobility the jacket has naturally.
As I mentioned earlier, a shell to block the wind really extended the useful conditions for the hoodie, especially when inactive. Keeping the wind from ventilating all of the body's heat or just for holding in more heat in deeper cold I found wearing my TNF Venture 2 Jacket paired really well.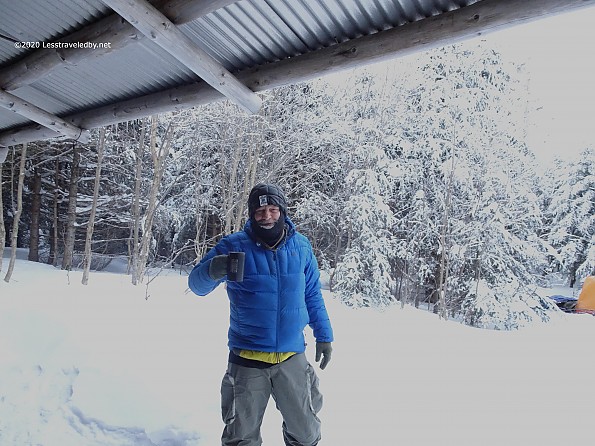 I also found that it worked surprisingly well as a mid-layer. The free movement of the Smartloft-X 60 and its low profile let me toss on my Adidas Terrex Swift Climaheat Frost Jacket to hang around in camp on a 1°F morning. It added insulating value without adding much bulk.
Breathability and Moisture:
This is the category I was born to cover with real world testing! As a lifelong steam engine I produce way too much heat and moisture when stomping uphill. If I'm hauling 50 pounds on my back or towing a 75-pound sled it only adds to the effect. Cold and sweat are a dangerous combination though, so I do what I can to keep things under control.
Much of my use of the Smartloft-X 60 Hoodie was of a more gentle nature. For local snowshoe adventures with the family pacing is mellow enough that the jacket's natural ventilation kept things in balance. The wool blend layer of insulation let enough air flow through that heat and moisture never seemed to build up much. When layers didn't quite match conditions and there was discomfort dropping the front zipper was an option that allowed keeping the jacket on.
For more strenuous use I found that I'd wear the jacket until I felt myself pushing it past its limits. Once it started to feel a bit clammy I'd toss it in my pack rather than get all sweaty. Again, I am a peculiarly steamy hiker, so most folks would have to really be working hard to reach that point.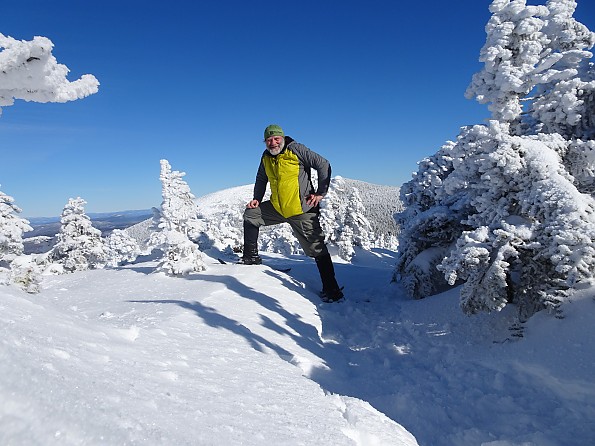 In the deep cold things are a bit different though. Climbing from camp to summit on a single digit morning I wanted to avoid both sweating and frostbite. That meant working with the hoodie and my body to keep everything in balance. Normally I prefer to stomp up a mountain, but that day was all about pacing. Using a forced "rest step" pace I was able to manage a challenging climb without breaking a sweat.
When I say challenging I'm talking about an average grade of 28 percent with numerous 45-percent pitches covered in deep powder. Knowing my body I was amazed that I was able to do this with a jacket on. Pacing gets some credit, but the hoodie held a nice balance between keeping heat in and letting moisture out. Since I was moving so slowly I had a lot of time to really experience and appreciate what the jacket was doing. Even if you aren't a steam engine I think this is function other people will appreciate too.
Construction and Materials:
The outer shell of the Smartloft-X 60 Hoodie is 100 percent nylon which has a Durable Water Repellent finished surface. On the inside they used a blended 56 percent Merino wool with 44 percent polyester giving the material a flexible feel. The insulation, which is primarily located in chest and torso panels, comes from a blend of recycled and reclaimed wool fibers with polyester added to increase flexibility. Smartwool created Smartloft-X as a more flexible version of its Smartloft insulation. That stretchiness is intended to allow for more active use. Zippers on the external pockets and front of the jacket are YKK.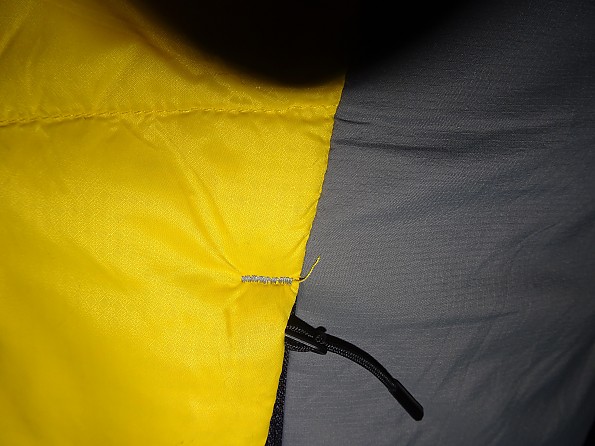 Horizontal stitching prevents tearing the seam when cramming gloves and hands in the pocket.
The cut and stitching of this jacket are a sign that effort went into design and manufacturing to make the hoodie both functional and comfortable. The tailored panels let the jacket move without restriction. Small details like the stitching above the pockets and the shaping of the hood tell me this jacket was made by folks who cared about how it would work in the real world.
This jacket is fully washable with Smartwool recommending a "cold gentle" cycle in the washer and a low heat tumble dry. As part of my testing to see how the wool repels odors I have yet to subject the jacket to washing. Look for an update on this topic when I revisit this review in a couple of months as I'll be washing it as part of my continued testing.
Abrasion and Durability:
It is a bit early to make a full judgement on how this jacket will hold up, but I have been wearing it as my primary jacket, in the mountains and in town, for three months now. It has no signs of wear at all. The nylon shell has resisted branches and thorns while stomping through the woods and all stitching remains solidly intact. I'll be making a more conclusive statement on this topic once I've had a few more months to abuse, err I mean use, the jacket.
Water Resistance:
The nylon shell of the Smartloft-X 60 Hoodie has a DWR finish to its surface. Generally that means snow melt, light mist, or rain won't pass through, but it isn't expected to be fully waterproof. In general use I never had anything that did much to test that claim, but I did take advantage of a wind driven downpour to test out their claims that the jacket provided some warmth even when wet.
I was a bit surprised at how long I had to hang out in the rain before the jacket began to seep through. We're talking heavy rain and it took about 10 minutes before water really started to come through and it never came through in enough quantity for it to really feel soaked. To my standards that is definitely water resistant and should give you plenty of time to dig out a rain shell before the hoodie starts taking on water.
In case you are curious, after that soaking I hung the jacket by its hood on my office door. When I checked it about four hours later it felt completely dry. Again, more unscientific anecdata, but I was a bit surprised at that speed to go from soggy to dry.
Features:
Pockets! Some makers believe in them and some don't these days. I was happy to find that Smartwool included three external pockets plus two big dump pockets on the inside. The easy access chest pocket is perfect for phone, camera, glasses, or I suppose cheese. My testing sample has the chest pocket on the exterior, but Smartwool says the final version has an internal pocket instead, which has a media cord outlet.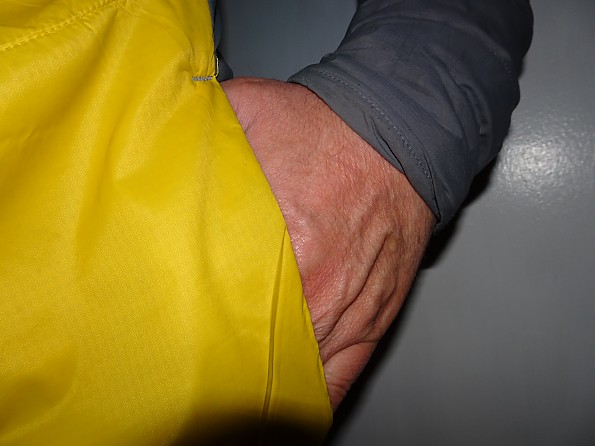 The zippered side pockets are located just high enough to avoid being buried under a hip belt. I found them comfortable for carrying items or for sticking my hands into. They seemed big enough that doing both at once wasn't an issue either.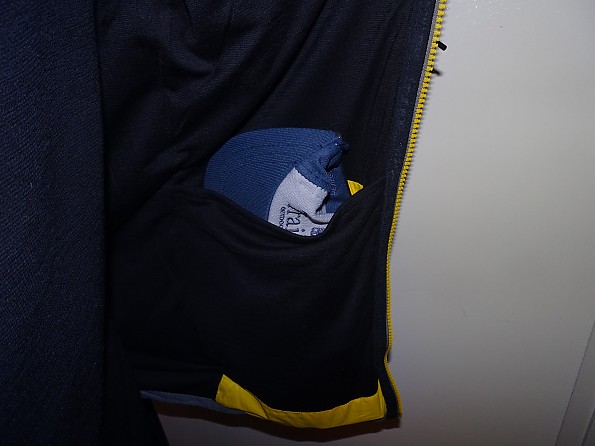 The dump pockets are a favorite of mine on any jacket as I like to peel off hats and gloves as the day warms up, but keep them close in case of a sudden lunch break. These deep pockets overlap the external pockets on the exterior side. That means when they are loaded up hands can still comfortably slip into those outside pockets.
There is a cinch cord at the waist with a single adjustment toggle while the hood has a toggle on either side. The hood has only shell and lining without insulation and appears intended primarily to block wind and rain/snow. I don't wear a climbing helmet, but I believe there is enough room for one in there.
Conditions: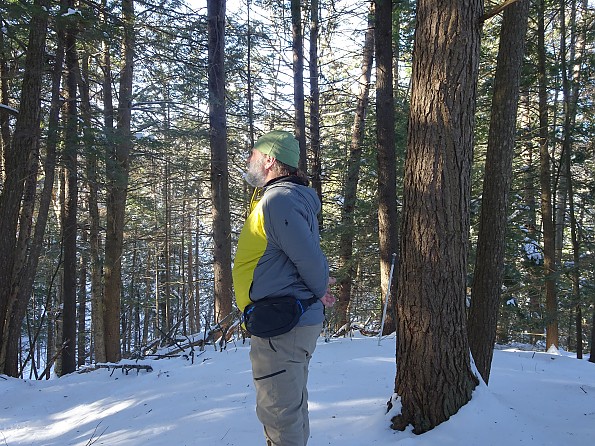 I've been testing the Smartloft-X 60 Hoodie for about three months now during the winter months here in Maine. That has involved lots of snowshoeing, a little peakbagging, a little camping, and of course a lot of trips to the bus stop with my daughter. Snow, rain, and temps slightly below zero have been involved, though most use of the jacket has been in temps in the 10°f to 40°f range.
Early Conclusions: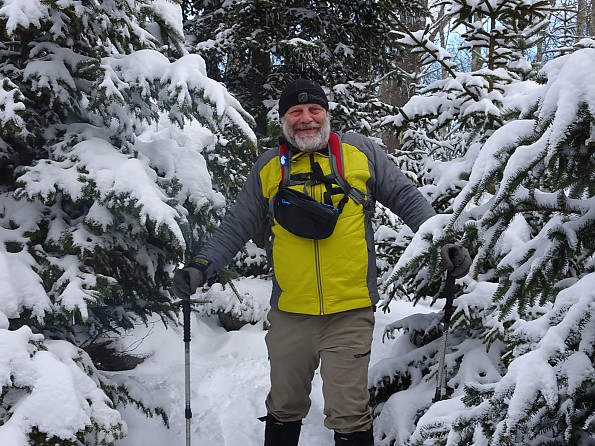 When I first tried on the Smartwool Smartloft-X 60 Hoodie I was surprised not only by how light it felt, but how it felt more like a shirt than a jacket. Much like a base layer it moved with the body easily. Smartwool used little insulation in the sleeves to avoid making them too restrictive, but the sleeves were a bit tighter in the elbows, especially with extra layers inside. Still, generally I never really noticed the jacket was there. I mean even with a pack on top of it, I just sort of forgot I was wearing it unless I got too worked up. Most jackets annoy me with a pack on top, but this jacket seemed different there.
That day I mentioned climbing in really cold weather is what really impressed upon me what a useful tool this jacket was. By that point I'd already covered a lot of miles in the snow doing more gentle activities. That climb was the first real test of how the hoodie could perform when pushed and it really did its job. I still recall how great that felt to be properly protected, yet not overwhelmed by moisture on the way up that mountain.
For general use I still found the Smartloft-X 60 Hoodie to be very functional. Matched with appropriate layers for conditions it made for a lot more fun on the trails. I found myself having to take it off less often than I'd have thought for a wool insulated jacket. The panels let heat and moisture escape as intended. I'm thinking that folks of a variety of level of adventure would find this jacket useful too. The more active you are the more you'll appreciate it would be my guess.
One suggestion I would make would be to consider adding a pit zip or side vent of some sort. It would extend the useful range of the jacket for those of us inclined to get steamy. Not a huge problem for most folks, but I would have appreciated a way to dump a little more heat before having to take the jacket off.
As part of my testing of the reduced smell claims Smartwool makes due to the wool lining and insulation I haven't washed this jacket. I've been able to stink it up a bit on trail, but hanging it up at home has it smelling fine in a matter of hours. The naturally recovering abilities of wool are really appreciated as the sort of guy who steams things up.
I'm going to continue my testing for another couple of months and then will revisit this review. The results of a few test washes would be good to know, though as I mentioned, it doesn't seem the least bit dirty or smelly despite the use. I'll also have more of an idea of how well it continues to hold up by then, but so far I'm really impressed with what Smartwool has put together here.
Experience
I've been testing this jacket for three months now. It has been used for day hikes, peakbagging, and winter camping trips. In the past I have used other high activity technical jackets.
Source: received for testing via the Trailspace Review Corps (Sample for testing and review provided by Smartwool)

Your Review
Where to Buy
Help support this site by making your next gear purchase through one of the links above. Click a link, buy what you need, and the seller will contribute a portion of the purchase price to support Trailspace's independent gear reviews.
You May Like
Specs
Men's
Price
MSRP: $250.00
Historic Range: $100.00-$250.00

Shell
100% Nylon

Lining
56% Merino Wool, 44% Polyester

Filling
50% Recycled Wool/Reclaimed Wool, 38% Wool, 12% Polyester

Fit
Regular Fit

Women's
Price
MSRP: $250.00
Historic Range: $125.00-$250.00

Shell
100% Nylon

Lining
56% Merino Wool, 44% Polyester

Filling
50% Recycled Wool/Reclaimed Wool, 38% Wool, 12% Polyester

Fit
Regular Fit

Recently on Trailspace