Ternua Loughor Jacket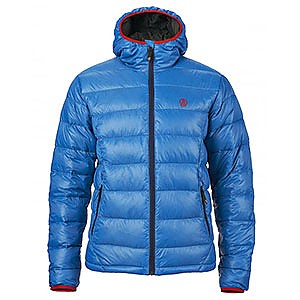 Manufactured in the Basque region of Spain with eco-friendly, recycled materials, the Ternua Loughor Jacket is great for hiking, snowshoeing, and other cold weather active pursuits. Insulation for on-the-go use that breathes and vents well. Combines with other layers both under and over to function well in a wide range of conditions.
Pros
Breathes/Vents very well
Comfortable fit
Low profile insulation
Recycled material employed
Cons
Narrow range of stand alone functionality
Some cuff abrasion
Possible issue for larger helmets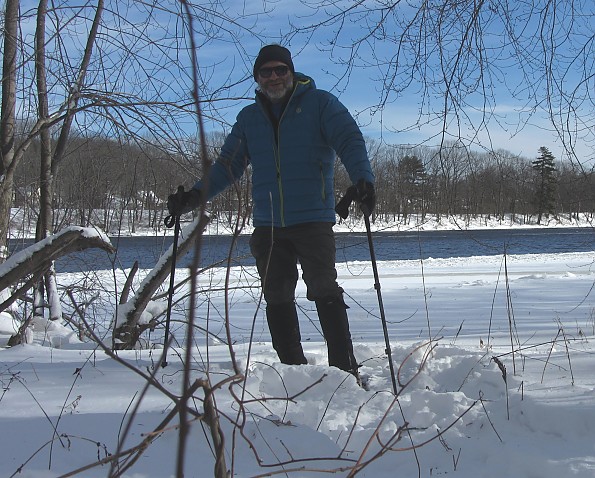 The Loughor in action snowshoeing along the Androscoggin.
My first interest in the Ternua Loughor hooded technical jacket came from hearing about their use of recycled materials, which is something I like to support as a consumer. After extensive testing in a wide variety of conditions and activities I've also come to appreciate the functionality of this jacket's design for active use.
It isn't meant to be a stand alone belay jacket or camp parka. It is designed to provide breathable insulation when on the go, but works well with other layers so can be useful even when you stop. Let me briefly get into the materials and then we can talk about how they come together to work in the real world.
Before we start though I'd like to share a bit of the Ternua story in hopes that you'll want to look at what they are doing as a company even if you aren't in the market for this jacket. Headquartered in the Basque region of Spain, Ternua seeks to carry on the spirit of the fishermen and whalers who lived there years ago. They roamed as far as Newfoundland with a great respect for the sea.
Ternua's logo of a raised whale tail reflects that history as does their slogan, the ancient bask proverb non gogoa, han zangoa which they translate as "where there is a will there is a way" on their website.
They also include this quote which reflects the spirit they try to envision as an outdoor gear manufacturer:
"The universe is mental. We are what we think. If we want, we can. If we believe, it is possible. Desire helps us advance. Our slogan says all this. Because we all have physical and mental limits... But they can be overcome. And then, in front of us, we discover new limits. Behind each hill, lies another. And this is what mountains are, and life, too. And we'll meet along the way".

As I said, their website is worth a look even if you aren't shopping for gear. They really seem to believe that companies have a spirit and they are seeking to be more than a business. OK, now back to the Loughor Jacket.

Materials and Construction:
Down is Post-consumer Content
Starting from the inside, the Loughor is filled with 140g of 800 fill goose down. This down has been recycled from selected materials gleaned from previously used bedding and clothing, then cleaned and sterilized. It is produced about 100 kilometers from Ternua's headquarters in the Basque region of Spain by Navarpluma  which markets the down under the Neokdun name.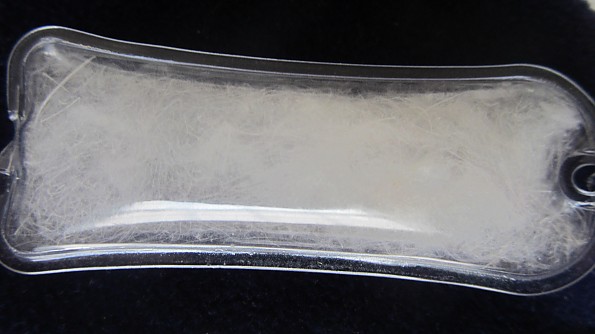 You can see a sample of the material here.
Visit their website linked above for the full story if you have a chance, but in short, they are taking post-consumer materials from clothing and bedding, washing, sterilizing, dedusting and then sending the materials on to manufacturers to return to the product cycle in a variety of fill levels from 550 to 800.
They also seem to be trying to do business with a conscience as they stress ethical sourcing and avoiding the use of environmentally harmful chemicals. Labeling on the Loughor Jacket states the 800 fill is 90% down and 10% feather.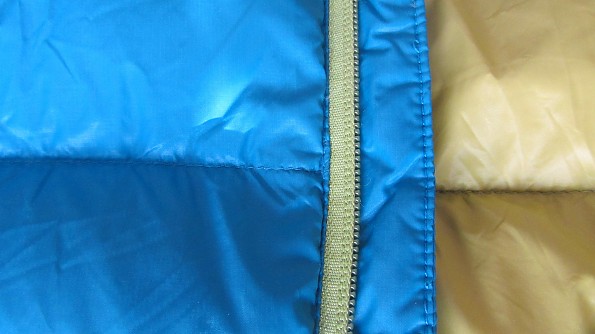 View of blue exterior with zipper and liner, which appear more of a greenish hue to my eye than this picture reflects.

Shell and Lining
The external shell of the jacket is a 15D 100% nylon that Ternua touts as being water repellent, not water resistant (see Water Resistance section below) and PFOA/PFOS free. The interior has a 20D 100% nylon that they describe as mesh lining though it doesn't appear or feel much different than the exterior other than color. Both are very soft to the touch and flexible.
Note the even stitching in the closeup above. Keep your eye out for that in the other closeup pictures in the rest of the review. You'll find that same attention to detail throughout the jacket, inside and out.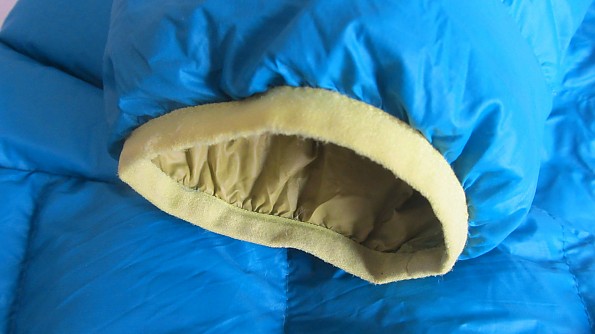 Closeup of the elastic arm cuff. Note some wear.

There are elasticized enclosures on both the cuffs and hood.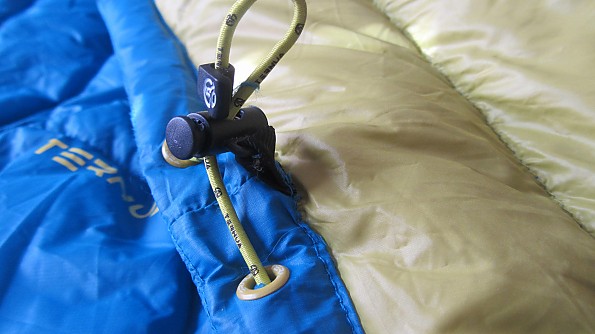 Well designed waist tension system includes hardware sewn directly to the garment, easy grip pull and grommets on either side to protect the fabric.
The waist has string tensioners on either side. These are easy to use and well designed, though I usually left the waist loose to increase ventilation.

Fit and Comfort: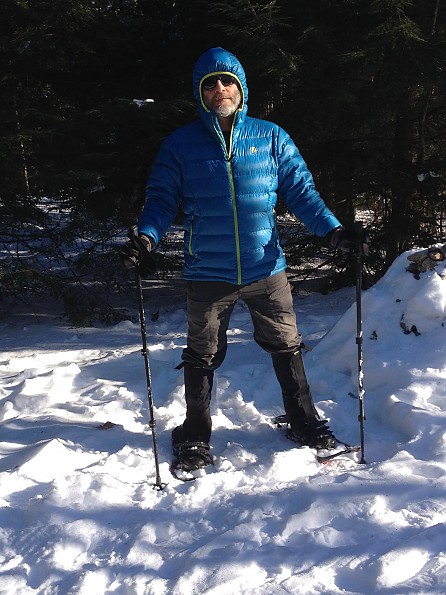 The summit of Cox Pinnacle day hiking in Maine and the zipper is still mostly up, which is a testament to the way this jacket vents.

My test jacket was a XL-US/XXL-EU that fit loosely and comfortably over my stocky frame (45.5" Chest, 23" Shoulder Width, 21" Torso). The arms measure 25" from pit to cuff, yet have no problem with my arms being about 5" shorter. The elastic cuffs allow the arms of the jacket to find their natural length comfortably.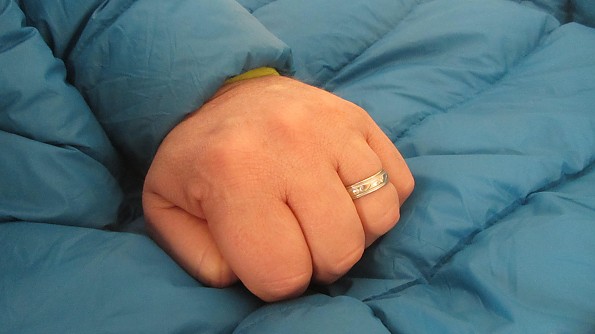 Sleeves find their natural length with this comfortable elastic cuff.

While still leaving ample room for additional layers underneath, the torso is somewhat tailored, leaving the arms to swing freely without making contact. The low profile of the insulation works well all around to let the body move easily without feeling like the puffiness is in the way.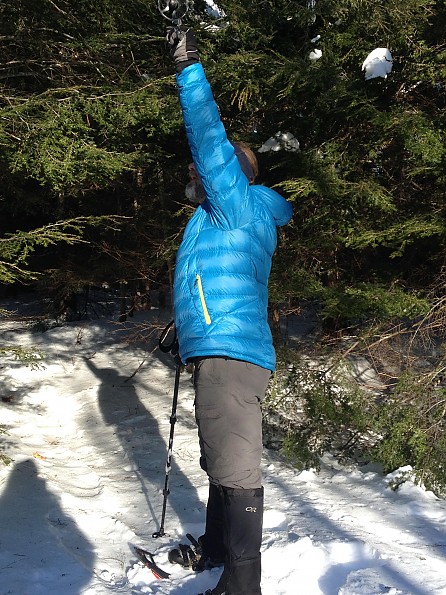 Even with the waist uncinched the front of the jacket stays down with an arm fully raised.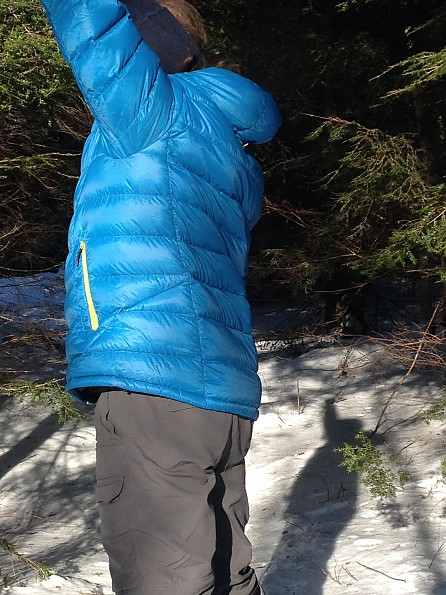 The tail is only slightly lower than the front, but you can see that it also stays with the body with an arm raised.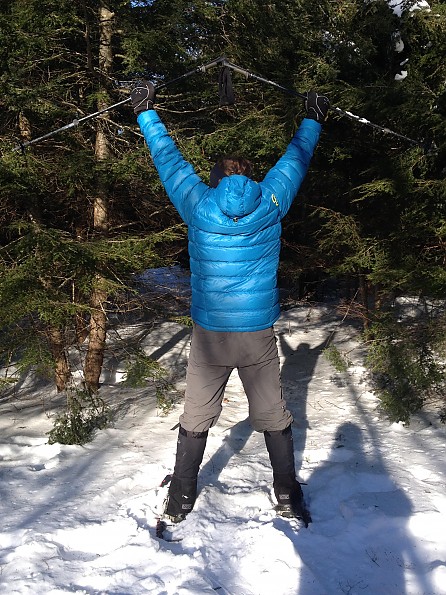 Even with both arms raised the jacket still remains in place on the body.

Designed to be worn for activity, the Loughor stays with the body well when in motion. Reaching overhead and bending were no problems as the jacket didn't restrict motion or pull too far away from the body.
I tried this jacket with a variety of packs and found it surprisingly comfortably under all of them. Usually I'm not a fan of wearing something this heavy under a pack and only do it begrudgingly as it makes a pack ride poorly, but cinching down waist and shoulder belts was no problem. I also found the exterior pockets were still accessible .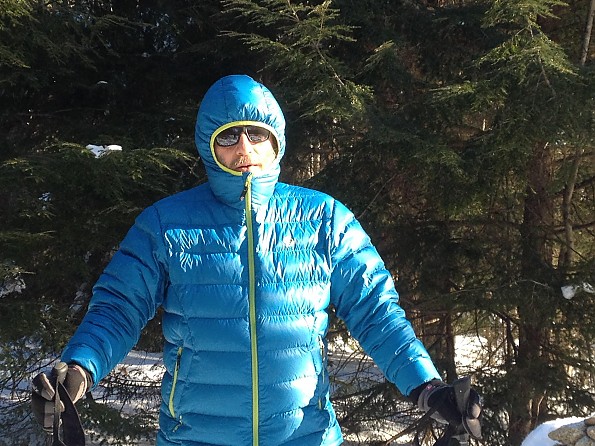 Rarely used in action due to being too warm, the hood was great to pop up during a break or on especially windy days.

The hood fits comfortably over my giant (24" circumference) head by itself or with a variety of hats I've tried. Not owning a climbing helmet I tried it with my cycling helmet on and found that seemed to be pushing the limits of the hood. I'm sure a real climbing helmet would fit better, but if you have a need for large headgear you'll want to test it out before you get to the mountain to make sure it doesn't raise the shoulders of the jacket too much.
With the hood up and the zipper fully raised the lower face is well protected from cold and wind. There is an adjustment cord with push lock at the back of the hood to set the circumference which was easy to access and use while wearing the jacket.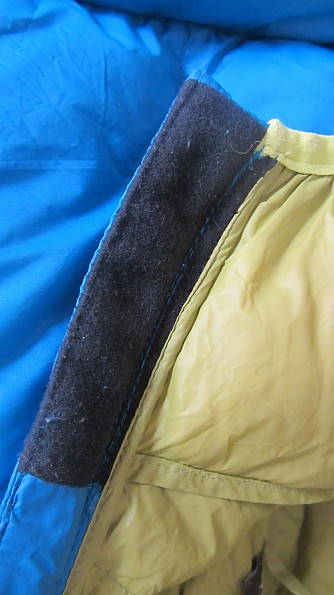 Soft fleece near the top on the inside of the zipper feels comfortable against the chin and lips when you tuck fully inside.

Even without a balaclava, scarf or other face covering the jacket felt comfortable against the face. Breathing was of course somewhat restricted in this configuration.

Water Resistance: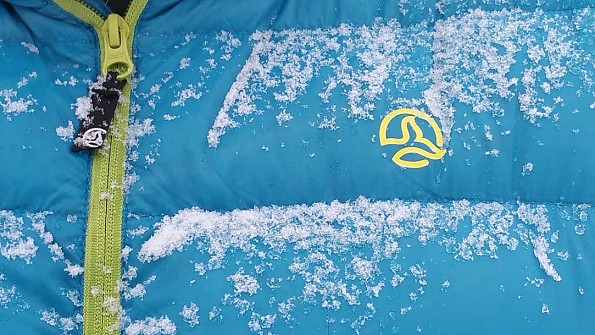 The Loughor Jacket is not something you'd want to wear in the rain without a shell on top, but melting snow or a light mist seem to be no issue for short periods. Extended periods of light moisture seemed to lead to some minor pass through to the insulation, but not enough to impact function.
Again, I would always be prepared to pair this jacket with a rain shell if needed rather than risk wetting it out as it is not intended to be a rain coat. I've had other down jackets, notably the Adidas Frost Jacket, which were designed to be more waterproof, but the Loughor accurately only makes a claim of water repellence.

Breathability and Moisture:
This is what I found to be one of the biggest surprises about this jacket; It moves excess heat and moisture extremely well up to a moderate level of activity. The materials allow air to flow through them at a moderate rate which carries some heat and moisture with it as it passes through.
I also think this air flow may be why this jacket seemed to refuse to become smelly. After many days of extensive sweat testing to see how it worked in different temperatures and activity levels I had synthetic base layers that were well past smelly headed towards stench. Despite that, the jacket never took on any aroma at all. The same continues today after wearing it under a full pack on a multi day winter trip.

Warmth and Layering:
These two go together for this jacket because warmth is a factor of what layers you are wearing along with the Ternua Loughor.
Most of my testing was done using the jacket as an outer layer with one or two light base layers (Patagonia Men's Capilene 1 Silkweight Crew alone or with a light, quarter zip grid fleece), but I also spent some time using it under a light Columbia wind shell and as a middle insulation layer under an Adidas Frost Jacket for hanging around a very cold winter camp.
This jacket is not designed to keep you warm by itself if you are inactive in especially cold or windy conditions. It really does a great job of working with your other layers to let you adapt to what the day brings. Adding or removing base layers to adjust for temperature and activity levels lets it work well in a wide range of conditions. A shell over the top to block wind or rain extend its usefulness greatly. The insulation really heats things up in this application and even more so if you layer a heavier down jacket over the top of the Loughor.
Comfort is very personal and in this jacket very dependent on activity level and conditions. With moderate activity and no pack it was great anywhere from 0°F to the upper 30s. On a windy day that range would change to be more like 20°F to the mid 40s.
Adding a wind breaker over the top on a windy day swung the range sharply the other way, allowing use to much lower temps. Hiking with a full pack not only adding to the work load but blocking some of the ventilation, my comfort range only extended to the upper 20s before it became too hot.

Durability and Abrasion:
For material with such a soft and light texture this jacket held up to abuse quite well. Rocks, sticks and a particularly annoying patch of briars all took their shot at poking a hole in it, but it remained intact. A few of the briars actually stuck to the material, but I was surprised to see no damage once I brushed them off.
One area I'm keeping an eye on is the elastic on the cuffs. While I really like the feel of it I'm aways wary of elastic as a failure point. It still seems strong after months of use, but I will report back later if issues come up.
The material around the cuff elastic does show some wear though which is also something I'm keeping an eye on. See the picture in the Materials and Construction section above and you'll note it is minimal so far, but I imagine it will continue to wear in that area.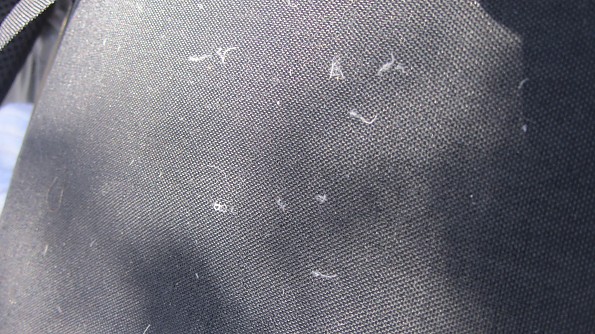 Down on hip belt after taking off pack.

Another thing I noticed was some down on the hip belt of my pack. Not a lot, enough to be noticed though, so I'll be keeping an eye on that part of the jacket for wear in the future.

Pockets: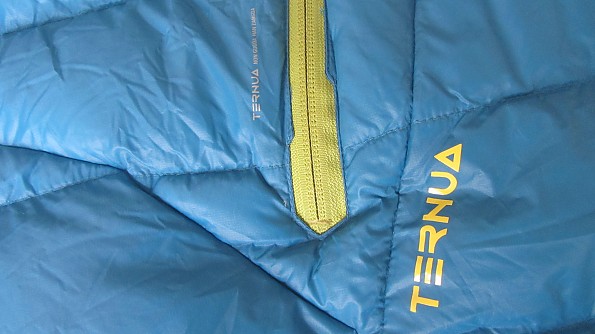 To the left of the zipper you'll find Ternua's slogan displayed unobtrusively, but don't get distracted and miss how that zipper is kept free of material entanglement.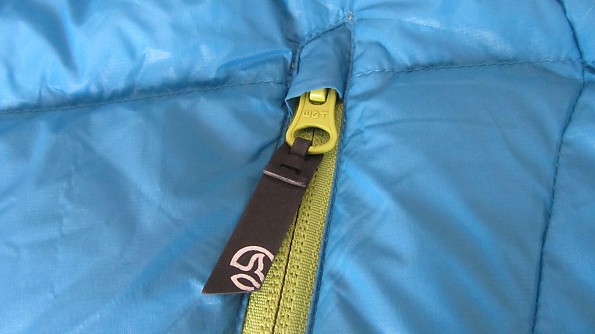 Sturdy W&T zipper, easy to grip pulls and a snug garage at the top to park them in. Really good design well implemented.

Two zippered outside pockets for secure storage or hand warming. Located high enough up that they were accessible while wearing all of my packs including with full waist belt. I have pretty big hands, but with light or medium weight gloves was able to get them into the pocket easily.
Two open pockets inside for glove/hat/etc storage. These pockets have an  open section at the bottom to drain snow melt or debris so don't put your phone in there. Wide opening at the top makes it easy getting stuff tucked in or getting it back out.

Zippers: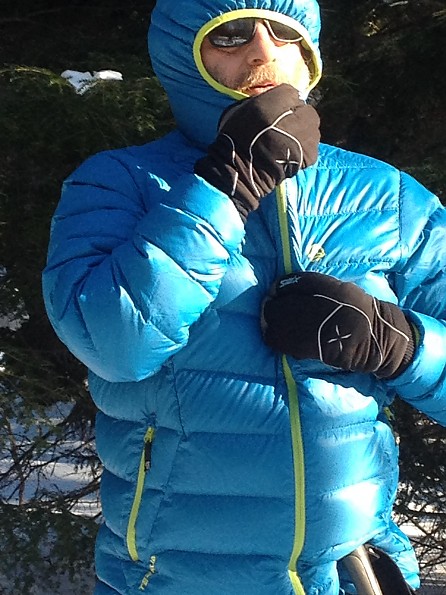 Easy to grasp pulls and hard to snag zippers mean no need to take off the mitts.

The pocket and front zippers seemed fragile at first look, but have proven fully functional in use. The opposite sided connectors to the front zip took a week or two before my hands learned to do it without thinking. The important thing to me is that none of these zippers has snagged on jacket material. I can get pretty worked up about a snagged zipper on trail so really appreciate designers who keep the material away from the moving parts.

Specs and Packability: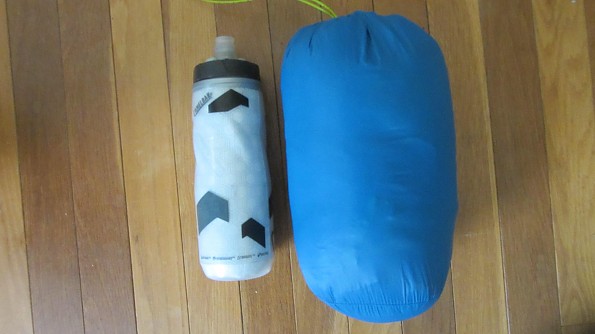 Shown here inside the included stuff sack with a water bottle for comparison.

Stuffed dimensions roughly  10.5"x5.5"
Weight including stuff sack: 14.4oz/409g

Testing Conditions:
The Ternua Loughor hooded technical jacket was tested over a three month period during an unusually warm New England winter. Temperatures ranged from -7°F to 50°F+ with the majority of testing done in the 20°F to 40°F range. Winds ranged from calm to roughly 40 mph and I do mean roughly! Light rain, melty wet snow, fluffy snow along with both wet and icy sleet were encountered.
Activities were primarily day hikes and snowshoe  excursions, though the jacket also came along on backpacking trips to the Bay of Fundy and the White Mountains in New Hampshire.

Conclusions:
The Ternua Loughor Jacket does what it does very well. It provides a balance of insulating qualities with the ability to shed heat and moisture generated by activity I was a bit astounded to experience. I generate a lot of heat due to my stocky build and would never have imagined being able to wear a down jacket while being even moderately active.
The key to this function is using the right layers along with the jacket for the conditions. It was important to add or remove layers as they were needed. Waiting too long could result in being chilled or as came up more often, sweaty. Along with that I found that with higher temperatures or activity level it was better to stuff the jacket in the pack because it really became just too warm. Those who tend to be more chilly will appreciate this jacket even more than I did I think as its useful temperature range will be expanded.
As an example, recently I left camp on a 5°F morning wearing a Patagonia Cap 1 base with a light grid fleece over it and the Loughor on top. Carrying a full 50 lb winter pack I toddled down trail for several hours in comfort. Then as the morning warmed up well into the 20s and my pace increased anticipating a cheeseburger later that day, I could feel more heat building up than I could bleed off by lowering the front zipper. Knowing I'd just get sweaty if I kept going it was time to pack the jacket away. With no pack and and easier pace I would likely have been comfortable wearing it the entire day.
In the other direction, when gusting winds were stealing too much precious heat on a cold day it was time to put on a wind shell. Adding that wind protection turned the Loughor into more of a traditional puffy down jacket in terms of warmth and wind protection. I'm seeing this combination being a useful combination on high elevation trips any time of year as an alternative to a heavier, puffy jacket as it would be more versatile. 
To be clear, this is not a traditional puffy jacket. It really seems made to be used in action and doesn't provide much warmth by itself if you are just standing around. With its ability to work with others layers it is an extremely versatile tool and can be used in a wide variety of ways including as camp insulation. In fact I slept in it on one especially cold night and found the jacket and hood quite comfortable under my quilts.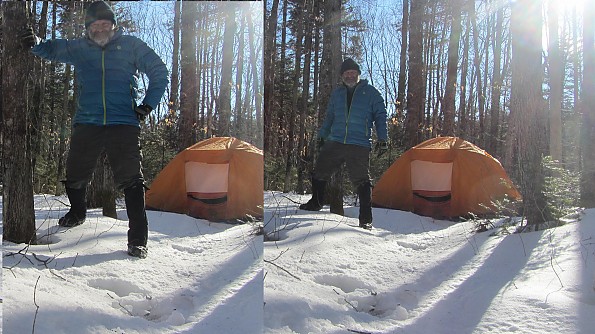 Zip up or down, the Loughor looked pretty fashionable hanging around camp on a winter White Mountains adventure.
Hopefully I've already made that clear, but I am very pleased with how this product functions and have no problem recommending the Ternua Loughor Jacket. I really like the way it works with other layers letting its insulation be used across a wide temperature range.
If you hike hot like I do, I think you'll appreciate the way it breathes, while chillier folks might prefer it under a light wind shell on all but the calmest days, but I think pretty much everyone who likes to stay active in the cold will find it useful.
My only real concern is the minor durability issues mentioned related to the elastic cuffs, so I will monitor that and update the review for better or worse down the line.
Source: received for testing via the Trailspace Review Corps (Sample provided by Ternua for testing and review)

Your Review
Where to Buy
Help support this site by making your next gear purchase through one of the links above. Click a link, buy what you need, and the seller will contribute a portion of the purchase price to support Trailspace's independent gear reviews.
You May Like