AntiGravityGear Foothills Trail Pocket Profile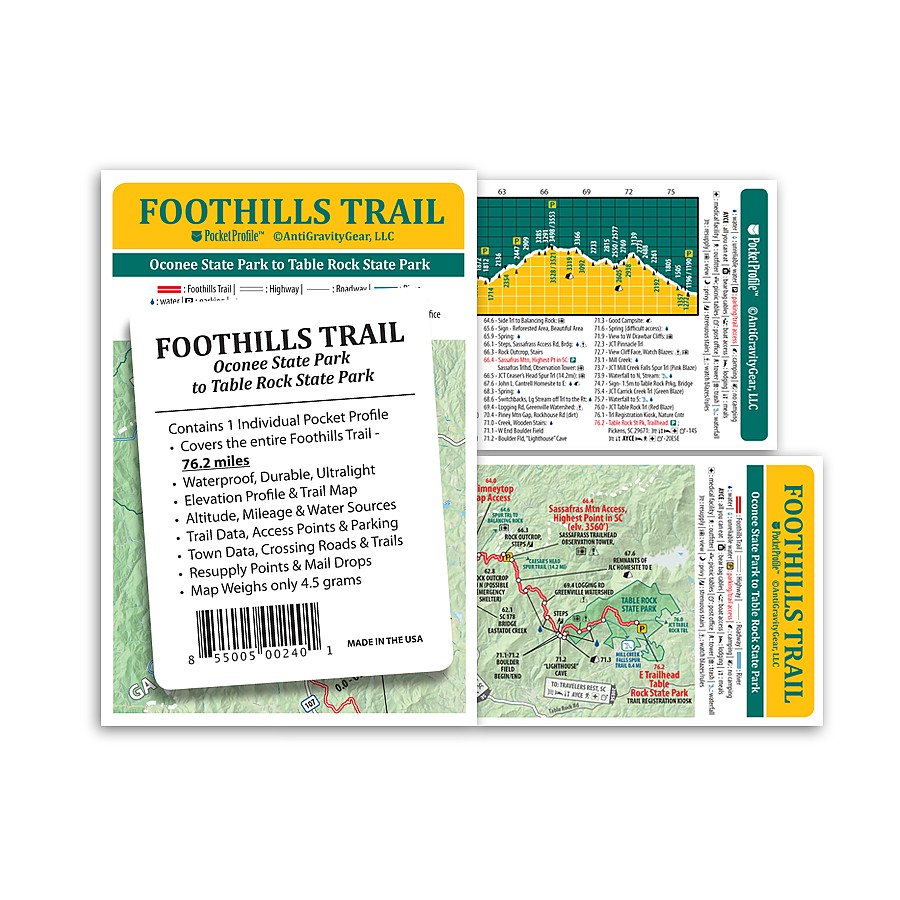 For day hikers and thru-hikers who want a quick reference guide to a trail that doesn't skimp on information, doesn't require electricity, and which only adds negligible weight (.18 oz/5 g), AntiGravityGear's Pocket Profile is an aptly named resource worth both the weight and the cost (USD $3.95)!
Pros
lightweight
lots of essential trail information
easy to read with a little practice
very inexpensive
updated annually
Cons
trail information may be out of date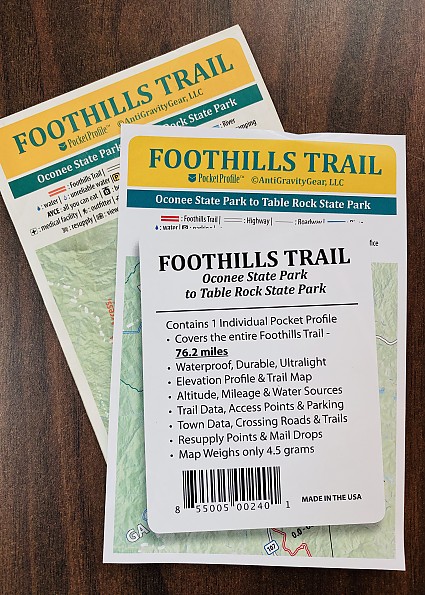 AntiGravityGear produces a number of useful little publications called Pocket Profiles. Among their Pocket Profile titles are releases for the Appalachian Trail (22 different sections/profiles), the Benton MacKaye Trail, the Art Loeb Trail, the John Muir Trail, and the Foothills Trail. The last is the one I purchased and used during my thru-hike of the Foothills Trail in June of 2019.
A Pocket Profile contains a plethora of information. In the case of the Foothills Trail Pocket Profile, AntiGravityGear claims to provide the following: "The entire 76.2 miles of the Foothills Trail at a glance!  Weighing in at just 4 grams, this water-proof, durable map features a Foothills Trail map on one side and an elevation profile with altitudes and trail data/information on the other. Trail data information includes trail mileage, access points & parking, campsites, water sources, town data, crossing roads, resupply points, mail drops and more."
The trail map side is nicely shaded to depict topography and includes major landmarks such as rivers, lakes, waterfalls, and roads with elevation on this side shown through shading. 
I've provided some partially blurred images below to give one a sense of this Pocket Profile.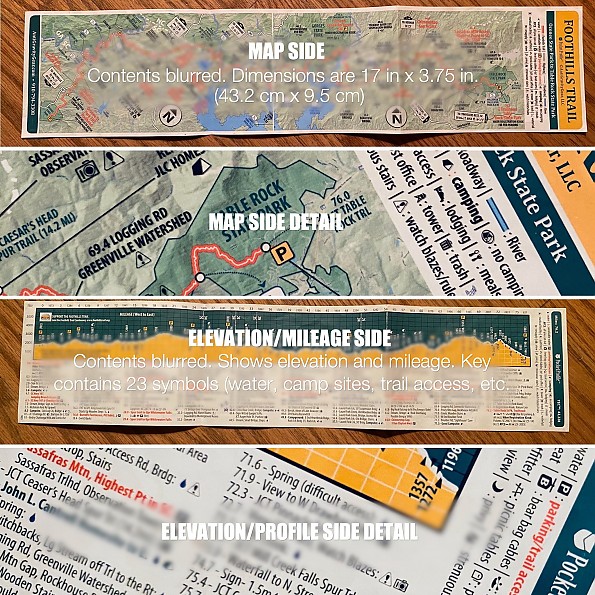 With every Pocket Profile comes a piece of paper that details care and use of the Profile (discussed later) as well as a key on how to read the "Line Items" of the Profile, seen below.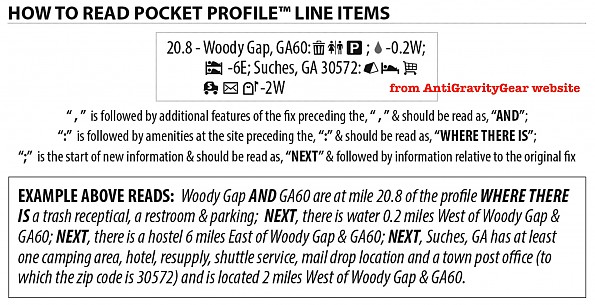 However, for superb explanations of all that these Pocket Profile offer, please see the following links from AntiGravityGear's own website featuring annotated samples of the trail map side of a profile and for the elevation side. 
Because I had not hiked the Foothills Trail before I set off on that adventure, I decided to cover all my bases and got a map, a guidebook, and the pocket profile. I ended up carrying the map and Pocket Profile with a handful of pages cut out of the guidebook for more explicit detail.
Using the Profile on the Trail
So did I use it? Yes, especially after my phone died on the evening of the first day and I realized that I'd forgotten my charging cable, rendering my phone-as-GPS option defunct.
I settled into a trail routine of checking the larger, more comprehensive sources (map and guidebook pages) in camp and then relying almost exclusively on the Pocket Profile during my day's journey. This was because it was peerless in terms of weight, accessibility (I had it in a DCF pouch dangling from a shoulder strap), and relevant information. Below, I'm comparing the map to the Pocket Profile to gauge my next day's exertions.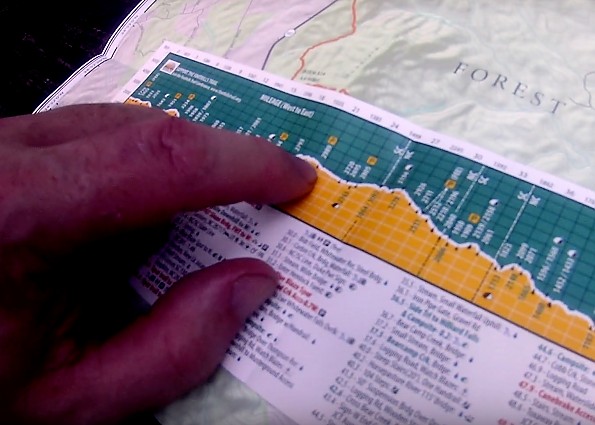 On the trail, if I got to a potential trail junction or landmark, I'd check my Pocket Profile, view it to confirm my sense of direction or to see how much elevation lay ahead, and stow it again without a hassle. There was no need to stop and unpack other navigational materials with the Pocket Profile always within reach. I found this option of quickly orienting myself and tracking my daily progress to be very satisfying.
Could I have used a phone if I'd had a charge? Yes, perhaps, but I would not have been able to see all that I could see on the Pocket Profile at a glance of a single phone screen.
In actual practice I didn't use all of the Pocket Profile's information. For instance, a mere week on the trail for me meant that I didn't need to pay attention to the nearest lodging at trail access points or the closest post office or resupply location, even though all that information was there. More important to me were icons noting campsite locations, water sources, the luxury of a privy, or waterfalls—thirteen of which are noted on the Foothills Trail Pocket Profile! However, this rich information trove could doubtless be of use to hikers planning or navigating their journeys along other long trails. 
Importantly, my own mistake of forgetting a charging cable reminded me of the benefit of "paper" back-ups. Even on a well-marked, well-trodden trail, it is nice to have paper access to the sort of information a Pocket Profile provides in the event, for instance, that one's phone battery dies and one can't use one's Guthook app.
The Pocket Profile also helped to keep me on an emotional even keel. Bear with me here! Any veteran backpacker will recognize that there are moments on a long day's hike when one's physical and emotional energies are sapped. At such times I'd pause for a snack and some water and pull out the Pocket Profile for some perspective. "Well," I'd rationalize, "this section isn't as bad as the switchbacks rising from the Chattooga River," or "the climb from Horsepasture Road to the top of Sassafras was worse than this one. I'll make quick work of this one!" By making known any challenge, the Pocket Profile held at bay any self-defeating, gnawing uncertainty about how much further, high much higher, etc. In this way the Pocket Profile helped to inspire welcome positivity during my hike. 
Because the full length of the trail was always in front of me on the Pocket Profile (no scrolling a GPS or phone screen!), this sense of perspective and accomplishment increased as I logged more and more miles of trail and burned through what AntiGravityGear calls the TEC. Here is AGG's explanation of TEC from their website:
The AGG TEC™ reference number located between mile markers above the elevation profile is the measure of Total Elevation Change per segment. These are also commonly referred to as PUDs or MUDs (Pointless Ups & Downs or Mindless Ups & Downs). This rating is meant to give you an idea of how TEChnical the terrain ahead of you will be.

For instance: If, during the course of a 3 mile segment, you climb 1000 feet and descend 500 feet, the AGG TEC™ number for that 3 mile segment would be 1500. This number, when compared to the elevation profile, can give you an idea of how much elevation change is ahead and whether it is likely to be more uphill or downhill or a mixture of both ups and downs.
It was useful to see how much up and down I'd have in front of me while on the trail, but for me, the best part about the TEC was looking back on my hike and marveling at the cumulative sum of the many ups and downs I'd completed.
Durability and Environmental Friendliness
Happily, the Pocket Profile is both durable and environmentally friendly.
While I did protect the Pocket Profile by storing it in a DCF pouch, it nevertheless got wet from rain at times when I had it out. It held up well to the moisture and humidity of the temperate rainforest climate that is typical of the Blue Ridge Escarpment, along which the Foothills Trail runs. 
Doubtless, this is due to its material: it is made of category 2 HDPE, which is 100 percent recyclable. In fact, AntiGravityGear notes that its "U.S. supplier abides by the 4 R's of environmental stewardship: Recycle, Reuse, Respect, & Reduce," collecting any production waste for regranulation or reprocessing for other plastic products. 
AntiGravityGear suggests that one be careful not to stress the folds unnecessarily, even noting that the profile can be rolled for stowing. I did not roll mine, and so perhaps predictably the printing on the exterior edges of the fold lines have begun to wear off, leaving a white line on the edge. But this in no way (at least currently) impairs the usefulness of the Pocket Profile, and I don't think it is substantially weakened.
The printing held up fine elsewhere, the bright, clear colors impervious to sweat or rain, and aside from some incidental wrinkles, the Pocket Profile survived my thru-hike without any other evidence of use.
Limitations
Obviously, it is worth mentioning the Pocket Profile's limitations. As a print resource, its information is subject to change. The note accompanying the Pocket Profile directed me to a website for "data updates, corrections, and usage tips." Arriving at that site, I found this:
Pocket profiles are updated annually, but not necessarily at the same time. To see any corrections, updates or new scheduled features, choose your profile to the left. When you come to your profile's errata page, choose your edition number which is located in the bottom corner of the elevation side of your Pocket Profile.
However, the website appeared to not load correctly when I checked it while drafting this review. Apparently, the site is being revised or updated, but at this writing (23 March 2020), the update page does not appear to work. An email to customer service did not yield a reply, but then these are also Coronavirus days wherein nothing is normal. As it stands, this is a product limitation.
Note: I had checked this page prior to my own thru-hike last summer and found no updates to my Foothills Trail profile, but the update page was then working. I will keep an eye on the page and update this review if the status to the errata page changes or if I hear back from AntiGravityGear.
The Pocket Profile is not meant for pure navigation: while it would be hard to get lost on the Foothills Trail, there is not a detailed enough scale on the Pocket Profile trail map side to be able to read the topography and identify one's location if you were to get off trail.
It is thus not the equivalent of an accurate topo map: the intended purpose of the Pocket Profile is to provide a quick reference source of relevant information for a long stretch of trail, in this case 76.2 miles. In contrast, the "Official Map of the Foothills Trail" (published August, 2014, by the Foothills Trail Conservancy) uses a 1:30,000 scale with additional topographical information, trailheads, insert maps of trail access points, and countless more details such as the names of mountains, creeks, roads, etc. This is much better suited to actual land navigation than the Pocket Profile
The Pocket Profile is also not a guidebook. The two principle guidebooks for the Foothills Trail are the FTC's spiral-bound Foothills Trail Guidebook (7th ed, 2018) and Scott Lynch's smaller, perfect-bound Hiking South Carolina's Foothills Trail (2nd printing, 2017). The former, at 127 pages, provides exhaustive detail with overview maps, topo maps, mini-maps, and more. While compact, the FTC guide is nearly a half inch thick and too heavy and bulky for most thru-hikers to consider carrying. The Lynch guide, at 72 pages, provides a slim volume one might consider carrying along, although its information is less detailed and more dated (I actually just cut out seven pages from the Lynch book that covered my East-West hike to save even more weight).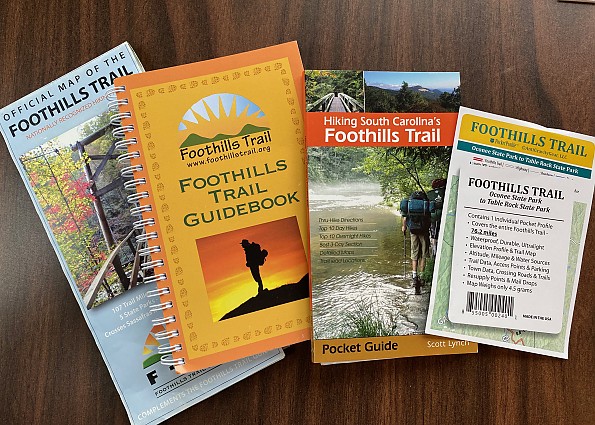 Conclusion
What the Foothills Trail Pocket Profile is, then, is the small and lightest trail print information option that can give one essential information during a hike or thru-hike of the trail—without the lavish detail of the FTC guide or even more minimal Lynch book; without the sprawling detail of the official FTC map.
It delivers useful, essential information efficiently in a light, durable, and inexpensive package.
Was it accurate? I can't pretend that I checked every piece of information for accuracy during my use of the Pocket Profile on my hike, by I can say that I never felt I was led astray by any of the information I did consult. I found it very helpful in its intended role.
I would like for the Profile Errata page to work again; that would inspire greater confidence in the currency of information. But even absent that, the Pocket Profile remains so packed with information at so low a cost that it's a win, and highly recommended for those seeking a lightweight option to help plan or guide their hike of the Foothills Trail.
Experience
While I've never used a Pocket Profile before, I've been backpacking and doing land navigation with topo maps and compass for more than three decades and, during the last decade, using handheld GPS and now phone apps, too. I grew up camping and backpacking in North Carolina from the Outer Banks to the Black Mountains. A scout backpacking trek through the Linville Gorge (NC) ignited a lifelong passion for the outdoors that I love to share with younger generations. A teacher for more than 25 years, I continues to hike, bike, backpack, practice bushcraft, and fiddle around with DIY/MYOG gear projects whenever I can. Of late, my free time has been employed by messing around with stove and cook kit options and beginning to train a husky for wilderness adventures.
Source: bought it new
Price Paid: $3.95

Your Review
Where to Buy
Help support this site by making your next gear purchase through one of the links above. Click a link, buy what you need, and the seller will contribute a portion of the purchase price to support Trailspace's independent gear reviews.
You May Like
Specs
Price
MSRP: $3.95
Reviewers Paid: $3.95

Weight
0.14 oz / 4 g

Dimensions
3.9 x 17 in

Material
Printed on Durable Waterproof Plastic