AntiGravityGear Ultralight Rain Pants

#4 in unisex Waterproof Pants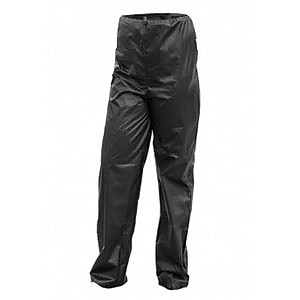 These rain pants are amazingly small and light, but do a great job of keeping you dry and comfortable.
Pros
Packs down small
Lightweight
Drawstring waist
High waist
Velcro ankle closures
Good water resistance
Can be put on over shoes / boots
Good abrasion resistance
Cons
No pockets
Ankle closures aren't tight
Silnylon isn't breathable
When I started looking for a new pair of ultralight rain pants, I originally turned to cuben fiber. The downside there is the price. At around $150 per pair, I had a hard time justifying an upgrade (my old pants worked, but were a little heavy for my liking).
While poking around online, I came across AntiGravityGear's Ultralight Rain Pants which use 1.1oz silnylon instead of cuben fiber. This cuts the cost more than in half and comes in at almost exactly the same weight (give or take an ounce). After a few good rainstorms, I am very happy with these rain pants.
MATERIALS
AntiGravityGear used 1.1oz silnylon for their Ultralight Rain Pants—the same material used for most tents. While it isn't quite as lightweight as dyneema or cuben fiber, 1.1oz ripstop silnylon does provide great weatherproofing in a lightweight package. It is relatively durable, is easy to repair with Tenacious Tape, doesn't stretch much, is windproof, and is waterproof.  
The one downside is that silnylon is made by coating ripstop nylon with a sil/PU layer on each side—making it waterproof, but not at all breathable.
DESIGN
These rain pants are cut nice and loose. They don't taper at all. In fact, the cut of these reminds me a lot of suit slacks out of the '80s (minus the pleats, that is). While this may sound like a downside, it's actually a huge benefit. Because these pants are cut so loose, you can put them on and take them off without removing your shoes / boots.  
You can then use the velcro ankle closures to taper the pants a bit once they are on. The waist sits up on your actual waist instead of down on your hips, thus preventing moisture from running off of your rain jacket and into your pants.
Like most of the gear in my bag, these pants were designed to be functional at the lightest possible weight. To that end, pockets were excluded (one or two would be a great addition), seams are not sealed (this hasn't been an issue yet—more on this later), and the only adjustment points are velcro ankle closures and a drawstring waist closure.
The velcro closures on the ankles could be better. The velcro only goes about 1/4 of the way around the pant leg, so you can't really taper your pants enough to make any difference. The drawstring closure used on the waist is a much better choice as it can be pulled tight and is fixed with a push-button mini cord-lock.
DURABILITY
In the past, I have only ever run into durability issues with rain pants while bushwhacking, something I haven't done with these pants yet. Silnylon is a relatively durable fabric when compared to other lightweight choices like plastic or vinyl and even has more abrasion resistance than cuben fiber. It is also less prone to UV damage and peeling than cuben fiber making a longer lived option.
EASE OF USE
These pants are really easy to get on and off. Because of the loose cut, they easily slip on over shoes / boots so you don't end up getting your socks wet / muddy while fumbling to put on or take off your rain gear. The velcro strips on the ankles are pretty thin and short, so they can be difficult to adjust.
Often times I find that I have adjusted too much and there isn't enough contact between the two pieces of velcro to hold securely. By comparison, the drawstring waist couldn't possibly be easier to use.
COMFORT
When layered over pants, these rain pants are very comfortable. When layered over shorts, the silnylon fabric feels a little clammy against the skin.
WATER RESISTANCE
Silnylon is nylon fabric imbued with silicone in order to create a waterproof layer. Even without seam sealing, these pants have done a great job of keeping me dry. According to the AntiGravityGear site, none of the AntiGravityGear team have needed to seam seal their own pants.  
The tradeoff is that this fabric isn't breathable, so long days wearing these pants will likely lead to some condensation on the inside of the pants. Again, I haven't noticed this when wearing pants under these.
LAYERING
The loose cut of these pants makes layering easy and comfortable.  These pants don't feel like they compress lower layers at all.
PACKABILITY
These pants pack down amazingly well! At 2.8oz - 3.4oz depending upon size, it's hard to justify leaving these behind even when the forecast calls for good weather. They fold down small enough to fit in the palm of your hand and come with a mesh stuff sack for easy packing.
Source: bought it new
Price Paid: $57

Your Review
You May Like
Specs
Price
MSRP: $57.00
Reviewers Paid: $57.00

Weight
2.8 oz – 3.4 oz

Recently on Trailspace