Appy Trails Mark III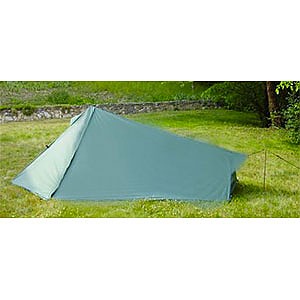 Specs
Price
MSRP: $99.95
Historic Range: $99.95
Reviewers Paid: $99.00

Weight
1 lb 2.7 oz

Reviews
3

reviews

5-star:

1

4-star:

1

3-star:

1

2-star:

0

1-star:

0
Appy Trails Mark III is a lightweight shelter that is easy to set up and take down. Its light weight justifies using it for a "1 person" shelter, but it does fit two people and gear.

The Appy Trails Mark III is best for backpacking and thru-hiking due to its weight. I would recommend this to others and have purchased another for others in my family to use.
Pros
Super lightweight
Easy setup and take down
Privacy
Good packing size
Cons
Not freestanding
Cheap stakes
I usually backpack with my husband and either he carries our 2-man tent or we split the weight. I have begun to hike without him and was looking for something lighter than the backpacking tents that we have. I couldn't find too many tents that gave me the privacy I wanted for the weight I needed/wanted. I also wanted something that was not complicated to set up.
Appy Trails Mark III meets that need and is great for ultra-light backpacking. Setup is so easy. Because of how simple the design is, I can set it up in less than 2 or 3 minutes, even in windy weather (and I have had a lot of that recently) or in the dark.  
It pitches well and the tent is relatively quiet in wind, as long as it is staked out well. I think this is partly because it is a single wall tent and there is no rain-fly or "window" material to flop against the tent.
There is no floor, so you have to bring a ground cloth and take care where you pitch it if it is going to rain, but it keeps the weather out. There are netted vents at either end, that can be opened or closed—I leave them open all the time—but condensation is sometimes an issue, especially if there are two people or you are in an area that is very humid.  Not such a problem with one person, because you can sleep in the middle and not worry about touching the side or top, a little trickier with two people, but still manageable.
I have used this tent mostly in the West, where generally, there is not a lot of humidity to deal with. In times/places where the humidity is high, I just leave a part of the bottom edge staked up higher (not flush to the ground).  When I do that, I sometimes worry about rodents or little creatures getting in, but if I don't think about that too much, then I don't freak myself out!  :)
Even though it is advertised as a 3-person tent, you would have to be desperate to want to stuff three people in it and they would have to be really short! It is great for two people and gear. Headspace is sufficient for two people to sit up and talk or get dress without contorting their bodies into unnatural positions. For a backpacking tent, it is almost luxurious in size for use by only one person.
Taking down the Appy Trails Mark III is a breeze. Pull out the stakes, and put it away. There is a stuff sack to use, but I find it best to just fold it onto itself until it is about 8 inches wide, roll it tight, then put it in the stuff sack, as opposed to actually stuffing it. The Appy Trails Mark III packs down very easily and is about 4 or 5 inches by 6 to 8 inches, depending on how tight you roll it. I  leave mine a little looser, so that I can stuff the bag in my pack and it will conform better to the shape of things around it. 
Rather than the main pole it comes with, I use my hiking pole in the center, so there is less redundancy in my gear. But if you don't take hiking poles, the main pole only weighs a few ounces. It can also be used with a stick you find on the trail if you really want to save a few more ounces. 
This is not a free-standing tent-you must use stakes. The stakes it comes with are fine if you know you will be on soft ground all the time, but I replaced mine with stronger stakes for dry/hard/rocky ground. 
As a female, hiking in mixed company, the privacy this tent/tarp provides me, coupled with its light weight, small packing size and easy setup, makes it a great addition to my gear. We have also purchased another one for my son.  With the price of the Appy Trails, I would replace it with another one, if/when it wore out.
I would recommend this for people who want to keep their pack light without spending a fortune.
Source: bought it new
Price Paid: $99

Cost-effective lightweight shelter for 1+
Pros
Light weight
Compact
Great value
Cons
Same limitations as any single-wall non-freestanding shelter
Grommets are a potential weakness
The AT MKIII could conceivably shelter three people, but not any of their gear. It is even a bit cozy for two, but is spacious bordering on luxurious for one. Light weight (21.25 oz / 602 g + 4.65 oz / 132 g for the included pole set) makes this a viable solo option.
I have a deep-seated distrust of grommets, especially if it's possible that tension could be pulled in any direction other than exactly parallel to the fabric. I would never put a tent stake through one of these grommets, and instead installed 3' guy lines on each one. A bowline loop, girth hitched through the grommet lets you stake it tight to the ground through the loop, or let out some slack for a higher pitch. Being a belt and suspenders type, I also have sewn grosgrain ribbon loops near each one just in case. The velcro storm flap on the door zipper is tricky to operate from inside.
The setup for the MKIII isn't exactly intuitive, but following the instructions to the letter will give a tight pitch with a minimum of post-stake fiddling. I usually hike with one pole, and if taking the MKIII, make sure it is adjustable. I don't expect a "shaped-tarp" like this to provide bug protection, so I cut the mosquito netting out of both vents for more ventilation, but still have to pitch it at least slightly off the ground to minimize condensation. It's possible to pitch partially tight to the ground, partially elevated.
When pitching high, position the short foot-pole further from the tent for a tight pitch. I use a single bug net from The Friendly Swede (Amazon, $15) and a ground sheet also from FS (called a "Waterproof Beach Blanket Picnic Tarp XL" Amazon, $19) or tyvek. I have used the MKII above timberline but made sure it was hunkered down against some waist-high willow bushes, max wind I've been in was probably 20 mph gusts.
A camping shelter is like a boat in that its performance is a collection of compromises. In order to reap the benefits of this type (lots of room for light weight, dry pitch, flexibility—leave the netting home in the fall, take a full or a half groundsheet) you have to be willing to accept its limitations (higher fiddle-factor all around, condensation control, site selection more crucial for both drainage and windage).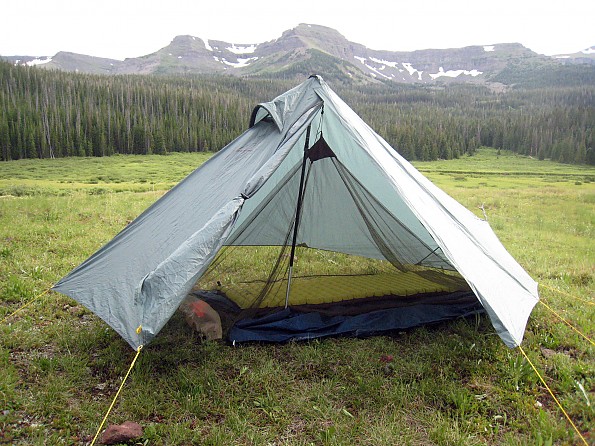 Happy Camping!
Tim
Source: bought it new
Price Paid: $99

If you want to "lighten the pack" without going "all in" this could be for you. Same weight class as many tarps but has the advantage of zipping up for foul weather and privacy. Requiring only one (1) guy-out at the rear and pegs around perimeter makes this tarp simple to pitch.
Pros
Low cost
Size and weight
Ample space for 2-plus gear
Cons
Stake grommets not gusseted
NOT rip-stop sil-nylon
This is a good low cost alternative to an expensive sin-nylon tarp tent. It is 185T polyester and as a result a few grams heavier than what some may want but not enough for me to care about the difference. It has ample room for two (2) "hikers" plus packs.
It mashes down about the size of an MRE. I've seen travel pillows that pack bigger so don't expect the Taj Mahal.  Zipper quality is OK but I've had the flaps snarl up a few times. I wish that the stake grommets had been gusseted, especially the one near the door flap (aftermarket mod required... oops). I can set it up in the dark now that I know the sequence well. Uneven or rocky ground can make this challenging and stability will suffer if you only have poor soil to stake into .
If you plan to ditch the factory poles and substitute your walking sticks be careful to match lengths w/ sharpy marker. Variation in pole length will make this tricky to pitch. As with all floorless tarps bring a good ground cloth(Tyvek) and the expectation for some condensation. If you pitch as intended, with tight ground contact, bugs will "mostly stay out" but air flow will be restricted unless you roll up/crack the door. Air flow will improved if you simply pitch it higher than factory and add guy extensions to the lower grommets.
I've have the Appy Trails III  nearly two years and alternate between it when hiking and an A-Frame Timberline 4 when we "car camp" w/ scouts. I'm happy enough with it to recommend to a friend and I'll probably get another if/when this one fails.
Source: bought it new

You May Like
Recently on Trailspace