Eureka! Timberline 4

This is a very solid dependable choice for a car camping or in some cases backpacking tent. It's reasonably light at around 9 pounds, it is roomy for 3 people but not 4. It's strong enough in all but extreme wind and you will stay pretty dry.
Pros
Simple to set up
Roomy for 3 people
Will last for years if halfway taken care of
Cons
No vestibules so outside storage is zero
The fly doesn't cover the tent all the way to the ground
so some possible seepage around the extreme edges of the tent
Probably not the best high wind tent, but not bad either
This is the classic A-frame nylon tent dating back to the '70s. It has changed very little and that's because it was that good in its design. Poles are aluminum, it's easy to set up even for one person.
I would say it is a fairly warm tent in cold weather, it lacks the roof vents that the dome tents have. This means the venting has to come through the back window and the front door. This can cause some minor condensation problems when you shut the 2 openings.
Since there is no vestibule in either the front nor back, you have less outside storage space. You will need a ground cloth to put under this tent (and I'd say all tents really).
The biggest problem this tent has (in my opinion) is that the fly does not reach the ground and leaves some exposure especially if the rain is wind driven. This means that even if you set up the tent perfectly you may have some water seep in around the edges of the tent. However it is very minor, just keep stuff that can't get wet away from the edges.
In the wind it would be smart to figure out the direction and put the front door of the tent facing into it so as to not have it hit the tent broadside. The A-frame design has this weakness.  Than being said I survived camping in Guadalupe National Park a few years ago and we had 50 mph winds and the tent stayed up ...barely. I did leave the fly off that would have not survived nor would I have ever found it again!  That being said I have purchased a dome tent for expected wind conditions (Eureka Mountain Pass 3xte).
You can use this tent for backpacking but it would not be my first choice for that.  You would have to split it between at least 2 people, one person carries the poles, ground sheet and stakes...the other takes the tent and fly. More bulky than heavy.
Source: received it as a personal gift

Great tent design but not as durable as the older models.
Pros
Easy setup
Plenty of room for two campers
Solid rain fly
Cons
Floor is made of the same material as the tent
Lots of plastic clips and weak bungee cords.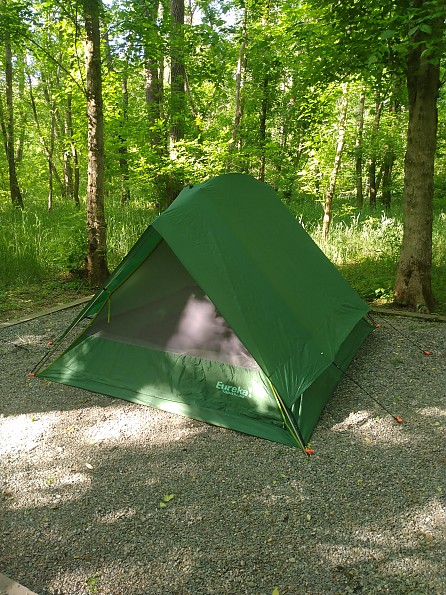 I'm a huge fan of A-frame Eureka tents, but the modern construction of the standard Timberline model is a little suspect. I initially bought this as a backup to the wonderful Timberline 6 Outfitter, so this sat for a number of years unused.
Recently I started bringing it out so I didn't have to backpack the larger version to the campsite. After camping in this for at least 6-8 nights, I can say it's pretty solid and definitely rain-proof. However, I'm not a fan of the thin flooring and weak bungee cords. The Timberline 6 has an awesome bathtub floor made of much thicker material. This version just has the thin tent nylon. In all fairness it hasn't failed yet, and I say yet because my kids are extremely tough on this tent.
My second minor issue is the bungee cords. Day 1 the pole cords failed me in the field. That has never happened with the 6. Fortunately I carry repair materials so the day was not lost. Eureka sent me cordage free of charge so maybe it's just a fluke.
The third and final gripe is the size of the rain fly. It does not go all the way to the ground or extend very far from the tent. Again, this hasn't failed me in inclement weather but it would give a little more confidence if it extended just a few inches farther from the main body.
My son has the Timberline SQ 2 version and the construction just feels far superior. If you can afford to do so, I suggest going the SQ route. That's built a lot like my original Timberline 6 and even comes with a vestibule opening on the front.
Overall, I do like this tent and got a great deal on it. I plan to upgrade the flooring myself at some point and hopefully it trucks along like my other ones.  If you can get a good deal for one of these go for it, but if money isn't an issue upgrade to the SQ version.
Background
I've camped in this tent on and off for a couple months. I think it's a superior tent to most dome versions on the market, but the craftsmanship is not as good as the previous versions. If I were to purchase a Timberline today, I'd opt for an SQ version due to the upgraded build quality.
Source: bought it new
Price Paid: $100

Great warm weather tent.
Pros
Excellent air flow
Weathertight
Extra long for tall guys
Ample rooom for two people and their gear
Cons
Requires more setup time than simple dome tents, Window ties require extra effort and zippers lack pulls
Previous reviews have described many features of this tent but let me add a few extra observations. I have tent camped for over forty years in REI, Marmot, Mountain Hardwear, and Sierra Designs three-season tents and the Eureka! Timberline 4 is my favorite tent for car camping in hot summer weather here in Alabama. For some reason, the screen windows allow better unrestricted air flow that any other tent I have used. Yet, when the windows are zipped closed, the tent retains body heat about as well as other tents. 
Earlier this month my wife and I went on a three-day trip to northern Wisconsin with a friend who had an older Timberline 4 with a front vestibule.  During the trip we endured four hours of heavy rain and puddles accumulated in our campsite, especially under his tent. But it stayed remarkedly dry! Fortunately (or unfortunately) I am unable to comment about its strength in strong wind.
Setup takes a little longer than a simple dome tent but gets easier with practice. The large door on the end makes it easy for older guys like me to enter and exit. In fact, I prefer four-person tents with a large door and no vestibules because they have plenty of space to store our clothing and personal items and are easier to enter and exit than tents with vestibules. 
My primary complaints with this tent were easily fixed. I modified the window ties to make loops and buttons that can be secured with one hand, I added zipper pulls, and I modified the side pull outs so I can stake them further away from the tent.
Source: bought it new

Great motorcycle/car/canoe tent have had mine for over 20 years. A few years back I got a Timberline 6. Don't like it nearly as well the extra height makes it much slower to set up.
Pros
Simple
Fast setup
Great room for 2 or 3
I have had a Timberline 4 since 1987. Camped in all kinds of weather way wetter and colder than I would now. It always performed well. Just watch placement. Don't set up so wind is blowing in your fly.
It is a great all around work horse. It may not be the best at any one thing, but it does a lot well. Setup is easy and fast, 10 min or less.
I did get a Timberline 6 a few years back. Took the family out winter camping with it and discovered that the extra height makes getting dressed easier, but setup is a lot harder. Not as sturdy either, bent a pole the first time I set it up.
I would get the 4. The 2 is cramped; the 6 it not as rugged and just too big. I did not intend to sound like Goldilocks, but the 4 is just right.
Source: bought it new
Price Paid: $100 back in 1987

Great for motorcycle camping under most conditions.
Cons
Did not stand up to high wind
Large packed size.
I went through two of these traveling by motorcycle from Key West to British Columbia and many trips in between over a number of years. It was huge for one person and even with my young daughter it was still big. It was even comfortable with another adult.
I stayed dry when many around me were hanging out sleeping bags to dry. In well over 100,000 miles of motorcycle travel these tents only let me down twice. First was in a open field at Cheticamp during a thunderstorm. The pole broke and the tent came down. The next was at the Outer Banks pitched broadside to the wind. A tent peg loop on the fly tore. Neither event ended the trip.
Bob Whigham
Source: bought it new
Price Paid: Not sure

Good tent, except in the rain. Always wanted a Timberline, finally got one, first use was in three days of continuous rain. The bottom door "draft tube" flap thing filled with water. There was not a way to open the door without water coming in the tent. I tried to get the annex vestibule but they stopped making them. :( Will still use it but only during nice weather.
Pros
Classic style and color
Quality materials and craftsmanship
Update 6/14:
I was finally able to track down an annex fly vestibule. This is now my go-to tent in any weather. 
Source: received it as a sample, freebie, or prize

This is my family tent for 3 season use. I don't use it in winter or on glaciers as it has no vestibule. The timberline 4 is very roomy and comfotable. It sets up easily and tight. The rainfly has good coverage and is a no-brainer to put on. The materials and workmanship of this tried and true free standing A-frame tent are top notch. It comes in a very pleasant green/white color combo. It also comes in a 2 door model and my one door has a very large rear window for good ventilation. In a 50 knot wind it held up well and flapping nylon was minimal. If you are tired of tiny 40ft2 floor space and less tents, you will love the room in this one.
I hope Eureka doesn't ever cancel this tent. They have created some real losers but this is not one of them. The Timberline series tents rate with the best on the market and are priced well.
Design: 3 season
Sleeps: 4
Ease of Setup: Very easy. 5 minutes with practice
Weight: apprx 8
Price Paid: $149 Campmor

This tent is a hoss! if you want something that is superhuge compared to the weight, tough as a tent could be, and weatherable enough for rain (heavy), snow (heavy) and heat and cold (lots) this is it. I bought the tent with the add on vestuble--yea I'm gonna get another one, it's huge, enough space for three packs and boots (with orgainization of course). I have taken this on a canoe trip where I slept six of my friends and myself in there (hint it's big).
The only problem I have ever had with this tent is it got really windy and the top pole snapped (guy it out if you're expecting wind, it will hold then). Very comfortable tent for multiperson backpacking or canoeing! Oh I almost forgot (NO CONDENSATION NO MATTER HOW MANY PEOPLE ARE IN IT!!!).
Design: classic A-Frame
Sleeps: 6+
Ease of Setup: i can set it up by myself with the vestuble and guy outs and everything in less than 6 minutes, super simple and strong A-frame design, the joint tubes can be confusing in the dark (use your tikka)
Weight: mine with 10 steel stakes and the extra vestuble packs in at around 10-11 lbs
Price Paid: $180

The Timberline series of tent is the most popular backpacking tent of all time for good reason. It gets very good ventilation, stays dry in driving rain and will last for years, even if you abuse it! The Stormshield fly keeps the rain out, but lets the condensation out. It does this by having a tight mesh on the A-frame and then covering it with the fly. The only negative thing I have to say is that the zipper gets stuck sometimes on the overlapping material. The material is there to keep out water though, so I'll take the minor inconvenience. Overall a great tent!
Design: Three season A-Frame tent
Sleeps: 4
Ease of Setup: 2-5 minutes
Weight: 7lbs. 13oz.
Price Paid: $150

Did not get to see how it does in the rain but as for ease of putting it up and size I really like this tent. I took it on a 5-night trip to Rocky Mountain National Park. Four guys, our sizes are 5'9", 5'11", and two at 6'0". All average build. We were not cramped at all. We did keep our gear outside though. You can put this tent up and take it down super fast. We put it up the first night at about midnight after driving 24 hours straight without a hitch. Excellent buy.
Sleeps: 4
Ease of Setup: very easy
Weight: 8 lbs (about 10 with a tarp to set it on)
Price Paid: $130

I've owned a 2 man timberline for over 8 years and simply love it. It's not the fanciest, not the lightest and definetly not the latest high-tech whizbang tent, but it's tough, durable and keeps me dry constantly.
My Boy Scout troop uses timberline 4 man tents and they seriously go thru hell on a regular basis. Boys are rough and careless.
The current tents are around 5 years old, and other than bent poles and broken shock cords due to carelessness, we've had no problems at all with them at all.
Two thumbs up!
Design: 3 Season (but used year round)
Sleeps: 4
Ease of Setup: 2 minutes max
Weight: 6-8 lbs
Price Paid: cheap!

My family has been using a this tent for about 15 years and it's still as good as the day I bought it. With a typical three trips a year this tent is all that and a dry night sleep in the worst weather. Weight is irrelevent as we canoe, and it is very roomy. Set up is super simple, and you don't have to use the pegs for those Canadian shield, granite ground, setups. My buddy owns two and I would not hesitate to buy another when the time comes.
Design: three season-freestanding A frame
Sleeps: 4
Ease of Setup: a chimp could do it
Weight: about 10lbs.
Price Paid: $150

Have used this fortress for both canoe and car trips. The half star rating is for something that may be a plus in the north shirld or Alaska - The weave on the netting does not allow enough air through the tent in hot, windless weather. Sure does keep out the bugs. Room to sit in a rainstorm, and with only two of us it's spacious. Easy to set up. Although no match for the two-polers out there.
Design: 3 season
Sleeps: 3
Ease of Setup: Once spacial reasoning sets in, no prob.
Weight: 8# w/ supplemental vestibule and stakes.
Price Paid: $149 +

Excellent tent! Just spent a rainy windy weekend and the tent performed flawlessly with no leaks or problems. Believe me, it got tested this past weekend.
I think it's a stretch calling it a 4 man but for the wife and I it's perfect. It is a bit heavy but I pack it on the back of a motorcycle so weight isn't a factor and I think its survivability is due to its heavier construction.
Design: Three season A-frame
Sleeps: 4
Ease of Setup: Easy
Weight: About 8 lbs.
Price Paid: $149

I bought the tent for family backpacking trip in '82 and have used it in everything, everywhere on kayaking, windsurfing, diving, mountain biking and climbing trips. Never, never ever been wet in that tent and will mourn its passing like a member of the family when it goes in the next ten years, maybe...
Design: 4-man A-frame
Sleeps: 3
Ease of Setup: excellent
Weight: about 9 lbs - 10 with footprint and vestibule
Price Paid: $220 US in 1982

We have used the Outfitter version (slightly heavier construction) for scouts for years and have never considered switching. We usually put 2 scouts in a timberline 4, or 3 if we have an odd number. Very rugged, standing up to years of use and abuse.
Design: three season
Sleeps: 4
Ease of Setup: 2 guys 5 minutes with experience

Simple to set up, all time classic. My 24-year-old Timberline 4 is more watertight than my brand new Nomad 6.1! XT version with front and rear vestibules (window on front) makes it bombproof.
Design: A frame
Sleeps: 4
Ease of Setup: Excellent
Weight: 9lbs?
Price Paid: 260 Can

A great workhorse tent. I have had a two-person and this four-person and never had any problems with either one. They keep you dry and are made well.
It is very heavy and it is not roomy, but is ok for only $100.
Design: three season freestanding dome
Sleeps: 2
Ease of Setup: takes 10 min. though easy
Weight: 7.5
Price Paid: $105

Your Review
Where to Buy
Help support this site by making your next gear purchase through one of the links above. Click a link, buy what you need, and the seller will contribute a portion of the purchase price to support Trailspace's independent gear reviews.
You May Like
Specs
Price
MSRP: $299.95
Current Retail: $224.96-$299.99
Historic Range: $109.96-$299.99
Reviewers Paid: $100.00-$220.00

Sleeping Capacity
4

Floor Size
103 x 86 in / 261.6 x 218.4 cm

Floor Area
63 ft² / 5.9 m²

Interior Peak Height
58 in / 147.3 cm

Total Weight
8 lb 10.08 oz / 3.91 kg

Minimum Weight
7 lbs 13 oz / 3.5 kg

Pack Size
7 x 24 in / 18 x 61 cm

Doors
1

Storage Pockets
2

Inner Body Fabric
75D 185T polyester taffeta breathable

Rainfly Fabric
75D 185T polyester taffeta 800 mm

Mesh
40D polyester no-see-um

Recently on Trailspace