Aqua Research H2gO Prime

#6 in Water Purifiers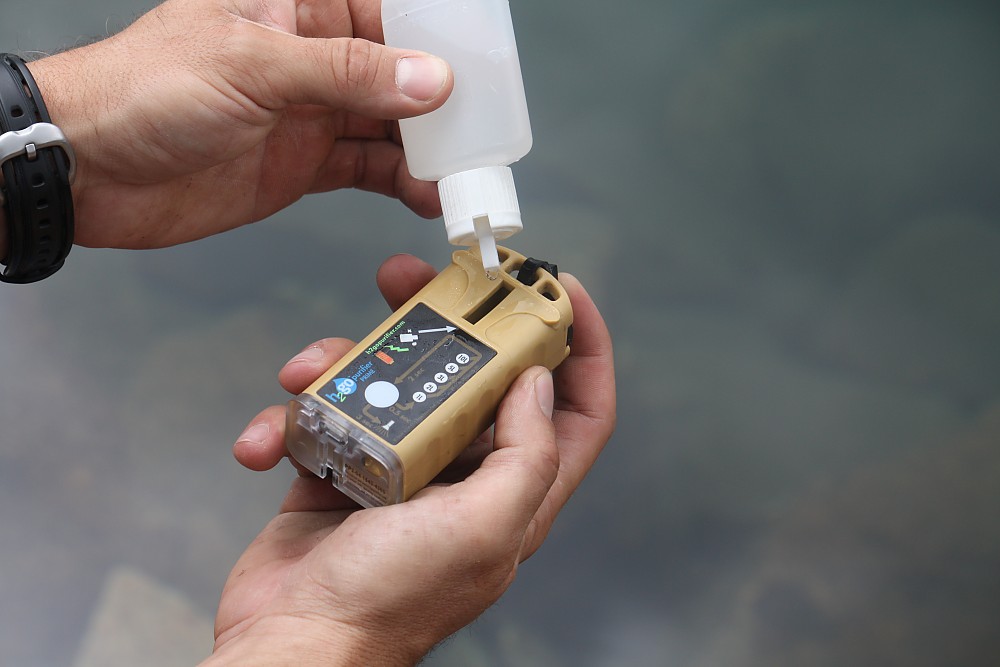 This a great device for making lots of drinkable water fast! The only drawback is filtering dirty, cloudy water. It's small, easy to pack, and gets the job done. Would definitely recommend, especially to anyone traveling with large groups. Heck even individuals would see a reduction in pack weight!
Pros
Generates chlorine fast good for larger quantities of water
Easy use/simple supplies
Doesn't taste as bad as iodine or even Micropur (chlorine tabs)
Faster than flitering
Good batt life + solar charging
Lightweight and easy to pack
Cons
Doesn't filter particulates
Awkward ergonomics for pouring brine in and chlorine solution out
Waiting for chlorine reaction
Hello, I am an avid backpacker, climber, hunter, and general outdoorsman. Recently I spent a weekend trip in the Weminuche using the H2gO purifier as my sole source for making clean water. I regularly use Katadyn, MSR, and Sawyer filters and have used iodine and Micropur in the past.
This unique little device makes a concentrated chlorine solution out of nothing but salt and water! We were able to supply the water needs of 6 people for 3 days and had plenty in reserve. Our only limiting factor was how much salt we brought along.
In comparison to other chemical purifiers this is far superior as the taste is better, it works faster and is much easier to transport, not to mention safer. Having to carefully extract a crushed chlorine tab from that little foil packet sucks. The chlorine flavor was essentially nonexistent when the water was boiled and only a hint of taste when cold.
Time to pure water is dependent on the possible organisms you're treating so knowing your environment is necessary! But considering the quantity you're able to treat at once it is likely faster than pumping all that water thru a filter, and it saves your knees or a wet butt while sitting creekside testing your bicep endurance!
Maintenance is negligible. Just dry it off, keep the ports plugged and charge when needed. The onboard storage is nice but could be larger/easier to use because spilling salt when you're running low is no bueno. You also have to make sure the port covers are securely in place or else you up end chiseling out crusty salt, this was likely our fault for not covering it up completely.
For my weekend excursion to Colorado's Weminuche Wilderness the H2gO PRIME excelled! It is a great little device and I would highly recommend it. It's extremely easy to use and plenty fast. Paring the H2gO with a quick sediment filter would be optimal if floaty things scare you otherwise just make sure to take plenty of seasonings! (please be smart, cloudy/dirty water requires more treatment!) I'd also be curious to see if my salty sweat would work haha!
(A friend brought this on our trip and after using it I plan to replace my pump filter because of the weight savings. In dry areas I may still carry my Sawyer as a backup for really dirty water.)
Source: borrowed it

As an employee of Aqua Research, LLC of course I am biased towards this water purifier, but I have taken the H2gO purifier backpacking and use the disinfectant regularly. The best features in my opinion are the weight (3.8 oz) and the solar rechargability. I can stuff the purifier in the bottom of my backpack for weeks and then when I need to purify water pulled from a contaminated source I can simply hold in the sun for a couple seconds and be ready to create a disinfectant solution on the spot.
Pros
Lightweight (3.8 oz)
Durable (10+ year life span)
Rapid
Rechrable via USB, Solar
Contains salt storage units within device
LED Flashlight
Unlimited doses
Purifies up to 10 L per dose
Cons
Does not replace filtration
Leaves faint chlorine taste
Does not remove metals from water
Does not permit you to drink salt water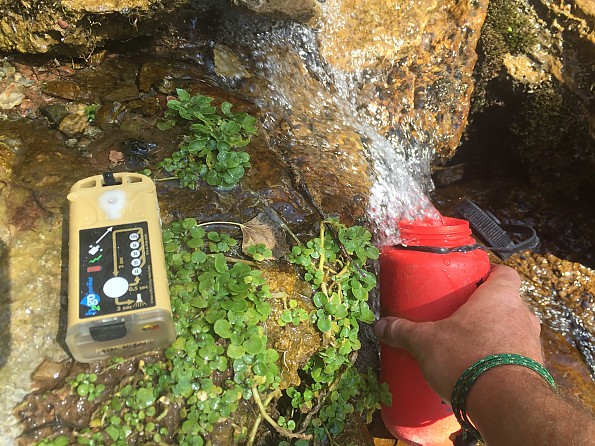 As an avid backpacker, camper, and international traveler, I was hired by Aqua Research LLC to help market the H2gO Purifier, a small electrolytic water purifier ideal for the activities I love. Therefore, with some bias I will say that this purifier is the most unique and creative purifier on the market. I have used my PRIME model purifier for about 4 months now, and am hooked.
The purifier works by converting Salt (NaCl) to Disinfectant (Sodium Hypochlorite +Hydrogen Peroxide) through an electrolytic process. Purifier also runs on a cell phone battery, with a daily use life span of 10+ years. In addition to a solar panel, it has an LED flashlight. The purifier simply requires me to mix common table salt with a bit of water in the reaction trough, and select the amount of water I want to purify (1, 2, 3, 5, or 10 liters). Then I hold the button for 2 seconds and the reaction starts.
It takes about 15 second per liter, so to purify 10 liters it takes me just over 3 minutes to create a disinfectant concentration for 10 liters. Once I dump the disinfectant into the water I wait up to 30 minutes depending on the turbidity of the water and it is good to drink. 
In my experience using the H2gO PRIME purifier, it is ideal for long term backpacking trips and traveling with a group because in one dose I can purify a large amount of water (the equivalent of 10 Nalgene bottles!) in one dose, and the device can handle an unlimited number of doses a day if you are able to recharge it and have enough salt on hand.  (The other model, the GLOBAL, is typically distributed to NGO's and developing countries.)
I travel internationally frequently, and plan to use it overseas because the device can be stowed in a carry-on, and used for untrustworthy tap water. The device is also cost effective because I do not have to by aqua tabs (that I end up breaking or losing) or carry a chlorine bottle into the woods, and it has a long lifespan. I have also dropped the purifier on the pavement from 8 feet, and nothing broke, so it is durable. 
The most unfortunate aspect of the H2gO purifiers is that it does not remove anything from water, which requires some pre-filtration device. Although I know I will be safe when I drink the purified water from a stock tank in the back woods of the Gila National Forest, mentally I just needed to filter the water first.
The other disadvantage is the chlorine taste. I prefer chlorine to iodine, but the PRIME unit does leave a chlorine residual taste. The solution is easy, however. When I have pulled water out of a moving stream, with no need to filter, I can dump the disinfectant to twice the amount of water recommended for the disinfection. That is because the PRIME unite disinfects to military standards of 5 ppm (ratio of chlorine to water) where as the CDC and WHO standards for safe water require a 2.5 ppm concentration (which is the concentration the GLOBAL model will produce)!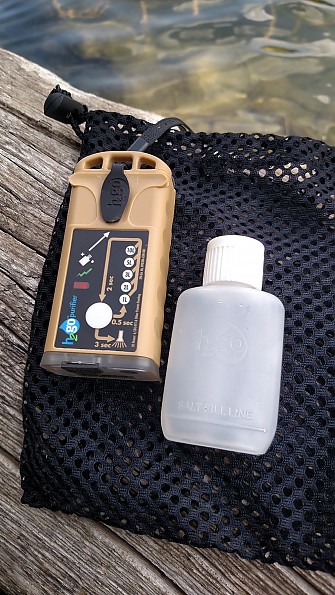 Disclosure: The author of this review is employed by the brand.
Source: tested or reviewed it for the manufacturer (Kept It!)

The author of this review is employed by the brand.
Your Review
Where to Buy
Help support this site by making your next gear purchase through one of the links above. Click a link, buy what you need, and the seller will contribute a portion of the purchase price to support Trailspace's independent gear reviews.
You May Like
Specs
Price
MSRP: $99.00
Current Retail: $99.00

Recently on Trailspace