Arc'teryx Alpha Jacket

Version reviewed: Alpha AR Jacket
The Alpha AR Jacket is a lightweight shield against the elements. High wind, heavy rain, and frozen precipitation just won't penetrate this Gore-tex Pro shell jacket, which sports one of the best hoods on the market. Generous armpit openings are great for venting moisture on the hard uphill climbs. A relatively simple design and light but tough fabric keeps the weight to 14.5 ounces for a men's XL.

This gets my highest recommendation.
Pros
Lightweight for a four-season shell
Regular fit, room to layer
Excellent rain and wind protection
Venting moisture
Durability
Cons
Price
One-way zipper
Non-stowable hood
Choosing a jacket from Arc'teryx's dizzying line of jackets took some time and effort. I tried on at least six jackets to figure out the best combination of fit and features for me. This is from the company website regarding what defines "Alpha" jackets:
"Climbing and alpinism focused pieces: harness compatible length and waistline; chest pockets accessible while wearing a pack or harness; maximum articulation for overhead motions; helmet compatible hoods; drop hem; highest possible durability-to-weight ratio; emphasis on lightweight materials."
Arc'teryx also makes "Beta" and "Theta" hard shell jackets with somewhat different fit and feature sets and names, in a number of different weights, as well as a number of other shells without the Greek letter names—at least sixteen different Gore-tex hard shells. They definitely don't fit the same. None of the Beta jackets, for example, were large enough for me through the shoulders, and even the Alpha FL felt too narrow ("athletic" cut) for a four-season shell that would accomplish what I wanted.
The Alpha AR is a Gore-tex Pro shell jacket—two types of nylon shell material bonded to a waterproof/breathable membrane and a very light nylon inner shell, with all seams taped to keep it fully waterproof. The main body of the jacket and the hood are made from a very sturdy nylon; the forearms and shoulder areas are made from an even heavier and more sturdy nylon.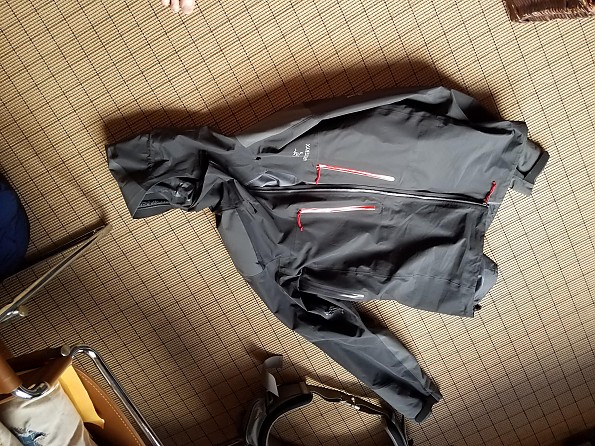 The lighter-gray fabric on the arms and shoulders is the heavier fabric. Arc'teryx calls these fabrics N80p-X and N40p-X. Both are very light and very resistant to abrasion; neither is "quiet" and can be noisy, as noted below. Nice reminder that nylon Gore-tex shells are made from a synthetic material, but who comes up with these absurd names for nylon?!
Basic features include two generous-sized chest pockets and one mid-sized inner pocket. The outer pockets are large enough for a map, a GPS, a pair of mid-weight gloves if you don't mind the jacket bulging. The inner pocket can hold a couple of energy bars. The bottom hem has an elastic shock cord that pulls tight with toggles on both the right and left sides.
The jacket comes with foam pieces for the shock cord along the hem—they serve to keep the jacket from riding up under a climbing harness by adding a little bit of volume to the shock cord. I don't generally need a harness for the winter hiking I do, so I removed them.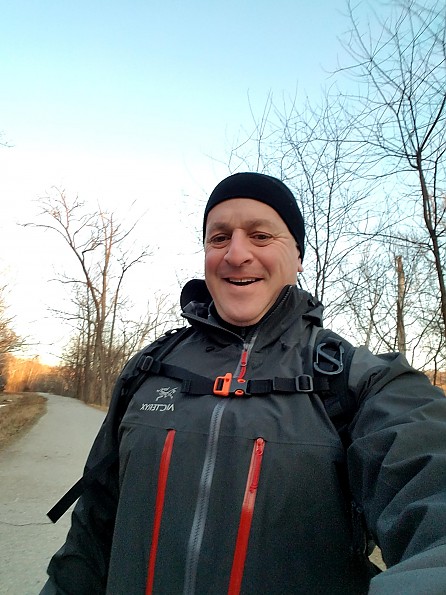 Two front pockets, very visible with bright red zippers. Note how shiny these waterproof zippers are, even after much wear and a couple of years.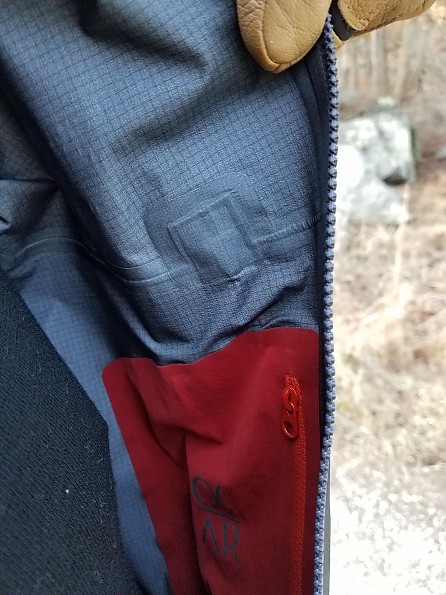 The only other pocket is small, made from some kind of stretchy material, and no stitching, so I guess it's welded to the inner nylon surface.
The hood has pull cords on either side, plus a toggle in the back that tightens the hood from the sides. The side pulls for the hood are, like some other jackets of this type, run through the shell fabric so they don't wave around in the wind. The hood also has a stiffened and reinforced bill so it doesn't sag into your face. I particularly like that the sides of the hood are made so they don't do much to block your peripheral vision.

Rainy afternoon, and accordingly blurry photo.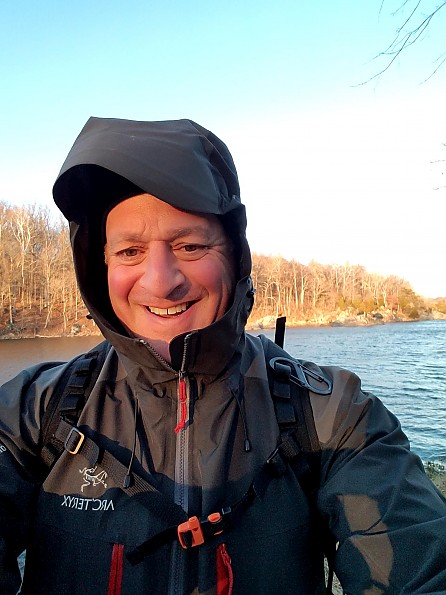 Didn't do such a great job adjusting the hood here—sunny but quite windy, so I pulled the hood on over a skullcap/beanie. This photo gives a somewhat better sense of how large the hood is—fully compatible with a helmet for skiing or climbing. 
It's worth noting that there is no easy way to stow the hood. You can pull the back elastic tight and hand-roll it, but no built-in way to secure it.
The pit zips are a big plus. They are large and run from a few inches short of your elbow to halfway toward your hip. These openings allow this jacket, on the heavy side for a summer jacket, to give you good four-season use. When the zips are closed, they are waterproof like the front pockets. Also, they zip from both ends, which is nice.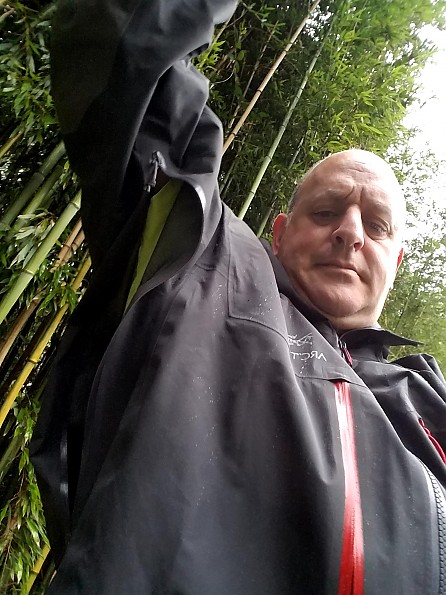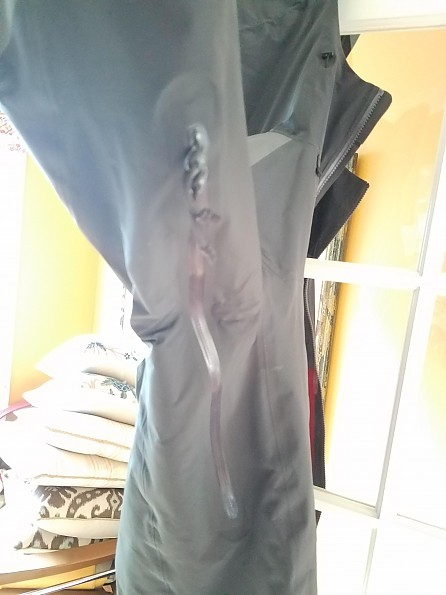 Cuffs tighten with a strip of hook and loop. I like that the cuffs have quite a bit of adjustability—enough to go over a non-gauntlet glove like these Marmot work gloves.
I don't tend to pull the camera out in the rain, but this shows how well the DWR works—rain beads up on the outside. 
Zipper pulls are simple, a light loop of knotted nylon cord. The front zipper has relatively hefty teeth and has a narrow strip of nylon behind it to keep wind out; the pockets and armpit are lighter coil zips and are waterproofed to keep the elements out. The all seams are taped and very well-finished. This looks and feels like a shell that is made to absorb punishment.
A note on related products: climbers who want a more lightweight, durable shell should look at the Alpha FL jacket, which is made entirely of the lighter-weight nylon on this one. I found that jacket to be a tad less roomy, and I didn't like that it only has one front pocket; it weighs closer to 11 ounces. On the other end of the spectrum, the Alpha SV jacket is the heavyweight, with the whole jacket made of the material used in the Alpha AR's forearms and shoulders. It weighed about 18 ounces. I didn't need that level of durability, or the added weight and price. My jacket, men's XL, weighs 14.5 ounces on a digital hand scale.
If you are considering any of these jackets, save your pennies. For a while. My Alpha AR cost $550, purchased over three years ago, and retails for $575 today. The heavyweight Alpha SV costs about $750 full retail. Arc'teryx jackets tend to get discounted less than some other brands.
How the Jacket Fits and Feels
The Alpha AR fits true to size if you want a jacket that has decent room for layering. The sleeves are just a bit long and have nice volume too; I can wear a thick fleece and lightweight down jacket under this shell. Arms are cut for mobility – the hem barely hikes up when you raise your arms. The hood is big and can easily cover a helmet. Speaking of the hem, this jacket is roughly hip length. If you wear it with a pair of shell pants that ride right on your hip, you can get a slight gap between jacket and shell; you would want a pair of overalls to get true full protection from a very hard wind. The 'Theta' shell jackets are longer and drop to mid-thigh if you want that.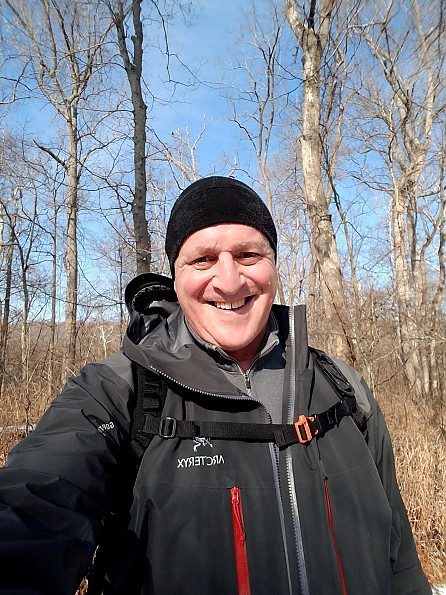 The stiff pieces that cinch the cuffs are easy to maneuver with gloves on. The knotted zipper pulls do the job, but someone finicky could replace those with pulls that have a rubberized or hard plastic end piece.
I like that the front zipper is heavier gauge and not a waterproof coil zipper; it runs smoothly, brand new and today. The pocket and armpit zippers are waterproof and a little harder to open and close at first. Over time, like nearly every waterproof zipper I have used, these loosen up and are easy to use.
If you are highly dedicated to climbing with a harness, you might not like that the front zipper only zips from the top; some technical shells can open both from the bottom and top. It's interesting that the armpit zips open from both ends, but not the front zipper. The Alpha SV has a two-way zipper, by the way.
Like the cuffs, the hood pulls (side and back) are fairly easy to operate with gloves on, once you get familiar with them.
As you can see above, the elastic cord is partially run through the fabric, so they don't whack your face in high winds. The toggles are reasonably easy to use. This photo also shows how narrow the nylon flap is behind the front zipper. 
The nylon on this jacket is relatively thick compared to most jackets, and as a result, it is fairly noisy in the wind.
Testing Conditions: What Kind of Weather Has This Jacket Faced?
I bought this jacket in the summer of 2014. I pulled this jacket out of my backpack when lovely seventy degree days turned into soaking forty degree thunderstorms. It has seen more than a few afternoons of hail and freezing rain, which we tend to experience in the Mid-Atlantic in the shoulder seasons and the winter.
This is one of the few jackets I reached for when we had a couple of twenty-inch snowstorms a few years ago for hiking, Nordic skiing, and clearing the driveway. I have worn it on grey thirty-degree mornings, as we just had last weekend, where the wind was gusting over forty miles per hour, and sub-zero winter hikes with gusts over over seventy miles per hour (in the Presidentials in New Hampshire). This is a jacket I like for cold-weather cycling to work. I have easily worn this shell on over a hundred outings. 
Performance Observations
Breathability: How Well Does it Vent Moisture?
First, water vapor escapes this jacket nicely through the fabric itself. On a typical hard hike, when I am using the pit zips open or partially open, the front fabric doesn't end up damp; the back, squashed between me and a backpack, ends up mildly damp inside.
It's worth getting into this in more detail. No fabric, even the lightest non-waterproof shell nylon, can prevent you from sweating and feeling a little damp if you are banging up a steep climb with a backpack on. Gore-tex Pro shell—Gore-tex membrane bonded to light, durable nylon—does a very good job allowing vapor to wick out through the fabric. Still, good armpit openings are essential to more fully vent moisture.
Some fabric/membrane combinations do a slightly better job venting moisture in my experience, including eVent and NeoShell, Polartec's relatively newer product. Both eVent and NeoShell are permeable to air. What that means is that jackets made with these membranes are bonding them to nylon and when you're outside in the wind, you can feel just a bit of air coming through the shell. That's good for ventilation in many situations. It is not so good in very high winds in cold to sub-zero conditions, because you tend to feel colder.
A great water-repellant treatment allows rain to roll off and aids water vapor passing through the shell. (see the photo above.)
Second, the armpit zips—particularly their large size—are a big advantage for the hardest outdoor days if you want to let moisture escape. Tied for the best armpit zips I have seen or used.
There is no perfect solution for breathability, because you're going to sweat on a steep uphill climb or snowshoe trip in deep snow. Some internal dampness is inevitable. The question is how much of that moisture your jacket will allow to escape. This is an outstanding choice if you want maximum venting due to the combination of fabric and mechanical venting via the pit zips, or like most jackets, just partially unzipping the front.
       2.    Waterproofness
Frankly, there are a lot of breathable rain shells that do a tremendous job keeping you dry. This jacket performed as expected—no rain gets in. The hood is well-shaped and easy to adjust, which helps a lot on a rainy day. If keeping dry is your sole or overwhelming goal, you don't need to spend this much money to keep rain out.
One short word on all waterproof-breathable jackets—they are meant to shed rain, not sit in it. Good example: I was out for several hours a few weekends ago and ended up sitting for about four hours, on and off. It rained steadily until the last two hours, about 38 degrees out. Lovely. I was wearing a great Arc'teryx pair of shell Gore-tex pants. By the end, my butt was damp. Why? I was sitting on a wet surface the whole time, and some moisture worked its way in through the membrane. Only coated nylon or the equivalent, like rubberized foul-weather gear or a dry suit you would use on a boat, is going to keep water out under those circumstances. If you're out, active, hiking, Gore-tex, eVent, polyurethane coated waterproof-breathables all keep rain out fine.
        3.   Wind Protection
Superb, and it is an advantage that a Gore-tex jacket with nylon this heavy has over many other options. For example, eVent and NeoShell shell jackets offer great breathability because they tend to be permeable to small amounts of air. That is great for venting but not at all good on windy, cold days because heat loss can be a serious challenge in high winds. The Alpha AR does a better job shielding you from wind than most.
       4.     Wear and Tear
No rips, tears or popped seams after 3 ½ years. No marks across the shoulders where I'm almost always wearing a backpack with this jacket. Are there more durable options? Sure. The US Military has heavyweight waterproof/breathable shells made of thicker, heavier-grade nylon—and they weigh a lot more than this.
There is also a little bit of luck involved, because a stray crampon spike or ice axe head can snag any jacket. For normal hard use, including laundering regularly and re-treating the water repellant coating a few times, this jacket is among the most long-wearing options available.
Summary and Conclusions
Sometimes, relatively simple works best. If I had to choose one shell for everything, all year, this would be it. (sure, it's a little heavy for summer, but short of a major cloudburst, I'm getting wet and walking myself dry in hot weather.) Pricy, but if it wears as well as it has so far, it makes sense if you amortize that cost out over several years.
Source: bought it new
Price Paid: $525

Your Review
Where to Buy
Help support this site by making your next gear purchase through one of the links above. Click a link, buy what you need, and the seller will contribute a portion of the purchase price to support Trailspace's independent gear reviews.
You May Like
The Alpha Jacket was previously the Alpha AR Jacket.
Specs
Men's
Price
MSRP: $599.00
Historic Range: $279.99-$700.00
Reviewers Paid: $525.00

Weight
400 g / 14.1 oz

Material
GORE-TEX Pro

Fit
Regular Fit, Hip Length, with e3D patterning

Centre back length
78 cm / 30.75 in

Sizes
XS, S, M, L, XL, XXL

Activity
Rock Climbing / Ice Climbing / Alpine Climbing

Women's
Price
MSRP: $599.00
Current Retail: $575.00
Historic Range: $230.73-$700.00

Weight
400 g / 14.1 oz

Material
GORE-TEX Pro

Fit
Regular Fit, Hip Length, with e3D patterning

Centre back length
78 cm / 30.75 in

Sizes
XS, S, M, L, XL, XXL

Activity
Rock Climbing / Ice Climbing / Alpine Climbing

Recently on Trailspace