Arc'teryx Atom Jacket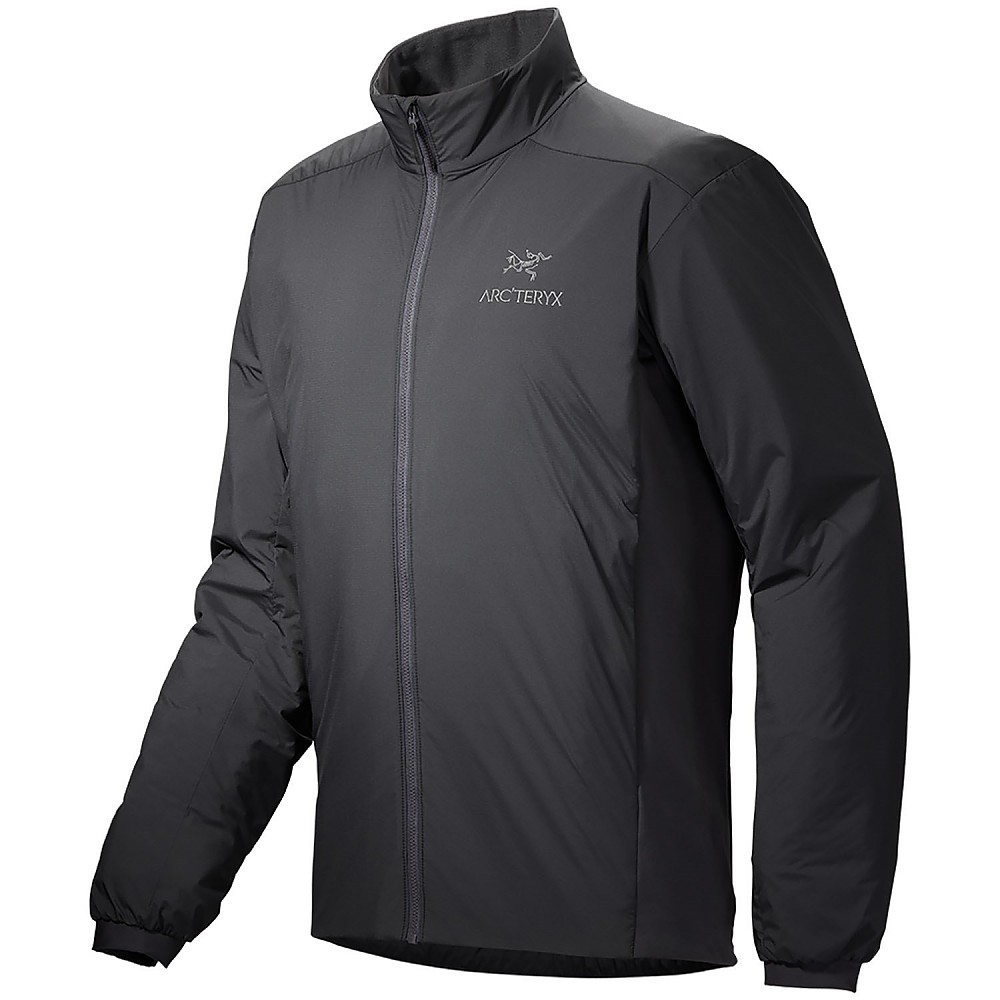 Version reviewed: Atom LT Jacket
Superlight, super packable jacket perfect for mild weather and an excellent mid or stand alone jacket for the cool days.
Pros
Super light
Super packable
Over the past week I picked up an Arc'Teryx Atom LT while it was on sale. I've been eyeing one of these jackets for quite a while, and at the price presented I decided to pull the trigger and pick one up.
The Atom comes in four different versions: the Atom LT Jacket, LT Vest, LT Pullover, and LT Hoody. The names are pretty self-explanatory, and the "LT" designation stands for lightweight. I picked up an Atom LT jacket in "Nightshade", which is a dark grey/charcoal color.
Here's the jacket's description from the web:
Ideal for ambitious days when the mercury plummets, this warm mid-layer features composite materials that provide balanced warmth and breathability. The arms and torso are fortified with Coreloft™ insulation, and the side panels and underarms incorporate Polartec® Power Stretch® with Hardface® Technology to increase mobility and breathability. A wind and moisture resistant outer shell extends stand-alone usability.



Technical Features

Moisture-resistant outer face fabric Breathable Insulated Lightweight Compressable and Packable Wind Resistant Breathable, stretch side panels for enhanced comfort and mobility


Construction

DWR finish (Durable Water Repellent) helps bead water from fabric surface Composite Materials Breathable, stretch side panels for enhanced comfort and mobility Patterning Articulated Elbows Gusseted underarms


Collar Configuration

Soft brushed-lined collar

The initial feelings on this jacket are appearant: It's light. It's as light as a T-shirt, if not less, in weight, but its warmth is amazing. The jacket itself is packed with 60 g/m² Coreloft™ insulation, lined in a Luminara stretchy nylon type. It's not quilted like a puffy down jacket, due to the Coreloft's ability to be packable and return to its shape - it doesn't shift around or "sink" or lump up like a traditional down (synthetics rule).
It's also very packable, and can be scrunched down to about the size of between a baseball or a softball, meaning that it makes a great travel companion in your pack or as a bit of snivel gear for camping, without sacrificing too much space (or really any weight). Tie in the DWR finish on the coat, and you've got a pretty great jacket that is perfectly suited to the role.
For static situations, it works rather well when it's chilly out, and if it's a cooler day and you're doing something active (I took it on hikes on some of the recent chilly evenings — 35-55 degrees) it is superb. It kept me warm, but not hot, and regulated my temperature well. The shell provides some good wind resistance, but on blustery days the stretch shell material used under the arms can get a bit cool - but it's also what helps regulate your temperature when you're moving.
I did find on cooler days (around 45-50 degrees) with minimal activity, a heavier long sleeve shirt or similar helped greatly, but being active and wearing this over a regular cotton T-shirt the warmth was ample. Arc'teryx's website states that it is intended as a mid-layer under a goretex shell, or as an outer layer on cool days, and it definitely fits into this category. 
The best way to describe what it feels like is wearing a thin sleeping bag, but that description doesn't do justice to just how comfy this coat is. I have no way to explain just how comfortable the Atom is, it's like a military poncho liner cut into a jacket shape. It's soft, smooth, and light.
The outer shell material feels very thin, and I do have some concerns about durability, but from everything I've gathered about the jacket it is surprisingly more resilient than it seems. It is a light jacket, and advertised as such, so I wonder what level of abuse it can take. Only time and usage will tell for sure. 
The cuffs on the jacket are nice and stretchy, non-adjustable. They sit well on the wrist and hold the sleeves down where they should be, and keep the chill out. Another thing, the sleeves are perfect for me on this jacket. Normally, I have issues finding sleeves that are a satisfactory length, to the point where I feel like I have ape arms with other jackets, but that wasn't the case here at all. I normally wear a medium size in most brands, and the Atom was no different, but fit much better. The hem of the coat is longer in the back, which helps stop drafts from creeping up your backside. 
The jacket itself is an athletic style cut, ideal for layering, but doesn't make you look like a spandex clad superhero when worn on it's own. The jacket has a very attractive, simple appearance, which I like. 
The jacket has three pockets — two handwarmer pockets lined in fleece on one side (outward) that are large and roomy, and a small inside pocket on the left side that is also quite large and readily fits your cell phone, smokes, etc. with ease. All the pockets are zipper closed and spacious. The handwarmer/outside pockets stealthily follow the side panels, adding to a sleek look for the jacket.
As for the water repellency, I don't think the Atom would stand up to a torrential downpour, but the crappy rain/mist/drizzle we get in the fall hasn't managed to penetrate it. The water beads up and falls away, as to be expected from a DWR finish. I'm sure as time wears on, the DWR coating will lose it's edge, but a can of DWR spray will cover any issues. General consensus from other user reviews is the DWR lasts about a year of good, regular usage on the Atom.
Since I picked this jacket up, my poor previous favorites, the various "gridded" fleeces, have been relegated to sitting in the closet. This jacket easily could replace a huge part of my cold weather gear, and much to my girlfriend's amusement, I've basically lived in this coat since I purchased it — it has become my new woobie, and rightfully so. The level of comfort, fit, and weight of this jacket are balanced perfectly, and I foresee this jacket accompanying me where ever I may go on the cooler days.
It's a great, three-season jacket that fits in with a layering philosophy to cold weather gear, and knocks fleeces out of the bracket for a good insulating midlayer with the features it has, and the benefits it provides. As a matter of fact, I can see this jacket easily replacing fleece jackets in most scenarios.
A personal note about my specific choice — the Nightshade Atom LT. While the outside is a sweet dark grey the inside is a bright red. It's not my favorite part about it, since I tend to like muted colors, but it's growing on me. It reminds me in a sense of the old aviator style jackets with the hi-vis orange lining — and thinking about it, this jacket could be used the same way, with the red lining being great for visual ID from a distance (not that I'll ever be in such a situation, but it's a neat feature). The zipper pulls on the coat are also a dayglo yellow color, which I may eventually replace with a more muted color. 
One more note, this jacket is made in Bangladesh. With some having qualms about foreign made clothing articles, I only thought it fair to point that out. That being said, Arc'teryx has some very stringent QC, and with advances in modern manufacturing, quality between foreign and domestic items usually relies on QC alone, with companies making sure their products meet their requirements/specifications. Nowadays, it's more of a personal/ethical reason to dislike foreign-made products (and I totally respect that opinion), but that's really the only basis of the argument anymore.
Source: bought it new
Price Paid: Bought on Sale (Arc Outlet)

Version reviewed: Atom LT Jacket
The Atom LT Jacket is my favorite jacket for all kinds of anything. Great for kicking around the city or hitting the trail.
Pros
Warm
Breathable
Versatile
Cons
No hem drawcord
Zipper snags occassionally
The Atom LT is awesome. I bought mine on sale for a great deal at Whole Earth Provision Co.* in Dallas late in the winter season. I already had a Nitrous down hoody from Mountain Hardwear that I love, but I was looking for a synthetic fill jacket for those times when down is less practical. The Atom LT delivers!
The jacket is warm. Coreloft is light and compressible; its not as compressible as down, but good for a synthetic and stuffs into its own sleeve for a 32oz-Nalgene-sized bundle. The Coreloft also feels better than other lesser synthetic insulation.
The shell is wind resistant and performed beautifully in intermittent gusts and misty drizzle atop the coastal mountains of northern Chile. The DWR and tight weave of the shell beaded water like a dream and shook off with no wetting. The side panels, made of Polartec Power Stretch, breathe very well, and are a blessing during a hike to avoid overheating. A bit of wind can penetrate the Power Stretch, but not enough to cause a chill, and this could be avoided in high winds with a hard shell over it.
The cuffs have a very smooth, stretchy material that is cut in a v-pattern on the medial side of the wrist and hugs very well without binding, keeping the sleeve in place perfectly. The neck has a soft fleece lining and feels great while keeping my neck warm.
There are two fleece-lined hand warmer pockets which are welcome refuge to wind-chilled hands. The inner chest pocket is the perfect size for a cell phone or wallet or even a passport. The zipper on the inner pocket sometimes snags when moving the carriage, but has not damaged the liner fabric at all and is a minimal annoyance. The liner is neon red, looks awesome when the jacket is open, and accents the maroon color of the shell.
The zipper pulls on the outer pockets and main zipper are large and easy to grab with gloves, but the main zipper sometimes snags on the fabric. A little bit of abrasion has occurred on the placket, but nothing very noticeable. The shell fabric is stretchy and has avoided signs of abrasion or abuse very well.
I like the drop hem; it offers just enough coverage for my backside. I fit well into the small, but I went for the medium for a little bit more arm freedom, midriff coverage when raising my arms, and a more casual fit. The medium is also great to layer under and still layers nicely under my Alpha SL. I wish the Atom had a hem drawcord to seal in the warmth, and the larger size doesn't help, but it's not a deal breaker.
Overall, this jacket is fantastic. I recommend it to everyone. I'm going to get the hoody too!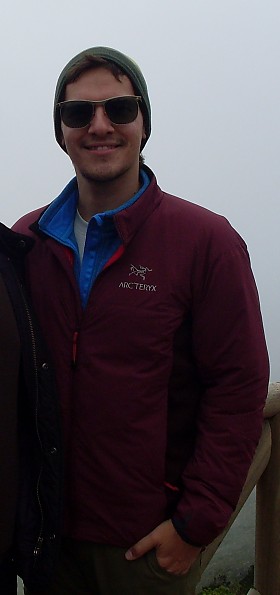 *I am an employee at Whole Earth Provision Co. in Dallas. My views do not necessarily represent the views of Whole Earth Provision Co. or its employees. I pride myself in providing unbiased reviews of products I purchase for my personal use.
Source: bought it new
Price Paid: $70 (on sale)

Version reviewed: Atom LT Jacket
Ok so what do you need to know about this jacket? When I first saw this jacket I was at REI in search of the perfect mid-layer/light outer layer. When I picked this jacket off the shelf the first thing I noticed was how light it was, the second thing I noticed it was made by Arc'teryx and the third thing that stopped me dead in my tracks towards possibly buying this jacket was the fact it had "coreloft" as the insulation, I thought to myself "what the hell is coreloft."
Hesitantly I put the jacket on just to see how it fit and was instantly satisfied by the tailored cut and mobility of this jacket, it far surpassed the comfort of any jacket I had tried on that entire day. I knew right then that I had to figure out what this coreloft stuff was if I was going to buy this awesome jacket.
It was hard to find any information regarding "Coreloft" so I emailed Arc'teryx, chatted with online gear experts and posted on backcountry.com, here is what I found out.
........................................................
Directly from Arc'teryx:
"Coreloft is a fabric that we have made for us. It's similar to Primaloft, but we have tweaked a few things to try to get better performance.
Core Loft is constructed of a double strand of continuous polyester filaments. The finer yarns (1 denier) are "crimped" to help trap air molecules which in turn help trap body heat while the larger yarns (3.5 Denier) provide loft and resilience from compression. The fibers are siliconized to help add resistance to moisture and decrease drying time.
The Atom is a lightweight insulated shell for more active pursuits in cold/wet weather that offers more breathability than a belay jacket while still offering enough wind/water protection."
Posts from backcountry.com:
"The Coreloft is used because it has large and small diameter insulation fibers. This adds durability, and also allows using a face fabric that breathes better, since it isn't as prone to penetrating the fabric because of the larger fibers. This compliments the Luminara which is a 20denier ripstop that has good weather resistance but breathes much better than most other nylon fabrics." By Brandon
"Arc Teryx searches the globe to find new materials that distinguishes them above other outerwear companies. This vigilance also costs more money, but more often than not the result is a product that is the best of class in the category.
Although I don't own an Atom Jacket, I've checked it out pretty thoroughly and am quite impressed. The outer material (Luminara Nylon) is simply a high-tenacity, tightly woven 20D material that has a great hand. It felt like it had enough durability to withstand some backcountry use, although it still needs to be treated fairly nice.
The Coreloft Insulation is something I had never heard of, but I don't think it's proprietary to ArcTeryx. There was a hang tag listing what it's comprised of, but I don't know who is making it? It's essentially a combination of Primaloft (short staple fibers) and Polarguard or Climashield (Continuous Filaments) thus giving it both the softness of down (Primaloft) but giving it the added durability that plagues Primaloft (Polarguard). The jacket also had stretch panels and had an excellent fit including articulated, curved sleeves. For an ultra-light synthetic piece, I haven't seen it's equal (the closest being Montbell's ThermaWrap Jackets)." – By Jason
..........................................................
After all my searching I did buy this jacket and I am very satisfied with it. I would recommend it to anyone as a mid layer or outer layer. It looks great for wearing around town, and stuffs down to nothing when you have to throw it in a pack.
The only remaining thing I have left to say is; The non-hooded version is a bit closer fitting than the hooded version. The chest is about the same but the jacket tapers a bit down towards the bottom, unlike the Hoody which is a more casual cut towards the bottom.
Fabric: •Polartec® Power Stretch® with Hardface® Technology •Luminara™—Nylon weave fabric with wind and water repellant coating
Fill: •60 gm/m² Coreloft™ insulation
Price Paid: $160

Version reviewed: Atom LT Jacket
This jacket is so worth the $$! It is warm enough to wear in the 30s, yet you won't overheat in the 50s. There are three things that I must rave about this jacket:
The handwarmer pockets. Genius. The interior of the jacket is made of material that heats up when your body does, so your body heats up one side of the pocket and the other is fleece. Best handwarmer pockets I've encountered.
The breathable Polartec Powerstretch side panels. They are why this jacket is so versatile. While it really does heat up (esp under a shell), these help it breathe and regulate your temperature. Added bonus: they make you look thinner!
The fit. It is a tapered fit and is incredibly flattering. You can certainly fit layers underneath it, but it is snug.
Now for the other great features: beautiful color, awesome wrist gaiters, very light weight, and feels so comfortable.
As long as you use this jacket for what it is intended for, you should not be let down. Just remember it is a mid layer jacket, not a full on winter coat. It doesn't really block wind either.
Price Paid: $165

Version reviewed: Atom LT Jacket
Fantastic jacket that provides warmth and breath ability when doing any activity. Lightweight and feels great on your body.
Pros
Lightweight
Warm
Great athletic fit
Cons
Fabric seems like it could wear and tear over the years
Steep price
The Atom LT Jacket is one of the best mid layer jackets I have owned. With a fantastic athletic fit, feel and lightweight fabric is a jacket to take on any trip from hiking in the mountains to rock climbing at a lower altitude. 
The fabric seems to keep water out for a long period. It's not waterproof, but handles great in light rain. The fabric is the favorite parts of the jacket. Soft, silky and lightweight. Fantastic breathability from the side vents around the arms for doing activities and jacket seems to keep you cool when warm and warm when cold.
The jacket with its soft material does seem like it could eventually tear, but with it being ripstop might surprise me. 
The hood and general fit is great and I would recommend this jacket to anyone looking for a warm and lightweight mid layer. The look is also great for anyone looking for a warm social jacket.
If you have the money to buy this jacket, I will give it my recommendation.
Source: bought it new
Price Paid: $200

Version reviewed: Atom LT Jacket
Light insulation, sleeve-packable jacket with an athletic fit. Breathable, super comfortable next to skin. Ideal for active pursuits under the Alpha SV.
5'9", large is just right. The Atom series seem to have a thing for accentuating a belly. Darn, it's probably just because I have a belly, but the pockets and pocket zips are placed just on the edges of the stomach.  
Not very water or wind resistant, but this jacket isnt really for that. I feel it is the perfect jacket underneath a hardshell such as the Alpha SV, to combine active and breathable comfort with warmth ready for anything to about 0°F.  This is a very silky, next to skin fabric which is reasonable durable for its weight.  The jacket can be packed into its own arm, which sure increases the cool factor.  
Another thing I like is the synthetic insulation, which while not as warm as down. It beats out down when you get wet.  I'm from Seattle.
Source: bought it new
Price Paid: $190

Version reviewed: Atom LT Jacket
I have had this jacket for 3 months- it is great!
It is warm AND breathable. For downhill skiing and sledding in -5 to -15C, I paired the jacket with a goretex shell, a fleece+thermal shirt underneath. Warm!
For cross country skiing in -10C weather (definitely a high-impact activity), I wore 2 synthetic layers underneath and was warm enough without getting overly sweaty and wet.
For going around town, I just wear as it is!
It fits well. Body fitting, such that you don't look like a marshmellow man, but still enough room underneath for a fleece or other thin layers. The cuffs are made of elasticized material that stops the sleeves from sliding down, even with raised arms. I also love the bright blue colour.
It is light! Like crazy light... How does something that is so small insulate so well? But it does! I like the feeling of not wearing a jacket while wearing a jacket.
My only two suggestions would be to 1. add a drawstring to the bottom hem and 2. raise the under chin cuff by 1 cm (when wearing alone, too much of my neck exposed).
I have the hoodless-version and it fits well under a shell.
Price Paid: 180 euros

Your Review
Where to Buy
Help support this site by making your next gear purchase through one of the links above. Click a link, buy what you need, and the seller will contribute a portion of the purchase price to support Trailspace's independent gear reviews.
You May Like
The Atom Jacket was previously the Atom LT Jacket.
Specs
Men's
Price
MSRP: $280.00
Current Retail: $168.83-$280.00
Historic Range: $83.73-$280.00
Reviewers Paid: $70.00-$200.00

Previous Name
Atom LT Jacket

Size
XS, S, M, L, XL, XXL, XXXL

Weight
330g / 11.6 oz

Fit
Fitted

Activity
Hiking / Trekking / Rock Climbing / Alpine Climbing / Around Town

Women's
Price
MSRP: $280.00
Current Retail: $192.93-$280.00
Historic Range: $84.95-$280.00
Reviewers Paid: $165.00

Previous Name
Atom LT Jacket

Size
XXS, XS, S, M, L, XL, XXL

Weight
280g / 9.9 oz

Fit
Fitted

Activity
Hiking / Trekking / Around Town