Arc'teryx Alpha SV Jacket

The Alpha SV is a worthwhile shell jacket for bad weather and more than an average amount of wear and tear. The heavy duty Gore Tex Pro fabric and astute design keep out wet and wind as well as anything. Cut a little more roomy than some Arc'teryx shells for layering. High price, weight, and noisy fabric are its primary downsides. I wore this all winter and loved it.
Pros
Waterproof/breathable
Windproof
Well-designed
Cons
Full retail price is steep
There are lighter-weight options
Noisy fabric in high wind
The Alpha SV Jacket is a heavyweight. Robust fabric will not only keep you dry and protected from the wind but will also absorb years of scrapes and friction. It's a top-end shell with smart design features and a price to match. At 21 ounces, it's a little more shell than you might need, but if you expect the worst weather, you will love this shell.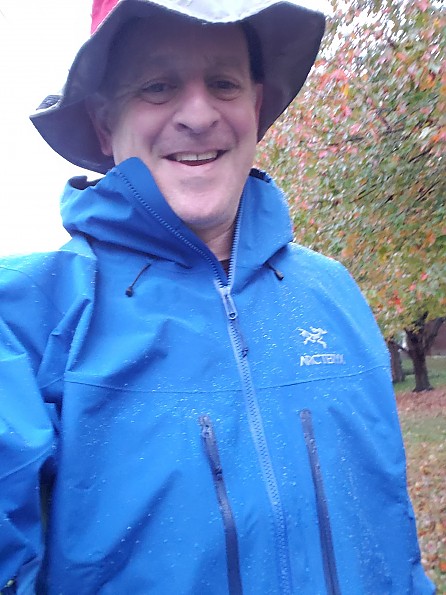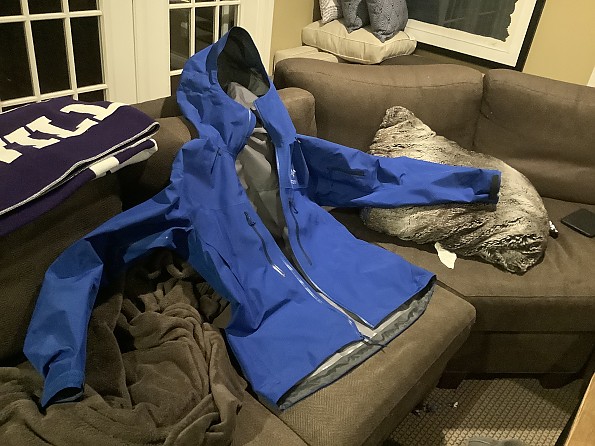 BASIC INFORMATION
My men's size XL weighs 21 ounces. That's a lot of weight, more than you need for a basic rain/wind shell. For the sake of comparison, I reviewed Mountain Hardwear's Gore Tex Paclite Exposure/2 last year, and it weighed about 9 ounces. That's more of a classic rain shell. When I reviewed Arcteryx's Alpha AR, a somewhat lighter-duty but still robust shell, the 2014 version I have weighed about 14 1/2 ounces (the Alpha AR probably weighs about 16 ounces today). The extra weight comes from the very robust N100d Gore Tex Pro fabric used throughout the Alpha SV.
If you like Arc'teryx but want a lighter weight shell with a somewhat less roomier fit, look at the Alpha AR (combination of N80d in high wear areas and N40d fabric elsewhere) or the athletic-cut Alpha FL—N40d fabric throughout and limited pockets to lower the jacket weight, which is probably around 13 oz. for a men's XL.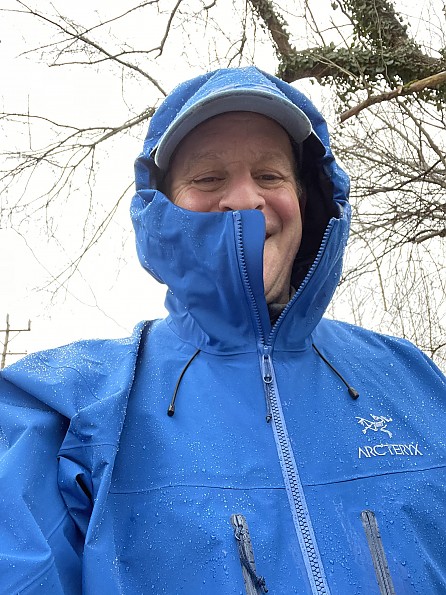 With the extra weight, you get a high degree of weather resistance and a very well-designed jacket. Starting at the top, the hood is the most adjustable and well-designed that I have used.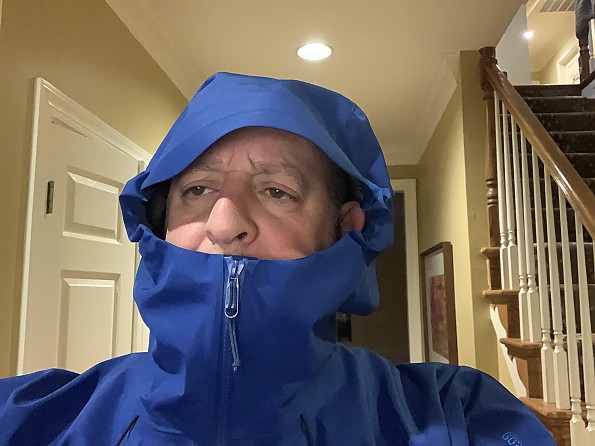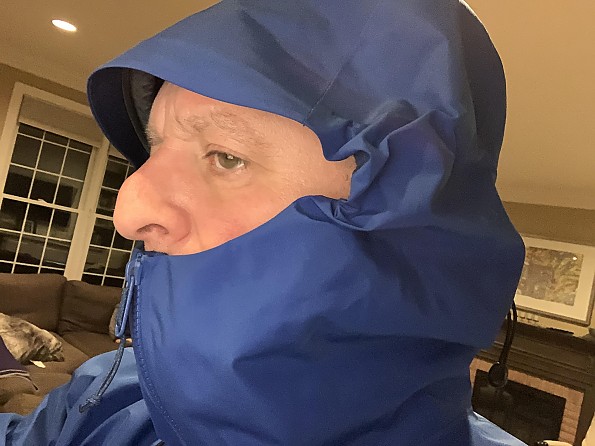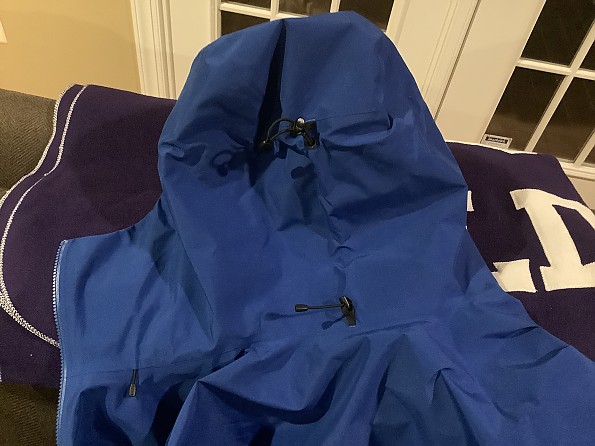 A design feature I like that is showing up in more jackets—the side pulls for the hood run through the fabric so they won't blow in your face, and the toggles to pull them tight are just above and to the side of the zipper, embedded in the fabric so they won't get fouled with ice. They're easy to operate with gloves on, as are the simple but practical knotted cord zipper pulls.
Solid hang loop, plus two interior pockets—one for a bottle, one zippered for smaller stuff. Two zippered chest pockets, one small zippered pocket on the upper left arm.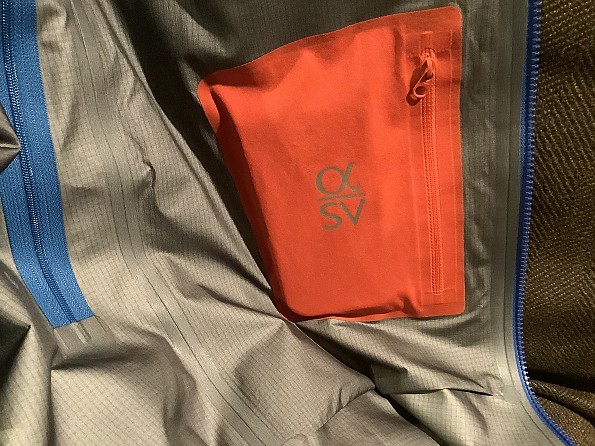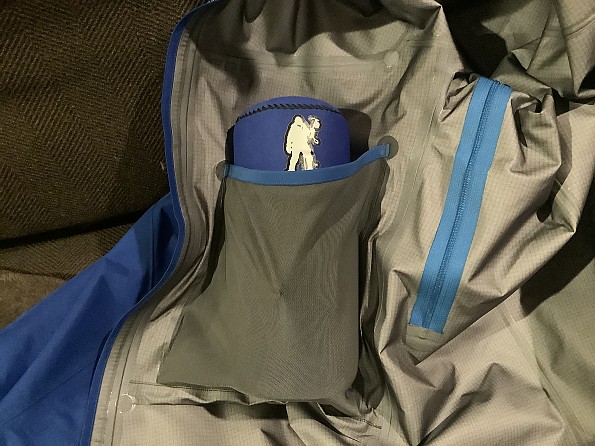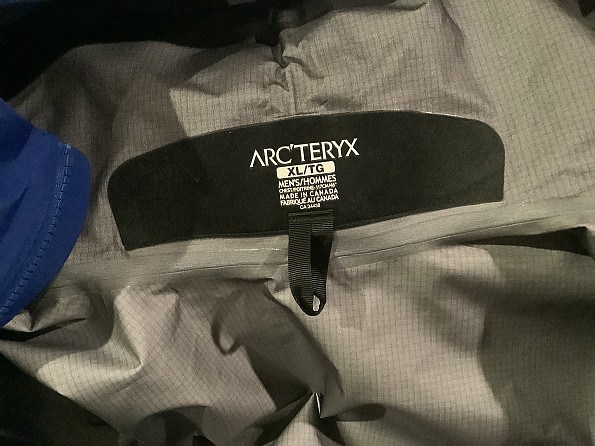 Front zippered pockets are large. Bottom hem has an elastic shock cord, the toggles on either side to tighten it are flush so they won't snag.   
Cuffs are hook/loop, easy to seal from weather. Large armpit zip openings, crucial in my opinion for ventilation in bad weather.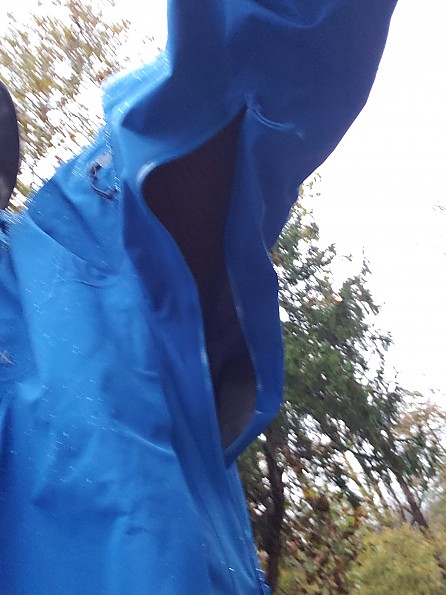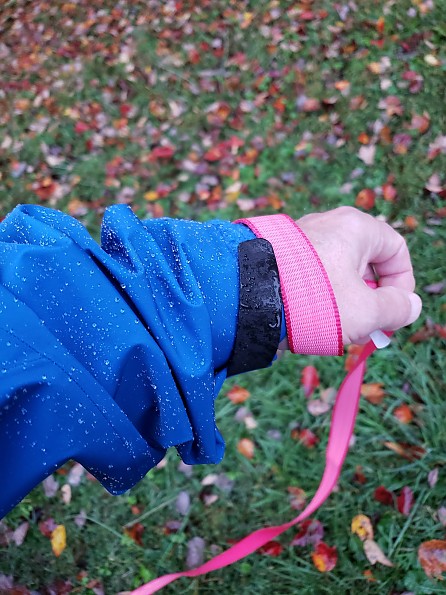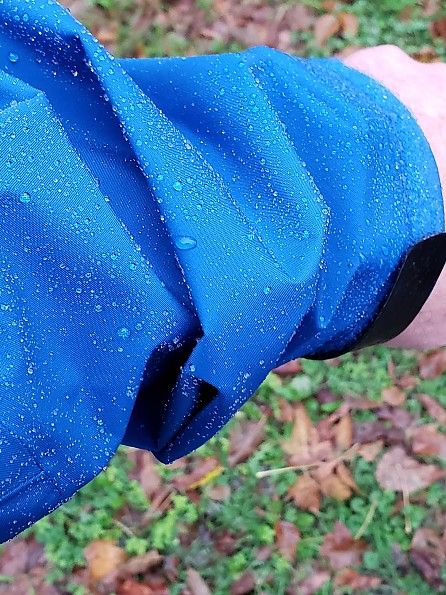 FIT AND FEEL
You won't find a more generous fit in an Arcteryx jacket, because the Alpha SV is designed with bad weather in mind. The hem falls to my upper thigh, and the back is slightly longer to cover the rear end. There's healthy room for a puffy jacket or multiple other layers inside this shell. I have worn the Alpha SV with a fairly thick base layer plus a heavy fleece or Patagonia's Nano Air jacket. Alternatively, if I expect to be standing still more, I have worn a base layer plus a down sweater under this shell. 
There's less room for layering with the Alpha AR, and the Alpha FL is athletic cut, even less room there.
Arms on Arc'teryx jackets are another superior design area—they're well-articulated and made so you can raise your arms high without pulling the shell up appreciably. 
Fabric this heavy has a downside—it's on the stiff side, doesn't scrunch down as well inside a pack as lighter shells. It's also fairly crinkly/noisy in high wind—the price you pay for a shell that provides maximum wind protection. 
TESTING CONDITIONS
I wore the Alpha SV frequently since I found it on sale last fall. For the most part, that has meant day hikes in the rain, but I had multiple opportunities to hike in it in storms this winter—snow, sleet/freezing rain, winds ranging up to 40-50 mph gusts. All my hikes with this jacket were with smaller packs, no more than 20 pounds on my back. Temperatures ranged from 15 degrees Fahrenheit at the low end to about 50; Fifty degrees, I'm wearing this half-unzipped with a short sleeve base layer.  
Some performance observations:
1.  Breathability/venting moisture.
Gore Tex Pro generally does a good job allowing some moisture to escape through the fabric. This jacket does that, so moisture buildup on the inside of the jacket has been minimal. Still, on hard uphills, not all your sweat is getting out. For that reason, if you want to avoid getting damp, layer appropriately and use the large armpit openings; they're a big plus on this jacket. Arc'teryx jackets generally, including the Alpha SV, have excellent durable water repellent coatings on the outer fabric, which is essential to venting moisture through the fabric. If your outer shell isn't beading moisture, if it's just wet, no water vapor is escaping through the pores in the jacket.  
This jacket prioritizes protection over ventilation, so if you want a waterproof/breathable that lets more sweat out, look for partially air-permeable options like eVent or Polartec Neoshell solutions. The air-permeable options vent better, but they don't stop wind as well.
2. Wind resistance.
On the relatively few days where I saw high winds, usually weather systems moving through and winds in the 30-50 mph range, the Alpha SV was fabulous. It protects from wind as well as anything on the market. It makes a pretty good racket in the wind—all shells do to some degree, but the stiff fabric is noisy.  
 3. Waterproofing
Gore Tex is waterproof, period, unless the seams are not well-finished. The Alpha SV has uniformly kept me dry in rain, sleet, snow. We have had more than our share of cold, rainy days, and the jacket has performed admirably. Freezing rain accumulated on the surface. Top-tier protection from precip.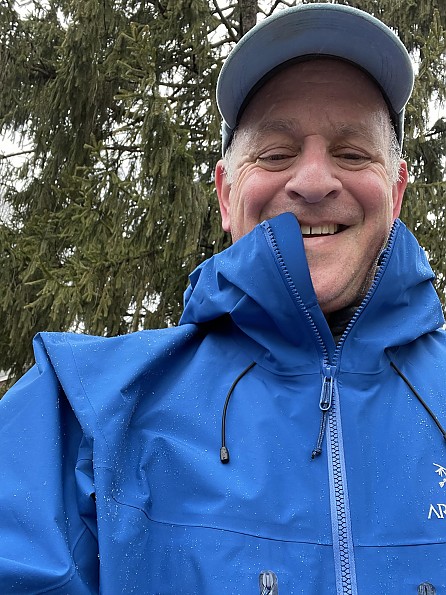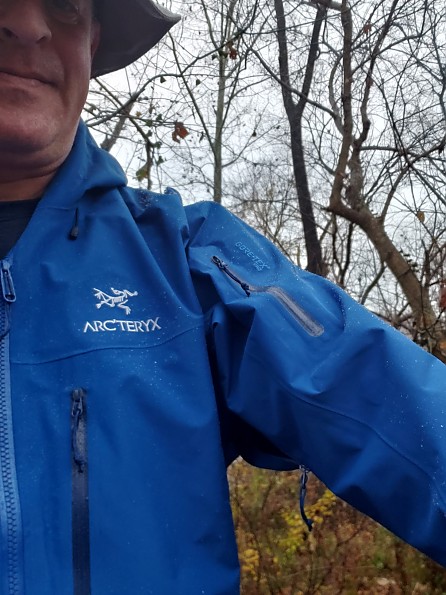 4. Durability.
Five or six months of use isn't a helpful measuring stick for this category. My jacket has effectively no signs of wear. Perhaps more helpful, the Alpha AR i have worn since 2014 has been very durable, just some rough edges on the cuff adjustments, and the fabric isn't as stiff as it used to be. I expect this jacket to last for years.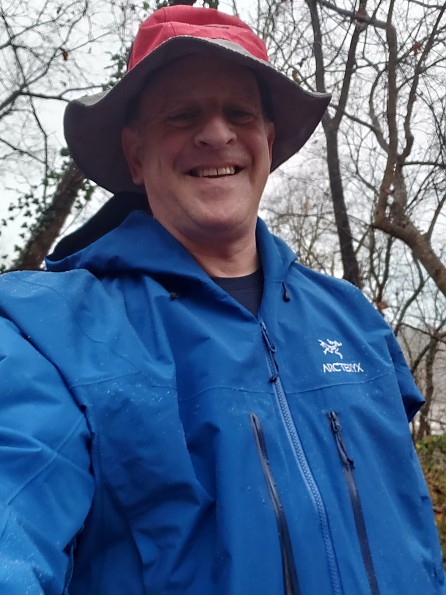 CONCLUSIONS
I did not address price yet—and it's a serious consideration. Full retail is a staggering $799. I found this shell on clearance, end of a model year, the last year Arc'teryx made the shell before putting RECCO reflectors in the jacket, for under $500. (If you spend time in avalanche-prone terrain, Recco reflectors are kind of like a LoJack, they can be used to find someone with a device, usually carried by rescue teams, that bounces a signal off the reflector.)
In terms of function, this jacket is a joy to wear if you are OK with a shell on the heavier end of the spectrum and want maximum durability and protection from the elements, room to layer, and nice ventilation for such a heavy duty jacket.
If you don't need something quite as durable, consider Arcteryx's Alpha AR or Alpha FL, and if you prefer a more athletic cut, consider the Arc'teryx Beta SV, AR, or FL.  
Experience
Six months of walking and hiking on local trails.
Source: bought it new
Price Paid: $479

Bought this jacket 10 years ago, and it has served me very well for ten full years of abuse. Multiple times I have slipped while stemming in caves, and the jacket caught me. I have hit many trees skiing, still not a scratch. Oh, and, it's waterproof.
Pros
Durability
Waterproofing
Fit
Fit: Gusseted arms are great. Very movable in the jacket. One day in an ice cave, the jacket got wet. When I got outside, it froze. Somehow mobility was not affected.
Adjustability: Good. All Arc'teryx Alpha stuff has the helmet hood, so it's a little crinkled when adjusting to my head.
Water resistance: Waterproof.
Breathability: It has pit zips. Not too breathable, but I'll wear it on a trail run with a T underneath. Keep in mind, my jacket was before Pro shell, or xcr, so this may have improved. Want breathability? Go Active shell from Gore. Think Alpha or Beta FL.
Warmth: It's just a shell, but completely windproof. If you are active 3mph hiking, skiing, kayaking, this will keep you warm in wind and rain down to the upper 30s with just a T underneath. Stuck on a bluff at 2AM, 45°F, with a soaked T shirt underneath, I got cold after an hour and had to build a fire.
Layering: Put a monkey fleece or medium weight down/synthetic underneath, and this will take you about as low as you could go.
Abrasion: The added thicker fabrics in high wear areas are very well thought out. Elbows, shoulders are very long lasting. Climbing off routes where the rocks are extra sharp will not phase this jacket.  
Disclaimer: I'm a big fan of Arc'teryx.  I wish they would give me this stuff for free.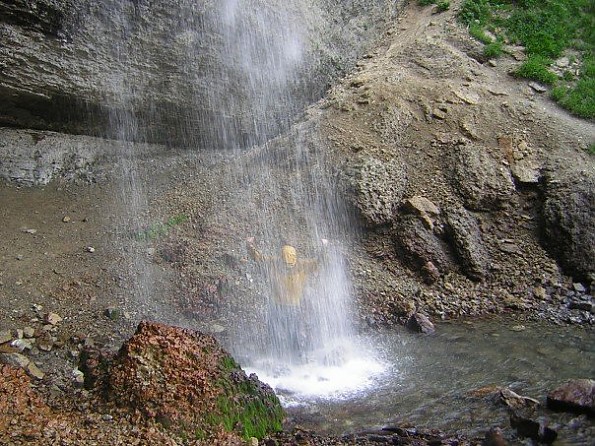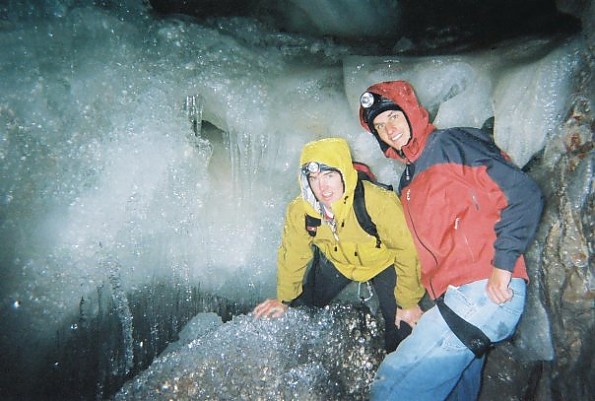 Source: bought it new
Price Paid: $380

The best heavy shell money can buy!!!
Pros
Bomber
Extremely well-made
I have both the Alpha SV and Alpha FL shells and have used them in various activities for several years. Both are amazingly well made, keep you warm and dry, and give you the confidence that you'll be able to depend on them in the backcountry for many seasons. Pardon my review in terms of talking about both of these models, but to me... they are like a set that I choose for different needs.
I am of average height (5'10") and have a muscular build (200#). Both jackets have long sleeves that I have to Velcro short (unless I want the sleeves to extend past my hand for warmth on a cold/wet walk). This is my only "complaint" about the Alpha jackets, and it's just something that I'm used to. We're all built different, and since this isn't a tailored fit, I don't hold the long sleeves against Arc'teryx.
I've been through driving rain, nearly gale-force winds, and -20°F blizzards in both jackets on a regular basis (my Akita gets daily walks no matter what the conditions outside). I've also used both jackets quite a bit for various mountain activities (climbing, hiking, snowshoeing, etc), but honestly, the choice of using them to walk the dog every day is as good of a statement to their excellence as anything else. I've also chosen to wear them to various fall football games and other activities. So whether sitting/standing still, or on the move in the mountains, I've never been let down by either jacket.
The Alpha SV is heavy and made with thicker material, so it's like wearing an Alpha FL inside of another Alpha FL. The SV also has chest pockets on both sides, versus the lone pocket on the FL. I tend to choose the SV for bitter cold and heavy rain/wind close to home or the car... and the FL for when weight and compressibility are key. But neither one as ever let me down.
I can't say the same about the various Marmot, North Face, Eddie Bauer, or Mountain Hardwear jackets that I've owned. The Mountain Hardwear is probably the best of the rest, and I do like my MH gear. But when you want the absolute best Arc'teryx is the king in my experience.
Experience
I've used this jacket close to home, and far from home, in all kinds of conditions and activities.
Source: bought it new
Price Paid: $399

Use this on all my alpine climbs and winter endeavours with the slightest hint of wind. Great adjustment possibilities and fantastically tailored for climbing and climbers needs. Great attention to detail and small tricks that just make it the best hard shell I have ever worn.
Pros
Everything can be adjusted — excellent fit
Durability and weather resistance
Detail
Fit & Comfort: Great fit. The torso is sewn to a inverted trapezoid to accommodate climbers having their arms above their head almost constantly. Gusseted arms for mobility. A band around the hips that will prevent the jacket from sliding over your harness when reaching.
Adjustability: Almost everything can be tightened or loosened. As with all Arc'teryx gear, hoods accommodate a helmet easily, though the hood scrunches up if you tighten it up without wearing one. All the drawstrings are made for one-hand use, including one in each napoleon pocket for the chest. Cuffs have a sweat resistant fabric on the inside as does the nape of the neck.
Water Resistance: Holds up extremely well to both rain and snow, but close the zip all the way or water will get in.
Breathability: Good ventilation options under the arms. A bit tricky to operate with only one hand, but of great use. 
Moisture: I will wear this in semi warm conditions with a thin merino top underneath. No concerns there. Wore it on Matterhorn with a thick Merino hoodie, a fast'n lite down and had absolutely noe moisture problems whatsoever.
Conditions: Use this on everything from hiking in the Norwegian mountains to climbing Matterhorn and various mixed alpine climbing. 
Layering: Accomodates other layers very well due to adjustment options.
Abrasion: I have used and abused this jacket very hard. No wear or tear marks visible
Function: Benchmark for design and features. 
Source: bought it new
Price Paid: 5799 Norwegian Kroner - 975 USD

First and foremost, I would never pay 650 dollars for a jacket, and I was lucky to get this piece of NASA quality gear for 312.98! I remember trying on the jacket for the first time and I had a "wow" feeling. The jacket looks stylish, but the fit and construction is what makes this jacket so special. The main zipper is really cool - it's a water resistant no storm flaps design (Arc'Teryx was the first to create these zippers 10 years ago!) while Patagonia and North Face copies it with failing results. The hood is the highest quality I've seen on any jacket, though it is a little on the large side, but it's designed to be worn with a helmet. I wish there's a hide away hood feature but there isn't one.
As with all Arc'Teryx outwear, they tend to run a little short so it won't interfere the climbing harness. The only pet peeve about the jacket is not the price, but the shoulder pocket zipper - it's IMPOSSIBLE, well, almost impossible to unzip with one or even two hands if you're wearing the jacket. Believe or not, I never successfully unzipped the shoulder pocket zipper when I was wearing the actual jacket! The only way is with the jacket off, on a coat hanger, or carefully unzipping it with two hands while holding the actual jacket. I discovered that the position of the shoulder pocket zipper is too high and the water resistant zippers are a little too rubbery and stiff. As a result, zippers might be a little difficult to unzip but they're the highest quality I've seen in the world of zippers, errrmmm, water resistant zippers. Arc'Teryx claims that after 35,000 zips and unzips, there wasn't any significant problems.
More news, Salomon (the crappy Outdoor company) owns Arc'Teryx now, which is a downside. Salomon makes some of the shoddiest outdoor gear on the market. I just hope Salomon doesn't design and implement the quality control on Arc'Teryx apparel and gear. BTW, Arc'Teryx makes the finest Gore-Tex XCR apparel in the world. They make the finest apparel period. Now, Patagonia and North Face looks more like Fisher Price! The North Face SUCKS!!!!!!!!!!! The North Face is like Nike!!! Nike sucks!!!!! Expensive and crappy in quality. Patagonia is better, but not even close to Arc'Teryx. Mountain Equipment Co-op is the closest thing as for quality but it doesn't compare to Arc'Teryx as for the fit and innovation. Ironically, many of the designers who work at Arc'Teryx once worked at MEC. I discovered that pre-1998 MEC apparel was stylish and quality. After 1999, MEC apparel and gear still retains its quality but the styling and design went down the drain. It seems if some of the high end MEC gear is knocking off Arc'Teryx.
Heck, I'll stop the rambling, Arc'Teryx is still elite gear. Who said Arc'Teryx isn't cool? - Arc'Teryx Alpha SV jacket was worn by actors in the movie VERTICAL LIMIT!
Fabric: Gore-Tex XCR 3 Layer Laminate
Price Paid: $650 Canadian

Great jacket. Not bomb proof.
Pros
Very light weight
Tough construction
Great fit
I am a plant hunter, who travels to remote places all over world looking for plants in forests, mountain sides, swamps — all kinds of places (no matter what the weather). I scored my ASV last year for a trip to Western China to spend two weeks hunting in mountains about 3000m. I chose the ASV because it is supposed to be the best jacket on the market.
My first day hiking in the mountains it started to rain heavy, so I was happy to have my jacket and Beta Pro-shell pants. After an hour in the rain though, I started to feel my front getting wet?!? Another 2 hours later after setting up camp at the now chilly 3226m I took off my jacket and was horrified to see the front of my down jacket was soaked and no longer functioning as it should. I think this is due to the front zipper on the jacket that just lets water in. To me this defect seemed to void a lot of the brilliant functionality of the jacket (and a waste of my time, drying out a sopping down jacket).
Interestingly my Beta Pro-shell pants did not leak a drop because they have the water resistant zipper down the side of each leg. Why did they not use a water resistant zipper on the front of the ASV??? Are you reading this Arc'teryx?
Source: bought it new
Price Paid: £460

I'm the equipment co-ordinator for a Search and Rescue team.
We bought 50 of the Alpha SV jackets three years ago. Our members use these jackets for their personal recreation, and for search and rescue tasks. We end up going out in the middle of the night in weather where you wouldn't want to be out, sometimes for 8 to 10 hours at a time in snow, sleet and rain, sometimes bushwacking off trail in thick coastal bush.
In the three years we've had these jackets and put them through their paces we have not had a single warranty issue. None of my members has complained about the fit, leaking, worn out zippers, tears, or any other kind of reasonable wear and tear you would expect from a jacket that is used so extensively.
My own personal experience with the jacket has also been good: ice climbing, skiing and mountaineering for thee years has only produced a single very small rip from an altercation with a tree (in the bellows area of the chest pocket). There is some minor wear near the seam seals, and what appears to be delamination also near one of the seals on the back and shoulders. I consider these areas of wear and delamination to be par for the course considering what I put it through. Since the jacket is still fully waterproof, I find it to be completely satisfactory.
This is by far the best fitting and best performing piece of gore-tex I own, only equalled by the Alpha SV Bib pants.
An extremely well-made jacket that fits better than any other jacket I have ever tried on and styling is ahead of all other competitors; as a result, I find out that other companies such as Patagonia, The North Face, and even DESCENTE are trying to knock off the Arc'Teryx design, styling, and construction, but not even 10% close.
Some people say this jacket is too short, but it is an athletic fit so it is more about perfomance than keeping you dry below your waist. I get lots of attention while wearing this jacket, and people view the Arc'Teryx label for outwear especially exotic as it is so expensive and only a few select stores carry Arc'Teryx outwear.
I get lots of responses and reactions from people, gazing stares at the jacket, compliments, people smiling when I wear it, people pointing fingers and say the Arc'Teryx name in a wrong pronounciation and worse of all, jealous people who I would not want to discuss their actions.
Hey retards!!! Arc'Teryx is a local brand!!! to all the British Columbians. Even though Arc'Teryx is made in the city I am living now, very few people wear it because of the price — too expensive!!
I just came back from a 10k run with 50,000 people who ran in the rain and out of the 50,000, I just saw one Arc'Teryx jacket wearer and it was a spectator wearing a soft shell jacket. I swear, this stuff is too expensive for some people and many would say it is not worth it, I say, it sure makes The North Face The Bad Face.
The complaint about the jacket is that the interior seaming (the extremely thin tape-like material) will sometimes bleed in micro amounts and it sometimes will make a brand new jacket look a little less brand new for the interior. As a result, you will get something I call a reflection or mirror stain.
Though, this is only the con I have for the jacket, when compared with the competitors such as The North Face which their jackets will most likely deteriorate within a year, months, or even days in some normal conditions such as light rain or carry a backpack while running.
I predict the Alpha SV jacket will last at least 7 years of hard use, or even a decade or more. So, I give the Arc'Teryx Alpha SV jacket a 9.8/10 and value rating a 9/10.
Fabric: 3 layer Gore-Tex XCR
Price Paid: A Good Deal!

This jacket was designed for the true rough weather adventurer. The Alpha SV is bomb proof. Water literally beads and rolls off the jacket, even after several days in a brutal NorthWest downpour.
Arc'Teryx has managed to keep the weight down by developing waterproof zippers in the pit zip and outer pocket areas which eliminated the need and weight of storm flaps. The pit zips are almost the length of the jacket which allows for significant venting when necessary.
The hood is extremely large to allow for any headgear you might be wearing, and there are three adjustment pulls to make the hood conform to the exact shape of your noggin. The jacket has two internal pockets for water bottles, and there is midrift and waist adjustment that will retain body heat when needed.
This jacket is a superior design and the colors are calm compared with all the mango and guava jackets I see in the retail stores. Shadow, is a midnight blue, and the one I chose. The price is hefty, but this jacket should be the last one you'll have to buy, unless you get fat from inactiivity and it doesn't fit.
A tip if ordering over the internet, these jackets and pants are designed to conform to the body, and if you normally wear a large, order the XL so you can wear some things under the shell. One question to Arc'Teryx, is what were you thinking when you designed the outer pockets? The position and shape of the pockets make the user cross their arms if they want to use the pockets. Just a question I had to ask.
Now is this jacket perfect, no, but it comes extremely close.
Buyers note: I purchased the Theta LT, which is also extremely well built, but exchanged it for the Alpha SV, because the Theta has no internal pockets and the thing feels like a dress it is just too long. An XL Alpha SV is long enough to cover the backside and yet you aren't tripping over it when you need to climb a ledge or boulder.
Fabric: 3-ply Gore-Tex
Price Paid: $450

The Arc'Teryx Alpha SV is one great jacket. I used it recreationally for the first time night skiing last week, and it performed just as I thought it would — with comfort, functionality, and style.
This is, by far and away, the lightest jacket I have ever worn. Once you put it on, you will know what I'm talking about. But even though it's light, that doesn't mean the Alpha SV skimps out on toughness. The ripstop nylon, and 3-layer Gore-Tex not only provide an excellent shell, but a waterproof one as well (note: after a full night of skiing in light to moderate snow shower conditions, not a single part of my torso was wet...something I have never witnessed with a ski parka).
The cut of the jacket (my size is a mens' medium) was perfect on me (5'8", 160lbs), with a snug fit, yet roomy enough to allow several layers underneath. You will have to layer with this jacket. It is still only a shell, and while the Gore-Tex keeps you dry, it alone will not keep you absolutely toasty. It was 25 degrees (F) when I went night skiing, and I was fine with a fleece vest layer and the Arc'Teryx shell.
Additional touches to the jacket include a great structured collar, a powder skirt with in-pocket drawstrings, and very well engineered waterproof zippers (which, next to the weight, are another great design achievement). Overall, a rock solid performer, with unmatched weight, quality, toughness, and design features.
I just have to agree with the praise below. If you are into serious outdoor activities, this is a great jacket. I had the Theta AR before, also a great jacket, but this one is far better.
The Pro shell seems much better than the XCR that I had before. It beads much better. Don't know about durability, since I have only had this one for two years. But I had the Theta for about 7 years and it was almost like new even though I wore it all the time. Just a couple of ruffing on the elbows from falling.
The main reason why I upgraded is that the hood is bigger on this one, fits a helmet well, plus it is fully integrated (not a collar and a hood attached on the outside) which I find much more comfortable and convenient for better face protection in high winds.
The two only chest pockets not such a good idea in the beginning, since Theta has four, but I like this setup better as well now.
Price Paid: $400

I read all the great reviews on this jacket, but guess what? Their "bombproof" jacket can leak water right through the front zipper.
I was sitting down in a rainstorm with high winds (40mph plus) for no longer than 15 minutes. I thought I felt my chest and stomach getting wet, but was sure it was just my imagination. When I got out of the rain and unzipped my jacket, my shirt was soaked along the zipper.
You think I'm going to trust this jacket in the White Mountains in January? No way. I'm disgusted.
Price Paid: $425

Arc'teryx is probably the best outdoor clothing company today, all of their clothes are high quality and high price.
I have never had a prblem with the SV jacket and love it, it just costs alot. The jacket is snug, made for athletic people, not like The North Face. I am 6'4" and the XL is perfect for me, some of their pants even come in longer sizes for people like myself.
Anyways the jacket is great, I love it and wouldn't trade it for anything.
Fabric: Gore-Tex XCR 3 Layer Laminate
Price Paid: $475

Excellent jacket. Fit and finish is second to none and the jacket feels light as a Lacoste polo shirt.
The only thing that worries me is when it goes into the washer and dryer because the jacket is mostly glued, not stitched. I find this jacket to be too expensive but worth it if you bought it on sale.
I hope this jacket will last after several washings and not fall apart!
Fabric: 3 ply Gore Tex XCR
Price Paid: $500

I bought one of the original models the first year they came out and have had it for nearly 10 years. I live in Colorado and spend more time in the backcountry in all four seasons than anyone I know.
I can't say enough about the jacket.
Best gear investment I've ever made.
Price Paid: $400

All I can say is wow. Arc'Teryx quality has gone far beyond all others. Own the jacket, pants, and B80 pack. All have been life savers and wouldn't recommend any other products on the market.
Have used it climbing and hiking in New Zealand, Colorado, and Washington; it is practically bomb proof.
Price Paid: $320

Good fit. Enough space without being too much fabric, but a little short arms. Excellent pockets.
Hood OK, but could be more protective at the sides. Durable except for zippers. Reasonably light. Leaky front zipper, both wind and rain and wind gets in. Why not use a storm flap?
Ever wonder why every other manufacturer is now copying the design?
Cons
If price is an issue, why are you reading reviews?
Almost 10 years old.  It's been fun to watch other brands try to imitate...
This jacket should be your new benchmark.
Source: bought it new
Price Paid: Retail

Your Review
Where to Buy
Help support this site by making your next gear purchase through one of the links above. Click a link, buy what you need, and the seller will contribute a portion of the purchase price to support Trailspace's independent gear reviews.
You May Like
Specs
Men's
Price
MSRP: $799.00
Current Retail: $800.00-$900.00
Historic Range: $2.00-$900.00
Reviewers Paid: $320.00-$500.00

Weight
490 g / 1 lb 1.3 oz

Material
waterproof, breathable N100p-X 3L GORE-TEX Pro fabric

Fit
Regular Fit, Hip Length, with e3D patterning

Centre back length
78 cm / 30.75 in

Sizes
XS, S, M, L, XL, XXL

Activity
Ice Climbing / Alpine Climbing

Women's
Price
MSRP: $799.00
Current Retail: $900.00
Historic Range: $249.48-$900.00
Reviewers Paid: $450.00

Weight
440 g / 15.5 oz

Material waterproof, breathable N100p-X 3L GORE-TEX Pro fabric

Fit
Regular Fit, Hip Length, with e3D patterning

Centre back length
72 cm / 28.3 in

Sizes
XS, S, M, L, XL

Activity
Ice Climbing / Alpine Climbing

Recently on Trailspace