Mountain Hardwear Exposure/2 Gore-Tex Paclite Plus Jacket

Mountain Hardwear's Exposure/2 is a lightweight Gore-Tex Paclite Plus shell that does a nice job keeping you dry in rainy weather and should be very wind-resistant. It features basic adjustments at the cuff, hem, and hood, and saves weight through an otherwise simple design; think of this as an entry-level Gore-Tex hard shell. Lightweight material and a lack of advanced fit and features limit this three-season rain shell's appeal for backcountry or more technical use. Affordable pricing and function and light weight at this price point make this easy to recommend, whether it's in your pack for the next cloudburst or keeping you dry around town.
Pros
Lightweight
Reliably waterproof
Decent basic adjustability
Sized with some room to layer
Big front pockets
Cons
Noisy fabric
Light fabric, possibly damage-prone
Front vents double as pockets—can't store stuff and vent
Cuffs not so easy to adjust right
Mountain Hardwear's Exposure/2 shell is a Gore-Tex Paclite Plus jacket that delivers. It's waterproof, breathable, very lightweight, and should be a great wind blocker. It runs true to size with a bit of room for layering—what Mountain Hardwear calls "standard" fit. It is a solid entry-level waterproof/breathable shell. People who crave features like armpit zips, articulated fit, better hood and cuff adjustments, and more burly materials will look elsewhere and spend a fair bit more for what they want.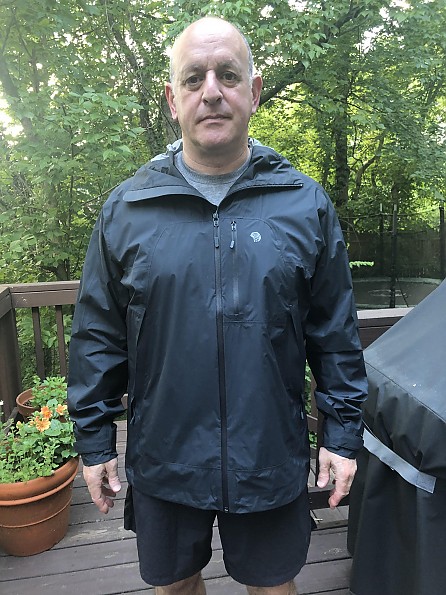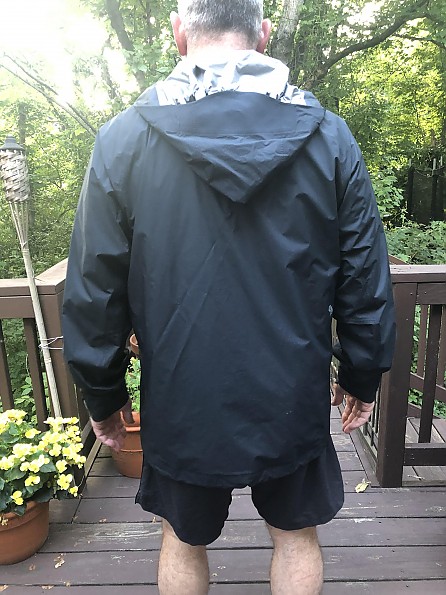 BASIC INFORMATION
The size XL Exposure/2 I tested weighed in at 11 ounces, which is quite light for a Gore-Tex hard shell and places it among the lightest minimalist Gore-Tex hard shells available. Men's offers five sizes, small through XXL; women's also has five sizes, XS through XL. The main front zipper is a light coil zipper and is water-resistant; there is only a flap behind the zipper near your neck and face.
The jacket has a generously-sized hood with a rear elastic pull to cinch it tighter, cuffs with hook/loop straps to tighten them, and an elastic hem with a nice internal cinch-lock. It has one small zippered front chest pocket and two large front pockets, one on either side. The big side pockets are backed with mesh and, when unzipped, can allow some vapor to escape to keep you from getting too sweaty. The big pockets are located to allow access while wearing a backpack.  
The jacket has enough room to wear a mid-weight layer underneath. The looser fit means you can wear thicker or more layers underneath for warmth. That's important if you plan to use this jacket as your primary hard shell well into the fall, or if you hike in places like the Adirondacks or White Mountains where it's not unheard of to encounter weather in the 30's and 40's and high winds, even in the summer.  
WATERPROOF/BREATHABLE PERFORMANCE
Paclite Plus is a two-layer Gore-Tex shell. The interior is a Gore-Tex membrane with a textured internal surface treatment, bonded directly to an outer nylon shell. It doesn't feel like "layers" in the sense that you can feel a separate, floating inner liner. The textured interior is an improvement that feels better next to your skin (true), avoids the need for an added internal treatment like applying some texturing as a separate "0.5" layer, and helps moisture wick out faster (perhaps—no way to test that).
Higher-priced Gore-Tex shells use a more durable three-layer construction: outer nylon shell, Gore-Tex membrane, inner surface fabric, all bonded together.  (Mountain Hardwear also has a pullover/anorak style jacket with "Paclite Stretch," where the Gore Tex membrane and outer shell have some stretch or "give," but Paclite Plus is not a stretchy fabric—it's a typical nylon hard shell with a waterproof/breathable membrane bonded to the inside).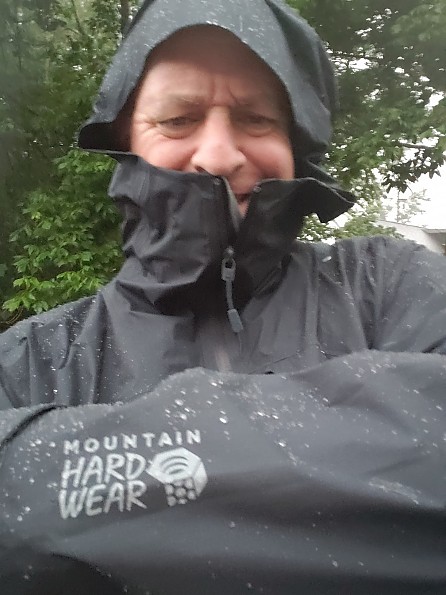 The main value of the Exposure/2 is that you get Gore-Tex's reliable waterproof/breathable fabric. The shell is treated with a durable water repellant finish, seams are all fully taped, and the Gore-Tex-backed nylon doesn't let rain in, but smaller water vapor molecules can escape through the fabric. Gore-Tex has been around for a long time, and it's a time-tested solution to the problem of how you stay dry from rain without soaking yourself in sweat.
If that's not enough, and you don't need to store anything in the big front pockets, unzip them so additional vapor can escape through the mesh backing of those pockets. (The downside is that if you plan to use those pockets to vent moisture, you can't really store anything in them—as opposed to armpit zippers that would have increased the cost and weight of this jacket.)
The minimalist shell material means this jacket packs down small inside your backpack, about the size of a large grapefruit, smaller than a liter-sized Nalgene bottle.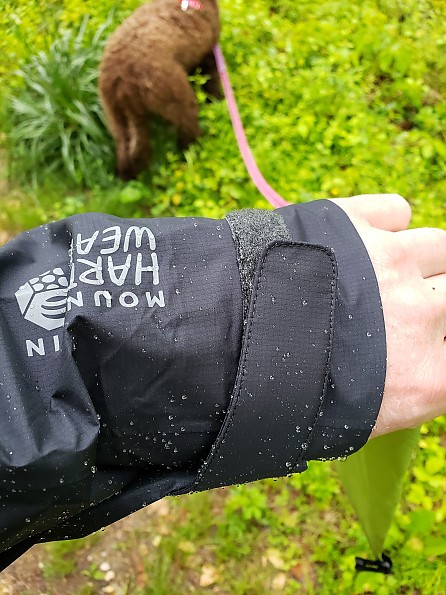 A general observation about waterproof/breathable solutions is that they all have limits regarding ventilation and transporting the vapor you naturally generate while you're active to the outside. If you're hiking up a mountain, carrying some weight, no waterproof/breathable, Gore-Tex or any competitor, will prevent at least some sweatiness. The goal is to avoid feeling like you're hiking in a plastic trash bag and keeping all that moisture stuck next to you. The Exposure/2 accomplishes the goal of avoiding the rubber rain slicker/trash bag feeling.  
I wore the Exposure/2 on a number of rainy walks, and it performs as advertised on the waterproof/breathable front. I did not have any opportunities to test the jacket in high wind, but even in somewhat breezy weather, you'll hear some rustling fabric. Regarding wind protection, every Gore-Tex shell I have ever worn has proved to be an excellent wind barrier, and this should be similar.
FIT/COMFORT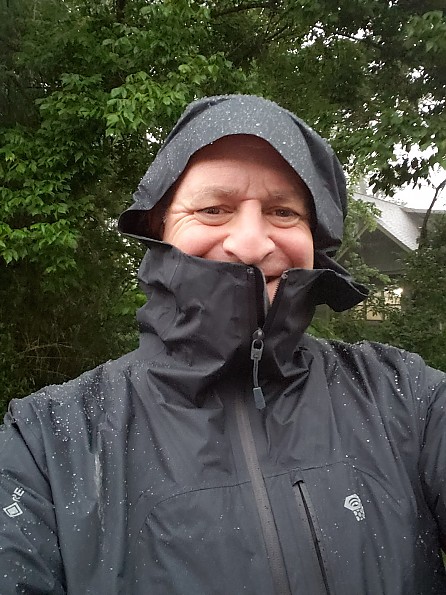 One of our kids took photos so you can generally see how the Exposure/2 fits. I was wearing a golf shirt underneath. As you can see, it has a long-ish fit that falls a few inches below the hips. The Exposure/2 is sufficiently roomy that people craving a closer, more athletic fit might want to go down a size. Sleeves were a good length for me. The sleeves are straight, no articulation that bends where your elbow naturally does, and the very plain cuffs would sometimes slide down over my hands, even when I cinched the strap fairly tight.  
The inner surface is very slightly textured, which I liked because I often wore this over a T-shirt—even with some mild dampness on the inner surface, the jacket never felt clammy or sticky.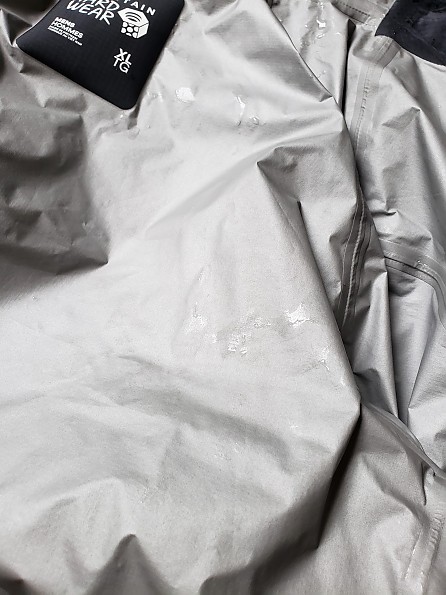 You can see a little bit of moisture on the inside surface; this was after a fairly hard, rainy hike.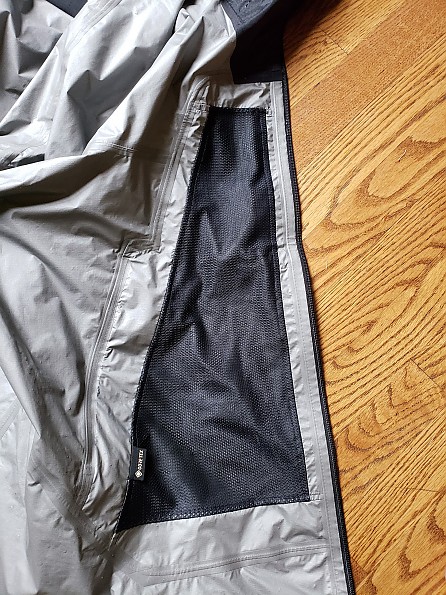 This shows the mesh back of one of the front pockets that doubles as a vent.
Likewise, while I appreciated the ability to pull the hood tight, the bill is not very stiff, and there are no pulls on either side of the hood to tighten it around your face. My comments about fine-tuned features like this aren't really complaints; a Gore-Tex hard shell at this low weight and price point is bound to have certain compromises.  
DURABILITY
Despite wearing it several times, some of those while toting a backpack, the Exposure/2 shows no signs of wear after about two months. If you're looking for a general purpose rain shell, I expect this jacket will be perform well for you. It's very nice to have such a light option handy for around town, and the weight of this fabric helps it compress very small in a backpack if you're carrying it as a layer for a rainy day or summit winds. I have had great experience with Mountain Hardwear jackets regarding durability, including a previous test of another light rain shell, the now-discontinued Plasmic Jacket.  
If you expect lots of branches and scrub grabbing at you in the backcountry or consistent abrasion from rocks, the light nylon shell might not hold up very well.
TESTING CONDITIONS/PERFORMANCE IN THE FIELD
Fortunately, for purposes of testing a hard shell, it rained a lot here this spring. Really challenging hiking was limited due to trail closures, but I logged at least 40 miles of local hiking where I wore the Exposure/2 at least part of the time. I loved the lightness of it. It kept me dry in the rain, let generous amounts of moisture out (I kept the pockets empty so I could unzip them if needed), and fit pretty well. There were some occasions where I would have liked better cuff and hood adjustments.
UPDATE 8/4/20:
I spent a while out in the remnants of Tropical Storm Isaias this morning—about five miles over pretty flat ground, 68 or 69 degrees, raining hard the entire time. 2-3 inches of rain forecast for our area today. A few observations:
Rain beaded up and rolled off the shell the entire time, and the jacket kept rain out. The fabric didn't wet out, no leaks through seams or zippers, and the front vents are covered by a small flap.  

The front vents did a very nice job keeping me cool. I still might prefer armpit zippers, but I did not feel overheated at all.

Having a way to secure the hood would have been nice—I was wearing a rain hat, and the hood kept filling up with water. I had to dump it to the side so it wouldn't run down my back.
In short, the jacket performed well. That's quite good for a waterproof/breathable shell at this price point.  
UPDATE 2/22/21:
I have now had the opportunity to wear the Exposure/2 in cold, windy, wintry weather and some hard uphills. I continue to like and be impressed with this jacket.
Sleet and freezing rain—one of our favorites near the rain-snow line—don't make a dent in the waterproofing, nor do cold north winds bother me in this. It works very well as a barricade against the elements, despite its light weight.  
Consistent with my original review, the limited ventilation options have had some impact on how I use the jacket and layer. The front vents have rain flaps that cover the zippers—a nice feature, but these vents do not actually let much heat or moisture escape. Armpit zips work better. Consequently, the primary way I adjust for heat/moisture with the Exposure/2 is the front zipper, and by wearing lighter layers or hats that provide less warmth.
A few hours walk in sleet/freezing rain the other day were a good example—temps in the low 30s, and I was wearing a relatively light base layer and a 100 weight polartec fleece vest and I had the front zipper rolled down a few inches. 
Experience
Several months of walking, hiking, and getting around town, all seasons.
Source: received for testing via the Trailspace Review Corps (Sample for testing and review provided by Mountain Hardwear)

Your Review
Where to Buy
Help support this site by making your next gear purchase through one of the links above. Click a link, buy what you need, and the seller will contribute a portion of the purchase price to support Trailspace's independent gear reviews.
You May Like
Specs
Men's
Price
MSRP: $300.00
Current Retail: $150.00
Historic Range: $149.83-$300.00

Approx Weight
9.05 oz / 256.5 g

Fabric Body
Gore-Tex Paclite Plus 2.5L

Fit
Standard

Women's
Price
MSRP: $300.00
Current Retail: $179.98-$179.99
Historic Range: $179.98-$300.00

Approx Weight
8.34 oz / 236.5g

Fabric Body
Gore-Tex Paclite Plus 2.5L

Fit
Standard