Mountain Hardwear Plasmic Jacket

The Plasmic Jacket has been discontinued. If you're looking for something new, check out the best waterproof jackets for 2023.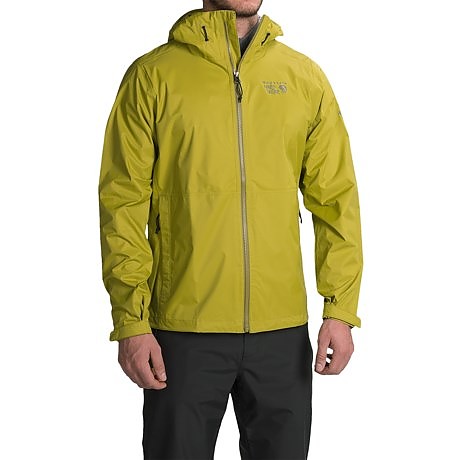 The Mountain Hardwear Plasmic Jacket is a lightweight waterproof/breathable jacket featuring Mountain Hardwear's Dry-Q technology, with an internal lining designed to help moisture wick out of the jacket. The jacket's light weight and attractive price make it a very good rain and wind jacket for three-season hiking, cycling, and other outdoor activities. Because it is lightweight, there are probably better choices if you anticipate a lot of rocks or potential abrasion risk.

The jacket will appeal to people who crave function and simplicity; if you want more features, if you favor armpit zips or more pockets, you should look elsewhere but expect to spend a fair bit more. I could not figure out whether the Dry-Q Evap inner surface was an improvement over other similar jackets, but as a waterproof/breathable hard shell, it performs well to keep the rain out and allow the sweat to escape when you are active and out in bad weather.
Pros
Lightweight and packs small
100% waterproof yet vents moisture well
Windproof
Big pockets
Cut generously to allow layering underneath
Functional yet simple adjustments
Cons
Minimal features will suit some people but not others
No hideaway hood
Unclear whether inner surface is an improvement
Fabric is a little crinkly/noisy in the wind
The Plasmic Jacket is a lightweight waterproof/breathable hard shell jacket that absolutely keeps the rain and wind out, yet allows moisture (sweat) to escape. The jacket keeps you dry and 'breathes' moisture because it has Mountain Hardwear's Dry-Q technology.  This jacket, to make no mistake though, is a coated jacket, unlike other DryQ products that feature a proprietary version of eVent.  Regardless, interior moisture can work its way out, but rain doesn't get in....it's just not quite as efficient in that regard as the premium membranes like eVent or gore tex.  
The size XL jacket that arrived in the mail weighed in at 11 ounces on a hand scale, so it is fairly lightweight and is virtually unnoticeable at the bottom of your day pack.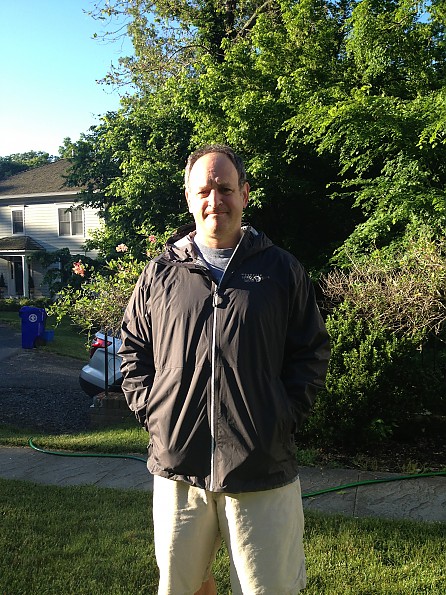 FIT & COMFORT/ADJUSTABILITY: 
The Plasmic is cut relatively generous through the body and in the length and volume of the sleeves.  So, while it does not have a narrow "athletic" fit, it has room for a medium-weight fleece or other layer for cooler weather.  The hem sits below your hips, so it is not particularly short.
The adjustments are basic but useful – a cord that easily tightens the hem, velcro tabs for the cuffs of the sleeves, and very basic pull cords at the sides and back to tighten the hood.  the hood pulls are "hidden" so they will not flap in the wind.  
One interesting feature is that the toggles for the hood pulls are located within the shell material. They aren't exposed to the elements, and you have to locate them by feeling the hood. The hood cannot be removed, and there isn't an easy way to roll it up.  But, even with the relatively limited adjustments, it worked well for me during a number of rainy hikes.   
This shows where you can cinch the hood tighter from the rear and the 'hidden' side pulls. The brim of the hood is not particularly stiff but kept the rain off. With the hood pulled tight, I had decent peripheral vision, and the hood fit well enough that it did not blow off my head in the wind.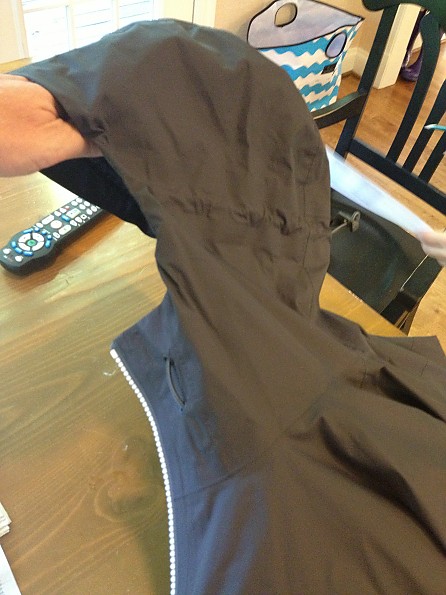 The hook/loop cuff adjustment is easy to use and works well.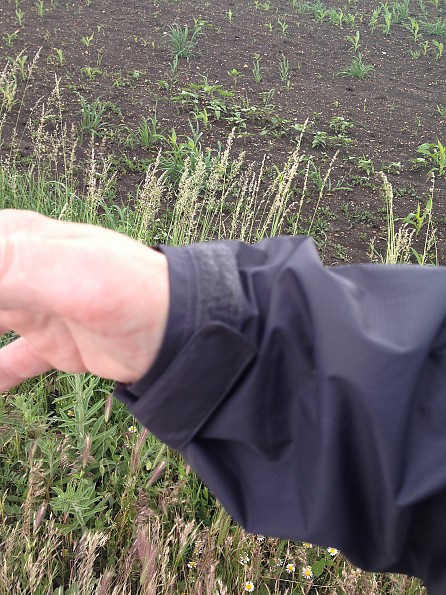 The jacket has two big zippered pockets that can hold a lot of stuff. But, you won't be able to use more than a tiny bit of that space if you are wearing a backpack with a hip belt, because the pockets are located right where the belt is. The front zipper is water resistant, but it has much larger 'teeth' than water resistant zippers i have seen before. The zipper kept the water out and is not as sticky as some of the smaller water-resistant coil zippers.  All three zippers (front plus front pockets) have a decent-sized 'pull' that one could use with light gloves on. 
Yes, this front zipper is water-resistant and did not leak. It has a flap behind it. I thought the zipper pulls were easy to use.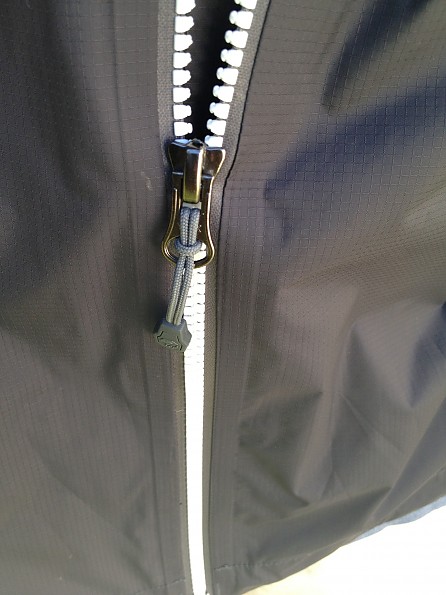 Note how only the top half of the pocket is accessible here.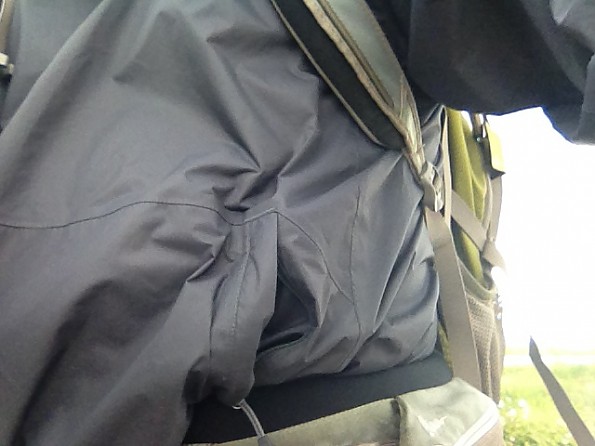 Mountain Hardwear included an inner surface on this jacket that it calls "evap." The evap interior is supposed to have small channels that help interior moisture evaporate faster and therefore keep you a little more dry than you otherwise would be. It feels fairly smooth to the touch and has a distinctive, visible pattern. 
I could not, throughout using this jacket, determine whether the "evap" makes this jacket any better at venting moisture than other eVent jackets.  It works perfectly well, but I did not feel like it was an improvement over other inner lining materials.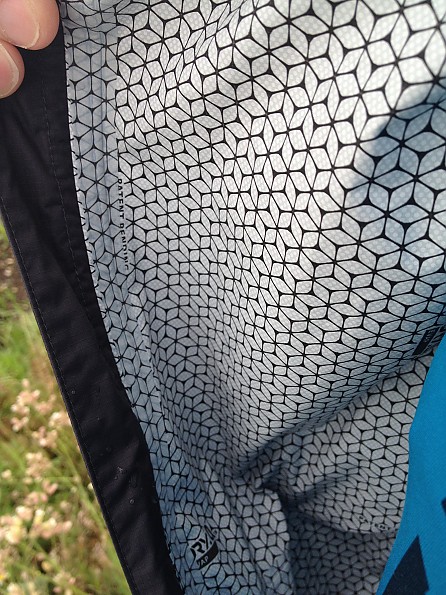 WATER RESISTANCE/BREATHABILITY/WARMTH: 
This is a key issue for a jacket like this. Does it absolutely keep the rain out? Does it allow the moisture and sweat you generate from being active to escape, or do you feel soggy while hiking in it?
I was very happy with the results. I hiked in this jacket on a number of rainy days that included bands of light rain/drizzle, steady rainfall for a few hours at a time, and one monster cloudburst that included high winds and some small hail.  I wore a short or long sleeved wicking t-shirt underneath the jacket in each situation.  
In every case, the jacket proved to be fully waterproof. Inside the jacket, my t-shirt invariably got somewhat damp, but that is normal for any rain shell. However, i was not drenched while wearing this jacket because most of the moisture escaped, even in situations where I was hiking up some good-sized grades.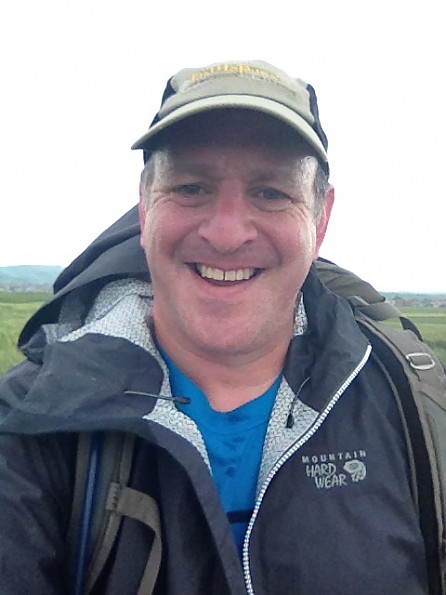 I also used the jacket as a wind shell during some sunny hikes where it got cool and windy as I ascended. The shell allows a tiny amount of air transfer.  In every situation I used the jacket, it kept me protected from the wind, but it feels just a little bit cooler than some other jackets that allow no air transfer. (Some waterproof/breathable solutions, like Goretex, effectively stop all air transfer and tend to feel a little warmer).  
So, this jacket is a great choice for almost any situation as a windproof layer. The fabric is a little 'noisy' in the wind. It sounds a little crinkly, like many hard shells.
CONSTRUCTION & DURABILITY: 
The Plasmic spent a few months underneath backpack shoulder straps and hip belts, and on trails that were poorly maintained but not particularly rocky.  The 'build quality' is good — no loose seams or stitching, nothing came loose over the few months I tested it, and there was essentially no wear underneath the pack straps.  
The fabric is quite light, so I would hesitate to take this bushwhacking off-trail where branches might grab the fabric. I had the same impression about trails with a lot of rocks and scrambling. You might favor a more durable fabric for those kinds of conditions.  
CONDITIONS/FIELD USE: 
I brought the Plasmic on hikes with me as my only rain jacket or wind shirt over the course of several weekends in the Washington, D.C., area and two weekends in Kosovo, in Eastern Europe. On three of those hikes, it rained steadily, mostly light rain with some heavier bands, and on one hike, I weathered an all-out cloudburst with some hail. 
On every one of those hikes, I was carrying a backpack in the 15-25 pound range. Consequently, I spent several hours moving at a good pace and wearing this jacket throughout. Because I used the jacket in late spring conditions, I usually wore only a wicking short or long sleeve t-shirt under the jacket. I also wore the jacket as a wind shirt on some hikes in Kosovo where I gained altitude and needed to protect myself from the wind.
In the mountains in Kosovo, near the Albanian border — sunny, but cooling off and getting windy. Note that even in mid-May, there is still some snow on the mountain tops.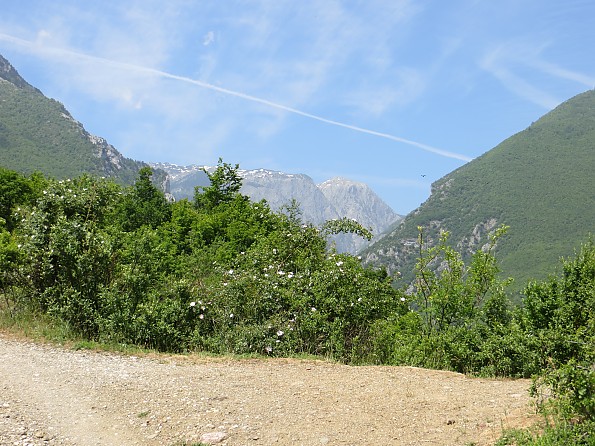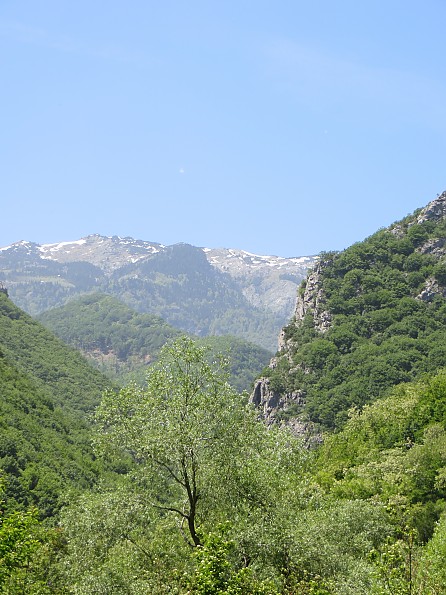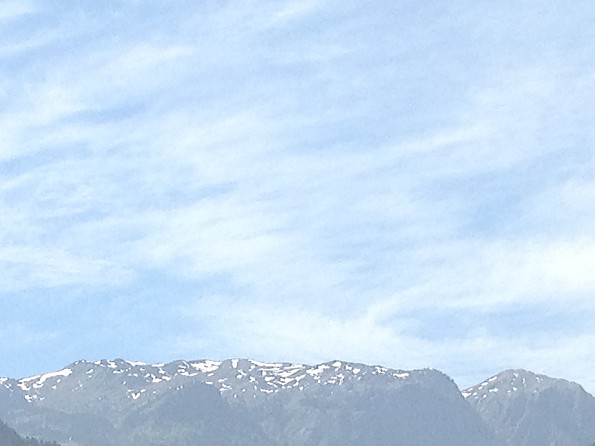 My only rainy day photo, taken during a brief dry spell. I'm walking in some fields toward the mountains.  I invariably hiked alone in Kosovo and did not want to wreck my smart phone or camera in the rain.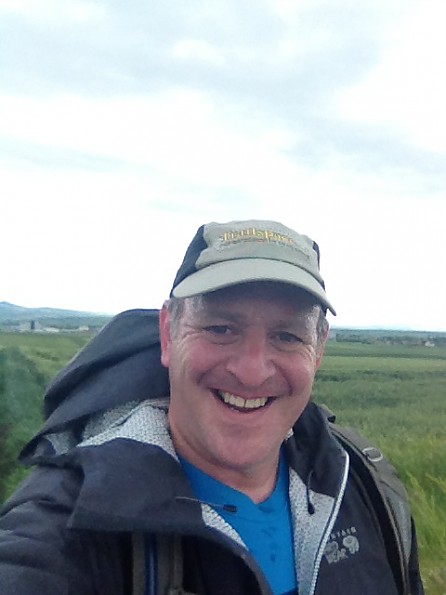 The bottom line is that this jacket does a great job, particularly considering how reasonably it is priced for a quality waterproof-breathable jacket. I hiked for several hours in the jacket, in the rain, and it kept me dry despite hiking at a vigorous pace with a decent amount of weight on my back. While I generally prefer jackets with armpit zippers as an additional means of venting, this jacket did well, and having armpit zips would obviously make it heavier. 
During the major storm, when I was zipped all the way up, I was able to not only stay dry but also adjust the hood so i didn't have problems seeing. I was happy to see that the front zipper indeed kept the rain out, and that my cell phone stayed dry when i shoved it into one of the big pockets. As far as wind is concerned, this jacket is also a great solution.  
I appreciated that Trailspace gave me the opportunity to test this jacket and applaud Mountain Hardwear for designing and making a high quality waterproof/breathable jacket. The combination of light weight, great performance, and reasonable price is hard to beat.  
Source: received for testing via the Trailspace Review Corps (Sample provided by Mountain Hardwear for testing and review)

Your Review
You May Like
Specs
Men's
Price
Historic Range: $40.73-$140.00

Women's
Price
Historic Range: $34.83-$140.00