Arc'teryx Bora 30

The Bora 30 has been discontinued. It was replaced by the Arc'teryx Bora AR 50.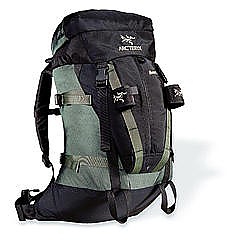 Having bought the pack quite recently, I decided on this model from the reviews here on the board and through price research etc.
I was looking at Jack Wolfskin and The North Face but the cost compared to the Bora 30 was crazy. For $119 canadian, you will not find a tougher made pack.
For me, I was looking for something to throw under my desk at work and stuff all my gym gear in as well as throw in the car for weekend wanders with my wife.
a few gripes though,
for a daypack, its a bit heavy (1.5kg) so if you are looking for something fast and light you may want to try something else.
Whoever measured the sleeve that the removable back panel goes into should get their eyes tested. If you take the panel out to change the shape, the sleeve is so tight fitting, the panel bends out of shape when you put it back in.
the shape of the bottom of the pack is a bit stupid. The top of the pack is wide and the bottom is narrow and tear drop shaped. Large heavy objects won't fit in the bottom meaning that the pack with be off balance if you pack heavy stuff nearer the top.
The pack won't stand up by itself!! the bottom is so narrow that most of the weight is halfway up the pack. Forget it if you want to lean the pack up against a post on the bus or up against a wall.
nice big lid pocket, however if you load stuff in there, for instance, the weight of a water bottle, then the pack will fall over on its narrow bottom. A bit stupid really.
nice sized waist belt and unusually narrow shoulder straps.
Size: 2100
Number of Pockets: 3
Height of Owner: 6ft
Price Paid: $119 canadian

I like this pack quite well. I researched intensively for a year all the packs built near this size, and concluded that this one was the best, with no compromises. Build quality is of the absolute highest though it doesn't seem to clean up to new looking quite as my Dana, if that matters at all to you. It has the same suspension as the bigger Bora 40 except for the hip belt, so it concievably can carry about as much weight. The lack of a thickly padded hip belt is perfect for me; I can tie the 2 inch webbing up out of the way while riding a bike, but the little wings that the belt comes off of extend the frame sheet and back padding around so when you use the belt, it is almost as weight supporting as a full belt. The 1800 cubic inches really aren't all that usable, the tapered bigger bottom is hard to load completely. Stay removed, the pack is quite flexible for big climbing routes, and I put fastex buckles on my harness so I can clip it close to my back on overhanging stuff, and then I can carry all the food and water and emergency stuff I need right on me. Mostly though I use it for school, and it kicks ass all over those high priced yellow North Face burlap sacks. I would highly recommend this pack to anyone who wants the best.
Design: Internal
Size: 1800
Number of Pockets: 3
Max. Load Carried: 30?
Height of Owner: 5-8
Price Paid: $130?

I knew that Arc'Teryx make great packs and the Bora 30 didn't let me down. Its features are great, I'll list em for ya:
6061-T6 aluminium stay, frame sheet, loadlifter straps, 2" webbelt with padded hipwings, an outer pouch which can be accessed from the top or the front through a zipper, KANGAROO pouch. It has a drain hole and makes it ideal for rain gear.
The pack has a great carry and its narrow profile make it excellent for scrambling, fast hiking, a daypack, etc.
Its suspension is very good and seems to really hug your body. One top pocket, a main compartment and the kangaroo pouch. It has two compression straps on the sides that work well and the full length lidstraps (?) anyway you can slip gear under it when you cinch them.
A great versatile daypack. Cheap in Canada too.
margarita is like their new pesto, apple green. Looks really cool. The black is cool too. if you're even thinking about getting a daypack, this is THE one to get. You'll not be disappointed.
Design: internal
Size: 2060 (approx)
Number of Pockets: 3
Max. Load Carried: 20lbs approx
Height of Owner: 5'9
Price Paid: 125 CAN dollars

Absolutely a wonderful pack for long dayhikes. The tall, narrow shape and compression straps keep the load well balanced and stable. The kangaroo pocket is great for items you need to get to quickly. The hipwing hipbelt looks minimal, but actually it can actually support a lot of the pack weight. The pack is very light for the suspension you get: framesheet, single aluminum stay, load lifter straps, and sternum strap.
The pack could use more back padding, especially around the lumbar area. It feels like the framesheet is right against your back. The bottom of the framesheet is hardly padded and at first it dug into the top of my butt. I eventually bent the aluminum stay so that the framesheet curved away from me and that has fixed the problem. I also wish the pack had wand pockets (for my fishing pole).
Design: Daypack
Size: 2100
Number of Pockets: 2
Max. Load Carried: 25 lbs.
Height of Owner: 5'1"
Price Paid: $119

This is a great day pack. Construction is top notch. The fit and function is perfect for a smaller pack. It has an HDPE framesheet and single aluminum stay. The hipbelt is a 2" no-frills with "hip wings"; usually more than enough for your average day trip. The kangaroo pocket is very handy and quite big - I can even fit a bike helmet in it and still have room to spare. If you're in the market for a pack this size and price range, don't decide till you've tried this one out!
Design: internal
Size: 2260 (Tall)
Number of Pockets: 3
Max. Load Carried: 15-20
Height of Owner: 6'3"
Price Paid: $129 (REI)

Bora spent three months with me while I traveled in South America and Mexico. My Bora hiked the Inca Trail twice (one of the times I had to attach a 20+ pound bag to her and her seams still are in fantastic shap), been to Santiago, Chile, and been to the Andes Mountains in Ecuador. I could never be happier with a bag, and it was fate that I found her all by herself in the sporting goods store. I am truly impressed with Arc'Teryx.
Size: 1950 cu. in.
Max. Load Carried: 45 lbs.
Height of Owner: 6'3"
Price Paid: $75

Version reviewed: Tall
My wife got this for me and I was initially dissapointed (small). I returned it for the tall version and am happy with this. I use it for trad. climbs (one day climbs) and ice climbs. It is perfect for day trips, carries very comfortable, and does not impede climbing (unless body jamming). I love this pack now, and when I start doing multi-day trips I will definately stick to the high quality craftmanship of Arc'Teryx.
Design: internal day pack
Size: 2260 (tall)
Number of Pockets: 2
Max. Load Carried: 20 lbs
Height of Owner: 6 foot
Price Paid: $130

Your Review
You May Like
The original Arc'teryx Bora pack series was discontinued in 2014. The newly redesigned Bora AR pack series currently only goes down to a 50-liter size.
Specs
Price
Historic Range: $66.97
Reviewers Paid: $75.00-$130.00