Arc'teryx Khamsin 52

The Khamsin 52 has been discontinued. If you're looking for something new, check out the best weekend packs for 2020.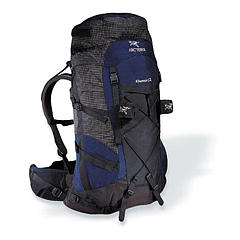 Specs
Price
Historic Range: $149.97-$179.95
Reviewers Paid: $240.00

Reviews
2

reviews

5-star:

1

4-star:

1

3-star:

0

2-star:

0

1-star:

0
The Khamsin packs appear to be sized slightly small. Since I have a short torso, the regular size works perfectly. Note that the contour of the bottom stay of the Y-frame is adjustable.
This is the lightest pack I could find with both a replacable pivoting waistbelt and a lid that converts to a fanny pack. I require a replacable waistbelt because I'm slender. (I bought the regular size pack with the small size waistbelt.) The fanny pack is convenient for day hikes and water trips.
With the extra capacity offered by the spindrift collar and the strap-down lid, it will handle weeklong solo summer trips or three-night solo winter trips.
For my typical two-night solo and pair backpacking, I'm thrilled with its performance. On the second and third mornings, I joyfully savor zero bruises and no sore shoulders. Anyone who has suffered using a non-pivoting waistbelt will consider this flexible conical belt to be a godsend.
The single side pocket could be used for a bottle or for poles. I use it for poles, with the top ends of the poles supported by the compression straps.
The pack doesn't have a dedicated bladder pouch. And the lid offers too little support to hold a bladder without allowing the weight to shift around. (Besides, with so few external pockets, lid space is needed for other items, such as the water filter, flashlight, camera, etc.) There's a large internal pouch along the dorsal side, but it's pretty much dedicated to holding the Y-frame. A low-profile bladder like the Dromlite might fit in that pouch, but I choose to hang my not-so-low-profile Camelbak bladder from a loop that normally is used only to hold one end of a buckle.
I'd say that this is the ideal pack for anyone who minimizes equipment weight and size without going ultralight.
Lastly, nothing beats the convenience of a full-length side zipper.
Update: September 29, 2003
My pack is torso size regular with hipbelt size men's small.
===== short review ===
o The size is great for up to five-night fastpacking trips.
o A pivoting hipbelt is worth the extra money.
o I leave the lid at home.
o The relatively firm hipbelt padding sometimes bruises my bony hips after a couple days.
===== long review ===
Choice of pack depends on style of backpacking, so here's some background. I take one- to five-night wilderness backpacking trips year-round in Alabama. When going solo during summer, my gear includes: a 4.1 lb freestanding tent, a 2 liter water bladder, a 1.8 lb sleep pad, a 0.8 lb water filter, a 1 lb synthetic bedsheet, a 0.4 lb Ursack food bag and a 0.5 lb camera. (I generally eat cold during summer.) During winter (which brings cold rain rather than snow in Alabama), I trade a 2.0 lb down sleeping bag for the synthetic sheet; I add a 0.5 lb fuel tablet-based cooking system; and I add clothing.
First. let me emphasize that the pivoting hipbelt eliminates any similarity between donning a pack and donning a straitjacket. Allowing a wider range of motion removes much of the awkwardness from climbing a boulder. More importantly, it reduces back fatigue dramatically. Most importantly, allowing hips to pivot, makes it easier for me to re-center weight over the stable foot if an ankle twists.
If I always traveled either solo or with experienced backpackers, the capacity and suspension of the Khamsin 52 would be overkill. However, I often introduce people to wilderness backpacking. In that case, I've found myself carrying a serious load: food for three for two nights, 4 lb worth of a 7.6 lb four-season three-person tent and a 1.4 lb liquid fuel-based cooking system (including a 2 liter pot). This large capacity is possible due to the 8 inch spindrift collar and a back-to-front buckling cinch strap over the top end of the main compartment.
Regardless whether the pack is heavy or light, the suspension performs beautifully. The metal stay at the bottom of the staysheet can be bent to match the angle of the wearer's lower spine. With the hipbelt approximately centered on hip crests, much of the pack weight is transferred to that region of the lower spine, rather than the hips.
Unfortunately, the hipbelt isn't perfect. When the pack is extra heavy or when (with a lighter pack) I bound across a boulder field, the relatively firm padding makes minor bruises just forward of my hip crests.
For me, the side zipper is more than a gimmick. I don't use it during dry days. But it comes in handy on wet days by allowing me to extract the tent from the bottom of the bag without having to unload anything else first. "Why," you might ask, "did you put the tent at the bottom in the first place?" Well, if it was wet when I broke camp that morning, it belongs there. During a two- or three-day trip, neither waiting out a storm nor waiting for the tent to dry is an appealing option. For these reasons and a few others, my standard packing arrangement places the tent at the bottom.
I use pack features very differently from a previous reviewer of the Khamsin 52. As mentioned above, I leave the (relatively heavy) top at home. That makes the food bag stored at the top of the main compartment much more accessible. And it exposes the buckling cinch strap on the top, which frequently doubles as a handle. I attached a tall, narrow stuff sack inside, adjacent to the framesheet. It holds the first aid kit, a spare camera battery, tent poles and the water bladder. That leaves the side pocket free for both the water filter and a silnylon ditty bag. During dry weather, I stow a silnylon pack cover behind the Hypalon patch. Liner socks and washcloth get hung over the elastic webbing, secured by safety pins. Rain gear gets stuffed behind the elastic webbing.
I'm pleased with the Khamsin 52, because it handles the range of trips I take with the gear I have.
If I eventually acquire a reliable enough single wall silnylon shelter (such as, possibly, Tarptent Squall), then I might get a smaller, lighter pack for solo trips. In case anyone else has made that step, I'd recommend looking at Khamsin 38, Granite Gear Vapor Trail, a semi-custom ULA P2 or a semi-custom McHale pack.
Enjoy and preserve wilderness.
Best wishes.
Design: top-loading w/ side zipper
Height of Owner: 5'8"

This is a very nice pack for me but I acknowledge that it does have some limitations. I like it for its light weight (3lbs 10oz), fanny pack, side zipper, perfect capacity, and sturdy construction. You can also remove the frame sheet and hip belt for when you don't need them.
One thing that could cause a problem is that the shoulder straps are not adjustable to the length of one's back. Either it fits or it doesn't.
I highly recommend this pack.
Design: Internal Frame
Size: 3100
Number of Pockets: 3
Max. Load Carried: 33lbs
Height of Owner: 5foot9
Price Paid: $240

You May Like
Recently on Trailspace