Asnes Kongsvold Hunter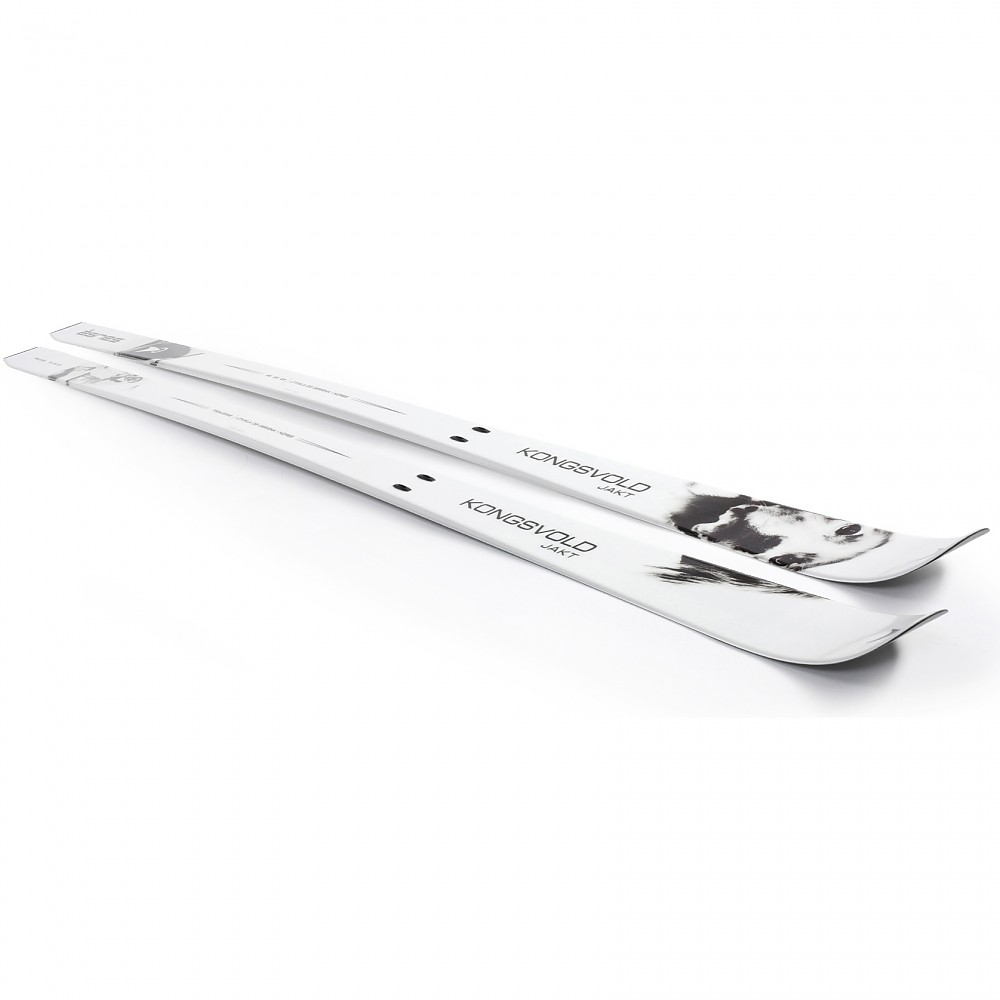 A light, wide touring ski with deep sidecut but lacking steel edges that delivers a balanced blend of touring and turning performance. Intended for hunters and dog owners that want to avoid injuring their dogs, it also works well for backcountry skiers that stick to soft snow conditions. Compatible with lightweight short skins.
Pros
No steel edges, will not cut dogs' legs
Lightweight for a ski of this size
Deep sidecut for turning performance
Slight wax pocket for waxed kick-and-glide
Compatible with short skins for waxless kick and easy hill climbing
Cons
Not a good choice for hard snow conditions
Åsnes Kongsvold Jakt
Old Ralphie, our German Shepherd-Border Collie mix, was my best bud on many a mountain hike, but I often had to leave him behind on ski mountaineering trips, depending a bit on partners and conditions. He had a bad habit of running zigzag in front of me, and early on in our life together caught his leg with a ski edge and cut it pretty badly. So if I figured I'd be skiing in conditions when that might happen again, I'd leave him at home.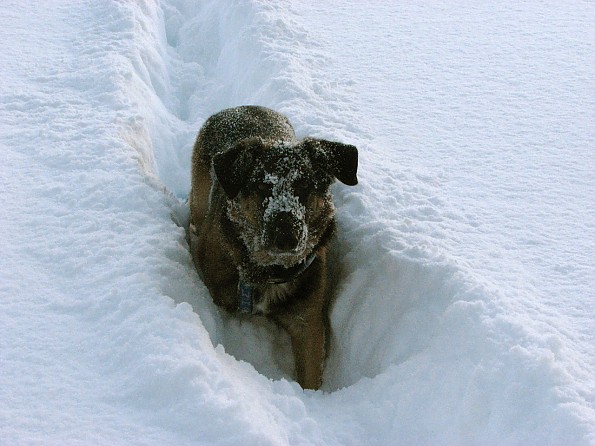 Ralph went off to that great mountain in the sky back in 2016, and just last September, we adopted Harley, the same mix, but a big bigger and more rambunctious.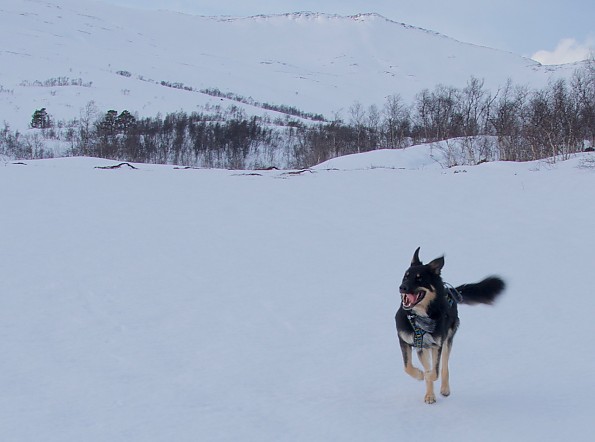 He doesn't seem to be quite as bad about zigzagging in front, but I'd still rather avoid the blood and vet bills. So I decided to invest in a pair of Norwegian style "dog skis," lacking steel edges but otherwise built to perform out-of-track and off-piste, in unbroken snow. There's not a whole lot of choices in that category, and most of them come with a waxless "fishscale" base, which I have tried on and off over the years but generally find to be too slow and noisy—they make a buzzing or zipping sound on hard snow. So the Åsnes Kongsvold Jakt, with its smooth base and Easy Skin option, was a clear first choice.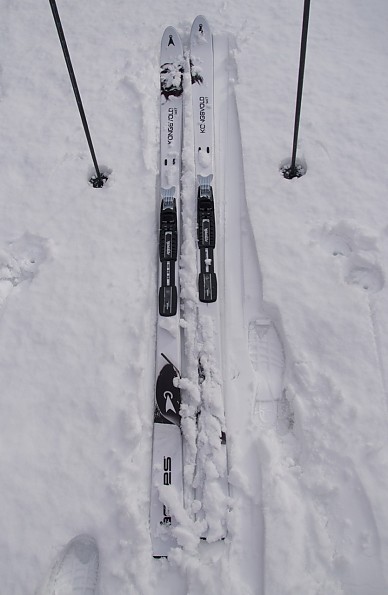 Kongsvold ("King's Hill") is a stopover in the Dovrefjell Mountains on the old king's road between Oslo and Trondheim, also used by pilgrims on their way to Europe's northernmost cathedral, its centuries-old buildings now converted to a rustic mountain hotel. Jakt means "hunt," one intended purpose of this kind of ski, for on-snow hunting with dogs (Harley would probably love to hunt, but he'd need a lot of training first). Most hunters probably aren't all that interested in mastering downhill technique, so many older hunting skis are better at going straight and maneuvering through forest on easy terrain than for cutting turns on steeper slopes. But the Kongsvold has a thoroughly modern flex and profile and handles surprisingly well on the downhills in soft snow conditions where steel edges aren't really needed, and so also works well for backcountry skiers with rambunctious dogs.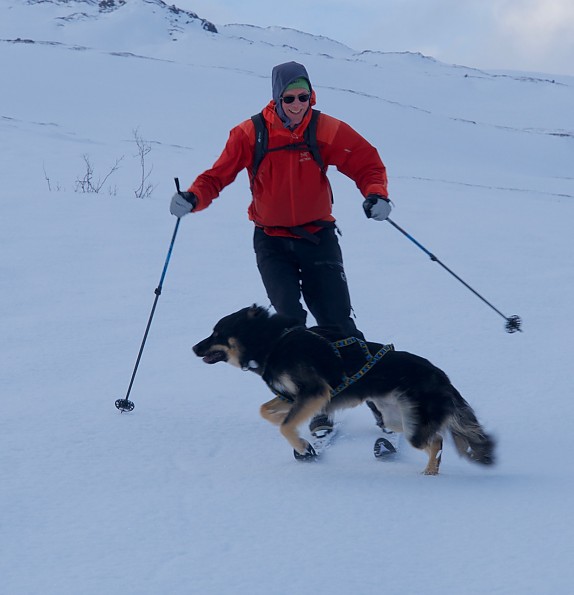 A little bit about Åsnes (OH-sness)
Way back in the mid '70s, when almost all xc skis were still made of wood, I worked in the main warehouse at Eastern Mountain Sports in Boston. I think there was more than once during that winter that we received 40-foot truckloads full of skis from Norway to be unloaded into the warehouse and sorted for distribution among the EMS stores all over the Northeast. The biggest seller by far was the Åsnes Turlangrenn (xc touring ski), all wood with a natural finish and lignostone (hardened wood) edges, but we carried some of the other Norwegian brands that were available in those days: Bonna, Madshus, Splitkein, Epoke, and Blåskia come to mind. They're all gone now except Madshus and Åsnes (neither company produces skis in-country) outcompeted by other European and American companies that applied fiberglass composite downhill ski technologies to produce the huge array of xc skis that are available today.
Åsnes has hung on by focusing on a niche, the Norwegian fjellski (mountain ski, they translate it to backcountry ski), traditionally a mid-width xc ski with a wax pocket and steel edges, along the lines of older style all-round backcountry skis in the US market. Their current line-up in that department consists of over a dozen models, most named after various Norwegian expeditionary personalities, living and passed: Helge Ingstad, Roald Amundsen, Fritjof Nansen, Aleksander Gamme, and Cecilie Skog among others, with their images printed on the ski tips. These skis range from something very much like the "skinny skis" of early telemark days to more modern, curvier styles. Last year my wife bought a pair of Cecilies, too skinny for my taste (the skis, not their namesake), but the short skin option seemed smart, and that was a factor in my deciding to try it for myself.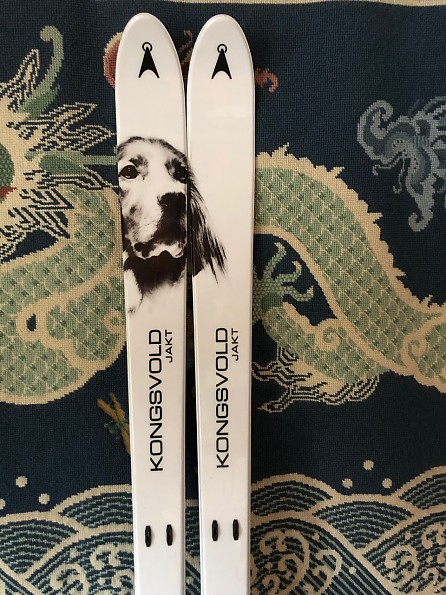 The Kongsvold follows the portrait approach, but with the image of a faithful setter rather than a human face gracing the ski tips. Although the other Åsnes dog ski, the Breidablikk, is an edgeless version of the Ingstad, the Kongsvold has no corresponding edged version and is the widest and curviest of the edgeless lineup. Åsnes also makes a few models of topptur (mountaineering) skis for plastic-booted telemark and randonee skiers.
Design and Construction
The word "trekjerne" on the ski tails means wood core. These skis are solidly constructed with a Paulownia/poplar wood core, cap construction, nylon topsheet, ABS sidewalls, and sintered base.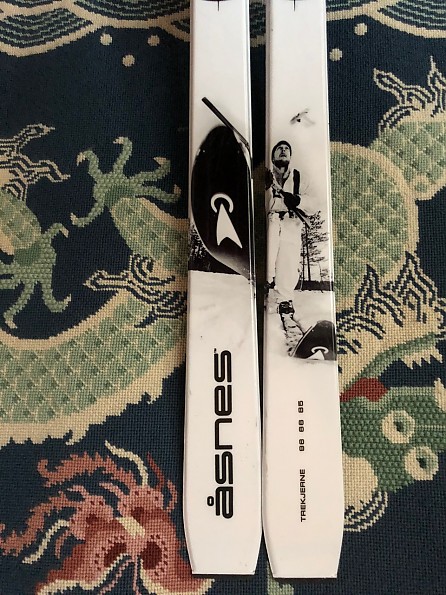 The 96-66-85 profile gives a full 30 mm tip-to-waist sidecut, the deepest in the Åsnes backcountry ski lineup. Åsnes describes the ski as having a soft tip, but that's debatable. When flexed, the ski seems somewhat stiff, but the proof is in the performance. With Rottefella BC Magnum bindings, my 190 cm pair weighs just under 2.5 kilos, about 250 g more than one of my big rando skis with binding.


The Kongsvold, like all Åsnes skis except some waxless models, come with a pair of slots in front of the binding, extending from the ski base through to the pair of black fittings on the top of the ski, for mounting 1/3 length skins, a relatively recent innovation that provides a solid kick while maintaining some glide or limited uphill climbing power, depending on skin width, at a fraction of the weight of full length skins.


The black and white graphics are nothing fancy, maybe meant to blend into the snowy background so that ptarmigan or capercaillie won't see you coming. It's charming enough to have a dog's face on one ski tip, but the image on the ski tails of Åsnes ski tips and an armed hunter with a blurry ptarmigan over his head doesn't do much for me personally.
According to Åsnes' sizing table, by height I would take a 200 cm ski, the longest in this model, but by weight (without a pack) I fall squarely in the 190 cm class. I went with the shorter length; if there's a slight tradeoff between tourability and downhill fun, I'll lean toward the latter.
Performance
The Kongsvold fits nicely into a compromise niche that I have played for years: a ski that kicks and glides well enough to cover 20 km between huts in the morning, but also delivers the fun on an afternoon descent, at least in relatively friendly snow. In my opinion, most of the Åsnes backcountry ski lineup is too narrow and stiff and has too little sidecut to perform well in the latter department. Despite the lack of steel edges, the Kongsvold provides a welcome exception.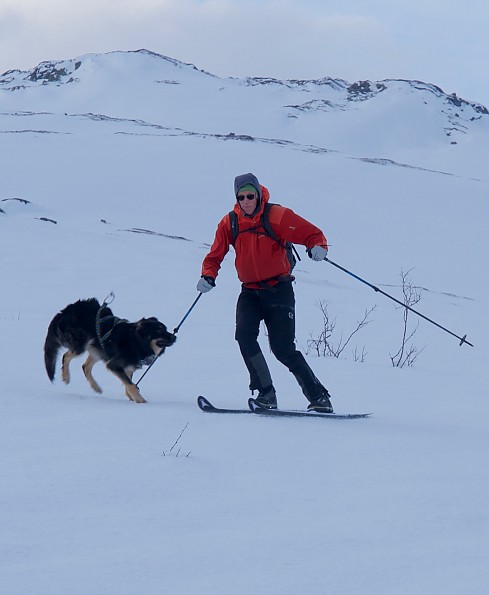 I haven't done an extended hut-to-hut tour on these skis (and probably won't this season, despite best-laid plans, due to the virus), but I have been having a lot of fun seeking out powder shots in Estenstadmarka, the forest reserve out my back door, and got in a few hut-based day trips in varied conditions before the [virus] hit the fan.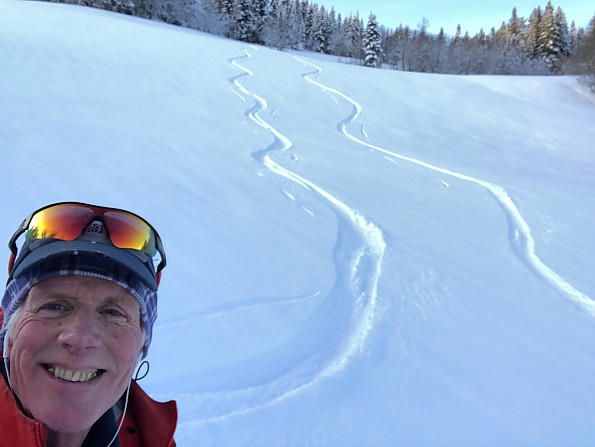 (parallel wiggles on the left, tele arcs on the right, both on the Kongsvold skis)
In powder they float well enough to keep the tips breaking the surface and turn real nice, whether doing big tele arcs or parallel wiggles. In mashed potatoes, they take a little more work than a fatter ski to stay on course but float well enough to be fun. On a hard windpack, they skid more than an edged ski but are manageable.
I can think of many a peak in Norway, some of them on the steep end, where I'd be just as happy to have these skis on my feet as something beefier, at least in consistent powder or spring corn conditions. But there's also no question that in more challenging conditions—crust, soft windpack, bottomless mank, rough ice—I'm going to want the big boys.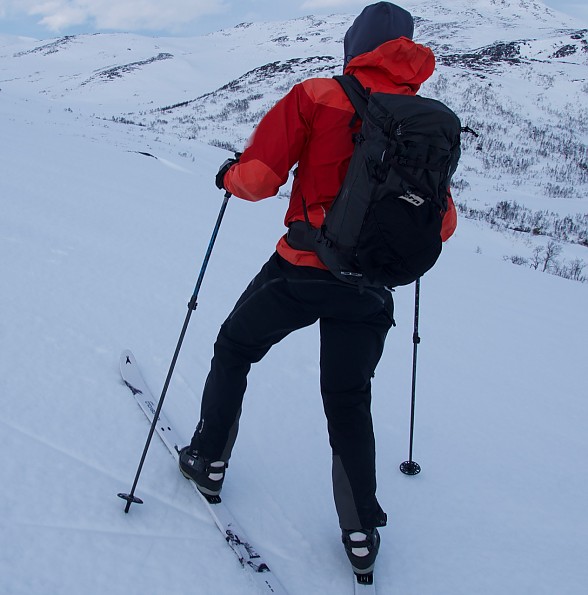 I have used the skis with hard wax, with 30 mm and 58 mm short skins, and with the full-length 50 mm skins I use on another pair of 190 cm mountain skis. On wax, they glide well enough to keep me happy, a little slow probably because the wax isn't completely off the snow, but I'd rather have that than compromised turning performance, as happens with more traditional mountain skis. With short skins, they glide less well than on wax but still way better than with full length skins, and can wind up saving a lot of energy on trails or terrain with a lot of rise and fall.
There is surprisingly little glide difference between the 30 and 58 mm short skins, but the latter allow confident climbing on firm snow at angles up to maybe 20˚, less in looser snow that gives way under the skis. I'll want full-length skins for long, continuous uphills at any appreciable steepness, especially if I have to start cutting traverse where full coverage is needed to keep from backsliding.
Availability in the US
Despite their former glory, Åsnes skis now seem to be rather rare in the US. I see that REI carries a few models, including the Breidablikk, a narrower edgeless model. I would imagine one could order a pair through them. Neptune Mountaineering in Boulder also carries a few models. LaCordee in Canada will ship to the US and has a similar range. None of these places carries the Kongsvold, but it can't hurt to ask.
Conclusions
There is no such thing as a perfect ski for all conditions, and those that suit the hut-to-hut-to-summit niche are an especially rare breed. The Kongsvold delivers a nice balance of hut-to-hut efficiency and downhill performance that works well for me, with the added bonus that it won't hurt my dog. I can recommend it heartily for dog owners that want to hunt or play in the woods and in powder and cornfields, but I think most others would want an edged ski to extend the range to hard snow.
All the Fischer skis in this area, including their edgeless hunting skis, are waxless—no thanks. I don't see any other skis with as much sidecut as these in the Åsnes backcountry ski lineup. The Åsnes Falketind 62 or Rabb 68 (the numbers are width in mm at the ski waist) might be worth a look, but they are more mountaineering skis and I don't think they will tour as well. Once you move up into that class you are starting to look at rando racing skis, which tend to cost a whole lot more.
So if you think you can stay on soft snow and live without the edges, the Kongsvold might still be a good choice.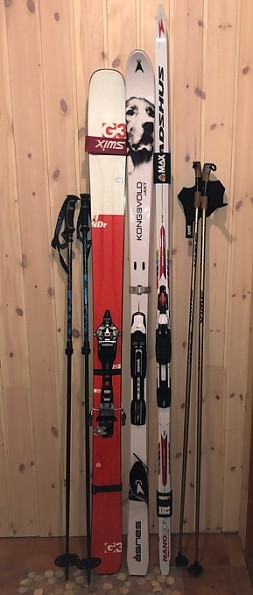 Experience
I am a (nearly) lifelong skier with a primary focus on backcountry skiing and ski mountaineering. I currently own maybe a dozen pairs of skis for different uses, and have worn out or broken many more, including probably 20 or 30 different pairs of all-round backcountry skis.
Source: bought it new
Price Paid: NOK 2800 (about $300) including 25% tax

Your Review
Where to Buy
Help support this site by making your next gear purchase through one of the links above. Click a link, buy what you need, and the seller will contribute a portion of the purchase price to support Trailspace's independent gear reviews.
You May Like
Specs
| | |
| --- | --- |
| Lengths | 170, 180, 190, 200 |
| Width | 96, 66, 85 |
| Weight | 1950 g (190cm) |
| Material | poppel woodcore |
| Use | timberline hunting, For those who take their dogs with them, the Kongsvold Hunter is built without steel edges to be safe for paws. |