Asolo FSN 95 GTX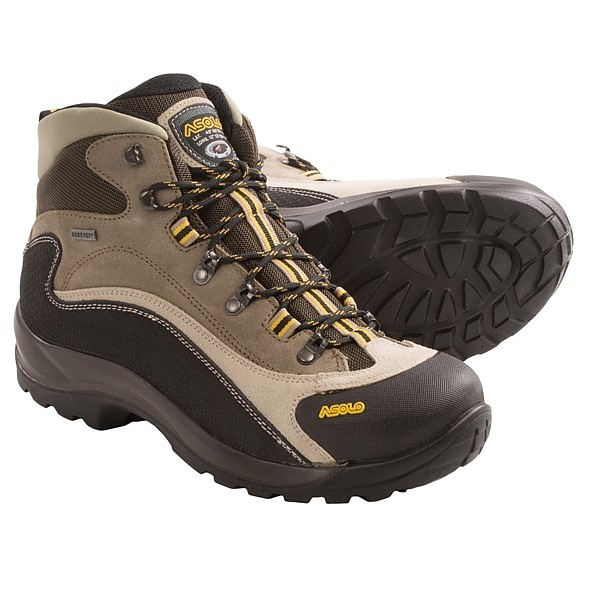 I found the boots very comfortable and stable. I have a wide foot and these worked great for me on some pretty steep and rocky terrain. 
HOWEVER, after only two years of moderate use the mid-soles crumbled and the sole separated from the boot. I am contacting Asolo and let's see what happens. I think the boots are great but I would never spend that kind of money for a boot that doesn't last.
Price Paid: $160

Comfortable but not worth the money because of sole separation.
Pros
Very comfortable
Keep you dry
Cons
Sole separates from the boot after a short while
I'm on my second pair. The first pair had the sole separate after hiking the Georgia AT section. Bought a second pair because they are very comfortable, no blisters and keep you dry. I had hoped it was just a bad boot the first time.
The second boot had the sole separate two days ago after only hiking a week several years ago and then a handful of just day hikes for the past few years. I don't know if the sole could be glued to the foamy stuff between boot and sole. 
Source: bought it new
Price Paid: $140

Sole on boot is terrible. Just finished gluing the sole back for the third time. Glued in June and just returned from 7-day hike in Smokies and sole was flapping on both boots on the outside edges. Will go back to Vasque.
Pros
Great fit. Fit like a glove right out of box.
Feet were always dry, last trip was 7 days in rain.
Cons
Sole will not stay attached and there is no manufacturer
support to fix. Duc-tape!!
Have had two pairs. The first pair, I got 4 years out of, until holes finally wore throught the sole. Second pair got roughly two years of service and the soles began to come apart.
First the heels separated. Gorilla Glue seemed to stop the heel issue and then the last two trips, June 2015 and October 2015, the main sole separated. The entire sole separated from toe to heel on the outside of both shoes. Gorilla was the first repair and trying again.
I like the shoes becasue of fit and material. Fit was great right out of the box. Never experienced blisters. Have had to install additional inner soles as the soles are quit hard on the feet. With the additions, they feel great.
Shoes have always been dry. This last trip was in seven days of rain and no problems. Would buy again if there was some assurance of sole problem being resolved.  Will probably go back to Vasque.
Source: bought it new
Price Paid: $158 us

Pros
Great fit
Haven't had a leak
Comfortable
No break in
decent price
I'm on my second pair of these and never had problems with delamination. However, I did replace the first pair after one year of use due to the tread wearing thin.
I also have a pair of Zamberlan 760 Steeps and they are very nice boots.
Source: bought it new
Price Paid: $86

STAY AWAY FROM BUYING THESE BOOTS! I had a pair, went on two weekend trips and the boots have been in the wardrobe for the last year, took them out, put them on, and both boots started to come away from the sole, you can literally peel away the sole from the boot. I emailed them and still haven't gotten a response as of today. I've also read several reviews on other sites that this is a common problem, all I can say is buy anything but these!
Cons
too many to list
soles come away from the boot
I will never be buying from the brand again, poorly made. Asolo doesn't even respond to the emails I've sent. Save your money and buy something like Mammut Mt Trail GTX, have a pair now and have never looked back.
Source: bought it new
Price Paid: $130

This is the worst spent money of my lifetime. The soles completely separated and just crumbled after a month of hiking.
Asolo by the way does nothing to stand behind their product. DO NOT BUY.
Price Paid: $169.99

Great fit. Vibram sole great for slick rocks. Had to replace laces about five times in ten years.
Cons
Laces
Sole slit after ten years
The outsole started to split after about ten years. Added a lot of Shoe Goo and holding up fine. 
Source: bought it new
Price Paid: $135

A poor quality shoe because of the materials used in the sole. Potentially dangerous in a hiking situation. Relegate ASOLO to coffee shop wanker footwear because they are NOT for any serious remote hiker. They FAIL.
After minimum wear (no tread wear) the hard rubber outer sole chipped and broke away on the side then delaminated from the soft sole they're attached to and then this stuff crumbled into little tiny bits. Cannot be reattached.
If I was remote this would be disastrous. They are unusable. ASOLO seems to use defective soles. I will never buy them again.
Source: bought it used
Price Paid: $100

Great medium weight boot.

Cons
Roomy in the toe box
Insole is weak and low volume
I bought these boots two months ago and have about 100 miles into them.
They are quite roomy in the toe box, beyond that they fit true to size.
The insoles are weak and low volume so I replaced the insoles with Super Feet. The boots now fit perfectly.
I believe the Asolo FSN 95 boots are solidly constructed hiking boots and will give them five stars for coming out of the box this way, except for the insoles, which I need to switch out of all my boots.
Source: bought it new
Price Paid: $200

The go-to shoes when not wearing my work boots to work. Wear almost every day I'm not working. I work 6 months a year so they get a lot of use. Good traction, I love them.
Pros
Comfortable
Fit my feet perfectly
Durable, uppers last forever
Cons
Soles wear out somewhat quickly
I wear these doing yard work, hiking, riding motorcycles, shopping, for everything except work because I need steel toes for work. I get probably 3 to 5 years per pair.
The uppers are still great, laces are good, the soles have several holes but because of the Goretex my feet don't get wet.
My only gripe is I wish the soles lasted longer, but I still love them. They break-in quick too. Buy some, you won't be disappointed.
Source: bought it new
Price Paid: around $125

OK, not great. They give me blisters.
Pros
Lightweight
Waterproof
Stiff
Cons
Blisters
Soles aren't great
Good lightweight boots with enough support. The insoles don't provide any cushion. Carrying a 35 lb pack, my feet definitely start hurting after a few miles, especially if heading downhill. There is a seam on the inside of these boots right down the midline at the heel. This inevitably rubs my heel and gives me blisters anytime I do any significant amount of uphill climbing, more than a mile or so. The soles seem to wear fairly quickly and do not provide good traction when wet. I can't trust them on wet rock.
So there are good things: I like the weight and the amount of support. I think the blister thing is related to foot shape as well because obviously not everyone has that experience. They have just the right amount of rigidity and feel solid. Never had any issue with waterproofness and breathability I think is good for a waterproof boot.
Source: bought it new

This boot is pretty good for the price paid. I paid about $100 for it on sale at REI. I have had these boots since 2010 and have used them maybe 10 times. They have performed well in many conditions.
They do take a while to break in because they gave me blisters on the first 3 mile hike.  I have worn them in the rain and they stay warm. 
Recently, I have hiked in the Great Smoky Mountains and it was around 20 degrees Fahrenheit and my feet stayed very warm with thin socks on.
*They are not very comfortable with the insoles provided.  I do recommend you purchase custom orthotics before you use them.
I'm actually giving these a 4 1/2 star rating. They are very comfortable, really no break-in was needed. They are lightweight and they grip like velcro when I'm on smooth rock.
So, what's the 1/2 star ding for? Well, they don't seem to work as well in loose rock and ground as did my beloved Columbia GTX's. Maybe that's an unfair comparison. But, after reading some other reviews, I can understand the concern about sole life. I had well over 1000 miles on my Columbias and I could probably squeeze a few hundred more out of them if need be.
The Asolo's sole doesn't look like it's as rugged, but time will tell. I've worn these now for 4 hikes up 10 miles and really have no qualms. We'll see how the tread life is.
Price Paid: $75 on E-bay (stole them!)

I bought a pair of these about five years ago. I did only a moderate amount of hiking and was pretty pleased with the boots. The uppers were showing little wear and the tread still looked good. 
Last month on the first day of a 75 mile hike along the Great Glen Way in Scotland, the heel blew out on the left boot.  The rubber on the inside of the heel, which is apparently just a big air pocket, tore (apparently just from normal use) and the boot was unusable.  They found a new home in a rubbish bin in Spean Bridge. 
Fortunately, I had a pair of Lowa low-top hikers that worked great for the rest of the hike.  I am not buying another pair of Asolos.
Price Paid: approx. $150

Version reviewed: Wide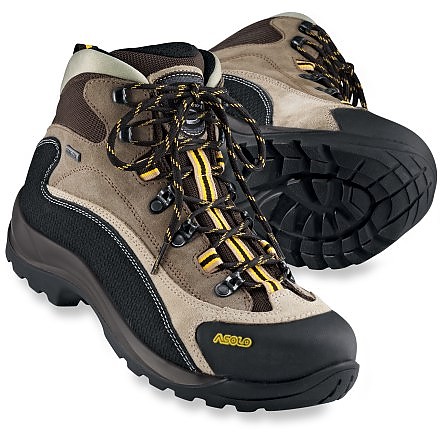 Boots.......the bane of any hiker or backpacker's life it seems if you do not choose the right ones, or if they fail out on the trail. The Asolo FSN 95's performed as promised, have kept my feet dry, and after adding aftermarket foot beds I found them to be comfortable.
I have had many pair of boots in the last 25 years, so when I decided to get a lighter pair of boots that would also enable me to do some light backpacking I looked at several different boots, then decided on the Asolo FSN 95's. One of my requirements was a wide boot, the other was a lightweight boot that had enough rigidity to be truly supportive even while backpacking. The Asolo FSN 95's do that.
My hiking / backpacking varies from wide flat trails to rough steep terrain in the Southern Appalachian Mountains. I backpack year round in generally wet, damp conditions with temps ranging from 15 degrees F. - 95 degrees F.
I weigh 150 lbs. and have wide feet. I carry a pack weighing 18 - 20 lbs on shorter lightweight trips, mostly just over nighters with these boots.
When I got these boots (size 9.5 wide) they appeared well made for this type of boot, the stitching was tight and straight, the soles are glued on and wrap slightly up and around the boot for added protection, they also have a rubber toe rand. The tongue is padded, gusseted, and constructed of Cordura. The laces are round and the boot has 3 brass eyelets, two web eyelets at stress points, and two open brass 'quick lace' eyelets at the top of the boot.
I have not had any leaks with these boots due to the GTX liner, although I generally find boots with GTX to be stuffier than boots without it, and have found higher quality leather boots without GTX are just as waterproof if they are waterproofed correctly.
These boots have a nylon shank which I believe is 3/4 but I'm not positive, they have a polyurethane injected mid sole, and use Asolo's proprietary 'Asogrip' outsole.
I found the Asogrip outsole to have good traction, better than I expected, but soft and quick wearing. The nylon shank provided decent support for hiking and lightweight backpacking, but I would not recommend this boot for multi day trips with a traditional weight pack, especially in rough terrain.
After two years of moderate use the boots are still fully functional, nothing torn, coming loose, or unglued. The uppers do show a good bit of wear. The soles have considerable wear and will be the reason I retire these boots. I don't think the boots are worth the expense of having then re-soled and would rather put that money towards a new pair. Your mileage may vary.
Pros:
Price
Lightweight
Adequate support for light backpacking
Short break in period
GTX liner makes it easier for beginners to stay dry Good traction
Cons:
Long term durability
The out soles wear fairly quick
The GTX liner makes the boot slightly stuffy in summer
Not adequately supportive for anything other than light backpacking (I guess that's why they are called "Light Backpacking Boots")
All in all, the Asolo FSN 95's performed as promised, with no blowouts or other catastrophic failures and did keep my feet dry. I would recommend these boots for hikers and light backpackers only.
Materials: 1.6 - 1.8 suede leather and cordura upper with GTX liner insert.
Use: Dayhikes and overnight light backpacking trips. Flat trails to rough steep terrain.
Break-in Period: Short, 8-10 miles for initial break in with slightly more over time.
Weight: 2 lbs. - 12 ozs.
Price Paid: $125

These boots felt smooth as butter when I first put them on. I had already tried on about 8 pairs of boots. These felt great right out of the box. My only worry was a small pinch point at the top of the tongue on both feet. Also the laces are incredibly long. Wearing some good quality hiking socks, a poly undersock and some creative lacing eliminated the pinch point. I went on a 5 mile snowshoe hike the next day.
Very comfortable and warm. They don't have a good groove for the heel strap on the snowshoes. They do need some break in to eliminate stiffness, so I am wearing them everywhere for a while. They still have some pinch points on the tongue, mostly under the top eyelet where the uppers and tongue are the thickest.
I have no issues with the footbed, toe-cap or heel, like some others have posted. I can only guess that the heel issues or hot spots are due to socks and improper sizing. I went a half size up over my normal shoe size. (I had to go 1 1/2 sizes up on Vasque boots to get a proper fit).
Use: Day hikes, everyday wear
Break-in Period: A couple decent hikes.
Price Paid: $179

This is a very popular boot. It seems I see them everywhere. On the trails, in the park, at the library. Very versatile and comfortable.
I have had them for 3 years and have hiked numerous times, distances of 5-8 miles of rough trails and have backpacked with them three times. Once I broke them in (they do need a few miles to get those eyelets molded onto a comfortable place on your foot), I felt like they were custom made for me. There were times that my feet felt much better with the boots on than without them.
I love the stiff soles and relatively stiff uppers that provide plenty of stability and comfort. No wet feet for me. The Gore Tex has maintained its waterproofness and does not seem to restrict the air flow, like many other Gore Tex boots I have.
The one negative comment I have about these boots is that they are a horrible color. Yellow stripes and two tone beige/brown is not what I want in footwear and these boots have more of that than I care to see. People do notice your feet. Once they get dirty, they do fade a bit but I would rather have the same boot with brown, black or grey.

Materials: leather, fabric and Gore Tex.
Use: dayhikes, rough trails and backpacking for 2 or 3 days.
Break-in Period: 4-5 months with 2-3 times a week use.
Price Paid: $99

Best hiking boots I've had. Very comfortable and supportive - good for small hikes and also backpacking. I've had my pair for 5-6 years, and only now are some of the seams so worn that they're no longer waterproof.
Definitely buying the same boots again.
Use: dayhikes with small pack and backpacking with heavy pack
Break-in Period: week
Weight: 200 pounds
Price Paid: $150

Great pair of boots. I have hiked all over Southern Peru with them and never had a blister. Very durable and lightweight.
I bought these boots after reading reviews on various web pages. It was a long process to pick out the right boots. I go about 10-15 miles every Saturday except today. Today I tried the boots out for the first time. I wore two pair socks and actually felt a little hot spot on my left heel right away. I stopped put some moleskin on.
I was planning to do a relatively flat 11 miles desert hike today to break these out but after 3 miles I had to return. My left heel was literally coming off while my right was fine. At 102 my feet were sweating a lot but that is normal in Nevada.
I did buy these at Sierra Trading post and they were a great deal but they are going back. I've had better luck with a cheap pair of Merrels.
Materials: Gore-tex
Use: Dayhikes with 20 lb pack
Break-in Period: One day
Weight: 210
Price Paid: $115

Watch the location of the eyelets! -- possible pressure point!
I had to return these boots after wearing them for a short while; the eyelet closest to the toe created an unbearable pressure point on the "knuckle" of my left big toe.
Before you write me off as a fool who doesn't know how to buy a pair of boots, let me assure you that I wore the right socks, tried on several pairs, two sizes of this boot, and walked up and down the simulated terrain at the store. The pain didn't show up until after 30 minutes, and was even worse the next day when I tried again.
I have had good luck in the past with Asolo, and may try them in the future, but felt this info should be passed along.
Price Paid: $120

I have had my boots for 8-9 years and I have never wanted another pair. I have hiked all over the world with them. The tread is almost completely warn down at this point even though the rest of the boot looks only a year or so old. Now I am in search for another pair just like these.
Materials: Gore-tex
Use: rough trails with heavy packs, day hikes, winter wear, festivals, ect..
Break-in Period: 1 month
Price Paid: $230

I like everything about them, but I'm going to agree with others that they are very difficult to break in. I've gone to the tops of two 14ers and a couple other strenuous hikes and they still give me a blister on my right heel. It's slowly getting better, but they're still pretty stiff. Other than that they're great boots--excellent breathability, waterproofing, and lightness. But the insoles are hard and the back is stiff with little padding.
Materials: Synthetic, Leather, and Gore-tex
Use: Steep multi-day hikes
Break-in Period: Ongoing
Weight: 2 1/2 pounds
Price Paid: $99

I've worn out two pair of these boots to the point the soles are gone and side stitching giving in. I hike Hells Canyon and similar terrain for days on end off trail with ultralight gear (30 lbs) during four seasons. These are lightweight but have the stiffness needed for side-hilling for multiple days in the steep and rough. They snowshoe (MSR and Salomon) well for me with gaiters. I have a narrow fit and would buy a narrow version if offered.
As with all stiffer boots be sure there is a little room at your heal and toe or you will get blisters and black-toe. Improper lacing and bad socs (cotton) can increase these problems. Good wool socks are heaven. My son and I trail run, these are a little on the heavy side for running but I like them because they protect the ball of my foot against bruising by sharp rocks. The gusseted tongue prevents grass seeds from entering the boots, a key feature in the Western U.S. etc
The only negative is the side seam stitching opened up before sole was completely worn out. Fixable with hand sewing awl, but stronger thread would be better.
Use: trail, steep off trail, trail running, 4-season (buyt not alpine winter)
Break-in Period: None, be sure of proper fit, lacing and sock
Weight: under three pounds/pair
Price Paid: $150 US

I live in the Eastern Sierras in the Truckee Meadows at the foot of the Carson Range. I hike two and three times a week in my home area. That includes the rocky and trailless Virgina Mountains as well as the Tahoe Rim Trail, Mt. Rose and many other trails in the Sierras.
I started wearing these boots months ago. First hike I was very impressed with their fit and comfort. The platform is harder than I am used to, but I quickly came to appreciate it. I was most surprised when I ended up doing some impromptu bouldering in them and they stuck to the granite like a suckerfish. I have not experienced the wearing of the soles, then again I have a number of hiking shoes that I use, so they have not been used every week, but pretty close to it. I've taken them on some three-day hikes, but that's the longest.
I could live in them. I could sleep in them, they are very, very light and comfortable yet very protective. I'm off to a 3 day avalanche course tomorrow in Donner Pass, so we'll see how they do in the snow.
Break-in Period: 0. I mean NO break-in. They were instantly trail ready.
Price Paid: $125

a great boot for little money if yer willing to shop around, got mine on ebay for under $100. great fit, i had no trouble with break in or blisters like some other reviewers...but that's me. very supportive with nice stiff soles for rocks and roots, excellent grip. soft rubber soles may mean they wear out fast but who cares when you get to walk upright up slippery outcrops while others quadruped it.
other reviewers questioned the water resistance, i have not had a problem with wet feet in these boots even after crossing shallow streams and walking through wet grass for a mile or so. dry feet are important to me so this is something i am very critical of. quality seems to be beyond reproach, with tight precision stitching, handsome materials and strong lace hooks. no frays or loose stitches after about 35-40 miles of backcountry use.
so, any complaints?...well, only stupid ones really. i find that they're excellent debris collectors...small twigs, pine needles, dirt and gravel, etc...all like to accumulate around the laces and magically migrate up into the rim of the boot. no big deal but a minor annoyance not present with some of my other boots. the soft soles do wear quickly but i think the outstanding grip they provide outweighs the marginal loss in tread life.
Use: dayhikes to weeklongs
Break-in Period: 5 miles
Price Paid: under 100

I have had this boot for a couple of years now. I am in the military and use them on all of my patrols and my civilian adventures as well, and it is absolutely my favorite pair of boots. I have used them in rocky deserts, the High Sierras in the summer and winter. They fit me like a glove and provide fantastic support. I have found them to be extremely comfortable in all terrain.
I was completely sold after a 21-day trip through the Sierras. I was moving about five miles a day and carrying about 80lbs (military op)and these boots were absolutley fantastic. I plan on buying another pair soon. Would recommend them to anyone.
The only drawback is the soft sole. It won't last as long as the boot if you put as many miles on them as I do.
Materials: suede, gore-tex, nylon
Use: off trail w/heavy pack (80lbs)
Break-in Period: 1 week
Price Paid: $100

Been trying to live with a pair of Vasques the past two years -- lost big toe nails numerous times and major blisters. Hiked five days in Utah last week -- blisters on both heels and botom of big toes. At Grand Canyon finally said enough is enough.
Bought a pair of Asolo FSN 95 GTX's in Flagstaff -- right out of the box hiked eight miles including three miles down to the first Bright Angel Trail rest station and back up. Moleskinned my exisitng blisters on heels and toes before heading out -- never had even ONE hot spot! My opinion is the boots are amazing! Performance was outstanding.
Price Paid: $149

These boots have a somewhat narrow fit, especially around the ball of the foot. They felt comfortable at first and did well on most terrain types. My main issues are that they are quite hard under foot, especially the front of the foot. The Vasque Clarions that I used to have felt like walking on clouds compared to these.
Also, the waterproof barrier failed on one boot in less than a year of only light use. Finally, the stock laces have to be double-knotted else they come undone quite easily.
I recently decided to go back to the Vasque Clarion GTX. These Asolos just didn't do it for me.
I've used a pair of these for day hiking in the high mountains around Frisco, CO, for the last three years and I'd rate them as one of the most comfortable hiking boots I've owned. Good support, and the footbed is really comfortable.
I have to agree with others that, while grippy, the soles are fairly soft and will wear quickly on rocky terrain. Also, this is not a boot made for carrying a heavy pack.
These are GREAT boots. Over the years I have tried a number of boots that try to combine light weight with good support and stability -- these are by far the best.
I've had my pair for four years, hiking with moderate packs, logging lots of miles in the southern Arizona deserts and the Adirondacks high peaks. They show very little wear and have saved my ankles more times than I care to count. It's hard for me to believe that anyone who bought a pair that fit had ANY difficulty breaking these in -- they require NONE. For the heavy, REALLY rough stuff, I have my Montrail Moraines, but for anything else, the Asolos are all the boot you'll need. Buy 'em and stop worrying about your feet.
Materials: leather, fabric, and Gore-Tex
Use: anything short of mountaineering
Break-in Period: none - out of the box dreamy
Weight: 3-4 pounds pair
Price Paid: $150

Overall these boots are great. I just got back from Philmont, New Mexico, and we were out in the backcountry for 12 days doing up to 12 miles a day. Pretty much switchbacks like the whole way, it was tough. I was carying an average of about 50lbs. and at the end of the day my feet hurt because the insoles sucked, but that can be changed. Only one blister on the back.
I gave these boots some breaking in before I went. DON'T LISTEN TO THEM WHEN THEY SAY THAY ARE PRETTY MUCH BROKEN IN! Gore works great and I highly recommend this boot.
Get new backpacking insoles.
boots are great, they just role when u hike
fit great on my foot
break them in and maybe run them through the wash to loosen them up if u r desperate
bad for pack over 30 to 35lbs
great boot overall, go try them on.
Materials: leather and Gore-Tex
Use: rough trail no heavy pack
Break-in Period: month or two
Weight: 2lbs 13oz
Price Paid: $120 (member of REI)

Prior to purchasing my new boots I read quite a few reviews. Most of the reviewers stated that the boots felt broken in the first time out and that they were the most comfortable boot they have ever worn. I must disagree. I have walked/hiked a total of about 25 miles in them and they still are not broken in. I have purchased less expensive boots in the past with much better results. Although the boots feel comfortable when they are first put on, I am still getting blisters and sore feet. I must admit that they are very good looking and waterproof, but I would recommend that you allow lots of time for break-in.
Use: dayhikes and weekends with 40 lb pack
Break-in Period: too long
Weight: 230
Price Paid: $155

I have difficult feet to fit, but overall these boots have been very satisfactory. My biggest complaint is with what I believe to be abnormal sole wear. I hike in areas where I need good traction and the Asolo does not have the tread I would like or have had with other boots.
Materials: gore-tex
Use: dayhikes & backbacking
Break-in Period: 2 mos
Price Paid: $130

Picked these up at REI. Wore them one time on the Pacific Crest Trail for about 20 miles of both on- and off-trail hiking (45 lb pack on trail). Despite what I thought was a great fit, these blistered my heels badly. Even through wool socks and mole skin pads.
They did hold up very well to the granite, rain and wet vegetation though.
I'll try them again after my "heels heal" and see if they are any better like the above sandal guy! Fingers are crossed.
Materials: Gore-Tex
Use: rough trail w/ medium pack
Weight: 190 lbs
Price Paid: $159

I hiked the Appalachian Trail in 2003 in these boots and from Georgia to Maine they gave me excellent support. I went through two pairs on the hike and got about 1100 miles per pair before replacing. Even with all the rain we had that year and hiking in wet boots day after day in many cases I only had one blister. I have so much faith in them that I bought another pair when I returned home.
Break-in Period: none
Price Paid: $140

Excellent for dayhiking and weekend outings under light to moderate loads. Warning, these are not backpacking boots as often advertised. Simply, not enough cushion for longer distances under moderate to heavy loads. Also, be prepared to have them re-soled as soft soles tend to quickly become tread-less and slick.
Use: dayhikes
Break-in Period: very quickly
Price Paid: $150

My first hike in these boots, an-8 miler, I rubbed the skin off of my feet and could only wear flip-flops for like a month. After that month, I put these puppies back on and they fit like a pair o' socks. I have to say that these are one of two pairs of shoes which I consider to be my favorites. I am an avid snowshoer and wear them with gators. I have never had a problem with wet or cold feet. I highly recommend these boots.
Use: Long day hikes, and snow shoes.
Price Paid: $150

I've had these boots for two years. Wore them for a moderate 6-miler right from the box, no problem. Hiked/scrambled to the summit of Mt. St. Helens, feet felt great. Hiked Mtns in Tennessee during 95 degree days, feet did not overheat, hiked through the snow in Northeast Ohio, feet stayed dry and warm. Maximum pack weight for these dayhikes, 25 pounds. A great boot,
Materials: Gore-Tex
Use: Hikes up to 13 miles, rough trail, moderate pack
Break-in Period: 5 Miles
Weight: About 3 pounds
Price Paid: $135

Your Review
Where to Buy
Help support this site by making your next gear purchase through one of the links above. Click a link, buy what you need, and the seller will contribute a portion of the purchase price to support Trailspace's independent gear reviews.
You May Like
Specs
Men's
Price
MSRP: $200.00
Historic Range: $49.00-$210.00
Reviewers Paid: $75.00-$200.00

Women's
Price
Historic Range: $72.00-$99.00
Reviewers Paid: $230.00

Recently on Trailspace