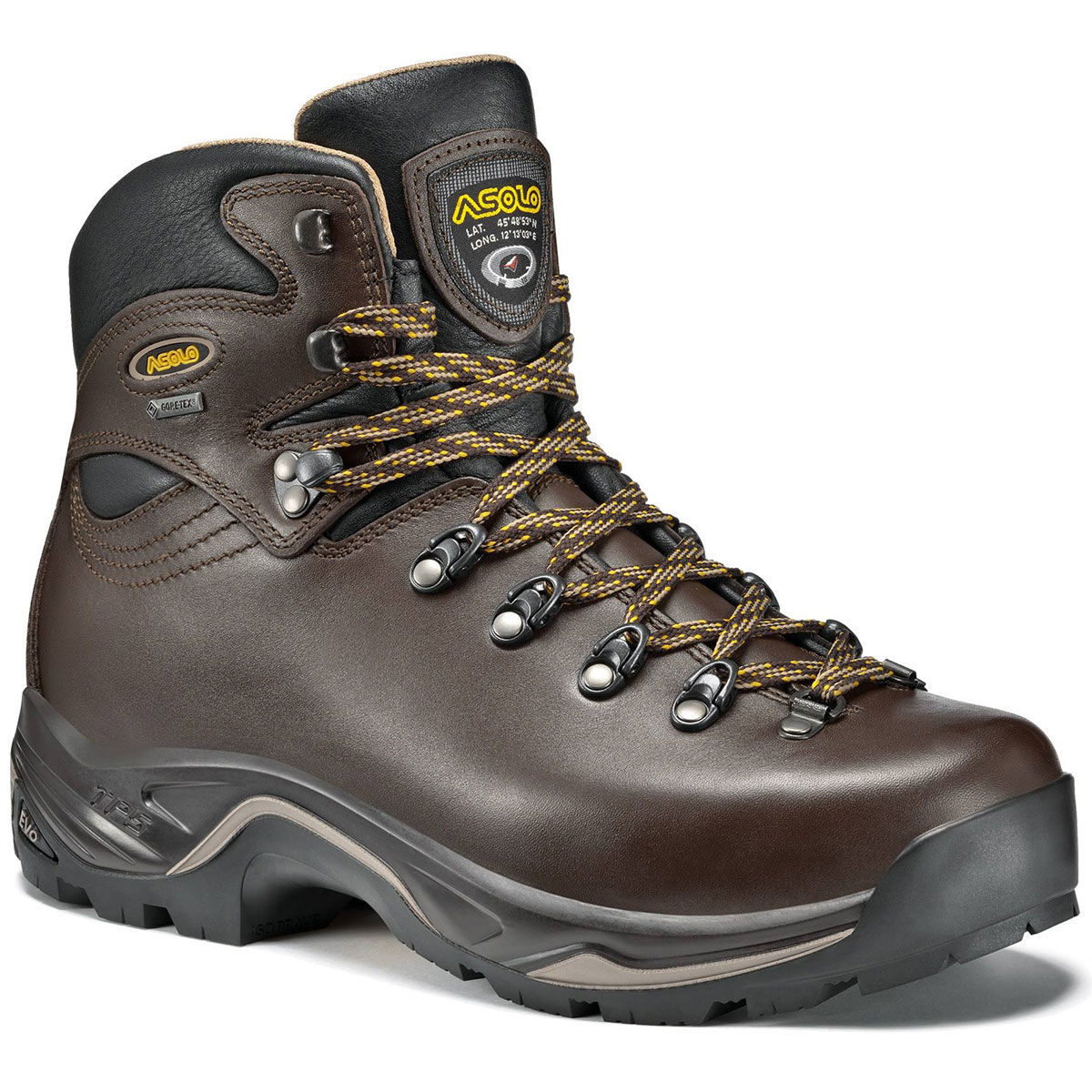 Specs
Price
MSRP: $275.00
Current Retail: $339.95
Historic Range: $74.83-$339.95
Reviewers Paid: $75.00-$298.00

Reviews
6

reviews

5-star:

2

4-star:

3

3-star:

1

2-star:

0

1-star:

0
Great foot and ankle protection for multi-day trips with a heavier pack. Excellent performance off-trail. Brand confidence overall is positive for footwear in the middle-upper price range.
Pros
Great support of foot/ankle when hiking
Leather has long lasting performance if cared for
Little to no break-in time required (no blisters/hot spots!)
Cons
Weight—this pair of boots weighs more than my tent
Toe guard is minimal—frustrating for an otherwise durable boot design
Multiple reviews (with photos) within the last several years with negative performance (i.e. issues with sole separating from boot)
Cost—$$$
Ah hiking boots. One of the most difficult backpacking necessities to purchase and review.
Specifics: This review is for Asolo GV 520 LW size 10. These boots were purchased from REI.
Weight: Ridiculous = 4.2lbs (pair)
These are backpacking boots for multi-day trips and heavy packs, over the ankle, lace-up, full-grain leather with a Gore-Tex membrane/nylon dual density molded polyurethane boot that can be re-soled.



Sizing: I wear 9.5 but purchased a 10W to accommodate thick hiking socks, so if you prefer a thick sock buy a half size up. Many stores don't carry wide width boots so you may have to purchase online.
Overall Appeal:
Solid brand name and performance of prior styles is positive.
Leather, when cared for, is usually a top performing option and that's true for these boots.
I don't like the "Chestnut" color or the striped laces.
Misc. info about these boots:
I have read multiple reviews of Asolos that have soles that separated from the boots (delaminated). It has not been my experience with either this pair of boots or my prior pair of Asolos (that I've had for 8 years) and I don't know whether to attribute it to just a bad manufacturing batch, but that would be my guess and to avoid receiving a pair of these boots I wouldn't purchase from a retailer that doesn't have generous return policy. These are expensive boots and should last for multiple years; a sole separating from a boot is unacceptable in my opinion.
Field Performance:
This pair of boots has fewer than 100 miles on them so I hesitate to give them a great review for durability and longevity. That being said I have found them to have little to no break-in period without any issues with blisters/hot spots on the trips I've taken them on.
I dislike the lack of a toe guard. I had scuffed the toes of the boots just wearing them around before my first hiking trip to break them in. I use a beeswax mixture for protecting my boots. There are multiple choices out there and since that's not what I'm reviewing I won't promote a brand. However, I would recommend using some kind of protection on the leather because even with gentle use these boots will be susceptible to damage near the toe box due to the lack of protective design.
These boots perform as I want them to. They keep my ankles from rolling on off-trail terrain, they haven't caused blisters, and the one time I immersed them during a water crossing they dried out very quickly (less than 15 minutes). I wish they weren't so heavy, but at the same time I respect the protection they provide.



For day hikes with a light pack I don't know that these are necessary but for a multi-day trip with a heavier pack and/or off trail terrain I wouldn't leave home without them.
Durability:
I can only base this on my prior experience with Asolos, which was phenomenal. They lasted more than 8 years (and an estimated 1,000 miles). The only reason I don't still wear them for multi-day trips is that the leather has broken down so much that even morning dew soaks them completely.
So far these boots have been durable with the exception of the leather upper toe-box that doesn't have much protection and may need addition attention.
On a scale of 1 to 10 I would rate these boots an 8. I would take off 1 point for the lack of toe protection and 1 point for the numerous reports of this boot style (520 GV) with issues with sole separation/delamination. While I haven't experienced it personally it does concern me on multi-week trips where losing a boot can be a devastating proposition. 
Source: bought it new
Price Paid: $251.99 after 20% coupon at REI

High ankle, heavy-duty hiking boot for women.
Pros
Waterproofing
Ankle support
Cons
Heavy
Hot
Toe leather easily gouged
Edit 10/19/16: Upon further use and review, my opinion of these boots has definitely improved. They remain hot and heavy, and, lacking a taller lip of rubber at the toe, the leather got banged up pretty quickly. That being said, they were comfortable for the entire trip and gave me lots of support. These boots feel like they're really made to last, so I'm sure I'll be enjoying them for years to come.
**********
I recently acquired these for an insanely cheap price at a Zappo's outlet, and couldn't pass them up. I've only used them for one weekend trip so far, but found them to be decent enough, if not exactly fabulous.
The boots are a good fit, and I like the design of them. They're comfortable to wear, and come up a little higher than some other boots I've used, giving a really sturdy feel with lots of ankle support. In fact, sturdy is just an all-around good description of these boots.
I didn't give them much of a water test, but the puddles and mud they did encounter were no match. Feet stayed dry the whole time.
My biggest problem with these boots is just that they're really heavy and hot. In addition to the leather, there is a lot of extra padding inside that helps with comfort, but also overly insulates the foot. I was wearing them in late spring, when it was still cool enough for a light jacket or sweatshirt during the day and my feet felt like they were roasting the whole time. I've used all leather boots for a long time, and haven't had this trouble with my Vasques.
All in all, I think I will like these boots and get lots of good use out of them, but I'm glad I didn't pay $250 for them.
Source: bought it new
Price Paid: $75

These boots are perfect for rough terrain. The solid leather construction is durable enough to take on any hike, and the level of comfort is exceptional.
Pros
Solid leather construction
Goretex lining for waterproofing
Tough Vibram rubber sole for excellent traction
Cons
Price, but you have to pay a lot for a good boot
Need time to break in before hike due to solid leather construction
Heavyweight
Me and my husband are planning a mule deer hunting/backpacking trip to Colorado in the fall, and I needed a tough durable boot that will stand up to the elements the Rockies will provide. After weeks of careful consideration and a couple of try-on trips I broke open the piggy bank and purchased the Asolo TPS 520 Hiking Boots.
After a short hiking trip through the hills and hollers I was pleasantly surprised at the comfort level these boots provide fresh out of the box. I am really excited to see how comfortable they are when fully broke in. The boots are full grain leather with a vortex lining for durability and waterproofing. They also have a nylon lining to help wick moisture from your feet while hiking.
Normally high top boots hurt my ankles but the extra padded support these guys have make that concern non existent. The sole of the boot is Vibram and also has low density polyurethane cylinders in the mid sole to help with support.
So far I am very pleased with these boots.
Source: bought it new
Price Paid: $298

Best out of box fit ever! Backpacking with heavy loads in the Rockies is no problem. I have a serious mid foot problem and these boots allowed me to continue hiking. I inserted my custom orthothics and no looking back. I had my foot measured and the boot custom fitted by Frank Abissi at Higher Ground in Grand Rapids Michigan using the Phil Oren Fitsystem. I suggest you have a professional fit you. Your feet will thank you mile after mile.
Materials: leather and gore-tex
Use: long slogs with a heavy back and dayhikes
Break-in Period: NONE
Weight: fairly heavy
Price Paid: $200 US

They fitted my wide-toes narrow heel foot well, and supported my ankles well. Break-in period is relatively short. Unfortunately, the boots are not breathable enough and my feet felt very hot in them at 50F hiking. I don't know if this is because of the gore-tex liner or smth else.
Price Paid: $180

These are the most durable and comfortable backpacking and hiking boots I've ever bought. They are also very nice looking... I even wear them about-town with jeans.
Materials: leather
Use: 5-6 day backpacking, hiking, causal wear
Break-in Period: none to one hiking day at the most
Weight: they are a bit weighty
Price Paid: $150


All TPS 520 GV versions
In addition to the 6 women's reviews above, there are 74 reviews for other versions of the TPS 520 GV. Read all reviews »
You May Like
Recently on Trailspace