Atlas Spindrift

The Spindrift has been discontinued. It was replaced by the Atlas Montane.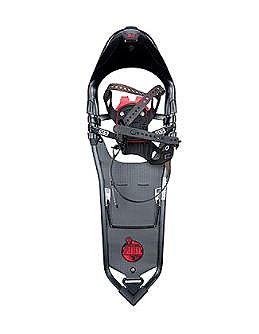 Version reviewed: 30"
The Atlas Spindrift, designed to handle technical terrain, is a great snowshoe for anything varying from flat towards vertical. Good balance of float and agility with a frame that combines old and new styles to create a lot of traction. With three lengths available ranging from 22 to 30 inches the Spindrifts have load ratings ranging from 150 to 235 pounds. Springy suspension and deck let feet do their job digging in on climbs and made long days more comfortable. These are great climbers you'll enjoy using on a golf course trail too.
Pros
Overall very well engineered
Spring-loaded suspension frees up feet
Pretty good traction, especially lateral
Packs well, utility strap included
Built-in heel lifters
Foot pad resists snowballs
Straps work well to hold feet in place
Cons
Straps didn't want to be prepositioned
Which leaves a lot of heel strap to control
The Atlas Spindrift line of snowshoes come in three, unisex, sizes: 22, 25, and 30 inches or 56, 64, and 76 cm if you are metrically inclined. I tested the 30"/76cm version, but other than sizing they are all identical. Sizing is mostly a function of expected load and snow conditions.
The 22" model has an intended maximum load of 150lbs/68kg.
The 25" model allows for loads up to 180lbs/82kg.
The 30" model which I tested is rated for up to 235lbs/107kg which I definitely exceeded when carrying a full pack.
The weights for the three sizes are:
22" (3.6 lbs/1.6 kg)
25" (3.8 lbs/1.7 kg)
30" (4.2 lbs/1.9 kg)
Materials:
Aluminum frame
Polymer decking
Rubber straps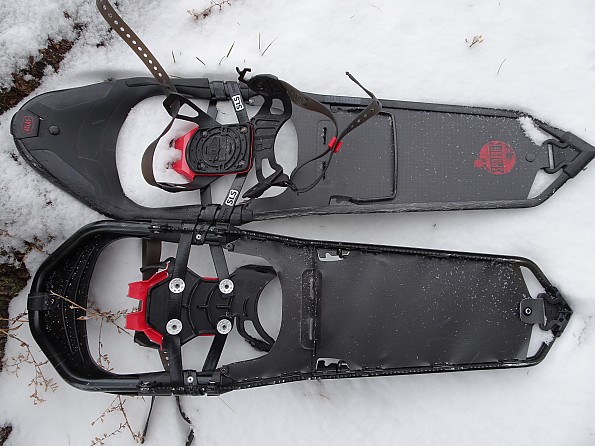 Top and bottom views give a good look at the spring-loaded suspension.
Features & Construction:
I'm combining these two categories because by the time I'm done covering all of the features I'll have shown most of the construction as well. It seemed to me that just about every part of these shoes functioned well because it was designed well and then put together well.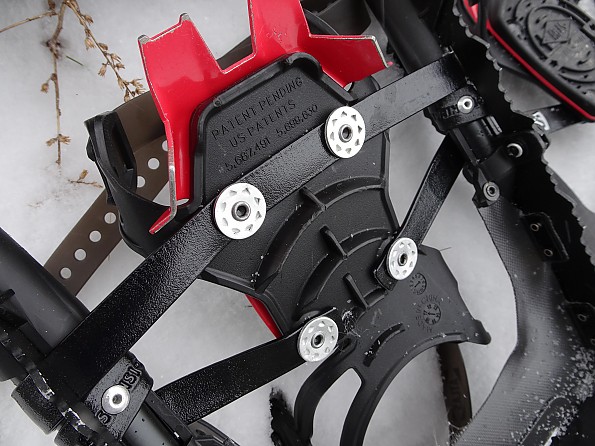 Close look at Holey-1 Toe Crampon and foot plate from below. Plastic plate resists snowballs top and bottom.

For now let's start by looking at the underside of the Spindrifts to see the traction system. Atlas says these shoes are designed for speed and performance on technical terrain. To me that means they better stick where you put them and they did very well at that in my tests.
The Holey-1 Toe Crampon combines shovel shaped paddles with stainless steel points to grab some snow or dig into ice as needed. It doesn't look like much compared to scary pointy crampons, but it functions really well. This was especially noted when climbing on a varied surface where each step had differing amounts of ice and snow under foot. This crampon design worked really well with the Spring-Loaded Suspension, which I'll be discussing later.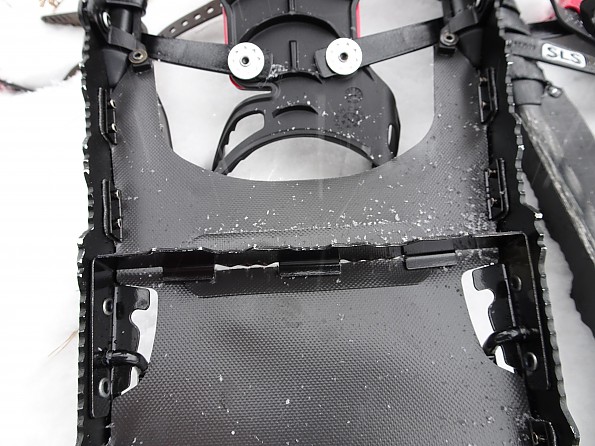 Deck and heel traction plates extend over an inch where they come together for extra grip.

The heel and perimeter traction areas employ serrated teeth, but also use their solid base to create a paddle effect. Any loss of traction causes the edge to dig in and create friction. Side slipping was virtually eliminated and downhill skids controllable. On steep descent, if the heel slid in soggy or loose snow, it then slowed to a stop, sort of like snow plowing on skis, but without pointing the toes in. This gentle regaining of traction made for a less jarring descent, both physically and mentally I found.
Before we leave this bottom view, please take note of the rivet work that holds the vertical traction bars to the horizontal deck plate. Atlas used these connections to attach the flexible, polymer deck. This interior connection protects the edges of the soft material from being damaged on trail.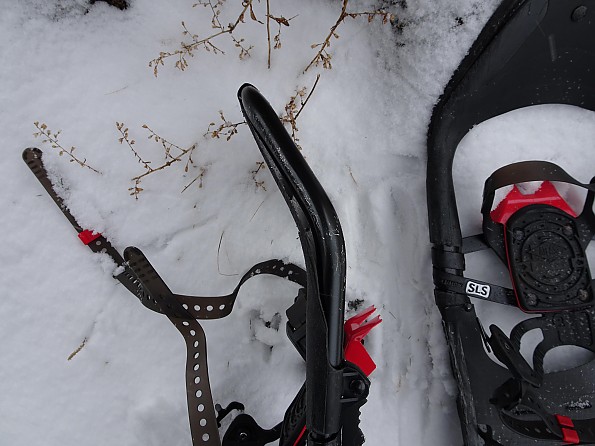 Bent toe design is great for breaking trail or steep slopes.

Before moving on to the top deck I want to talk about the frame as a whole for a minute. Atlas has joined a traditional aluminum tube, elliptically formed nose that flexes to conform to snow surface with a serrated t-frame running the length of the deck providing excellent traction. This really gives you the best of both types of shoe and the two parts work really well together. The shoe is able to flex and bend for maximum contact which puts all  of the traction features in a position to do their job.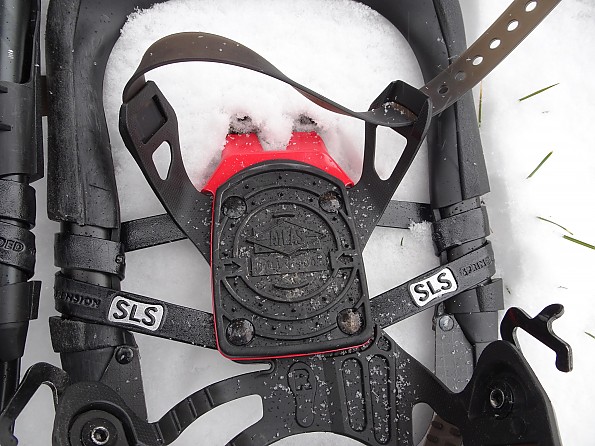 Good closeup look at suspension and foot plate from the top.

The top deck also has a lot to look at, starting with the Packflat bindings. Designed to collapse down when attached to your pack the entire binding is soft and flexible allowing it to fold on itself. Atlas included a utility strap which can be used to hold the shoes together when not in in use. That strap can also be used as a field replacement for either the front or rear binding strap if you managed to slice through one.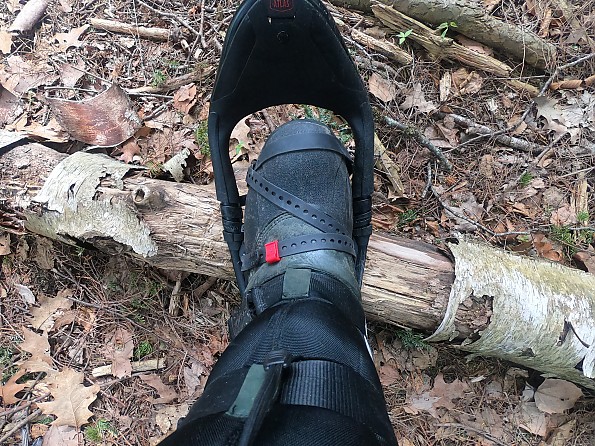 Huge, insulated size 13 Baffin Impact boots fit, but just barely. Last hole in the front strap used.


The straps are extra long to accommodate snowboard boots or other over sized footwear. I was able to fit my huge Baffin Impacts in there. It was nice to be able to use them in deep cold. The Spindrifts were able to handle the big boot better than most snowshoes I've tried them with.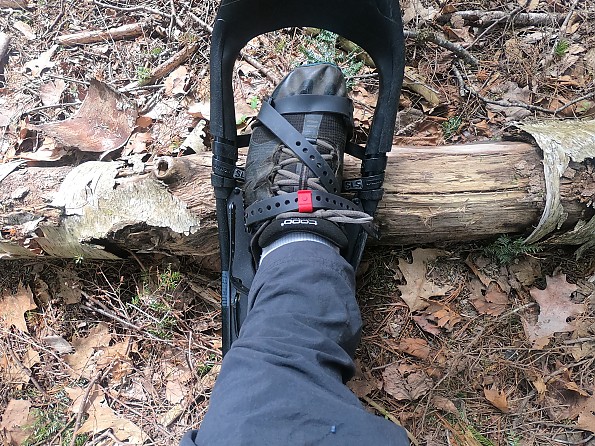 Topo MTs are tiny compared to Baffins, but the strap had no issue holding them.
When wearing smaller boots I found the rear strap folded almost completely doubled over. On most snowshoes I've used I tend to set either the front or rear strap in place and step in rather than having to attach both straps. On these shoes I found that didn't work well. The way the front strap worked seemed to leave my foot in slightly different spots, so permanently tying down the rear strap wasn't an option.
I ended up borrowing some strap clips from my MSR Revo Ascents to help me keep these under control. It is nice to have that extra strap when you need it, but if they don't provide some way to manage it you have chaos. Well, maybe not chaos, but a flappy strappy issue at the least. Maybe extra clips or some place to tuck the end of the strap into would help.

    After all that complaining watch this quick video to see how easy the Spindrifts go on.


Just to be clear here, the straps are very functional. My issue is about organization and control of the straps. Putting the straps on was easy enough, even with gloves on, and it was easy to get a snug, but comfortable grip on all footwear I tested. The strap material was very flexible under most conditions though it did stiffen up a bit as temps approached 0°F/-18°C. It was still easy to wrap them around boots even in temps colder than that despite the added stiffness.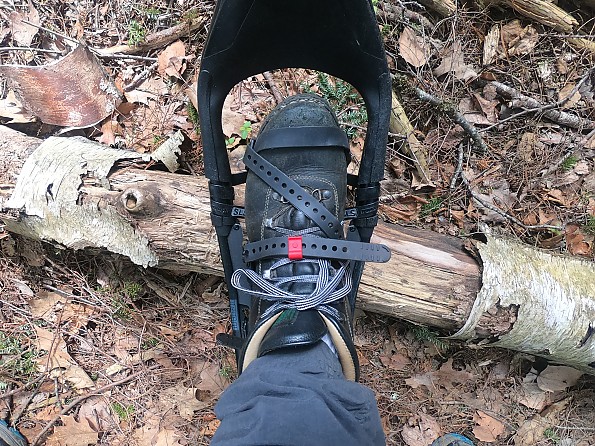 Limmer Standards did most of the testing miles and worked really well with the Spindrifts.


I did like the way the straps functioned once I had them on. No matter the boot, but especially with my Limmer Standards, I enjoyed the feeling that the straps stayed in the spot I put them on. My feet were not moving around inside the straps. This let me really use the suspension system to its fullest advantage by twisting the foot for maximum traction when climbing.
I had to try the Spindrift 30s before I could understand how the Spring-Loaded Suspension works. Looking at the way the footpad and crampon floated between the frame on a couple of straps my first reaction was to wonder how durable it would be and how unstable it would feel. Once used I could feel how the feet were free to find traction on each step. Being more independent of the frame and deck let those parts handle float while my feet used the crampon to grab the surface below. It feels comfortable on flat or rolling terrain to be sure. It was when climbing steep mountain slopes that I really appreciated that feeling of digging my toes in almost like I was barefoot, but without the frostbite.
The Holey-1 toe crampon took full advantage of this freedom to let the paddles dig in and give leverage to stepping up while ascending. On descent, while sitting more weight back on the heels, the front part of those paddles dug in just a little. This provided some traction without the toes really grabbing and leveraging the body out into space.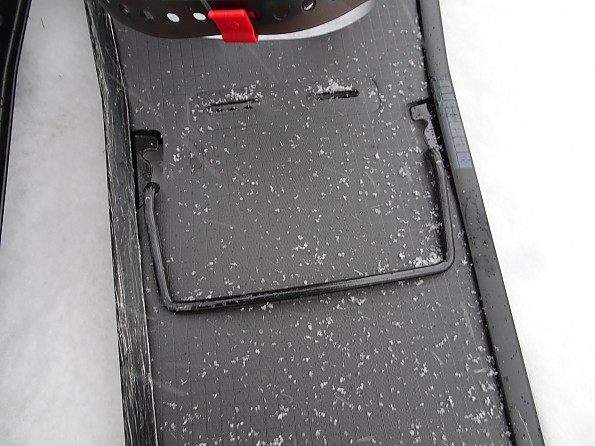 Note the two holes in the deck that allow boots to contact the heel plate below.
The Infinity Decking Atlas uses as a float platform is riveted to the inside of the frame in a way that doesn't leave it exposed to wear. This flexible material is much quieter than the hard deck of my Revo Ascents and doesn't seem to be bothered by rocks or hard ice lumps. The cut through allows heel pressure directly onto the top of the heel cleat without wearing the deck material. This also lets the boot get traction against the metal avoiding lateral slippage.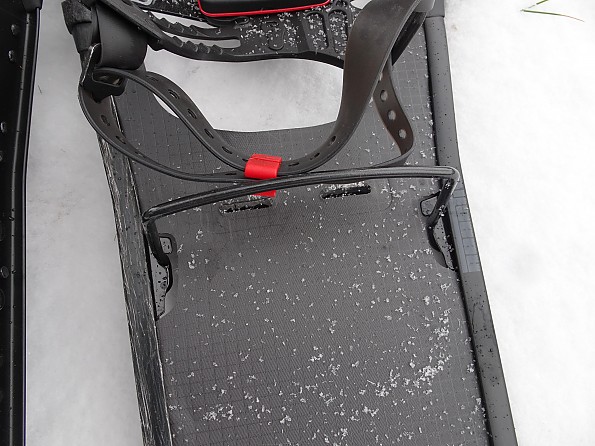 Minimalist heel lift handled maximum rated load and more.

Atlas also included a simple, yet functional, two-inch heel lift. Easy to raise or lower with the end of a hiking pole this thing metal bar is able to take my weight, including heavy winter pack, without deforming. Using these lifts help to put the foot into position to dig in with the toes more easily and gives leg muscles a break when climbing.
Ease of Use:
Despite my complaints about dealing with the straps I have to admit that they are not that hard to put on and take off. Getting the strap positioned for maximum effect is a natural part of the process so they don't need readjustment. I never had to adjust straps on trail. The Packflat binding makes putting them on the pack easy too. Switching between different sized boots didn't change any of that, though really large boots don't leave much strap to pull on.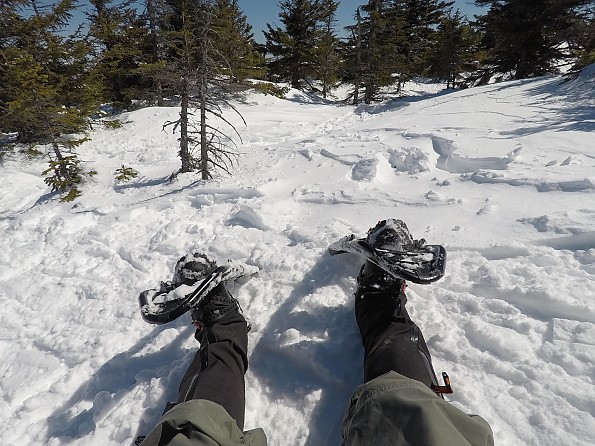 So relaxing to lay the legs out flat while eating lunch.

One other thing I'll add under the heading of ease is the ability to sit down and flip the heel of the shoe completely out of the way allowing the boot heels rest comfortably on the snow. This was a surprising benefit of the way the suspension straps work. I really appreciated this feature when lolling around on top of mountains eating cheese and sausage!
Durability:
After an entire season of use that covered a couple hundred miles or so, a little paint chipping off the crampons and some scratches on the insteps are about the only signs of wear. The foot straps and the suspension straps show no nicks or cuts. None of the metal has deformed or come loose. I am not really seeing any weak points to even worry about at this time. Despite my initial suspicions, these shoes seem to take abuse well and I expect them to last a long time.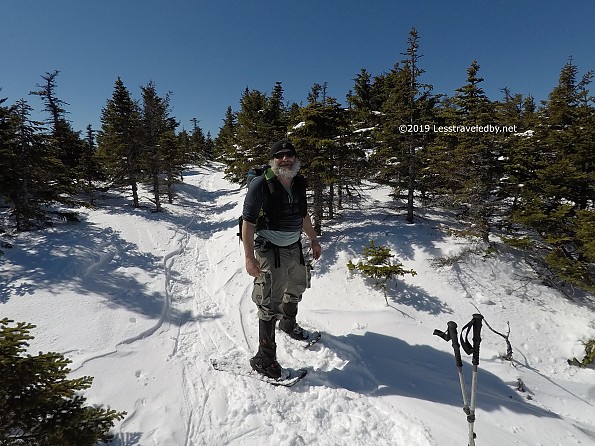 West Baldpate on a perfectly calm, blue sky day.


Testing Conditions:
I tested the Atlas Spindrifts throughout the winter months here in Maine. Winter was a bit fickle locally, snow mixed with ice and little deep powder accumulation. The mountains on the other hand saw lots of heavy snows. This let me test in a wide variety of snow and ice, though I didn't get a chance to test in fresh, deep powder. By the time I got there it had usually crusted over a bit or gone a little sticky.
Conclusions:
I found the Atlas Spindrift 30s to be a real treat to test because they kept showing me how good they were. Each use seemed to point out some aspect that I found appealing. Of course nothing is perfect and in this case I found the straps a bit annoying. As I mentioned, I like to get one strap sort of permanently attached and then just step in and out by unbuckling the other. The way these straps looped over their attachment points meant they wouldn't stay in place without a foot inside. They are designed to be easy to put on, I just prefer not to have to bother. Functionally they are fine, they just wouldn't let me be as lazy as I'd prefer.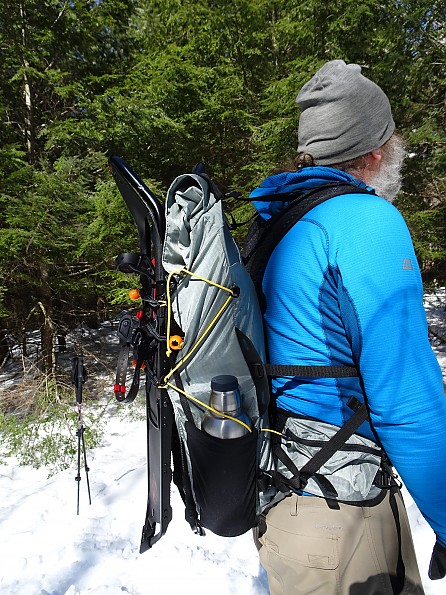 Packflat is not just a catchy name. That really is both shoes attached to my pack.


Other than that minor issue I found the rest of these shoes to be very well thought out. Despite my exceeding the load limit with a full pack they floated me well enough even in deep snow. The Spindrifts seemed nimble enough between the trees despite the 30-inche length. They didn't make me feel like running as the Crescent Moons I tested last year did, but I never felt encumbered. The Packflat bindings really do make strapping the shoes to your pack a lot easier.
The comfort was appreciated on any type of outing, but especially in the mountains. Climbing, and descending for that matter, provide a lot more stress on the bindings. I found the Spindrifts to be some of the most comfortable snowshoes I've used in those conditions. They certainly rival my MSR Revo Ascents in that regard. I think very highly of both shoes and will have a hard time deciding between the two in the future when choosing equipment for a trip.
If you aren't climbing mountains these shoes are probably more than you need. You'd certainly be happy cruising your local trails on them, but they really shine in more rugged terrain. They had enough float to handle my winter weight which goes over 250lbs with a multi-day pack. Steep climbs were definitely a joy as I really loved the feeling of digging in with confidence. If you are looking for snowshoes to handle terrain with that sort of feeling I'd say the Atlas Spindrift lineup is certainly worth a long, hard look.
Background
The Atlas Spindrift 30s were tested over an entire winter season here in Maine. Terrain varied from mild to wild. I've been an active snowshoe user since I moved to Maine about ten years ago.
Source: received for testing via the Trailspace Review Corps (Sample for testing and review provided by ple for testing and review provided by Atlas.)

Your Review
You May Like
Specs
| | |
| --- | --- |
| Price | Historic Range: $159.95-$269.95 |
Recently on Trailspace