Benchmade 940/943 Osborne Family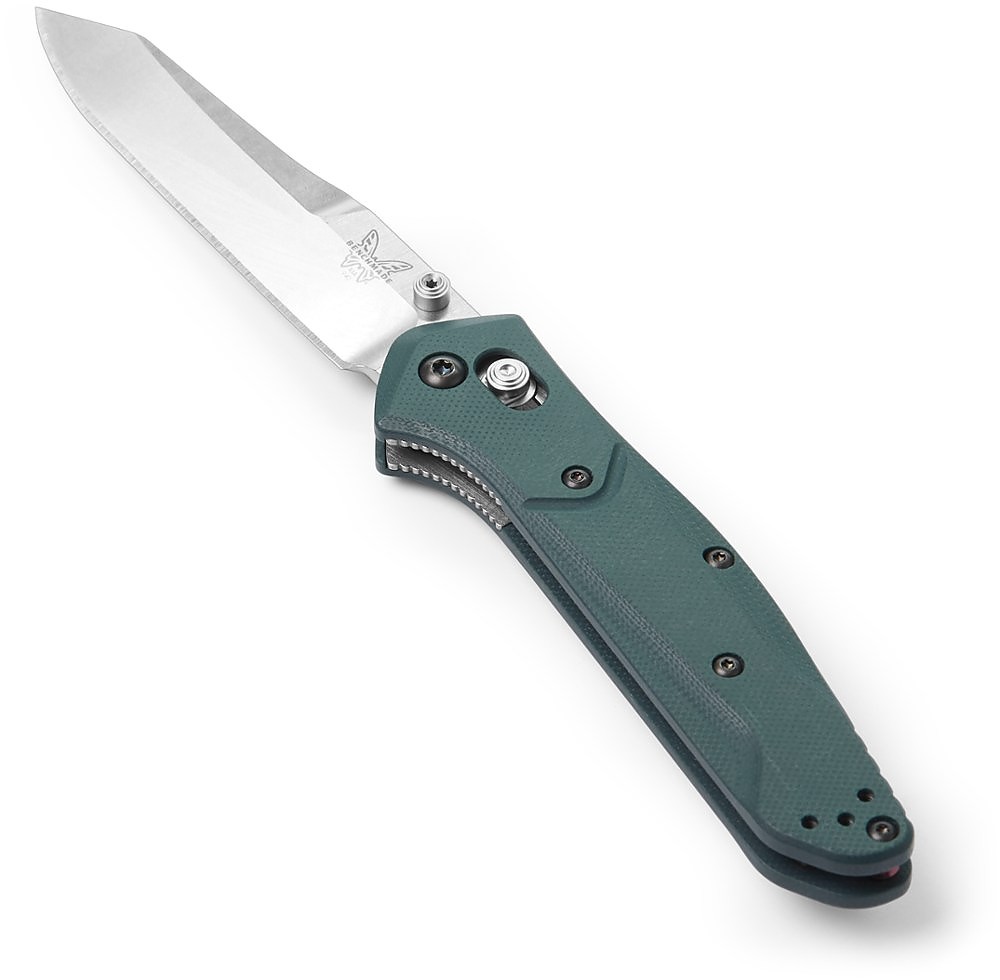 The 940BK is my EDC and is one of the finest blades I have ever seen or used. I have the blade sharpened to 25° and it's only needed to be sharpened once in all the time I have owned it.
Pros
CPM-S30V steel holds a wicked edge
BK1 black finish provides ultimate protection to the blade
Very lightweight for the size: 2.87 ounces
3.4" blade is big enough to get most jobs done
Cons
Expensive — this is no $5 knife. Then again, this is no $5 knife. :-)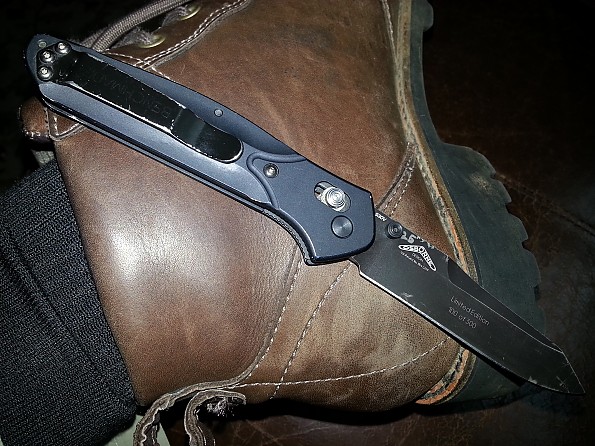 The first Osborn I owned was the 943SBK.  It was an outstanding knife that I used every day for about 7 or 8 years. I was so bummed when I lost it at a football game... really, really bummed.  But there were two things about the blade that I didn't like, so I fixed it when I bought this 940BK.
The 943 blade is more of a very cool looking stiletto style.  While the steel is crazy strong, the thin steel at the tip of the blade creates a weak point that I was constantly being careful of (though it never did break).  As you can see from this blade, it is a "reverse tanto" style and has a hyper-strong design for the backbone of the blade.  I'm not prying open crates with it, but I wouldn't hesitate (much) if I needed to.
Second, the 943SBK had a partially serrated blade.  After trying to get that thing sharpened on multiple occasions, I have to say I'm not keen on owning any serrated blades ever again (except for the kitchen). With this straight blade I can fine-tune the edge myself and keep it razor sharp.
I owned this new one for a year or so before I decided to sharpen it.  I set a 25° angle for the blade and honed it to a perfect edge.  1 year later and with multiple uses every single day, it still does not need to be sharpened again.  I love this steel!
Why do I think this may be the perfect knife?
For hiking, I like small and light. But at times there can be such a thing as too small and too light. This knife is big enough to do most jobs, but not so big to be heavy and bulky. It's also small enough to keep the weight low, but not so small as to be useless for many applications.  Benchmade reached a great balance here.

If I want an EDC, then a knife needs to be able to go in my pocket for dress situations. So, no straight blades.  Furthermore, I work with the Boy Scouts from 

time to time and they frown on straight blades.  Here again, no straight blades.  Osborne for the win!!

Reducing weight means not having to use a sheath.  The side clip solves that issue and keeps the knife very accessible.

The thin profile means the knife does not stick out 

while

 in your pocket.  Yet, the handle is 

still

 wide enough to give the user 100% control over the blade.  Osborne for the win!!

The superior steel 

means

 not having to worry if the blade will perform when it's needed.  Love it.

The BK1 ceramic finish on 

the

 

blade and the anodized finish on the handle means this tool will last.  The BK1 finish does get small chips from 

time to time, but it more or less stays in place very well.

The thumb nubs on 

the

 side of the blade make it very fast and simple to get the blade out.  At 

the

 same time, the finish work on 

the

 nubs is outstanding, so there are no sharp edges to catch the nubs and cause the blade to release at incorrect times (like having a blade open in your pocket - I've had other knives that do 

that - ugh).

The AXIS locking system is 

genuinely

 different than other knife locking mechanisms and it's

AMAZING

. First off, it locks the blade in place as it is supposed to.  It does it's job.  But where it is really cool is when you want to release the blade to fold it up. The AXIS system allows a one-handed blade release and then I can put the knife away one-handed.  Talk about fast and utilitarian!  And keep in mind, the AXIS lock requires that you apply pressure to both sides of 

the

 lock in order to release it, so there are no unintentional releases of the lock.  I've been using the AXIS lock system in Osborne knives for at least 9 years and have yet to see 

the

 AXIS fail.  Osborne for the win again and again!!
Last but not least, does the knife qualify for an Ultralight or Minimalist pack?
If you've read any of my other reviews you've likely figured out that I keep a steady eye toward Minimalist and Ultralight (UL) gear.  Like many (most?) consumers, I prefer value when I consider a purchase. The typical idea of a high-value item is one that delivers solid performance for the dollar spent.  I think so too.  
But where I part ways with some is that I also calculate in the weight and bulk of the item as part of its design performance. If a tool does a great job but has the cost of comparatively high weight / bulk, then in my case it's likely going to stay on the shelf as I consider that excess weight and bulk as a cost of it's own.  
For me, the Osborne is perfect for an Ultralight pack, though not for a minimalist pack.  If you're a minimalist (I'm not), then you'd likely want a razor blade or no blade at all.  Personally I think there's too much risk in going to the backcountry without a proper knife... but that's just me.

Happy Adventuring!
Source: bought it new
Price Paid: $180

An excellent, lightweight knife with a reasonable blade length and a unique tip design. The 940 Osborne is great for everyday carry, and is best suited for light to medium duty jobs. Due to its narrow profile and subdued grip features, it is not intended for hard use. The lack of worthwhile jimping can also lead to your hand slipping forward when thrusting the blade.

I would definitely recommend picking this knife up when it goes on sale, as it can be quite expensive at normal price. As it is lightweight and small, it is ideal for almost any scenario from office use to the weekend warrior and even the hardened backpacker. The blade is a bit more delicate and there are quite a few moving parts that make up the locking mechanism, so it may not be the best knife to use in a survival scenario.
Pros
Lightweight
Strong tip design (reverse tanto)
Good blade length relative to handle size
Good steel quality
Solid lock design (axis lock)
Fast deployment
Cons
Delicate
Prone to blade play as it is used
Not much of a grip (almost non existant jimping)
Expenisve
This is one of the more expensive pocket knives on the market, but can be had for a relatively low(er) price when it goes on sale.
The long hollow grind with a lengthy belly makes this knife another good slicer. The unique design feature of this knife is the reverse tanto tip, allowing for all the strength of a tanto blade, with the slicing capability of a drop point blade.
The Benchmade axis lock up is solid, and gives the user one of the highest degrees of confidence that it will not fail. Unfortunately, the jimping on the thumb and index finger holds is nothing special, and gives very little traction to prevent your hand from slipping forward while thrusting the knife.
The unique feature about the axis lock is that it gives the user the flexibility of one handed operation.  To release the blade (as well as deploy it), the user simply has to pull down the spring loaded dual thumb stud lock. This gives the user the ability to open and close the knife without ever having to put their fingers in the path of the blade.
The knife is very well constructed, however it is prone to blade play. If the knife is ever used to pry (which it should never be), it may become loose at the pivot joint. There are metal spacers that surround the pivot joing, which may prevent sufficient tightening of the knife to rectify the blade play.
I own two versions of this knife and have carried it over the course of 3+ years. I have used it semi-frequently, as it is more delicate than other knives that I own, and requires more maintenance.  It is however a pleasure to carry due to its light weight.
If well maintained and not mistreated, the knife does it's job well.  Light to medium duty jobs ranging from food prep, to cleaning fish and cutting rope are well within the scope of this blade. 
Source: bought it new
Price Paid: $135

Your Review
Where to Buy
Help support this site by making your next gear purchase through one of the links above. Click a link, buy what you need, and the seller will contribute a portion of the purchase price to support Trailspace's independent gear reviews.
You May Like
Specs
Price
MSRP: $210.00
Current Retail: $207.99-$315.99
Historic Range: $137.04-$315.99
Reviewers Paid: $135.00-$180.00