Benchmade Barrage Family

Top 25 in Folding Knives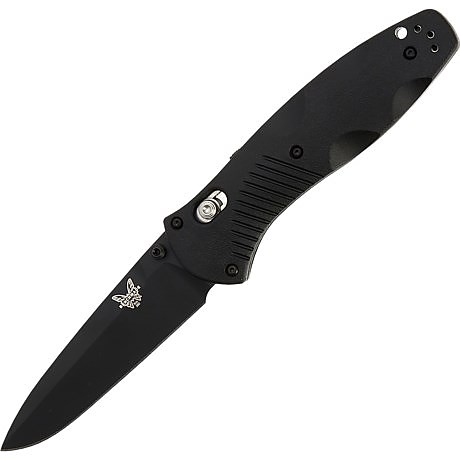 The best pocketknife I've ever owned...drops mic, walks away.
Pros
Ultra sharp
Customizable
Spring assisted
Free lifetime sharpening
Lifetime warranty you'll never need
Cons
Expensive
Some may find it large
Some may find it heavy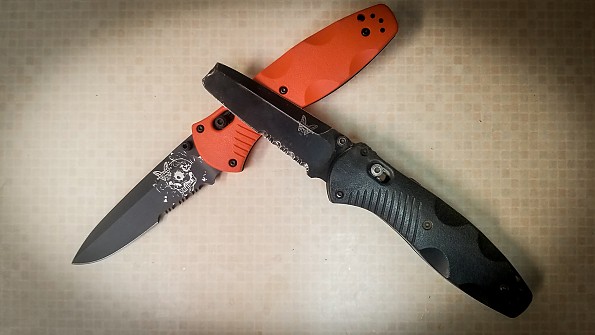 I received my Benchmade Barrage knife as a Christmas gift from my wife 8 or 9 years ago and loved it. I carried it in my pocket every day and used it at least once on most of those days... seriously. When traveling I'd have to pack it in my checked bags and I always felt naked without it. So why the past tense you ask? Because it managed to find its way across a bank of batteries and was destroyed by the arc-flash. Long story. That one was so loved that I purchased a new, custom Barrage 580 to replace it, because nothing else would do.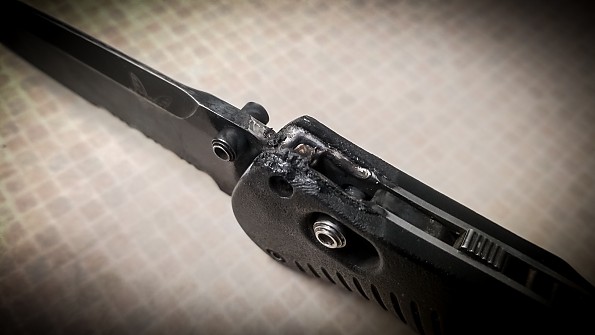 Benchmade has been around for over 30 years and is located in Oregon City, Oregon. All of their knives are made there. They are innovators in the industry and supply knives to the US military, police forces, and more. They are known for producing some of the finest knives available and you can learn more about them and their products by visiting their website.
I prefer a larger, single blade pocket knife. The Barrage is marketed as a tactical knife. While it certainly fits that category, it meets my expectations of an all around pocket knife as well and it feels exceptionally well balanced in my hand.
The closed length is 4.75 inches, the blade length is 3.6 inches, and it weighs 4.3 to 5.2 ounces depending on configuration. If these dimensions sound like a good fit for you too, then read on. If not, you may like the Mini-Barrage instead. I purchased one of those for my daughter and she absolutely loves it as much as I love my full sized Barrage.
The Barrage is a single bladed knife and the standard issue is available in either Drop-Point or Tanto blade styles and either can be ordered plain or with a portion of the blade serrated. Both of mine have the serrated portion which I find quite useful for all sorts of things. I also have the Valox handle on both, which is a glass filled nylon. It's fairly smooth with just enough grip. Without going custom the available handles are Black Valox, a G10 grey (which I suspect is also a glass filled nylon), and a G10 black and silver aluminum.
I have seen them for sale with both regular satin silver and hard anodized black blades; though currently the Drop Point black anodized blade appears to only be available as a custom knife option. While not custom, my original blade was the hard anodized black Drop Point blade, as is my new one. Some of the blade options are pictured below for your convenience.



The standard blade steel is S30V, which offers good corrosion resistance, toughness, and can be sharpened to an edge like that of a razor blade. I kid you not; when it arrives with that factory edge you can literally shave with it. That said, the ability to retain that edge is mediocre. Going custom allows the purchase of other blade steels, each with their own pros and cons. I used mine for everything from removing wire insulation to cutting fruit and it never showed any signs of corroding or rusting with very minimal care on my part. As a side, the black anodized blade finish held up well to the rigors of repeated everyday use with minimal wear as you can see in the photo below.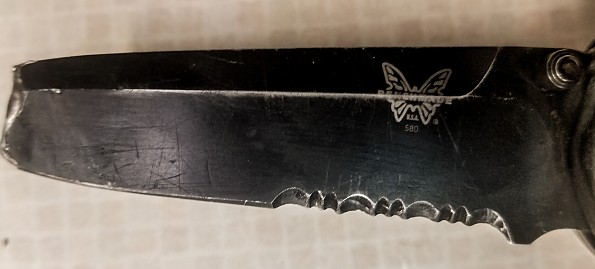 This knife utilizes Benchmade's AXIS Assit movement, which like everything else about this knife is excellent. The AXIS part locks the blade when in the open position, and allows easy singlehanded release when closing it. The Assis part is a spring loaded mechanism that automatically pops the blade into the fully open and locked position with just a very slight nudging of the blade. There's a small protrusion (for lack of the proper word) on both sides of the blade to facilitate this action either left or right handed.
I absolutely love the semi-automatic feature of this knife and the way that it snicks open on its own. There is also a safety lock along the back edge of the knife to prevent it from opening on its own, though I rarely ever used it. It slides back and forth and always stays where you put it. Finally, there's a clip that keeps it securely in your pocket and within easy reach. All mechanisms retained perfect operation over all the years I owned the first knife, until welded together in my little mishap.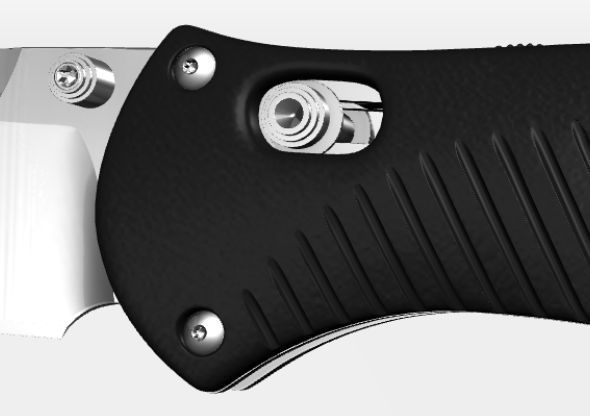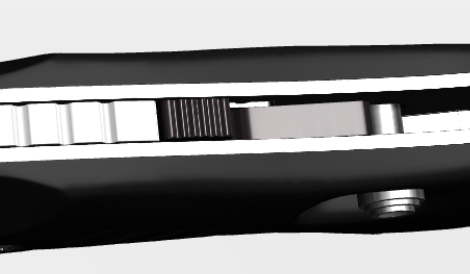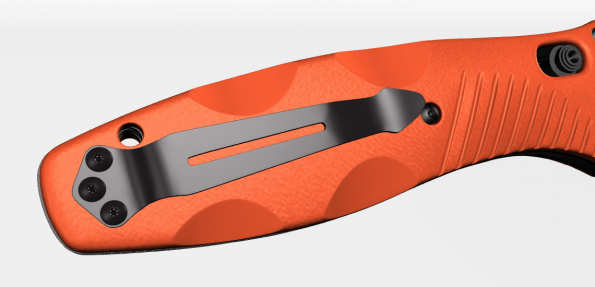 I've owned a lot of similar knives over my lifetime and none have held up the way this one has; not even close. Over almost a decade of daily use, the pocket clip remained in place, the blade never rusted or corroded, no screws ever came out and it never jammed or otherwise failed to function properly. In fact, with age the AXIS in my old one actually improved and operated a bit more smoothly than when new.
Benchmade provides a full lifetime warranty and I seriously doubt anyone would ever have a need to use it. They also provide free factory sharpening to the original purchaser for the life of the knife, and they certainly know what they are doing in that regard.
So what's up with the all this custom speak you ask? Well, I'll tell you. The base knife begins at $185. You get to choose the handle material and color. Options include carbon fiber and jade at an added cost. There is a choice of black or silver pocket clips in four different styles or none at all. You get to choose black or satin hardware, a black or satin liner, satin or hard anodized black blade and a black or satin AXIS. You also get to choose the color of the back spacer. The blade can be an all smooth edge or it can have a partially serrated edge. You get to pick between Drop Point or Tanto blade styles. You can have the blade laser engraved on either or both sides with various stock patterns and even import your own. Finally you can have text laser engraved on the blade and a plethora of font styles and sizes are available for that option. Of course most options come at an additional cost added to that base price.

While all of those options are great, the final option is what I believe makes a custom knife so desirable and that option is a choice of five different blade steels. On my new knife I chose S90V which has the same toughness and resistance to corrosion as the standard blade steel, but retains an edge better. The tradeoff is that it doesn't produce quite as sharp an edge in my opinion, but it's certainly sharp enough. That option alone adds $30. If you're into looks, there is even a Damascus patterned steel called Dama Ladder and that option will add a whopping $200 to the base price. That steel is not as tough, doesn't have good corrosion resistance, nor does it hold an edge as good as their other blade steels; but it is beautiful.  
The custom knife building page on their website is as excellent as the knives they build and allows you to not only easily pick your options but also provides a high resolution image of your resulting knife that you can rotate in every axis of movement like a CAD program. The lighting and shadows even change with movement. It's an unbelievably good implementation and you should go and give it a try for the entertainment value alone, even if you're not planning on buying one at this time.
So that's about it. It's a knife and it cuts. It's expensive. That said, you do get good value for your money. You can expect it to last a lifetime and it looks good doing it. A standard issue will set you back about $160 (list) and an ultra fancy custom job with a carbon fiber handle and the Damma Ladder blade will hit your wallet pretty hard at $485. You can also expect a couple weeks production time on any custom built knife.

Experience
I'm definitely a pocketknife guy. You won't find me without one, unless I'm sleeping. I spend a lot of time in the outdoors and work with my hands.
Source: bought it new
Price Paid: $275

Your Review
Where to Buy
Help support this site by making your next gear purchase through one of the links above. Click a link, buy what you need, and the seller will contribute a portion of the purchase price to support Trailspace's independent gear reviews.
You May Like
Specs
Drop-point w/Valox
Tanto w/Valox
Drop-point w/G10/alum
Drop-point w/G10
Price
MSRP: $160.00
Current Retail: $198.99
Historic Range: $101.15-$229.95
Reviewers Paid: $275.00

Weight
4.31 oz / 122.19 g
4.51 oz / 127.86 g
5.20 oz / 147.42 g
4.94 oz / 140.05 g
Designer
Osborne

Mechanism
AXIS-Assist

Action
Assisted-opening

Blade Steel
154CM / 58-61 HRC

Blade Length
3.60 in / 9.14cm

Blade Thickness
0.121 in / 3.07mm

Open Length
8.35 in / 21.21cm

Closed Length
4.75 in / 12.07cm

Handle Thickness
0.65 in / 16.51mm

Recently on Trailspace