Benchmade Bugout

Version reviewed: Custom Bugout
Benchmade has launched a custom program allowing you to design your own knife, made exactly to your liking. As constructed I've designed a Damascus steel blade with a carbon fiber handle Bugout that comes in at a minuscule 2 ounces (57 grams). A full sized, everyday carry that basically disappears unnoticed, in the pocket, until you need it.
Pros
Custom program
Axis lock
Versatile blade shape
Razor sharp
Lightweight
Lifesharp guarantee
Integrated lanyard hole
Reversible deep carry pocket clip
Cons
No jimping on the blade
Pocket clip has become wobbly
Carbon Fiber is already showing signs of wear
Cost (as built) may be out of range for some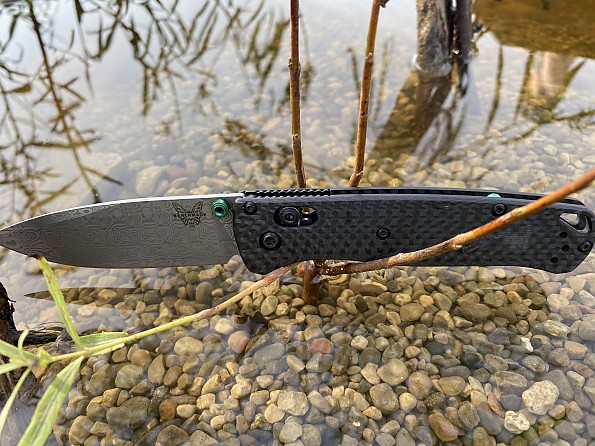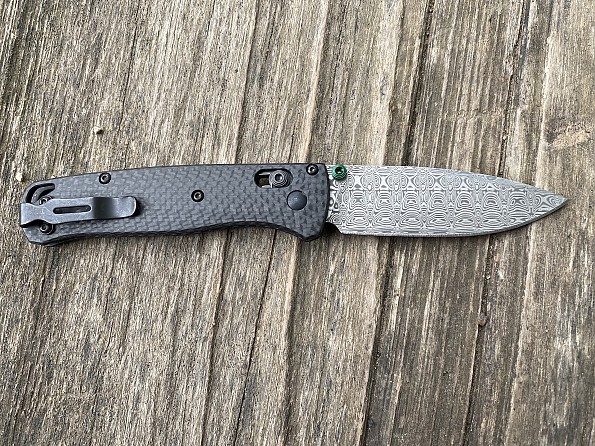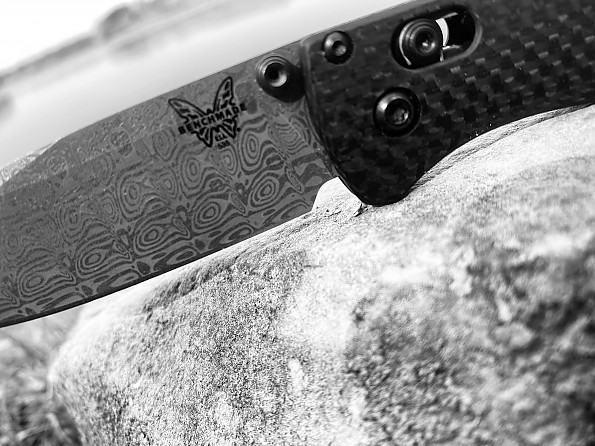 CUSTOM PROGRAM
It's only right to begin the review with the newest development in the Benchmade line. There are a million reviews of the Bugout online and chances are that if you carry a pocket knife regularly, then you probably own/have owned one already. So, what makes this one any different? Well, back in the summer Benchmade launched their custom program allowing you to design your perfect knife and man, oh man, is it fun. To start, let's go over the options available to you...
1) You'll obviously want to start with what knife you'd like to customize. There are currently seven options (I'm not including the table knife set, although that is an option)—the Bugout, the Barrage (both mini and regular), Crooked River (both mini and regular) and the Griptillian (both mini and regular).
2) The next decision is the blade shape (most are offered both a serrated and non-serrated version).
3) The next is one of the more important decisions IMO—the blade steel. A base option is their S30V which is a really great work horse option. There is lots of room for improvement however, and even some opulence, should you want. An upgrade to 20CV will add $10. Need a little more toughness? How about M4 for an additional $20? Need better edge retention? S90V is available for $30 extra. Still not impressed? How about a Damascus blade which would set you back $200? Yep, sign me up for that one! As you are walked through this selection you are given a baseline for comparison against the other steels. Corrosion resistance, edge retention and toughness are all given a rating out of 4.
4) Besides the Damascus, then you'll have the option of a coating, either satin or black.
All right that's the cutting edge of your tool done; time to move to the handle!
5) We start at a base of standard glass filled nylon. That's all fine and dandy but if we're designing our dream knife then no one's been blow away by flimsy plastic before. Alright, alright, there are 12 nylon colours to choose from and you can do different colours for each side of the handle; that part is cool. Let's keep going though. G10 handles available in six colours for an extra $60, seems like a solid option. Jade is an option for the same price. Here is where we hit my difficulty in decision making—a full titanium option for +$150 or a carbon fiber handle for $100.
6) Liner time. Black or satin work better with your colour scheme?
7) Same question for your axis lock/screws/clip.
8) Small but important decision—thumb lug and spacer. 10 colour options here and in my opinion one of my favourite parts of my knife as designed (more on that later).
9) Last part, and I didn't get to add this due to my blade choice (as you'll see) but I certainly played around on the site trying different options—the blade can be laser marked, either text or an image! What a cool way to personalize it. I wish this was around when I got married. I'm imagining a personalized knife as a groomsmen present. A work holiday bonus. There are so many scenarios where I think this would make an awesome present.
All told there are hundreds of thousands of possible combinations across the different models without even considering the laser marking!
Now on to the review of the Bugout that I designed and I'll walk through why I made the choices I did.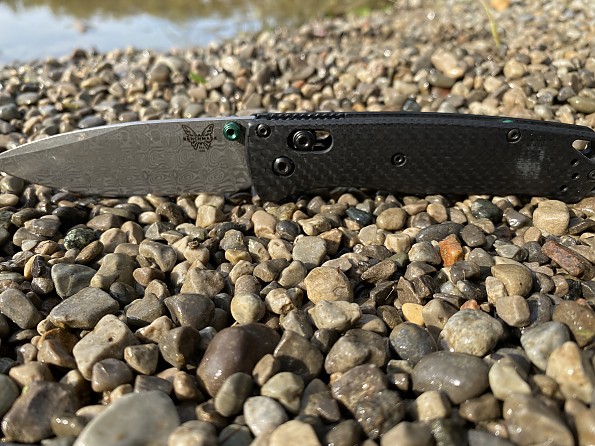 The first choice was easy for me. I have previously owned a Bugout and enjoyed it, but like many other Bugout owners, I saw room for improvement. Don't get me wrong I think it's a great canvas to begin painting per say, and for the baseline price offers a lot of value, but I saw many opportunities to improve it. 
The choice to go with the standard drop point blade without any serrations was a pretty easy one for me. I much prefer a well designed classic drop point as I find it far more versatile, easier to sharpen, and more often, a cleaner cut.
Now into the meat and potatoes...the engine that drives the car, if you will—the blade steel. In the end it was really only between two options, the S90V and the Damascus. Now, S90V for all purposes is pretty much a super steel, going an incredible amount of time between sharpening as well as amazing wear and corrosion resistance. It's pretty much the Avengers assembling for an EDC/backcountry carry. So why did I not choose it? Sometimes a pictures is worth a thousand words...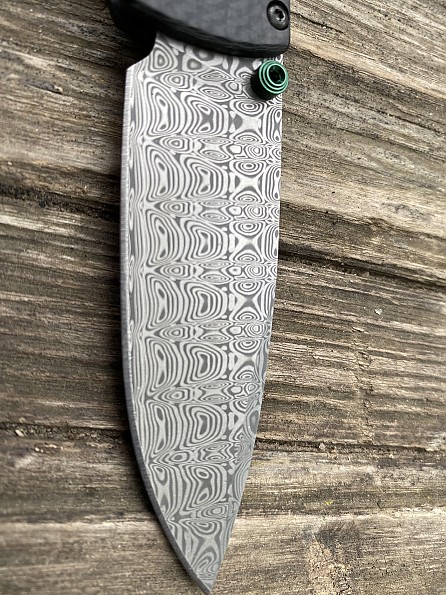 Now onto the second most important decision—handle material. Again, I only had a hard time deciding between two, the titanium and the carbon fiber. As I mentioned above, I think it's best to show rather than tell here..
I do think it's worth mentioning here that I was concerned about how these two (blade steel and handle material) would look together from a visual perspective. Both of my choices are quite flashy and I worried I'd run the risk of them washing each other out. I regret nothing.
Axis/screws/liner I went with black for all as I didn't want to distract the eye from the CF at all, or break up the lines visually. Same thing for the pocket clip, gotta go black.
The thumb lugs and back spacer may be one of my favourite choices. I am a sucker for green. Forest green specifically, like a beautiful spruce tree, not so dark that we approach the weird army/camo green, but not so light we're into lime and neon green territory. Especially because I went with a black/grey colour palette up to now, this was the perfect place to add, dare I say, a "pop of colour"? In a knife that is quite visually stunning these accents stand out, which is saying something.
Now on to the software. I could sit and play designer all day long...I still do, even after having ordering my knife months ago. Having a full 3-D mock up in front of you, being able to rotate to see the changes you just made? Incredibly addictive. It's a problem if you're indecisive like me. Build one, love it. Build another, love that one. Repeat until you die. 479,760 different design options for the Bugout alone. One of them is bound to draw you in.
BUILD QUALITY
First off, it's worth noting that I received the exact knife I ordered. I'd imagine from a logistics perspective offering a custom program would be a bit of a challenge for any business, let alone with the amount of variables at play here. 
Now to the knife itself. Out of the box this thing came razor sharp. No need to sharpen or strop at all, just grab and go. The centering is spot on perfect, the grind is even on both sides and the machining of all parts is free of any rough, or hot spots.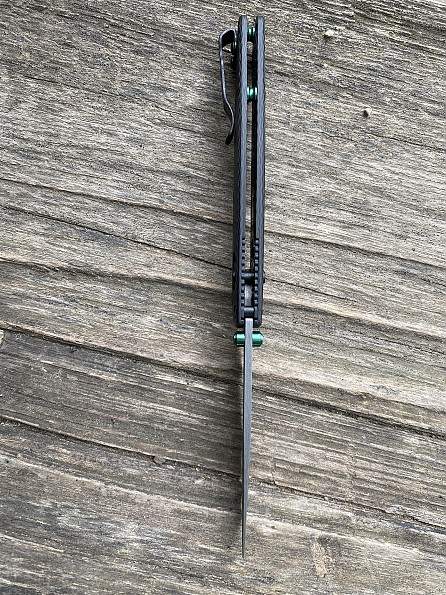 The Axis lock was initially a little stiff, however it didn't take much more than a week of fidgeting to get it to a snappy open and a drop close. It locks securely with zero blade play at all.
There are no rough edges in the machining, the materials used are all top notch (this is dependent on your build decisions, I guess, because I found the plastic handles on my previous Bugout a little too flimsy) and the blade finish was flawless.
DURABILITY
I've carried this knife everyday since I received it, 15 weeks ago. My poor other knives are wondering what's going on. I have dropped it, it went through the wash once by accident, carried it for 105 days straight and brought it on numerous day hikes and camping trips.
The fidget factor of this one is also high, so it's been opened and closed probably nearing a thousand times. The Axis lock has been broken in nicely and I would say has actually gotten better, so no worry about wear there. The blade still opens with a snappy action and feels secure when locked in place. I have intentionally not sharpened the blade yet to check on the edge retention.
Now, I haven't hit it off any rocks or anything, but it has been used for the standard tasks—cutting open boxes/amazon packages (I own a business so there's plenty of these to go around), cutting up fruit and quick prep meals while hiking, cordage, around the house and in the garden, etc. It definitely could use a touchup, but it is still more than serviceable, especially when compared to the factory edge it came with.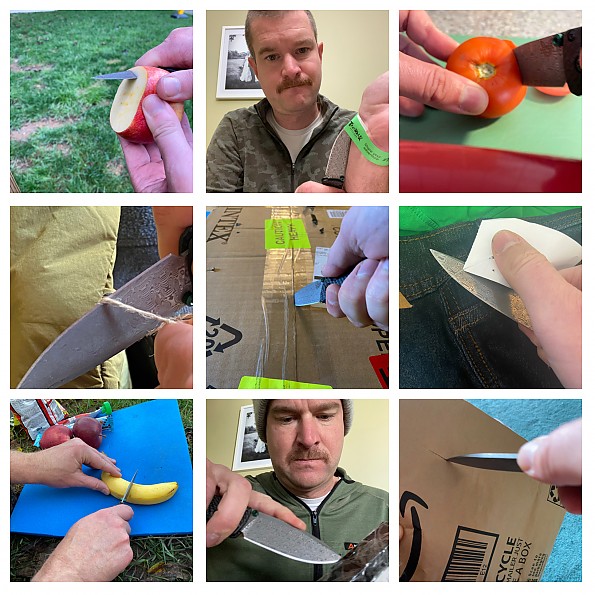 The only difference between the day I got it and now is in the carbon fiber handle. My jeans have a small interior pocket on the left-hand side (where I always carry my knife) which is zippered. The pully on that zipper rubs against the handle of the knife and has worn away some of the epoxy leaving some scuffing. It's not the end of the world and it's purely cosmetic, but it does affect the aesthetics.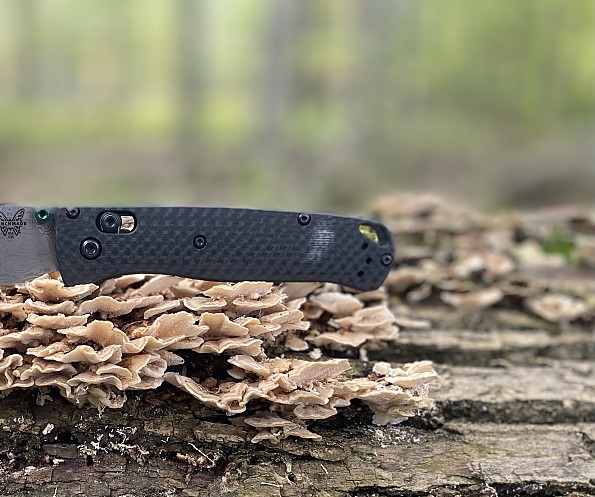 GRIP/HANDLE
Heavily contoured handles are often very comfortable, but usually in limited positions. A simple, well designed handle absent of heavy curvature /cut-outs/fingers grooves, etc lets you dictate how to hold the knife, not the other way around. I most often find myself using a pinch grip, but it's equally as comfortable choking up for smaller tasks, or reverse grip on those pesky larger boxes.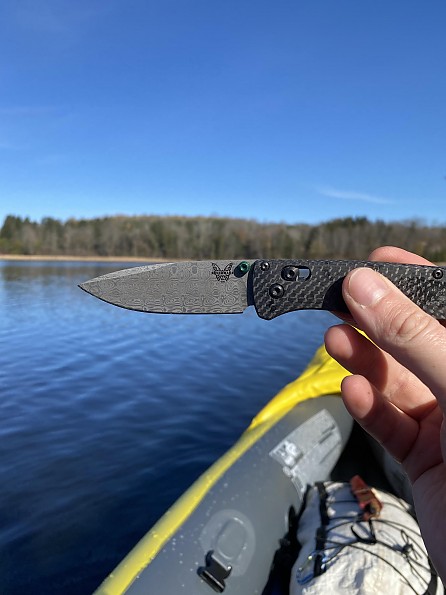 I was concerned about the carbon fiber handle being slick, especially when wet, but even without much texture to it, it is still relatively grippy. The Bugout having a full sized, four finger, handle size definitely helps in this regard.
BLADE STEEL
I admittedly made some sacrifices in choosing the damasteel over something like an M4 or S90V. Sacrificing some edge retention, and possibly some long term durability, for the beauty of this steel was difficult. I have not for one second regretted it though.
I have been very careful in keeping the blade dry, or drying afterwards if it gets wet to avoid rusting as I am not sure of the stainless percentage of the steel. I have had it out in the kayak, cut food, done work in the garden, etc, all of which have exposed it to some level of moisture and with a little care the blade has been completely fine with it.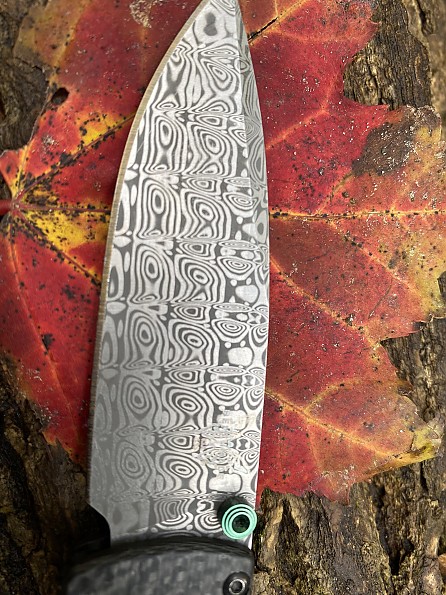 The drop point blade is thin and extremely slicey and as a bonus extremely light for those backpacking trips where ounces matter but you still need a blade. Usually a choice would have to be made—small, but light knife or lug in something a little larger, but actually useful. This Bugout smashes that conundrum, giving you a mid-size, full function blade at minuscule weight.
OTHER
Carabiner loop is built into the handle design and actually large enough to accept one (I find most manufacturers include one just to say it's there and it can't actually fit any carabiner).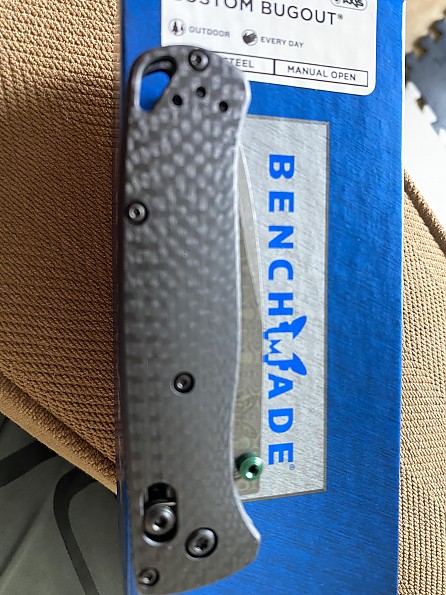 Deep carry pocket clip lets you discreetly tuck it away. I don't need to advertise my pocket knife when picking the kids up from school, at the mall or a local playground. It is also reversible and when combined with the Axis lock makes this knife completely ambidextrous.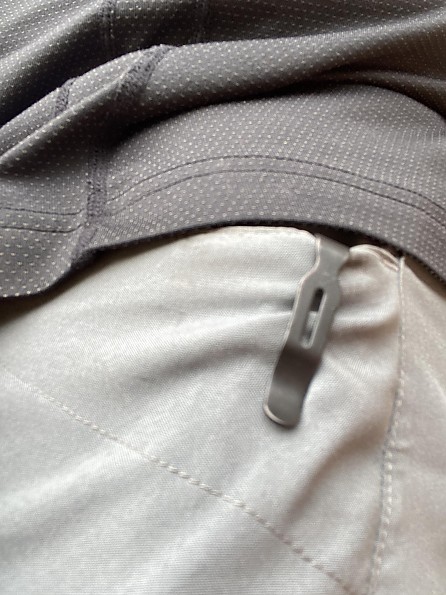 Lifesharp guarantee. Benchmade has a service where they allow you to send in your knife at any point in its lifespan to have it cleaned, oiled, and sharpened...for free. That's definitely standing behind your product and providing next level customer care.

Ambidextrous thumb studs or the axis lock can be used to open the knife giving you multiple options. On a personal note, local knife laws here in Ontario don't allow for any spring assisted opening blade, so I'm happy the Bugout comes without. 

Made in America. Benchmade is pretty transparent about which models are made domestically/made in the US with internationally sourced steels/ and which models are not.

As built, my Benchmade Bugout costs $475 USD. Obviously that is on the upper end of folding pocket knives, price wise, and some may scoff at the price. Hence why I like the custom option so much! You could build a model anywhere in the range of $175, at the lowest, to $525, at the highest, end. There are of course stock Bugouts as well, with different blade options and handle materials.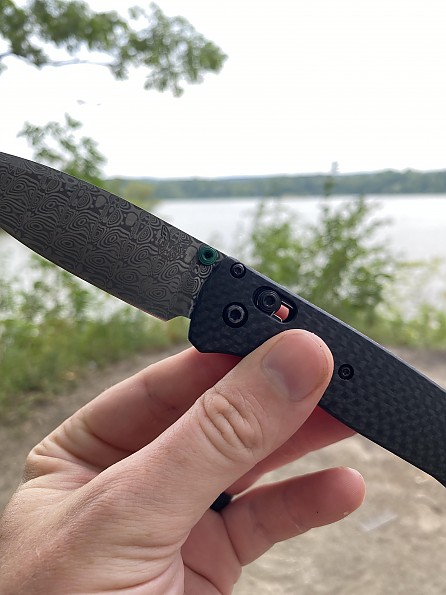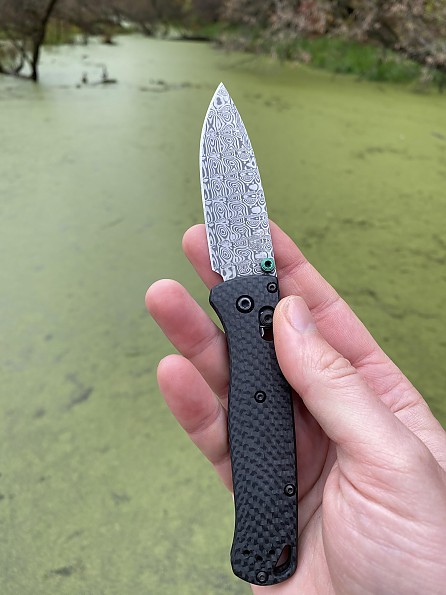 CONCLUSION
The Benchmade Bugout is well known already. Chances are you already own one or have at least handled it and as such this review focused more on the custom options. The model I have built is incredibly light, versatile (for both EDC and backcountry uses), disappears in you pocket (while still offering a large cutting edge), has great edge retention, a comfortable handle and well, if I do say so myself, is incredibly good looking.
I would like to thank Benchmade and Trailspace for the opportunity to test the Bugout!
Background
I have owned and carried pocket knives for as long as I can remember. My uncle is a famous knife maker and I can remember being little and going out to his shop for a "knife safety" test as a kid.

I have previously owned a Bugout before but unfortunately forgot it at a campsite during a trip a couple years ago. This customized model has been used and carried for 15 weeks in Ontario, Canada, both as a backpacking/camping, as well as an EDC, blade.
Source: received for testing via the Trailspace Review Corps (Sample for testing and review provided by Benchmade)

Your Review
Where to Buy
Help support this site by making your next gear purchase through one of the links above. Click a link, buy what you need, and the seller will contribute a portion of the purchase price to support Trailspace's independent gear reviews.
You May Like
Specs
Price
Current Retail: $162.00-$297.99
Historic Range: $119.99-$750.99

Designer
Benchmade

Mechanism
AXIS

Action
Manual-opening

Blade Steel
CPMS30V / 58-60 HRC

Blade Length
3.24 in / 8.23 cm

Blade Thickness
0.090 in / 2.29 mm

Open Length
7.46 in / 18.95 cm

Closed Length
4.22 in / 10.72 cm

Handle Thickness
0.42 in / 10.54 mm

Weight
1.85 oz / 52.45 g

Recently on Trailspace