Bergans Glittertind 55

Top 50 in men's Weekend Packs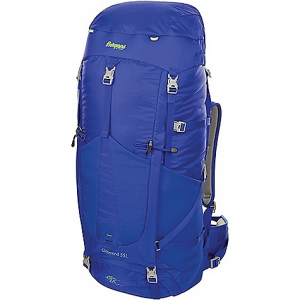 Specs
Price
Historic Range: $139.95-$239.00
Reviewers Paid: $205.00

Reviews
1

review

5-star:

0

4-star:

1

3-star:

0

2-star:

0

1-star:

0
More than any other that I've tried, this backpack seems like it's part of your body.
Pros
Comfort
Compact, "tight" design
Just-right packing space
Quality of construction
Cons
Could use more padding across the belly region
Hip-belt pockets would be nice
To work off a growing middle-age gut, I decided to get back into hiking and backpacking. I'd been a regular hiker when I was a teenager and young adult, but, like a lot of people, I started using my free time on other things as I settled into marriage and family life.
Though I still had most of my equipment, somewhere along the way my trusty Kelty pack had disappeared. When I started researching a replacement, I was amazed at the number of backpack manufacturers out there these days. Amazement turned into perplexity as I tried to choose one to buy.
My first new pack was an Osprey Aether 60. It's a sturdy, well-designed pack with a lot of padding and a lot of pockets, both of which I liked. Even though Osprey offers a good choice of hip belt and shoulder strap combinations, my first two trips — a three-nighter and a four-nighter  — showed me that either I hadn't picked the optimal strap sizes or the pack just wasn't well-suited for my physique. As much as I adjusted the straps or redistributed the weight in the pack, I wasn't able to get a really good fit. I worried that maybe my body was just too old to handle a pack full of equipment.
Figuring there must be something better, I decided to pass the Osprey on to a family member and resume looking for the Perfect Pack. This time, as I scanned the manufacturer descriptions and, especially, the owner reviews, I looked for packs that were known for their great fit. That's when I ran across Bergan's of Norway.
"Form-fitting," "doesn't slip when I bend over," "feels like part of my own body" — these were the descriptive phrases that caught my eye when I read about Bergan packs. So, I decided to take a chance on a pack brand I'd never heard of and a model name, Glittertind, that I wasn't sure how to pronounce.
The Glittertind pack itself seems a lot more compact than the Osprey. The Osprey is covered with straps and buckles, which could be a great thing if you're transporting a lot of poles or tripods or weather station equipment. In my case, I really didn't need or want to haul a lot of gear through the woods; I needed a sturdy pack that holds my stuff as comfortably as possible. The Glittertind is exactly that.
When I put on the pack empty, it felt fine, though not any different from other packs I'd tried. But when I strapped it on with 35+ pounds of gear, I could tell it was different. This is more than a happy coincidence. The Glittertind has an internal frame that seems to mimic the human spine's vertebral system.
In other words, it's jointed in a way that permits complex movements of the body without sacrificing stability or support. From what I've gleaned from Bergan's lab reports (yes, they have a test lab), it's built around a system of springs — I'm thinking leaf springs, like underneath a pickup truck's frame, rather than coil springs.
Whatever they'd done, and I gather this company likes to try new designs, they've come up with something that really works. I can carry just as much weight in my Glittertind as in the Osprey, but it feels so much better. It's not like I forget that 35 pounds is there, but, since it's bending with me rather than forcing me to fight it, it's a lot more manageable. If I lean forward going up hill or tilt back a bit going down, or especially if I bend over to adjust my boot laces, that mass on my back conforms much, much better to my body. I feel much more balanced.
That has made all the difference for me. The only things I miss are those nice hip-belt pockets that the Osprey has. I really liked keeping my pocket knife and a few other such things close at hand. Also, the connector part of the hip belt is not padded. It sort of gets me right in the gut, but I find I can shift it up or down and tolerate it with no trouble. And, thanks to frequent hikes, I'm seeing that gut start to disappear, so maybe it won't be a problem much longer.
UPDATE THREE MONTHS AFTER PURCHASE 8/14:
After three months, I'm still singing the praises of this pack. In training hikes of 5-7 miles up and down local hills, I've gradually increased the load, just to see how it manages it. This pack continues to be the most comfortable pack I've used.
I didn't give a good description of the pack's excellent suspension system, as I don't know enough about such things to comment. But I see that the company describes it as the "Spine" suspension system.
Here's what the manufacturer's site says about it: "A double helix-shaped frame in spring steel is the core element of the SPINE carrying system. What is unique about this design is that the carrying system is fastened to the rucksack at the centre of the back panel, whilst the hips and the shoulders can move freely. The carrying system quite simply moves just like your own spine."
One thing I failed to mention above is the included rain fly. That's a $20-30 bonus right there.
Also, other than the lack of hip-strap pockets (which I miss *so* much, Mr. Bergan), it's got all the storage space, slits, slots, and pockets that I could want. 
Source: bought it new
Price Paid: $205

You May Like
Recently on Trailspace