Bergans Torfinnstind Jacket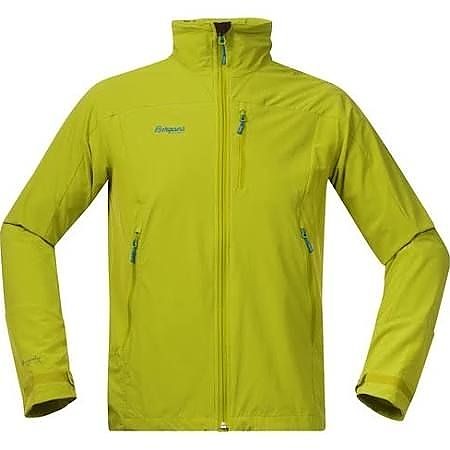 The Torfinnstind Jacket is a soft-shell hybrid that provides comfort and stretch while repelling wind and water. Whether hiking, mountain biking, snowshoeing, nordic skiing, alpine skiing, or backcountry ski touring, the Torfinnstind has been my most consistent outdoor adventure companion throughout the fall and winter months this season. This versatility across climate and sport earns it a consistent home in my pack (on the rare occasion in which I'm not already wearing it when I leave the house).
Pros
Lightweight
Packable
Wind and water resistant
Breathable
Versatile
Cons
I'm not a fan of the available color options
Testing Conditions:
I tested the Bergans of Norway Torfinnstind Jacket from late October 2015 through January 2016 as a member of the Trailspace Review Corps. I primarily wore the jacket in and around the White Mountains of northern New Hampshire. Temperatures during this period of time varied remarkably, ranging from 60 degrees Fahrenheit to -5 degrees.
Taking the Torfinnstind for a hike!
...and a mountain bike ride (in December!)
Comfort and Fit: 
I'm 5'4" with a small upper body and relatively short torso (15.5"). I'm usually a solid extra small when it comes to outerwear tops, but ended up testing a size small due to availability. In this case, I'm glad for the extra wiggle room as the jacket has a slim fit. I'm able to move my arms about freely thanks to articulated elbows and flexible soft-shell fabric.
Providing extra length in the arms and back of the torso, the Torfinnstind allows for easy movement and protects me from being bitten by the cold when extending my arm as I pole, or bending down to adjust my snowshoes. There are Velcro tabs at the wrists, which allow for easy adjustment.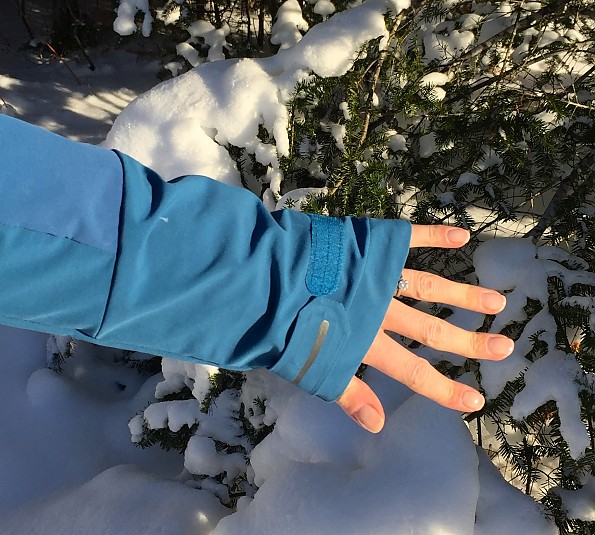 Velcro adjustment tabs at wrists
It's a bit long in the back for me, but this is easily corrected by synching the elastic cord that runs along the hem. The front of the torso is shorter than the back by about 4 inches and is the perfect length, fitting comfortably beneath my hip belt without being so long that it restricts access to the front pockets of my pants.
The Torfinnstind's front pockets are designed to not interfere with the hip belt of a backpack. I've found that the pockets sit a bit low. However, I blame my short torso as I believe this would not be a problem for someone of average torso length.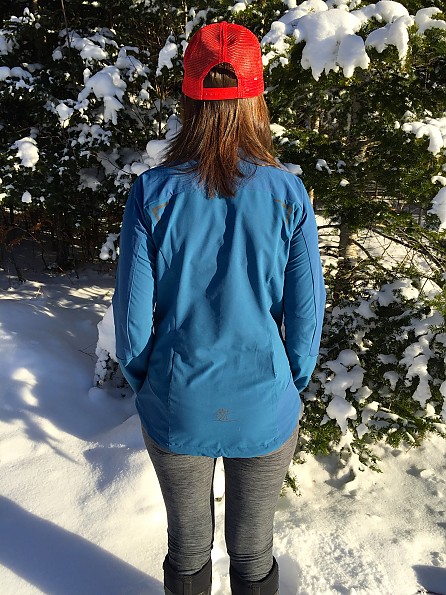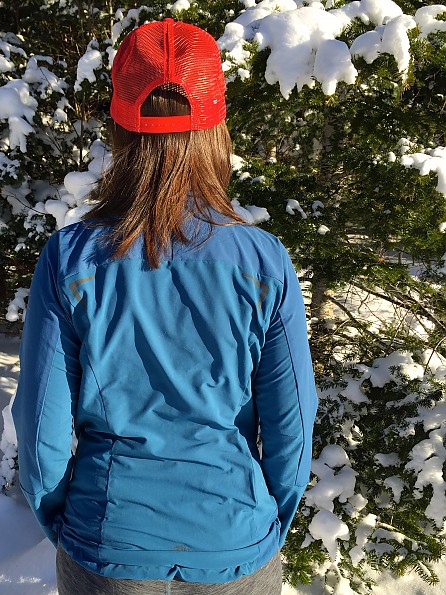 Back of jacket showing length synched and unsynched

Front view with pack—waist belt overlaps pockets a bit.
The Torfinnstind is composed of two fabrics, balancing comfort with the need for protection from the elements. Let's begin with comfort, which in this case comes in the form of a polyester spandex blend that offers four-way stretch. This material is expertly placed along the underarm, and mid and low back, providing me unrestricted movement while hiking, snowshoeing, mountain biking, and skiing. While the demands for movement vary drastically across these activities, I consistently felt at home in the Torfinnstind.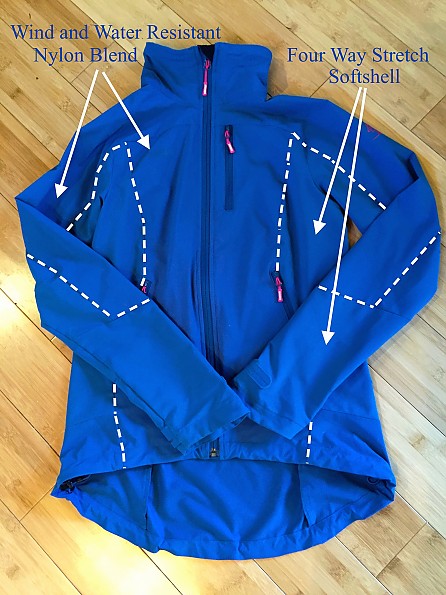 Wind and Water Repellency: 
The other type of fabric incorporated into the Torfinnstind is a nylon spandex blend, which provides protection without sacrificing ease of movement. It lines the portions of the jacket most typically exposed to the elements- the front, the top of the arms, and the upper back. While it's certainly not waterproof (nor advertised as such), the nylon blend offers decent wind resistance. It also allows water to bead off and light snow to shed rather than seeping into the fabric. I find this balance between comfort and protection sublime! 
Moisture Wicking: 
Another benefit of this hybrid softshell jacket is ventilation. The light softshell fabric is breathable, while the nylon blend repels water. The Torfinnstind does not include underarm vents, but allows one to dump heat through the two front pockets and chest pocket, all three of which are lined with mesh. Another obvious option for releasing moisture is unzipping the front zipper. Wearing the Torfinnstind in temperatures up to 60 degrees Fahrenheit, I had no issues with overheating.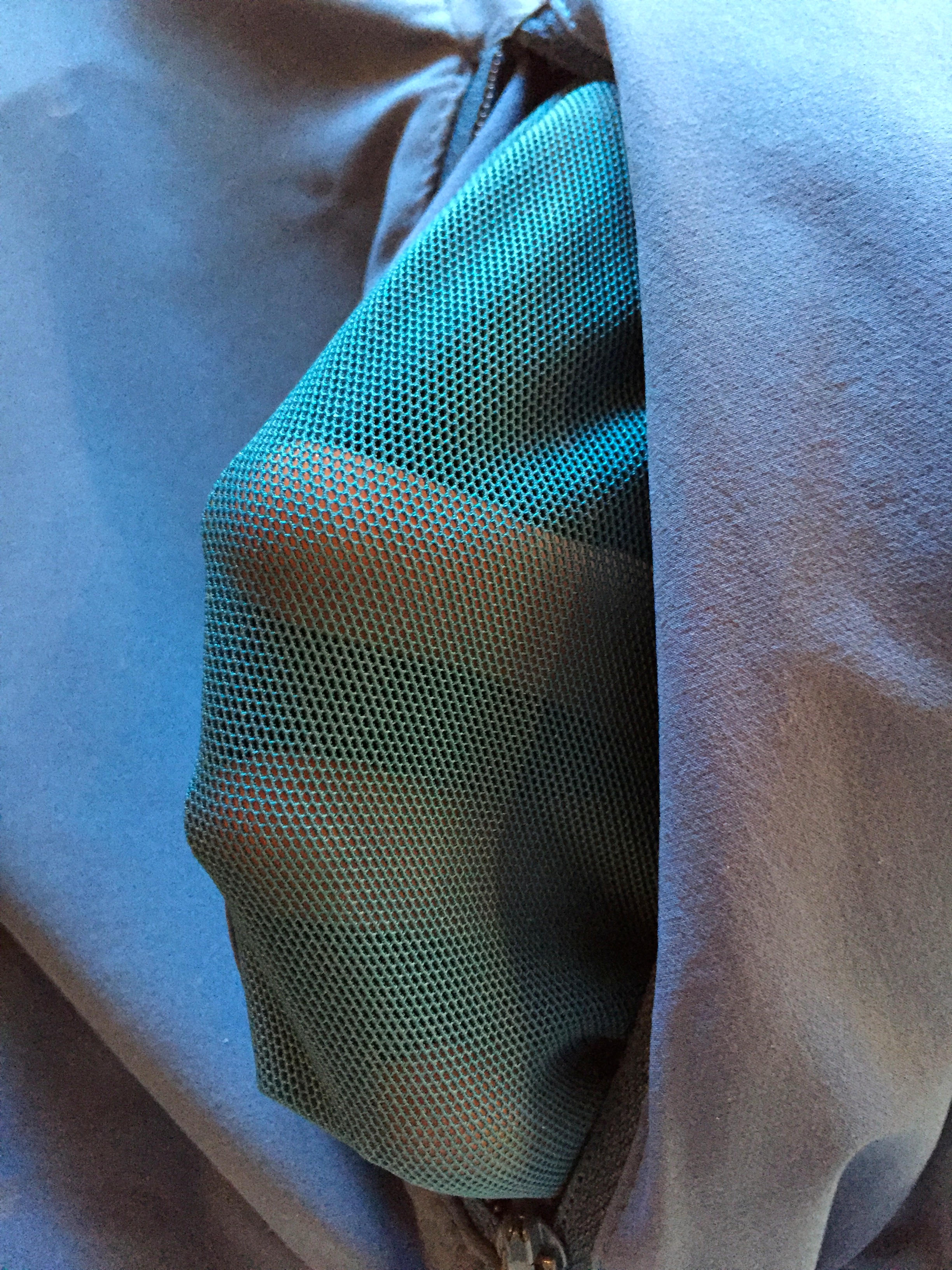 Front pocket mesh liner
Chest pocket mesh liner (from inside jacket)
Insulation and Layering:
Being a lightweight soft-shell, the Torfinnstind is limited in its insulating capacity but layers well. I find that layering and insulating preferences vary drastically depending upon activity, weather conditions, and personal comfort. I tend to run cold, even during high-intensity activities. However, I'm used to going outside in the cold temperatures associated with winter in northern New England.
When the weather is warmer (30's and up) or if I'm doing something more high intensity like skate skiing, the Torfinnstind works well as an outer layer for me with a short-sleeve and/or long-sleeve shirt underneath. In colder temperatures (below 30 degrees) my go-to layering system has been merino wool base layers (a tank and long-sleeve shirt) with either a down vest or a hardshell jacket as outer layers. I'll layer the vest and the hardshell over the Torfinnstind if I'm alpine skiing or if the temperatures are really cold (below 0°). 
Packability:
Being a lightweight softshell jacket, the Torfinnstind takes up very little real estate in my pack. According to the Bergans of Norway website, the women's medium weighs just 305 grams or roughly 10.8 ounces (men's large is reported to weigh 360 grams or about 12.7 ounces). I don't own a scale that is sensitive enough to confirm this, but can attest that the jacket is extremely lightweight—barely noticeable in my pack.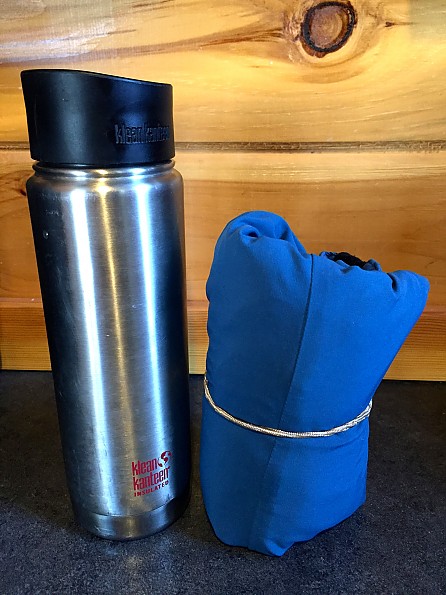 Side view of jacket compressed next to 20oz insulated water bottle
Sport-Specific Design: 
The Torfinnstind is part of the Bergans of Norway Slingsby collection, specifically designed for ski touring and mountaineering. I've found the Torfinnstind to be a reliable softshell layer when ski touring. It allows for ease of movement while offering wind and water resistance. It's easy to layer and is lightweight enough to be stowed away in my pack without bogging me down.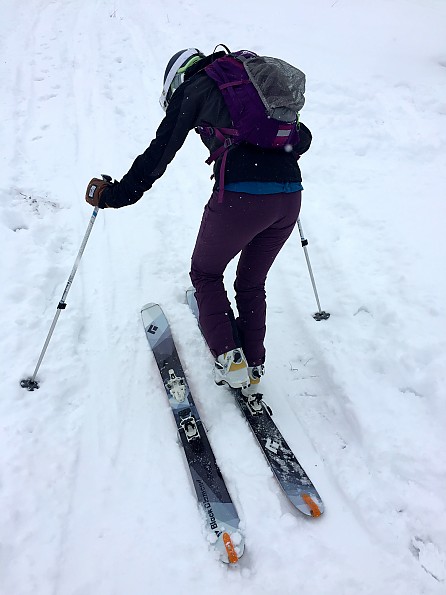 Clipping in for a short backcountry climb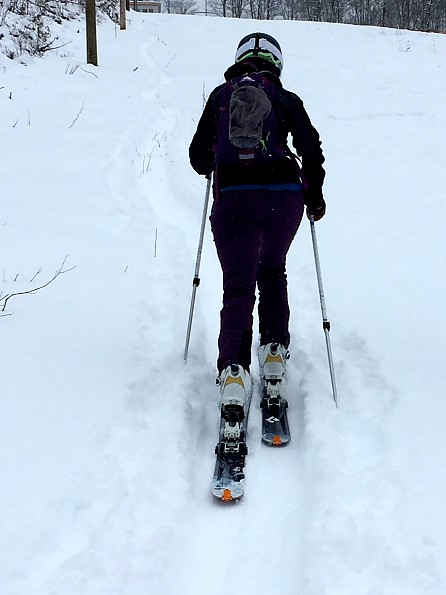 ...and climbing! You can't see it, but I'm wearing the Torfinnstind under my shell


While this is purely a matter of personal preference and clearly has no impact on the quality of the product, I will say that I'm not thrilled with the color. The blue is nice, but I could do without the pink accent. The only other color option available is hot pink with plum (purple) accent. Why do so many outdoor gear manufacturers insist upon pink as the central unifier for all things designed for women?
At least Bergans had the wherewithal to use pink as the accent rather than the main event in at least one of the color options, but honestly, why the overrepresentation of pink amidst all the other colors in the spectrum?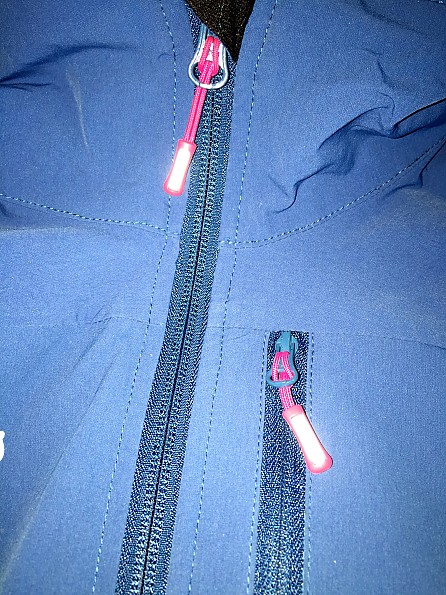 Pink accent on zippers
Wear: 
Over the three months I've spent testing the Torfinnstind there have been no obvious signs of wear. This is impressive given that I've worn it almost every time I've ventured outdoors. Seriously, I don't think this jacket has had a day off since I received it in October!
Other softshell products I've owned have been prone to pilling in areas that tend to endure a lot of friction, such as the portion beneath the waist belt of my pack. I'm happy to report that despite use across a variety of sports, strapped under a plethora of packs, the Torfinnstind is pill-free.
Side view of jacket with pack
Laundering instructions suggest to wash separately in cold water. I tend to wash my outdoor gear together in one load (so as to conserve precious and somewhat expensive tech wash detergent). I found no signs of wear associated with laundering, even when washed with other items. No obnoxious odors in the fabric. It isn't suggested that the Torfinnstind be placed in the dryer. Due to the nature of the softshell fabric, it air dries quickly.
Price: 
The Torfinnstind retails for $169, which is toward the higher end of the price range compared to other softshell jackets on the market. I certainly don't see the price as exorbitant, but it is certainly a factor to consider given that there are less expensive options out there. Personally, I find that the quality of the product justifies the price.

Overall Impressions: 
I judge the quality of my outdoor gear on two conditions: (1) how often I find it either in my pack or on my body and (2) whether or not I tend to notice it when I'm outside. As far as I'm concerned, gear is meant to be used (otherwise you're simply donating to the "occupy closet space" movement) but not noticed (being noticed is the job of the great outdoors). I've worn the Torfinnstind so often that the other soft-shell jacket I own (Ferrosi Hoody by Outdoor Research) hasn't seen the light of day since last summer.
While I love my Ferrosi, over time I've noticed it losing its shape a bit and starting to pill. Granted, these issues didn't appear until I'd owned the Ferrosi for more than a year, so while I've noticed no such signs of wear in the Torfinnstind at this point, I haven't worn it long enough to make a true comparison.
What I can say is that when wearing the Torfinnstind my attention is not on how unrestricted my movement is, or how warm, dry, and comfortable I feel. I'm free to simply enjoy my time on the trail.
Thanks for Trailspace and to Bergans of Norway for the opportunity to test this product. Happy adventuring!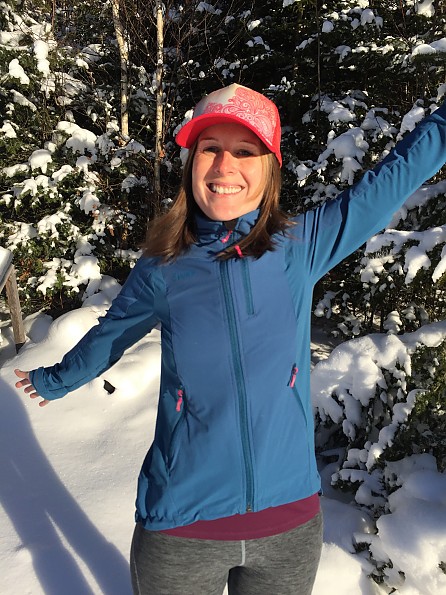 Source: received for testing via the Trailspace Review Corps (Sample provided by Bergans for testing and review)

Your Review
Where to Buy
Help support this site by making your next gear purchase through one of the links above. Click a link, buy what you need, and the seller will contribute a portion of the purchase price to support Trailspace's independent gear reviews.
You May Like
Specs
Men's
Price
Historic Range: $84.48-$168.95

Women's
Price
MSRP: $169.00
Historic Range: $49.99-$168.95

Weight
305 g (size M)

Recently on Trailspace