Bibler I-Tent

Bibler is no longer in business, and the I-Tent has been discontinued. The Bibler I-Tent was renamed and is now called the Black Diamond I-Tent.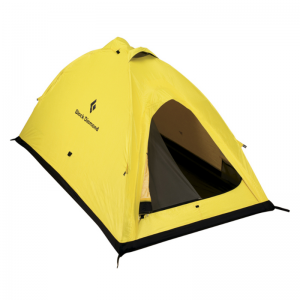 I bought my Bibler I-Tent about 20 years ago and have used it only for my high mountain winter trips. These are typically two weeks on the top of some US mountain in winter.
If you could see my I-Tent today you would not be able to distinguish it from a  new one except that it does not carry the Black Diamond name on it.
I am all of 6'2" tall and use it with my overstuffed -40 plus Marmot Penguin down sleeping bag. Which also looks brand new BTW. I find the I-Tent perfect for my size. It has seen wicked hurricane force winds on Mount Washington in February and held up like a champ.
I almost got to see if it was avalanche proof once, but the avalanche stopped 20 feet short of my tent. I have some 10 or more tents and this one is my favorite.
BTW, I believe I paid around $520 dollars for it around 1990, so it is a good deal today in the high $500 range.
Price Paid: $520

I luv the ease of setup. Have only misplaced the pole placement once during setup and poked a hole in floor. The freestanding feature and relatively small footprint allows me to setup in small spaces as well as easily move my I-tent after setup if an annoying rock or too much slope is discovered after setup.
I do have to say that the condensation problem is annoying even with a 2-door model.
I recently had some liquid hand soap spill on my on my door flap and the rain causes a leak.  I am not sure it is the liquid soap causing the problem or I need to seam seal the seam above and below the zipper for the door flap. I have rinsed the door flap with cold water trying to get the soap out.   Has anyone else had a liquid soap spill on their tent and were able to get it out? 
OR
Does the liquid soap cause the Todd-tex to lose its waterproofness? If the waterproofness is lost does anyone have suggestions for stopping a leak on a small portion of the door flap?
I am currently on vacation in the Annapolis, MD, area and plan to seam seal the seam near the door flap today..  I will probably have to setup up on the inside to allow plenty of time for seam seal to dry as we expect more thundershowers today.
BTW, does anyone have any experience using the isopropyll (sp?) alcohol to clean seams (tent) before using the seam seal?  is the alcohol cleaning necessary?
I will report back on the success or failure of my efforts to re-waterproof my 10 year old I-Tent.
Price Paid: $450

Got this tent for a steal off of a buddy who was hard up for some cash. I'm six foot three so this tent comfortably sleeps me. Two people could sleep in there easily.
At first I was a little wary of the single wall design, but it absolutely proved itself when it stood up to a torrential downpour on the West Coast Trail on Vancouver Island, which is not exactly what the tent was designed for, but it did kick ass through. Just trace amounts of condensation on the walls, but much less than I had expected.
It is not ultralight by any means but that is not what this tent is about. this tent is about being a brick house that a nuclear bomb couldn't knock down.
I haven't taken it on any Everest style trips, but in high winds it doesn't flap as tents with a rainfly have done for me.
Ss someone previously stated, setup has to be done carefully for at least the first few times until you get the hang of seating the poles in the corner snaps, but once you got it down, it's a breeze.
Design: four season
Sleeps: 2
Ease of Setup: takes a little learning, but then it all clicks.
Weight: 4lbs 5oz's
Price Paid: $300

I've owned a Bibler I-Tent for a couple of years, having scored a great deal on a factory second. I'll echo the positive comments of other users. I will, however, caution that this tent was designed for winter/high altitude use which is all I use it for. It's great in such settings, shedding snow well with steep side angles, occupying a minimal footprint, taking high winds with gusto.
In my opinion (and from what I know of Bibler's promo materials) this is not really a great all around multi-season tent. If your intended use is a situation where it might rain? Not a great tent, there are many better and cheaper picks on the market, including some from Bibler. But if you are above treeline in the winter? This baby is your Ferrari.
PS: To maximize performance it's best to rig guylines, snow loops, etc. before hard core use.
Design: 4 season
Sleeps: 2
Ease of Setup: Easy
Weight: 4 pounds or so.
Price Paid: $300

Got stuck out on exposed plateau and had to set up. Tent design was quick and easy to set up solo, kept me dry and safe through monstrous winds, hail and rain that came in every direction. Some condensation, but it was extremely cold and very wet out, so I'll put up with that - nothing a towel doesn't fix.
Bibler is a bit cheap with crappy guy rope (not enough of it, and a nice stealth black that I always trip over), stingy with stakes - not enough to stake out fully, and crappy stuffsack.
Be very careful if you have gear inside your tent that when it flaps (and it does and is just as annoying as a second layer of fabric despite Bibler's claims) that it don't poke a hole through the fabric. Attached (optional) vestible is pretty much useless in windy situations. It acts handily as a large parachute, and will happily fly away at the least provocation.
Overall, very happy with the tent, saved my arse!
Design: Four Season, single skin, freestanding
Sleeps: 2
Ease of Setup: Quick and simple, even solo in huge winds
Weight: 2kg Dry 3kg+ wet
Price Paid: $AUD 900

Bought the Bibler I-Tent after having a North Face Northwind singlewall tent leak on me. I was dubious at first about buying another singlewall but was assured by Bibler's ads that their tents were 100% waterproof. There appeared to be no other tents small enough and light enough that offered the 4-season usage that I was looking for
At first I was very impressed with the quality and thought everything was ok. After one rainy trip I suspected that the tent might leak (not condensation, that I did expect). Again last weekend I was out in 18 hours of heavy rain and the tent leaked badly, large pools of water in the corners.
I came home dried the tent and put it under the lawn sprinkler and it leaked again.
I have sent it back to the Mountain Equipment Coop in Vancouver, B.C., and I am waiting their decision.
I can't really recommend Bibler. it is not the quality of tents that I expected. I am disappointed it failed me.
Design: singlewall freestanding
Sleeps: 2
Ease of Setup: easy
Weight: 4
Price Paid: $670 CDN

This tent is light and quite sturdy. Care must be taken when first inserting the poles to make sure they are seated in the reinforced corners before tensioning. The rest of the floor would be easily ripped by a tensioned pole. Ventilation is quite good with two door model. Air flows right thru. If you are tall, this is not the tent for you. Get the Eldorado model instead. My long sleeping bag has to bend 90 degrees to the side for the last foot of the bag too fit inside. I would not want to be stuck in this tent for a long storm with two people. It does however provide alot more protection for 2 people from weather than comparable bivy sacks for about the same weight.
Design: Single Wall
Sleeps: 2
Ease of Setup: Easy
Weight: 4 lbs
Price Paid: $175

The tent is well built, easy to put up, strong. But it's not perfect....
In weather around the freezing point you will get a lot of condensation on the poles that will make a puddle in each corner.
Again in the same situation of high humidity and near freezing temperature (especially with not much wind), much humidity will also develop on the inside walls. Nevertheless you stay dry because the material absorb it quite well, so well in fact that if you have to take down the tent early before it can dry in the morning sun you will end up with a tent that no longer weight 5 lbs but 7lbs.
Design: freestanding dome
Sleeps: 2
Ease of Setup: easy
Weight: less than 5 lbs
Price Paid: $500

As an all around mountain climber I have found the Bibler to be one of the best tents I have ever seen or used. I have used many and found this to be great for its purpose. not a roomy tent but that is not its purpose. for going into the mountains it is the best, buy a second tent for car camping. I was amazed at the single wall effectiveness. My number one choice for an all around climbing tent.
Design: 4 season expedition
Sleeps: 2
Ease of Setup: about as easy as it gets
Weight: 4 lbs with evreything
Price Paid: about $600

Although it is pricey, it could very well be the last tent you purchase if you are in the market for a roomy one person or small two man tent (the Eldorado model is a larger version of the I-Tent). I would suggest you order it with 2 doors if you hike in a potentially wet and humid areas like the northeast (Adirondacks). It eliminates any ventilation problems for just a few more ounces of weight. The I-Tent is a bombproof mountain shelter, however, the light weight, ease of set up, waterproofness and cheerful color suites my backpacking needs very well.
Design: 4 season single wall tent
Sleeps: 1-2
Ease of Setup: Very easy to set up. Free standing, two internal poles.
Weight: 3 lbs. 12 oz.
Price Paid: $565

Your Review
You May Like
Specs
Price
Historic Range: $480.00-$549.95
Reviewers Paid: $175.00-$600.00

Recently on Trailspace