Bibler Tripod Bivy

Bibler is no longer in business, and the Tripod Bivy has been discontinued. The Bibler Tripod Bivy was renamed and is now called the Black Diamond Tripod Bivy.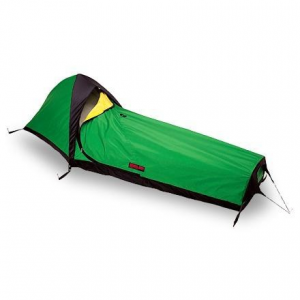 If you are in the market for a 4 season bivy, I wouldn't look for anything else. I'm not a giant, so I can't really speak to 6+ footers, but at a 5'8" and a 150 its perfect, and I don't really get near the bottom, unless I'm on a downhill (the floor is a little slippery for some pads).
There is plenty of room for boots and I pull my hydration bag out of my pack so I don't have to try and drink out of a cup, you can move around and read a book, or folded map, eat etc... unlike the true gotex bivy bags. Which is a nice compromise in my book.
This is a very well made piece of gear, I like to travel light, but not at the expense quality. If you like to buy SilNylon packs and throw them away every year this isn't for you.
Weighs in right about 2 pounds and change, and is at home in cold, wind and rain. I have camped in the snow and not needed to close up the ToddTex door to be plenty warm.
If you were going to be stuck in snow or rain for a long time, the door can let a lot of water and snow in while your getting in or out. I throw in a MSR E-Wing which I can use with my trekking poles to keep the rain out or cook with... you could argue that you might as well bring a bigger tent and have a vestibule, just depends on how you want to camp. I like the versatility.
There are a couple of down sides to this bivy: if your wanting to use it in the summer, its going to be to warm.
The other issue is that if you need to jump out in hurry to run off an animal or are worried about being a burrito for a bear... you may be to stressed out to enjoy this structured bivy.
I'm a very laid back guy and enjoy messing with my gear almost as much as the trip itself, so to have room to play with a GPS or read, out of the elements after a long day, I think it's a great shelter.
Design: four-season poled bivy
Sleeps: 1
Ease of Setup: First time set up do it at home.. took a few minutes of head scratching, but after that it just takes a few minutes and your done. Only uses 3 stakes.
Weight: 2lbs 4oz or so
Price Paid: under 200

Warm, stable, bombproof. Getting in and out is a bit awkward. Room inside for boots and a bit of gear, but not a pack. If I was going to be spending any time in it (stuck in bad weather) I'd probably carry the extra pound or so of the I-Tent.
Design: 4 season bivy tent
Sleeps: 1
Ease of Setup: Poles are a tight fit but I'm getting better with practice
Weight: 2lbs 4 oz
Price Paid: $300

Tough as nails and made of a fabric that just won't quit. If you're over 6', you must get a "long." Takes away the claustrophobia of a standard bivy, but still no room for gear, etc. Totally waterproof, especially when seam-sealed. I personally like a little more room, therefore the Tripod is for sale for $200.
Design: Solo
Sleeps: 1
Ease of Setup: Tricky to set up at first until "broken in."
Weight: 2.2 lbs.
Price Paid: $325

Your Review
You May Like
Specs
Price
Historic Range: $125.74-$174.93
Reviewers Paid: $300.00-$325.00

Recently on Trailspace