Biffy Bag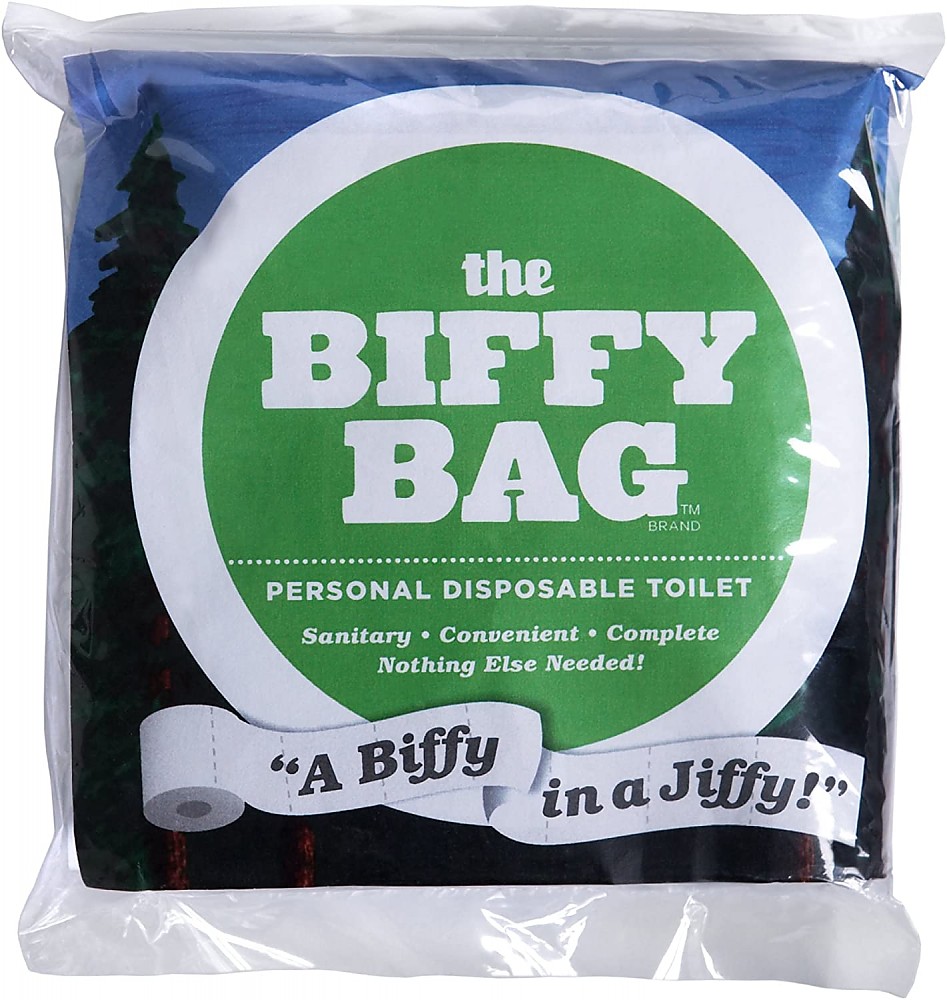 I am a weekend backpacker, enjoying solo excursions to a wilderness area near my home a few times a year. I haven't written a gear review before, because it seemed like everyone had already said it all about my equipment, but this product is so great, and I don't think many people know about it, I just had to write.
Okay, let's talk about poo. One of the questions inquisitive friends always ask is, "But where do you GO out there?" I explain that I spend some time digging a hole, fighting my way through roots and rocks, to get to the required depth, then just squat and go, covering up the hole when I'm ready to head home.
Being older (around 50) I can't get enough force behind those stupid little orange lightweight shovels, so I've had to carry this sharp garden trowel that weighs about a pound but has a saw blade edge and enough heft that it's effective. I still work up a sweat even in winter... Say what you want about being a wimp, but we'll talk when you're a fifty year old chick.
So I was tired of digging holes and I went on the web looking for a better way to go. LOL.
After some research I thought I'd give the Biffy Bag a try.
This product is great, as the previous reviewer noted. Works exactly as it is supposed to. It makes a kind of plastic container that you tie around your waist and pull out in front of you. Then you just squat and go. You put the "poo powder" that they give you in the plastic container, throw in any supplies you've used (it comes with plenty of toilet paper and a large wet wipe), tie up the plastic container, put that into the attached foil zip-lock, and you're done.
I've never had a problem with leaks. No stench. I even put any food garbage (like banana peels) in there so they don't stink up my pack either. I don't think you would have to, but I bring a trash bag to keep the used Biffys in, just for piece of mind.
It's a great design. At 3 bucks each (when you buy a supply) I find it well worth the price. I love the convenience of just throwing a few of these in my pack. I've taken the one pound metal shovel out of my pack, and I don't have to worry about running out of toilet paper any more.
Just Google "Biffy Bag" to find their comprehensive and informative website.
Oh, and shipping was fast and customer service was excellent.
Price Paid: $3.49

Understand the concept of PI/PO and the need to diminish human waste impact on popular recreation areas.
Pros
Small pre use size
Did not leak
Cons
Too much weight after use
Unpleasant odor
Excessive plastic used
Who poops in that position? Can't use item in the kimchi squat. Why all that non-environmentally friendly plastic? Unpleasant odor.
One of the joys of backpacking is realizing a diminishing weight to your pack as the trip goes on; this adds probably two pounds a day in weight due to the gel and waste together. We ended up just going on the ground and then shoveling it into the pack.
Eliminate the silly unnecessary plastic sumo wrestler tie around, create a better odor barrier, eliminate the weight gotten from the activated gel/liquid, and perfect the zip seal even more and it would be a good product.
Source: bought it new
Price Paid: $3.99 each

Not backpacker-friendly—too heavy after using; materials are too cumbersome for a "squat" position; smells for sure and not pleasant.
Pros
Pre-use packaging is light
After use and packing out—it did not leak
Cons
Too heavy after use, gel activation is heavy
Upon using, not environmentally friendly
Smells of chemical odors
It is not backpacker-friendly. It became extremely weighty after the gel was activated. It also just plain stunk.
And who poops standing up straight? To squat to use created all this excess material and does not allow your waste to fall into the package. This in turn created too much handling of my waste and what to do with all that waist-tying plastic material that did not serve according to the design?
I will not use this product again. After five days and five nights, I carried out a pack that was heavier than when I started!!!!
Source: bought it new
Price Paid: $3.99 each

Great product for backcountry camping. Small lightweight, helps keep the environment clean.
Pros
Small packaging
Very convenient
Includes everything needed
Having been a backpacker for several years now I have had a few occasions to have to answer the call of nature while out in the backcountry. Let me tell you that is an experience. I've been in weather so cold you can't dig a proper cathole, or in areas too close to water.   
So, after taking a Leave No Trace training course and hearing about this product I went right out and purchased a three pack. It's PERFECT for when out in the backcountry. You have everything you need to properly take care of and dispose of your 'business'. 
The packaging is simple and easy to use, the chemicals included help keep smells down, and the included wet wipe helps clean up afterward. I have used a cathole, and I've used an improvised freezer bag pouch, and let me tell you this is the best method for proper disposal of human waste in the backcountry.    
Source: bought it new
Price Paid: $9.99

The Biffy Bag is simply the best human waste bag or disposable toilet on the market today.
I have used the other waste bags, Restop2 and the Wag Bag. They are designed to be used with a bucket or commode to sit on. But if you have to spread them on the ground to use them they can get messy and difficult to use.
The Biffy Bag is designed to be used on its own without a bucket or commode to sit on, but works equally as well if you want to use a bucket or commode. It is the best of both worlds.
The Biffy Bag is very comfortable and sanitary to use . It comes with 2 straps that you tie around your waste. Then you pull the bag up between your legs and let gravity do the rest. I know it sound crazy but it works great. I think they have thought of everything. Ample toilet paper, over sized wet wipe for when you are done, odor proof transport bag and as they say peace of mind.
Drop the bucket and lose the loo all you need is the Biffy Bag. Check it out for yourself. www.biffybag.com. You will love it.
Price Paid: $3.49

Your Review
Where to Buy
Help support this site by making your next gear purchase through one of the links above. Click a link, buy what you need, and the seller will contribute a portion of the purchase price to support Trailspace's independent gear reviews.
You May Like
Specs
Price
Current Retail: $9.99
Historic Range: $9.99-$10.99
Reviewers Paid: $3.49-$9.99