Big Agnes Sunnyside 2

The Sunnyside 2 has been discontinued. If you're looking for something new, check out the best three-season tents for 2021.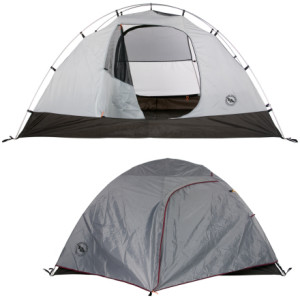 Specs
Price
Historic Range: $83.16-$202.27
Reviewers Paid: $99.00-$184.00

Reviews
5

reviews

5-star:

3

4-star:

2

3-star:

0

2-star:

0

1-star:

0
This tent has withstood the test of time!
Pros
Roomy
Fairly lightweight
Dry
Cons
Water drips into tent body when fly door is opened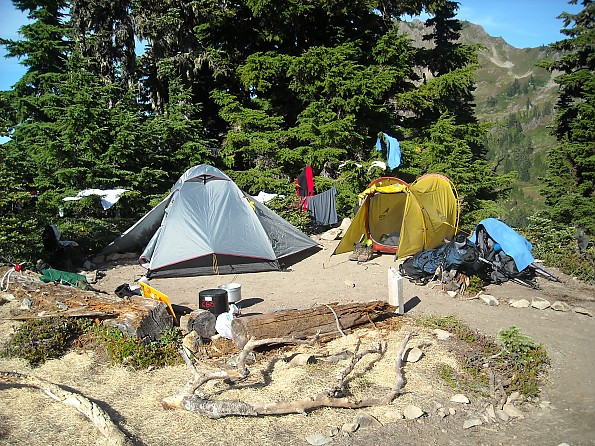 I bought this tent from REI outlet back in 2007 as an upgrade to some gear, along with the footprint. This tent as been used on overnighters, long weekend trips, and weeklong plus trips. It's been though 100 degree temps, rain, snow, wind and hail. You name it the sunnyside has seen it. It has never needed to be seam sealed or sprayed with Nikwax Direct. I hope it lasts another 6 years!
Then tent is plenty roomy for two 6' 3" people with plenty of headroom. It has a couple of pockets and a gear loft for small items you don't want to misplace in the dark. The fly is full coverage and fits snug to the tent, but does need to be guyed out in even mild wind, at least the bottom ends, they flap a little.
Both vestibles have plenty of space for packs and boots, and can be used to cook in if the weather is bad. The overhead vents can be popped up as well to vent the tent and unless a strong wind exists can stay open in the rain.
The only thing that is a little annoying is when it rains and you open the vestibule fly zipper, water can drip into the door edge of the tent body. This was a common problem with tents in the era though. I believe when BA discontinued this tent, the new model had a brow pole to keep this from happening.
This tent will stay in the gear bin until it literally falls apart!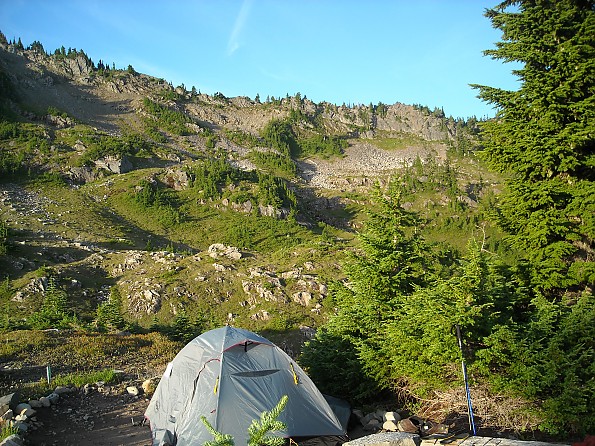 Source: bought it new
Price Paid: $99

Bought this on steepandcheap.. got a great deal.
This tent replaced a 4-lbs North Face Tadpole 23 that got stolen on a camping/climbing trip in Squamish, British Columbia.... (a LOT focking crackheads up there!)
But I digress - The Sunnyside... At just under 6 lbs it's a a little heavier than I'd like, but it's really spacious. AND it did a GREAT job keeping out the driving rain in Hawaii in February. I camped a few days at Volcano National Park, Ho'okena and at Black Sand Beach. The rainfly has a plastic window which was really nice since we'd wake up and look out at the ocean crashing on the beach just a few feet away :).
Overall I really liked this tent... I'm just over 6", no problem with the length or headroom... it comes with a gear loft and a few pockets which are nice. The two vestibules were great for my partner and I to store our packs and stinky shoes.
It set up VERY easy and quick, there were no instructions with my tent, but it still only took a few mins to set it up the first time... it's pretty obvious where things go - 4 corners and clips for the poles (this doesn't use a sleeve system).
It stayed put and stayed dry ~ Excellent.
My ONLY REAL issue with this tent is the fly is a little big for the setup. no matter how I tied the guy-lines or staked it out.... the fly was STILL kinda loose. No biggie for how I've used the tent so far; but i can imagine in high winds that it would really flap a lot and i don't know if rain will become an issue eventually. we all know that if the fly touches the tent body - someone's getting wet. Maybe that's what happened for one of the earlier reviewers who mentioned water entering the tent.
Overall - this tent is a great deal since i paid so little for it. It is a special-buy tent, which means that Big Agnes doesn't sell it as a part of their line up (though i think I found specs on their website somewhere).
I would recommend this tent to anyone who's tall and who wouldn't mind an extra pound or 2 in their packs.
Even though I was really too tall for it - I do miss my North Face Tadpole 23 though. Bastards!!
Design: 3-season free standing dome
Sleeps: 2
Ease of Setup: very easy - 4 corners and pole clips
Weight: sub 6-lbs
Price Paid: $120

I received this tent as an xmas gift in '06. I live in Hawaii, but this tent has been to Haleakala on Maui (10,000 ft elev) and withstood freezing rain and wind there. Been to Olympic National Park in WA, withstood gale force winds (with rain) at Ozette, withstood more wind rain on Hoh river trail, then snow on Hurricane ridge. No problems.
Love this tent for size, weight, and ease of set up. The reason I am writing a review is I am doing research on a 3 man tent and stumbled across the reviews for the Sunnyside 2 and felt compelled to share my experience.
Design: 3 season freestanding
Sleeps: 2
Ease of Setup: super easy set up
Weight: aprox 5 lbs
Price Paid: gift

I just bought it a week ago, and used it this weekend in northwest Arkansas on the Butterfield Trail. No rain, so I can't write a "driving rain with 50 mph wind" review, but that's the only reason I won't go five stars right now. Easy setup. I like the two doors/vestibules. We slept two men, one 6'3", 200 lbs, the other about 5'11" and 170 lbs, and neither of us felt cramped. No condensation with a low about 55 degrees and somewhat humid. I like the vents on the rain fly that prop open with a stiff velcro strip. The footprint comes with the deal and has a grommet and clip at each corner. So far, so good.
UPDATED MAY 1, 2007
I've got an update to my previous post. I went on another Arkansas hike last week (Eagle Rock Loop) and went through an all-night thunderstorm with the Sunnyside 2. It didn't do well in the leak department. I will have to say that I didn't sleep wet, and considering that it rained hard all night long, that was a good thing. Water ran down all the seams of the fly and dropped through the mesh of the tent, even over the vestibule doors. I took articles of clothing and placed them in strategic spots to catch the water. It was fortunate that I was alone in the tent and was able to sleep in the middle. It was stable with the winds as I had it well staked. No leaks in the bottom. The rain fly seemed to be laden with water, as though maybe the wrong side got the sealer(?). I sent the fly back to Big Agnes and am awaiting the verdict. This should give me a chance to report on the customer service as well.
UPDATED JUNE 4, 2007
I received a new rainfly from Big Agnes on May 12. I went out for a two-nighter on May 18 and 19, but no rain. I put the tent up in my yard yesterday ahead of a thunderstorm, and inspected it afterwards. It rained pretty solid for about 30 minutes, and I didn't find any water in the tent. So for now, it appears to be good. The folks at Big Agnes are a pleasure to deal with, and the turnaround was pretty good.
There are two big pluses, in my opinion, to the Sunnyside. One, it's roomy. I'm 6'3", and solo I can bring the pack and boots in, stow them to one side, and still sleep more towards the middle with head room and foot room. Two, with the roof vents open, no condensation. Unzip the tops of the vestibule doors on each side for extra air.
UPDATED MARCH 10, 2008
Update to previous reviews. Went for a few nights in the Ouachita Range in Arkansas. Rained the first night and no leaks. I should also mention that I treated the rainfly with Nikwax TX Direct back in November 2007.
Design: three-season freestanding dome
Sleeps: 2
Ease of Setup: Easy
Weight: under 6 pounds packed
Price Paid: $184

Bought this tent off of www.steepandcheap.com for $109. Tried it out yesterday. Took a minute to figure out where the poles went, but finally got it together. The rainfly clips to each corner, which seems like a pretty solid connection and shouldn't come unclipped. The tent has a door on the front and back side is a good idea too. I think overall, this tent will make a good 3-season tent.
Design: three-season freestanding dome
Sleeps: 2
Ease of Setup: Easy
Weight: 5.2 pounds
Price Paid: $109

You May Like
Recently on Trailspace