Big Agnes Torchlight UL 20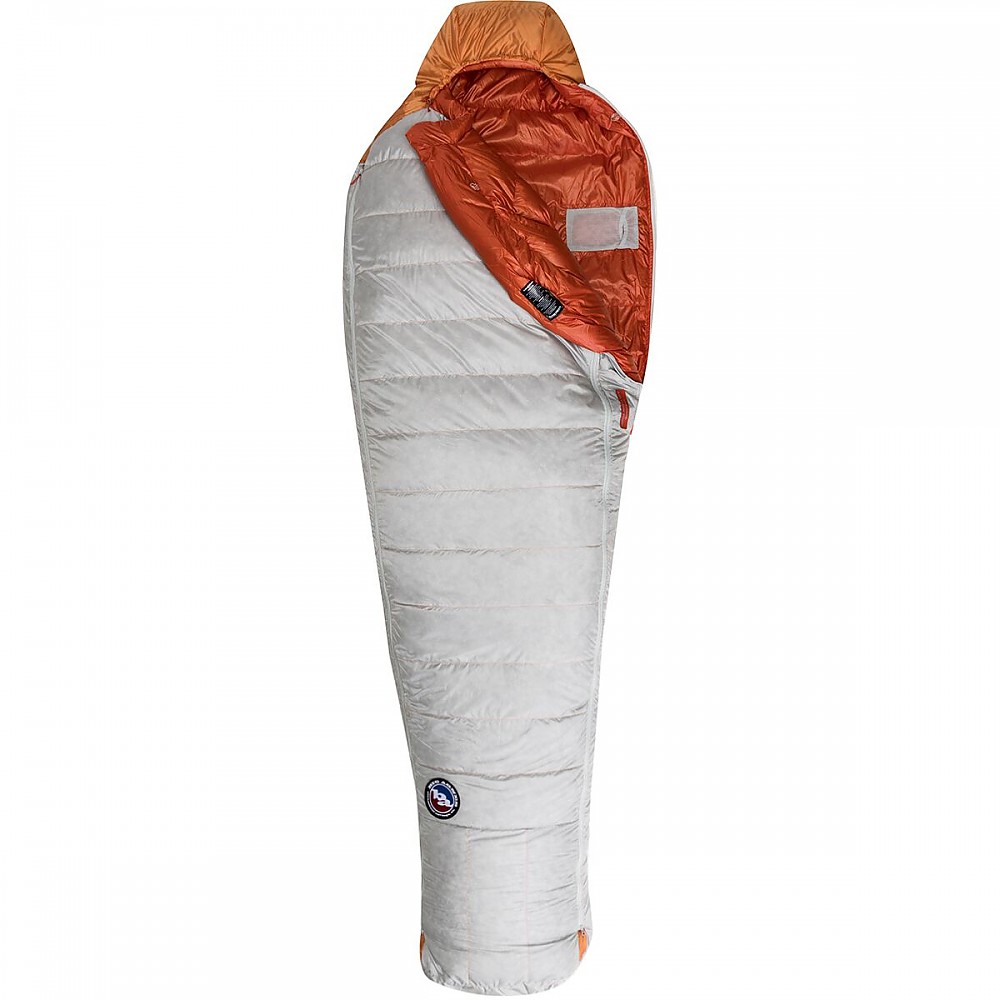 The Torchlight UL 20 is a fantastically cozy and versatile backpacking mummy bag. Super spacious when you want, but snug when you want that, with customizable zipper options. The ultralight 850 fill power Down-Tek makes it a great choice for ounce-counting backpackers.
Pros
Lofty
Soft and cozy
Warm
Versatile
Roomy generous hood
Easily adjustable to your size
Water-resistant DownTek fill
No down leakage through the shell
Lightweight
Quick drying shell fabric
Good value for the quality and features
Cons
Zippers on adjustable panels snag easily
Snag "resistant" zipper isn't "snag proof"
The internal pocket would be better on the top side of the bag than on the bottom
I have been using a Mont-Bell UL SS Down Hugger #4 sleeping bag for about ten years. It has served me well, being very lightweight (1.5 lbs), and warm enough most of the time (rated 34°). It also has stretchy elastic baffle stitching, which made it easy to fit my extra girth. It is starting to look its age though, and sometimes I push the temperature rating or get a little nervous when camping in a wet environment.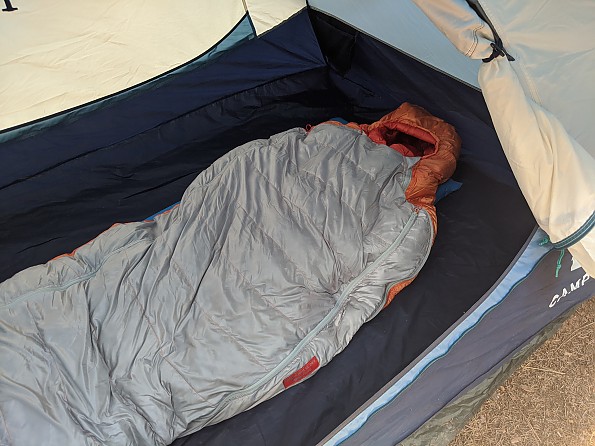 I was on the lookout for something new when the opportunity to try the Big Agnes Torchlight UL 20° sleeping bag came up. The Torchlight series is new to the Big Agnes line, which they describe as "a custom fit mummy bag featuring two expandable panels from shoulders to footbox, increasing sleep space up to 10 extra inches." This is especially interesting to me, as I have about 10 extra inches to fit into a bag! I tested the "regular" length bag.
The Torchlight line includes a number of models: The regular Torchlight bags are packed with 600 fill power DownTek insulation and are available in 20° and 30° versions for both women and men.
The Torchlight UL line uses 850 fill power insulation which shaves about 7 to 8 ounces off of the weight depending on the model. The UL series is also available in 20° and 30° versions for both women and men. So for those backpackers looking to save some weight, this is a great option. The UL series is also more expensive (about $100) than the regular line, so if weight is not a big issue, the non-UL line has all of the cool features for a better price. So my comments really apply to all of the bags in the Torchlight line.
Fit: The secret sauce in this bag is the customizable zipper and expansion panel configuration on each side of the bag.
There is an extra zipper on each side of the bag, which open up to give five inches of additional girth per side. So if you need an extra five inches, open up one side. If you need more (I usually do), open up both sides. The zippers are two-way, and can be customized to your desire.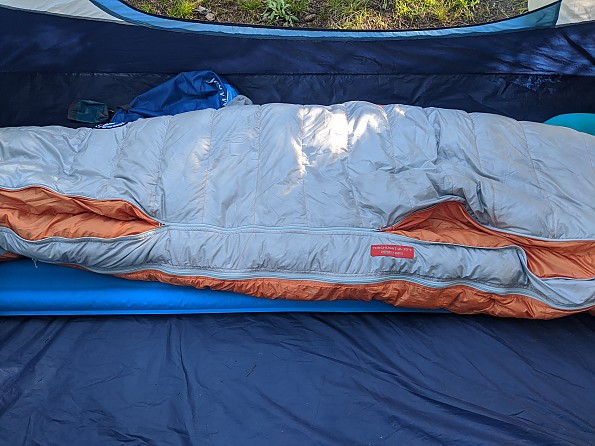 For example, if you want a little extra shoulder room, just zip down one or both panels to fit. If you like some space to wiggle your feet, zip from the bottom as you like. If you're a side sleeper, you can open at the bottom of one side for your feet, and the top of another side for your shoulders. There are a number of different configurations, to customize to your liking. The bottom line is that, with a shoulder girth expandable from 60 to 70 inches, whatever your size you can fit into this bag.
My only quibble is that the zippers on the expandable panels had a real tendency to snag, especially if I was already in the bag, and it was dark.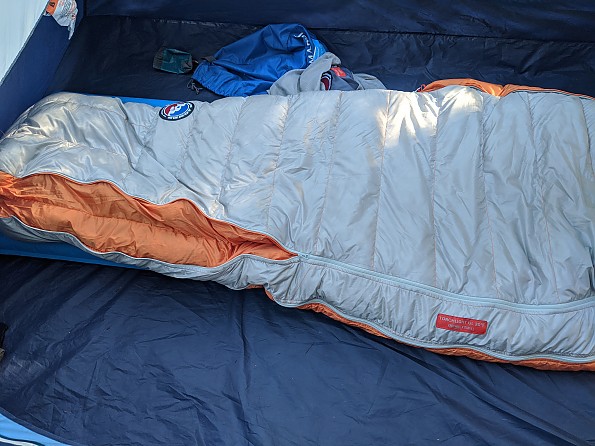 I never felt cramped in this bag, had plenty of room to move around, and never felt claustrophobic, even when hunkered down on a chilly morning. And truthfully, the bag is pretty spacious even without the expandable panels.
All of the Torchlight bags come in both regular length and longer versions (72" for regular or 78" for long in the men's models; 65" for the "petite" or 70" for regular in the women's models).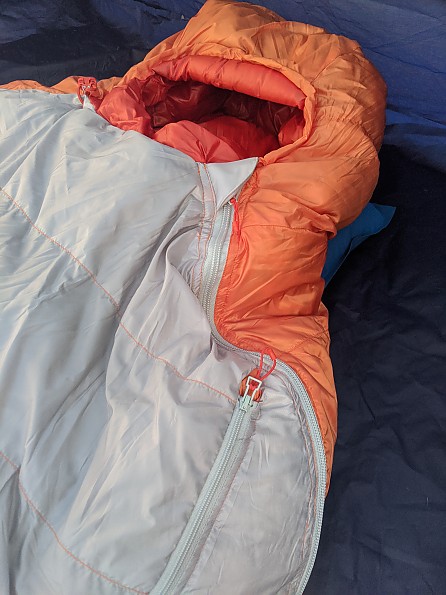 Comfort: The polyester taffeta lining is exceedingly soft, and the first time I  climbed into it, I felt like I was climbing into a cloud. It is clearly the most downy bag I've ever tried (I have owned four other down mummy bags in the last 30 years). The 850 fill-power DownTek is very lofty and puffy, and I have to say that this was the best night's sleep I've had on the ground in a very long time.
Temperature rating: The Torchlight UL is rated 20°f. So far, I have not used it in anything approaching the lower end of those temperatures, but will update this review once I do. One of the quirks of sleeping outdoors in summer is, that it can be fairly warm when you go to bed, and the temperature steadily drops to its low in the early morning hours. So the ability of a bag to "adapt" to the changing temperatures is really important.
On my first trip with this bag in the Trinity Alps (at about 3300' altitude), the nighttime lows were in the mid 50's. I was able to open the main zipper up just enough to vent a little bit, and never overheated or got chilly in the early morning hours.
On the next trip I took (Sierra Nevada at about 8330'), nighttime lows dipped well into the 40's. I felt like I was just at the right temperature the entire night, without making any adjustments. I'm looking forward to being able to test this bag in the winter and at higher altitude, when I can really push the rating a little bit, to see how it performs.
I had wondered if opening up the expander panels would make any difference in the warmth, so I tried it both ways and didn't notice any appreciable difference.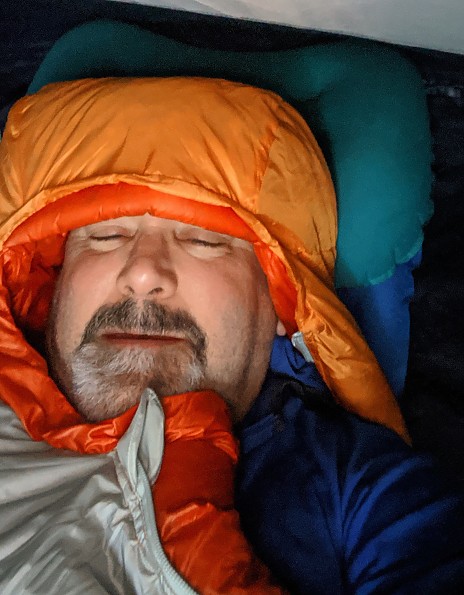 Hood: I generally find it difficult to keep my head in a bag hood during the night, so usually wear a light wool cap on my head to compensate. The contoured hood on this bag is really generous, and is constructed more like what you'd find on a nice winter parka. With the substantial hood on the Torchlight UL, I stayed in the cocoon the whole night, without the need for something else on my head. There is also an adjustable drawcord, if you really need to tighten things up, but so far, I haven't found it necessary. This is by far the nicest bag hood I've ever tried.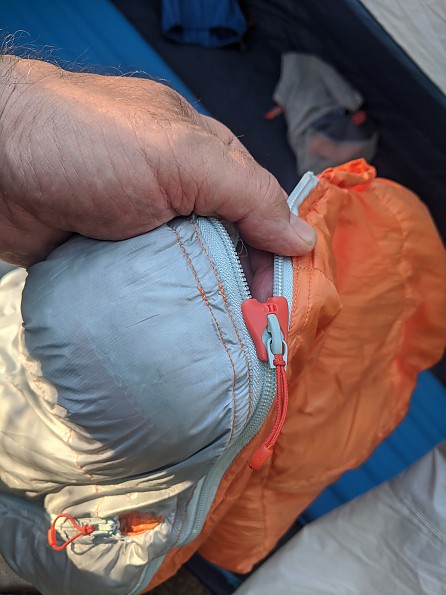 Entry and exit: The main zipper is a YKK #5 anti-snag locking zipper. This works pretty well, though not perfect. I found that it rarely snagged when unzipping it to open it up. But I found that it still occasionally snags when zipping back up, especially when I am in the bag. Other than that, it's easy to get in and out.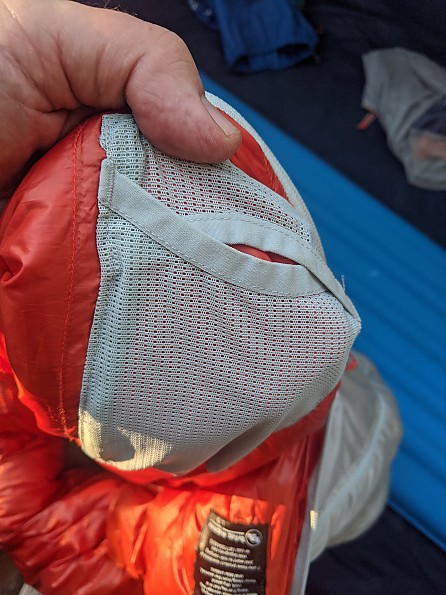 Other features: There is a small internal mesh pocket at about chest level which could be used for your phone, mp3 player, or headlamp. The problem with this pocket is that it's on the bottom side of the bag, so if there is something in the pocket, you might be lying on top of it. I think it would be more useful on the top side of the bag.
There are also some small internal loops for adding a bag liner, and two streamlined external loops on the bottom for hanging to dry or for storage.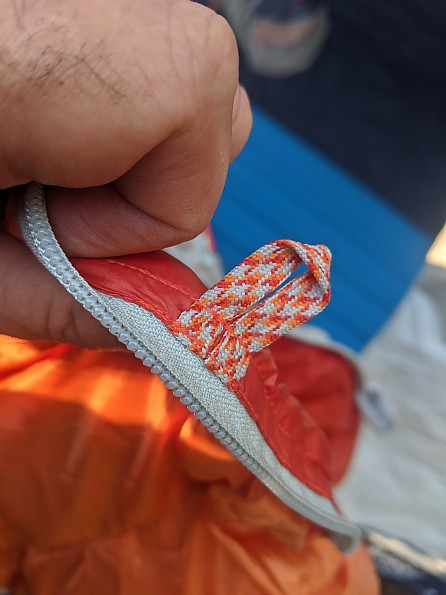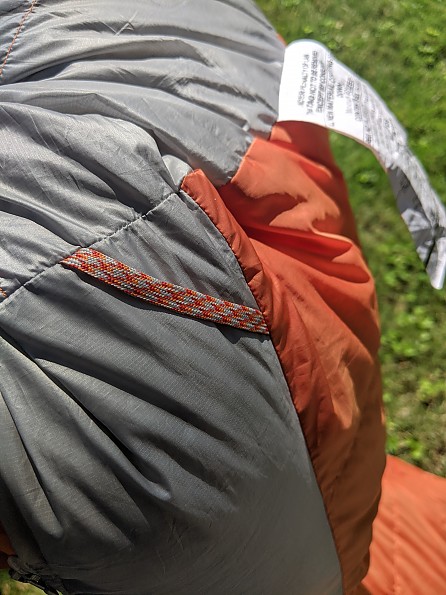 Also included is a mesh storage sack, for keeping the bag nice and dry and lofty between trips.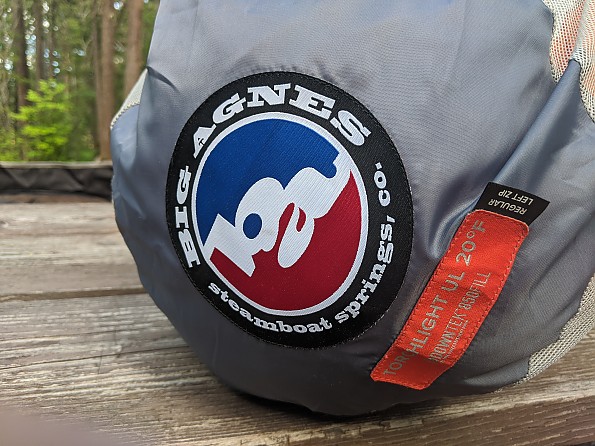 Moisture control: The polyester rip-stop shell has a light DWR finish, and dries really well when wet. After a chilly Sierra night, there was a fair amount of condensation inside of my tent, and the footbox area had been brushing against the wall during the night, and was pretty wet. I thought that after I had my coffee, I'd take the bag out and put it in the sun to dry. When I went back to the tent later in the morning, it had already completely dried, and didn't need to be put outside.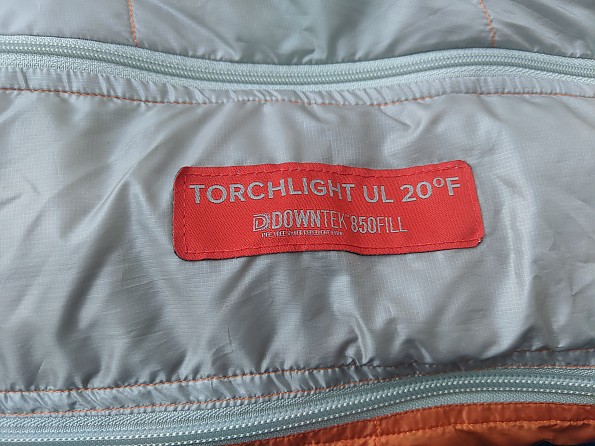 The major feature for moisture control is the DownTek insulation. I love down insulation. It has the best warmth-to-weight performance of any insulation out there. But its Achilles Heel is water, either from rain or snow or perspiration. Water can flatten the puffiest down bag in minutes, and leave it a cold mess.
DownTek's website describes its insulation as "insulation with Loftier Aspirations. It shields insulating air-trapping down clusters from all wet things. It's the most amazing thing since the umbrella."  DownTek uses Bluesign certified, PFOA and PFOS chemistry, to provide up to 1000 hours of water repellency, according to independent lab testing. DownTek is also RDS (Responsible Down Standard) certified. 
They also claim that DownTek insulation absorbs 30% less water and dries 60% faster than untreated down, and it retains significantly more loft than untreated down after exposure to moisture. I have not been in wet enough conditions yet to verify if that is true or not. I wish I'd had this bag on my Rainier backpack trip LAST summer, as it would have been perfect conditions for that.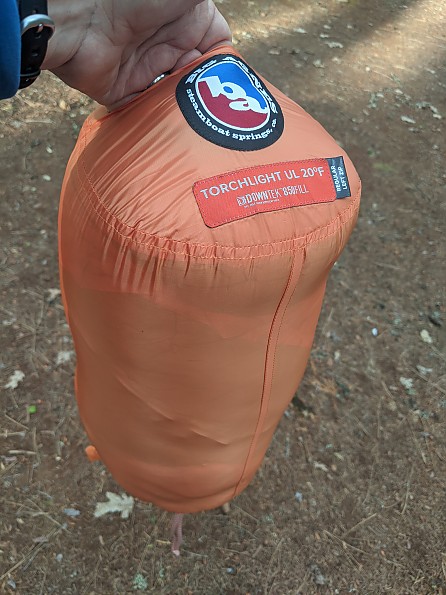 Packability/Weight: The Torchlight UL comes included with a stuff sack which packs down to 8 x 17.5 inches and packs into the stuff sack fairly easily, without feeling like you're wrestling an 850-pound gorilla. The stuffed sack fits nicely into the bottom of my Osprey Aether 60 pack. When I took the bag out of the stuff sack at camp it lofted right up, almost immediately.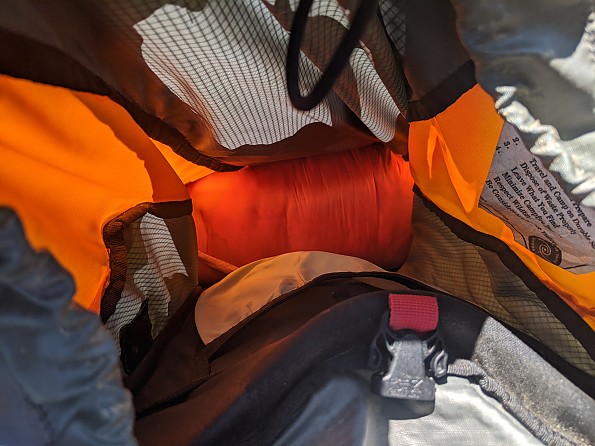 As previously mentioned, the Torchlight UL 20° is a lighter weight version of the Torchlight 20° bag, which uses 600 fill power down as opposed to the 850 down used in the UL model. The weight savings in the regular size bags is about 7 ounces total (2 lbs/4 oz for the UL), the majority of that weight savings from the fill weight of 17 ounces. For situation where weight really matters, the UL line would be the obvious choice. For situations where weight is not an issue (base camping or car camping), the standard Torchlight line is a great option at a great price point.
Comparing the weight of the bag with other "ultralight" bags is trickier. Comparing the Torchlight UL to (for instance) the Mountain Hardwear Phantom 15° bag seems like a fair comparison. The Phantom has a fill weight of 20 ounces of 850 down, which accounts for the warmer rating. The total bag weight for the Phantom is advertised as 2 lbs/1.2 oz, which is slightly lighter than the Torchlight UL. However, the shoulder girth in the Phantom is 58 inches, as opposed to the whopping 70-inch girth the Torchlight UL has available. So one would expect a little more weight in the Torchlight since there is extra fabric with the expander panels and extra zippers.
So while the Torchlight UL is a few ounces heavier than other "ultralight" sleeping bags, I would be happy to carry those extra ounces for a super roomy comfortable night's sleep.
Value: The price point for this bag is pretty reasonable, considering the features and comfort it provides. The Phantom 15° bag which I used as a  comparison for instance, retails at $520 for the regular length bag. I would typically expect to spend in excess of $400 for a bag of this quality, so the Torchlight UL's price point of $399 seems right on for me.
Construction & Durability: One of the ways which manufacturers reduce weight in lighter weight bags is by using ultralight shell materials. My aforementioned MontBell bag, has a wispy thin 10 denier shell fabric, and I was often very nervous that I might tear the fabric, especially when stuffing in the sack. The Torchlight UL shell, despite its soft hand, feels substantial, and like it will last a long time. 
One issue I've had in the past with every other down bag I've owned, is the problem of down plumes leaking through the shell fabric. I have not yet seen even the tiniest plume coming out of this bag. So I expect the temperature rating should stay solid for many years.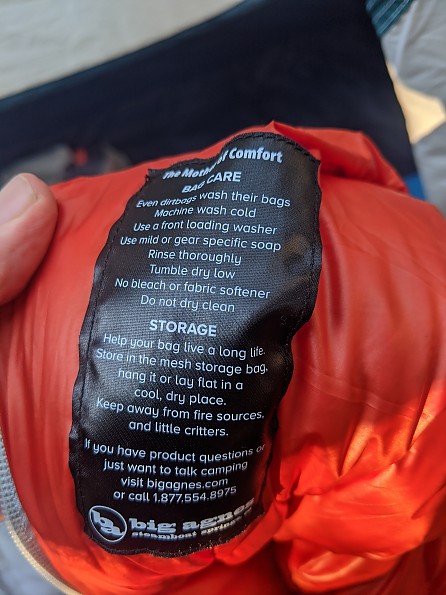 To sum it up: The Torchlight UL 20 is a super comfortable, lightweight, warm, billowy bag, with lots of room, no matter your size. With the extra girth available for any particular sleeping style, and the parka-like hood, I have never slept so comfortably on the ground.
I was very happy to have the opportunity to test it, and look forward to more testing in the colder seasons.
Background
Backcountry trips in the Trinity Alps and Sierra Nevada in high summer, at altitudes from 3300' to 8300'. Looking forward to testing it further in colder conditions as we head into fall and winter!
Source: received for testing via the Trailspace Review Corps (Sample for testing and review provided by Big Agnes)

Your Review
Where to Buy
Help support this site by making your next gear purchase through one of the links above. Click a link, buy what you need, and the seller will contribute a portion of the purchase price to support Trailspace's independent gear reviews.
You May Like
Specs
Men's
Regular
Long
Price
MSRP: $399.95
Current Retail: $419.95-$449.95
Historic Range: $314.96-$449.95

Bag Weight
2 lb 4 oz / 1.02 kg
2 lb 6 oz / 1.08 kg
Fill Weight
17 oz / 482 g
19 oz / 539 g
Compressed Bag Size
5.5 x 7 in / 14 x 18 cm
6.5 x 8 in / 14 x 20 cm
Stuff Sack Size
8 x 17.5 in / 20 x 45 cm
8 x 17.5 in / 20 x 45 cm
Fits
up to 6' / 183 cm
up to 6'6" / 198 cm
Women's
Petite
Regular
Price
MSRP: $399.95
Current Retail: $334.99-$419.95
Historic Range: $314.96-$419.95

Bag Weight
2 lb 5 oz / 1.05 kg
2 lb 10 oz / 1.19 kg
Fill Weight
20 oz / 567 g
22 oz / 624 g
Compressed Bag Size
6 x 7 in / 15 x 18 cm
7 x 8 in / 18 x 20 cm
Stuff Sack Size
8 x 17.5 in / 20 x 45 cm
8 x 17.5 in / 20 x 45 cm
Fits
up to 5'5" / 165 cm
up to 5'10" / 178 cm
Recently on Trailspace