Reviews
Thin, light, balanced, rechargeable, bounce-free—put…
Rating:


Source: received for testing via the Trailspace Review Corps (Sample for review and testing provided by BioLite)

Summary
Thin, light, balanced, rechargeable, bounce-free—put the Headlamp 330 on the buy-list. The technology is advanced enough that rechargeable headlamps are finally a good deal. You can't get this much light in this small of a package anyplace else so far.
Pros
Clean, shadow-free beam
Several modes
Intuitive operation
USB charge
Only one button
A battery next to your skin keeps it running well in the cold
Cons
Too small to fit over a helmet well
Small button not good for gloves
Remember when a 90-lumen headlamp was the best thing ever? Say hello to 330!
Winter is a time when runners have to run in the dark to get their miles in. Short days mean you need a headlamp. Most flashlights and headlamps are little more than a container for dead batteries and don't work well for running; they are heavy and made only for distance. The Biolite 330 provides you with as much (or more) light as your favorite Petzl or Black Diamond lights and comes in a teensy, rechargeable package that you'll actually want to wear running. Incidentally, it's great for hiking and ski tours too.
I wore the 330 on lots of slow street runs this winter, several brushy dog-romping runs in the woods and two snow hikes/ski tours. In the woods, it made me feel like I was always surrounded by a bubble of clean, white light. I used it under the sink to do some repairs, in the attic wiring up a new ceiling fan and under my jeep playing shade-tree mechanic. Temps were usually in the range of 25-35 degrees Fahrenheit. I kept using it because it works.
I purposefully omitted snow pictures because literally ANY headlamp works well in the snow with everything covered in white.
Waterproof:
I spent some  time in light mist, but no real downpours. Biolite claims the 330 is waterproof in rain but not submersible.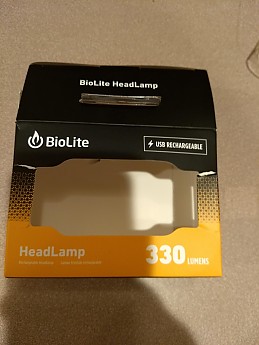 Comfort:
The 330 has a wicking band that sticks to your head and lets sweat pass through. The band reminds me of the one on my old heart rate monitor. It stays put during runs and since its rechargeable battery is in the back it is well balanced and never bounces. Truly, you'll forget it's there. It's not made for climbing so it makes sense that it doesn't fit over a helmet very well.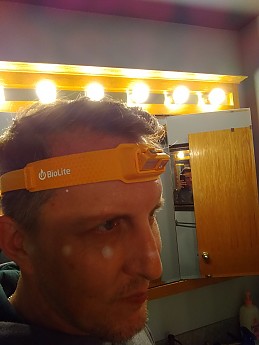 Very small profile

Light intensity/weight ratio:
Biolite 330: 330 lumens, 69 grams
Comparison to other running headlamps: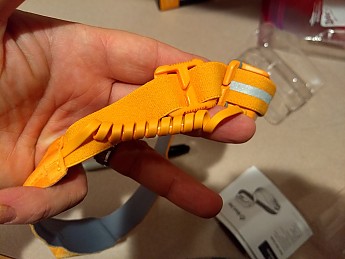 Battery on the rear to help balance the light, making it bounce-free during runs.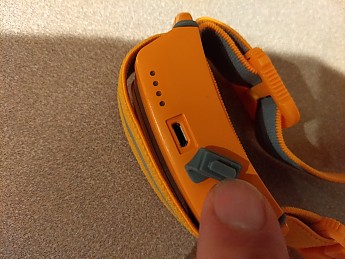 Four lights tell you when to recharge.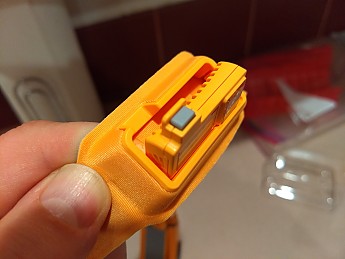 Not a fan of the tiny button but its a tiny light so...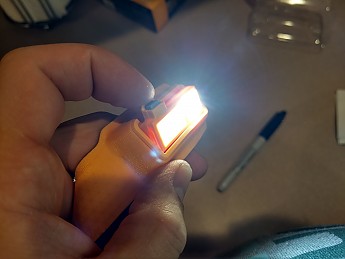 Toggling through the modes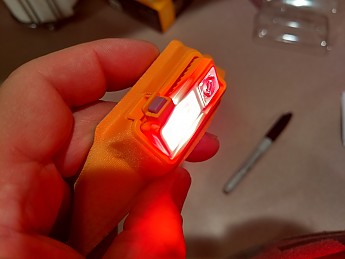 Red light



The spot and diffuse lights can be operated together or independently.


Battery Life:
Reported to be 3.5 hours on max or 40 hours reported on minimal setting. I didn't have the patience to measure it on its dim setting but on full-blast, which is where I usually ran it, it lasted about that long in wintery conditions around freezing. On multi-day excursions where you used it for long periods in the dark a solar recharger would be handy. You'll probably be packing a panel anyway if you're out for a while.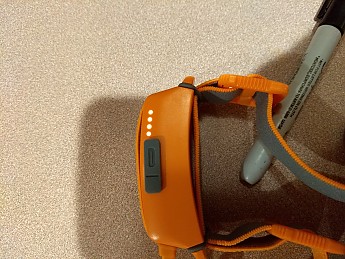 Fully charged in an hour or so

Durability:
The materials stood up to my careless packing for my snow hike where I furiously tried to stuff 25 liters of cold-weather gear into a 20-liter pack. My food was smashed but the headlamp survived. I don't see any reason why it wouldn't last years as long as the battery holds up. The fit and finish appear as good as any other major manufacturer such as Black Diamond or Petzl.
Beam Quality/Modes:
The 330 has a spot beam for distance and a diffused beam for shadow-free close-up work. I mostly used them both at the same time because I have never heard myself saying that I was able to see TOO WELL in the dark. I found the beams to be seamless with no shadows or dark spots. This is a big deal to me because I have a lot of lamps that cast great distance light but make poor campsite lamps, and vice versa.
The diffuse setting and lower power settings are more than adequate for camp chores or slow walking. I never found a use for the flasher mode; it tends to bother people. The red mode can be used as a bike tail light. It's also handy if you don't want to be able to discern different colors at night (all your candy looks red) or if you want to feel like a commando.
The spot beam claims to illuminate to 75 m but I found it useful that far only in snow. The best range for the 330 is in that 20-30 yard range and closer.
Puppy too afraid to advance because of the lowest beam setting on the light.
Ergonomics:
Being so tiny, the on/off button is a problem to operate with even thin running gloves. 
The tilt is rock solid.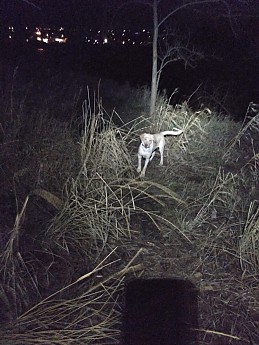 Highest beam setting at about twenty yards, definitely useful for navigation, a bright beam both near and far.
Who Needs This:
The 330 is best suited for running. Other good uses would be hiking and light climbing that runs into dusk or begins pre-dawn. The batteries don't last long enough for a proper all-night hiking at full-power. If you can run more than three hours straight in the dark (you're a stud!) you'll need something with more battery time or you'll have to settle for reduced light modes. If you were #2 or #3 on an alpine rope team could the reduced light modes do just fine on snow and suit your needs during an alpine start? Probably. Am I going to try it this summer?  Probably.
Really though, why NOT carry a light like this? It weighs nothing and provides a TON of light, which, considering that light isn't very heavy, is a whole bunch. 
Experience
I've owned a few dozen headlamps and this is the second rechargeable one I've used. I use headlamps for hiking, running, and alpine climbing.
Where to Buy
Help support this site by making your next gear purchase through one of the links above. Click a link, buy what you need, and the seller will contribute a portion of the purchase price to support Trailspace's independent gear reviews.
currently retails for:
$42.46 - $49.95

Recently on Trailspace