Black Diamond CoEfficient Vest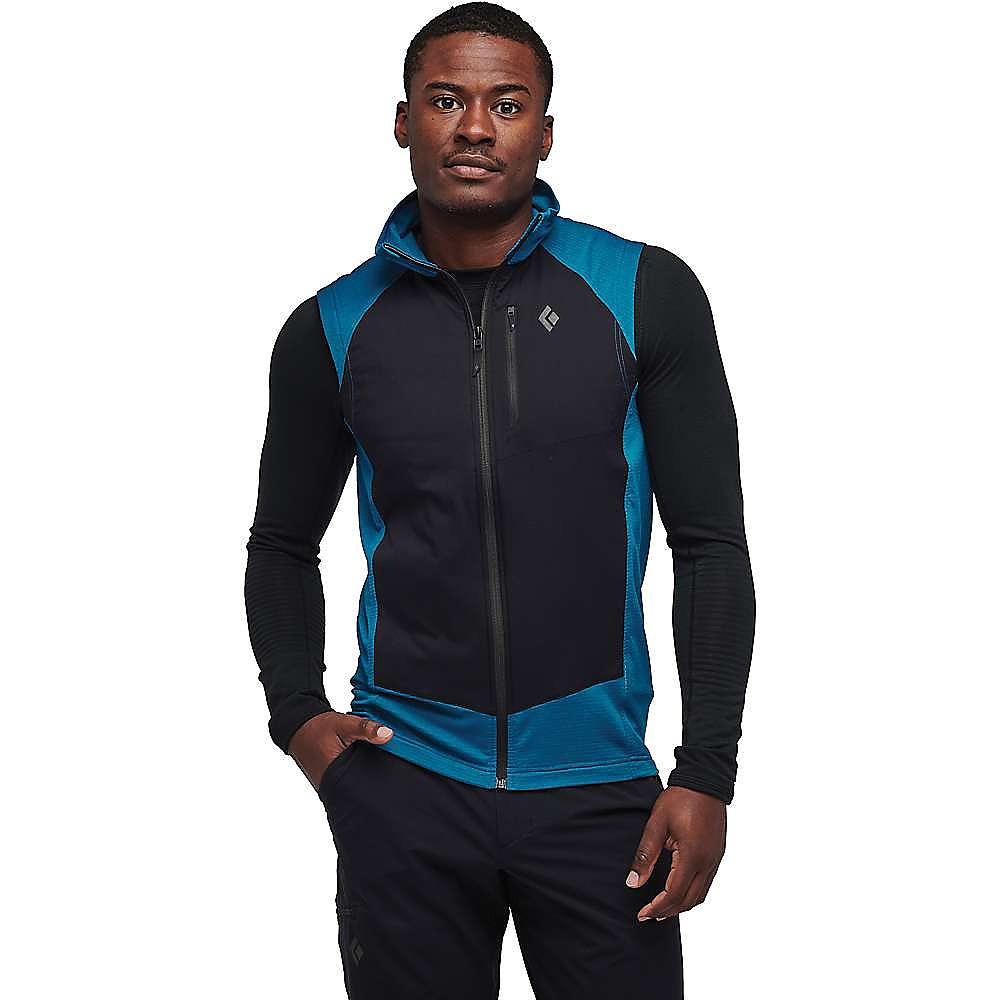 The Black Diamond Coefficient Vest is a worthy addition to the gear list for anyone venturing out to cool or cold places. It serves well as a mid-layer in colder weather, or even as a top layer in moderate to warmer temperatures and while active. It's compact, and light, so it's easy to carry along. It's also durable so it can be counted on out on the trail.
Pros
Lightweight
Warm
Versatile (good various backcountry activities, as well as in the front country
Cons
I almost always find issues with gear. However about all I can say as a con of this item is that I wish it wasn't bright orange (though if worn as an outer layer, it would be good for use in the hunting season)
The reviewer getting ready for a hike along the California coast

updated 20-Apr-2014 with confirmed weight
Review Conditions
Due to personal circumstances which cropped up shortly after accepting this review assignment, my ability to take time off to "head for the hills" was severely limited for much of the review period. Therefore it turned into more of an extended review lasting over six months. I used the vest for hiking and snowshoeing on (and off) the trail.
Additionally, although it doesn't formally count for Trailspace reviews, I also used it in front-country conditions while attending a multi-night photography workshop on the northern California Coast (including pre-dawn and late night outings), during a coastal cleanup project in the rain (under a rain jacket that soaked through), and even while spending time in a cool basement during a house construction project.  I mention these other activities to illustrate the versatility of the vest.
Fit & Comfort
I'm 6' and during the period of this test weighed in at approximately 180 pounds. I typically wear a medium, and occasionally a large in outerwear, depending on the cut. I tested the Medium size in the Black Diamond vest.  I found it to be slightly on the snug side, and at first wondered if maybe it would be too small. However on closer examination I determined the snugness was more a matter of a "developing mid-section" than an issue with the sizing of the vest. In fact, given the waffle texture of the fabric, a slightly snug fit (to capture air pockets) may even be desirable.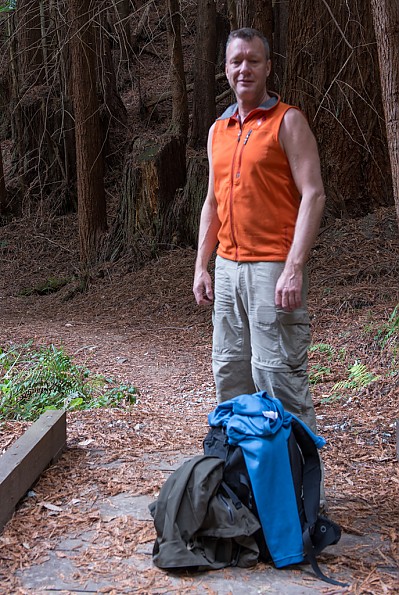 Ever the devoted reviewer, when the temperature got too high to continue with the vest as a mid layer, or as an outer layer, of course the vest couldn't be removed ...

Breathability
I consider myself to be what I could call a "heavy sweater" when engaged in strenuous activities.  So, for example, I have grown used to accumulating significant moisture between my back and my pack when hiking uphill. The Black Diamond vest performed very well at minimizing this.  
By way of example, during one of my testing activities, I snowshoed wearing a large day-pack, breaking trail in heavy wet snow, sinking in at least 8 inches (and as far as knee-deep) with every step. During this time I wore the vest over a Capilene light base layer. I estimated the temperature to be in the upper 20s (F). When I stopped for a break I added a softshell to keep from getting chilled. While donning the extra layer, I was pleasantly surprised to notice how little sweat I had built up.  With a typical fleece or other mid-layer I would have been much wetter.
Moisture
As mentioned in the "review conditions" section of this write-up, one of my test activities involved working on a coastal cleanup activity in moderate rain on the northern California coast. I wore a breathable poly base layer, then the Coefficient vest, then a Paclite rain coat. I estimated the temperature to be in the upper 40's to low 50's … not overly cold, but definitely an opportunity to get chilled. To my pleasure and surprise, I remained comfortably warm, in spite of the fact that the Paclite rain jacket "wetted out", with visible accumulation of moisture on the inside.
Warmth
Truth be told, I've never been much of a "vest person".  I always figured, "if I'm cold enough to need a vest, I'd need a regular jacket, so my arms stay warm too". Nevertheless I agreed to take on this assignment as an experiment.
The Black Diamond Coefficient vest did not disappoint. In fact, though I would not have predicted this, it has become my "go to" mid-layer when I need to stay warm. While I haven't used it in any bitter cold conditions, it has served well to keep me warm in the cold/cool conditions I experienced during the test period. What I also discovered is the lack of sleeves actually has a significant benefit when engaged in strenuous activities (like snowshoeing in heavy wet snow), as it doesn't bind up on the arms like a jacket can.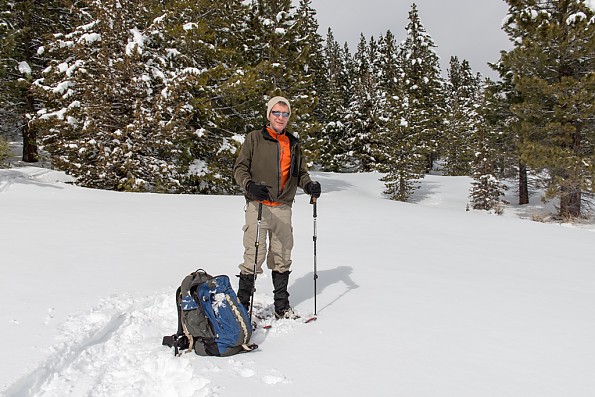 Breaking trail in heavy wet snow on the west side of the Sierra near Carson Pass. Note the Black Diamond vest worn as a mid layer.

Soon the layered combination was too warm; off came the outer layer. Here the vest is shown worn over a Capilene light base layer.
Layering
Layering is what the Coefficient vest is all about. On a humorous note I did include a photo of myself wearing the vest as a solitary layer (because the conditions were too warm for multiple layers). But, more seriously, the vest works best when used as a mid layer.  
I stumbled accidentally on what I consider to be the "sweet spot" for this. I used a long-sleeve lightweight Capilene base layer, followed by the Black Diamond vest, and then topped (as necessary) by a Mountain Hardwear softshell. These configurations worked very well in conditions where the temperature was in the 20's to 30's, with or without the softshell, depending on my level of activity (and precipitation).
Features
The (what I refer to as) "waffle weave" fabric works well to form air pockets to maintain one's warmth. It also does a good job at wicking moisture away from the body. The cut of the vest is such that has a fairly snug fit (keep this in mind when choosing a size), enhancing the air-trapping function.
There is a flat chest pocket which may or may not be useful, depending on your needs. At first I scoffed at the idea of a pocket on a mid layer — why would I put something inside a pocket that I can't reach through my outer layer? Then I found myself wearing the vest as a top layer while active … and carried my iPhone in it.  It actually worked out great!
The vest is also lightweight, reported by Black Diamond to weigh just 7.7 ounces, and confirmed on my own scale at 7.5 ounces.  I've noticed manufacturer gear weight ratings have a tendency to be on the low side, so it's nice to see one that's more conservatively rated.
Lastly, a feature I especially like: although the material of the vest feels soft on the inside by itself, the collar is lined with an even softer fleece material. I have a soft spot for garments with fleece lined collars (pun alert! :-). But seriously, this makes for a very comfortable (and warm) experience.
Construction & Durability
The vest is constructed with a material Black Diamond describes as "Polartec Power Dry High Efficiency fabric".  It is claimed to deliver stretch, maneuverability, and durability as well. Designed to keep your skin dry when you sweat, it is differentiated with a grid back that maximizes warmth, minimizes weight and enhances breathability. It is also claimed to  weigh less, take up less space, and deliver more insulation and breathability than most other garments in it's class.  In my usage I found many of these claims to be true, as I'll describe here.
The material has some stretch to it so it flexes as you engage in exercise, for example reaching with your poles while maneuvering along a trail on snowshoes.  It would probably also work well for activities such as biking or paddling.  As mentioned elsewhere in this review, it also does a good job of wicking sweat away, keeping you warm and dry.
One thing I don't understand is the mention of it being "differentiated with a grid back".  The whole vest appears to be made of the same material. It does (all) have a sort of "grid" pattern (or what I may have referred to as a waffle pattern). I didn't observe any difference in the back.
Additionally, regarding differentiation, the material reminded me very much of one of my favorite pieces from another manufacturer, the Patagonia R1 Hoody. Both have are constructed of a material with very similar characteristics. However while perhaps not as "differentiating" as claimed, the fact that I compare it to the R1 is actually a good thing in my opinion (again, that one is one of my favorite articles of clothing for the backcountry).
Another note regarding durability: I tend to have conflicts with articles of clothing and other gear which use zippers. They jam, they catch on surrounding fabric (or on my skin), they break, and experience any of a number of possible issues. The YKK zippers on the Coefficient vest, however, worked consistently smoothly and without issue throughout the review period.
Summary
I began this review of the Black Diamond Coefficient vest thinking I would wear and use it as needed, just enough to be able to write an accurate review, but without any expectations that I'd care much for it. As it turned out, I have found myself wearing it on a regular basis … not only on the trail, but anytime I was headed for cool (or cool and wet) conditions, even in the city, going out on early morning / late evening photo shoots, and so on.  
I now think of it as a valuable addition, whether as a mid-layer in the cold (or when I'm idle), or even as a top layer over a Capilene base layer when I'm active. I do recommend this item for anyone looking for a lightweight, comfortable, and warm garment for their outdoor adventures.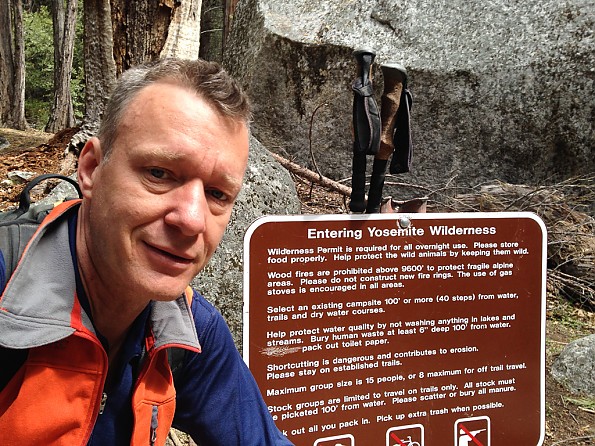 Hiking in Yosemite National Park
Source: received for testing via the Trailspace Review Corps (Sample provided by Black Diamond for testing and review)

Your Review
Where to Buy
Help support this site by making your next gear purchase through one of the links above. Click a link, buy what you need, and the seller will contribute a portion of the purchase price to support Trailspace's independent gear reviews.
You May Like
Specs
Price
MSRP: $119.00
Current Retail: $129.95-$130.00
Historic Range: $19.95-$130.00

Weight
218 g / 7.7 oz

Recently on Trailspace