Black Diamond HeavyWeight WoolTech Liner

#8 in men's Fleece Gloves and Mittens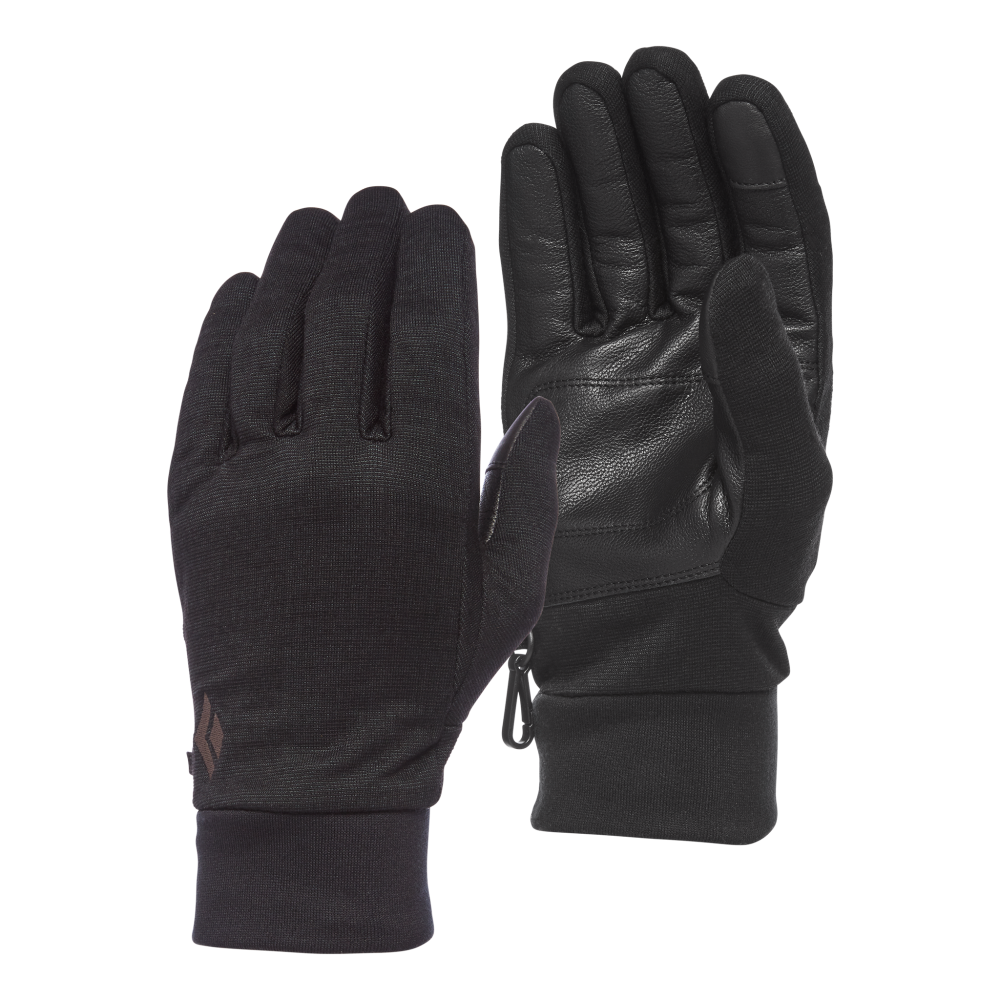 Specs
Price
MSRP: $44.95
Current Retail: $30.99-$49.95
Historic Range: $22.48-$49.95

Weight Per Pair
60 g / 2.1 oz

Temperature Range
-4/4 ºC / 25/40 ºF

Material
302 g NuYarn merino wool (54% Merino wool/40% Polyester/6% Nylon)

Reviews
1

review

5-star:

0

4-star:

0

3-star:

1

2-star:

0

1-star:

0
The Black Diamond HeavyWeight WoolTech glove liners provide good hand dexterity in cool weather (sub 40°F), while also working as a liner under a heavier glove or mitten in colder weather (approx. 28°F). Quality goatskin palms give greater feel and durability, allowing the wearer to focus on the chore "at-hand."

The HeavyWeight WoolTech Liner glove is ideal for people looking for versatility, without looking flashy or breaking the bank. These gloves are ideal as a liner in all cold weather outdoor activities, while recommended in dry cool weather when worn by themselves.
Pros
Good hand dexterity
Comfortable
Great price-point
Cons
Touch screen compatibility failed into second season
Pilling evident after approximately 8 weeks
Sizing runs slightly large
Glove liners are an often overlooked element of gear in one's cool/cold weather kit. A quality liner can be as versatile as any other mid-layer, whether using as a stand-alone glove or layered with other hand-wear. Black Diamond has shown to be a frontrunner in apparel for quite some time, and their gear can be seen everywhere from the trail to the climbing gym since 1957. There are three weights available with the WoolTech Liner series; LightWeight, MidWeight, and HeavyWeight.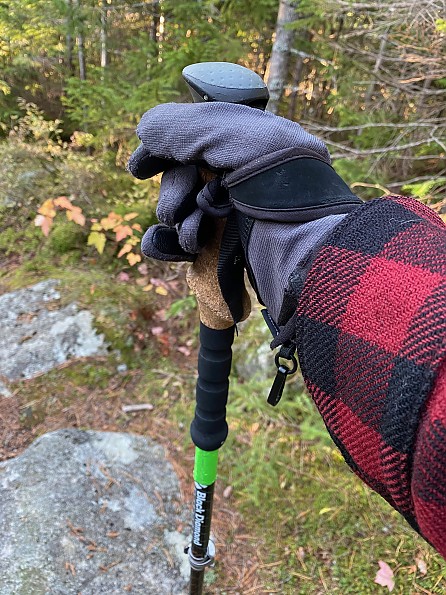 Solution Wool is a new product line that uses sustainable materials claimed to provide higher durability, faster drying time, higher elasticity and warmer performance when in use. Woolmark has been developing these different wool-based fabrics since 2006, beginning with a product known as Feltstop. Although the material was initially used for bedding, the company quickly understood its unique advantages. The HeavyWeight WoolTech Liner uses Woolmark's proprietary NuYarn technology. 
Specifications:
Price: $44.95 USD
Sizes: XS-XL
Gender: Unisex
Material: 54% Merino wool, 40% Polyester, 6% Nylon, goatskin palm
Weight: 84g/3oz (pair)
Warmth:
A glove's primary purpose is warmth, which will always yield subjective results, depending on the wearer. Black Diamond specs these, their warmest glove liners, to a temperature range from 25-40°F (-4 to 4°C). Black Diamond's heaviest glove liner falls short of the lower limit test, with the freezing point being the tester's lower boundary.
For a wearer that needs gloves at approximately 38°F/3°C, these liners will comfortably carry warmth approximately to the freezing point. Adding thin liners underneath pushed the comfort point to approximately 28°F/-2°C. Layering an insulated glove/mitten, shell glove/mitten, etc. over the WoolTech liner will vary. 
Design, Fit, & Comfort:
The gloves are a fairly straightforward and easy product to use; no wrist straps or any otherwise type of adjustment is offered. Comfort gets an "A" grade; no hangnail catching, fingers stay properly fitted once the leather palms begin to break-in. Fitting these gloves can be a bit tricky—consider sizing these liners down if a tighter fit is ideal. Although the palms fit adequately, the finger length tends to allow the wearer's fingers to "back-out" from the tip area.
These glove liners also excel when paired with a thin glove liner underneath, such as the Seirus Thermax Deluxe glove liner; in this case, the normal size L glove works perfectly. This method of layering provides exceptional finger dexterity, while adding a bit more temperature tolerance to the system. Layering over the glove works well, such as the Arc'teryx Beta AR glove, or the Mountain Laurel Designs 3-Layer eVent Rain Mitts. 

Water Resistance, Moisture:
The Black Diamond HeavyWeight WoolTech Liner glove provides relatively little water resistance, however testing has shown these liners to dry quickly when worn in wet snow and rain. Like other wool garments, these liners provide adequate insulation in the aforementioned conditions. Moisture management from the body is excellent- these glove liners breathe incredibly well. During high output activity, sweat buildup never became a concern during testing. The wool insulation wicks moisture efficiently, keeping hands dry. 
Features & Function:
Although a glove liner shouldn't be thought to have or need many features, Black Diamond came up with a host of qualities that a great glove liner should have. Touch screen compatibility on the thumbs and index fingers is always helpful, however operating a mobile phone after about six months, the touch screen compatibility stopped working. It should be mentioned that fingertips do not have the magnetic coating. Both thumb and index fingers have this feature on the "fingerprint" area only.
Goatskin palms are soft, yet provide excellent holding/gripping power. Getting items out of a pack or holding trekking poles are as effortless as using a gloveless hand.  

Black Diamond claims that the gloves neutralize odors. Never having had a concern with this in any past gloves, it is presumed that this claim is related to the natural odor resistance of Merino wool. Nonetheless, other than the odor of leather, these claims are supported.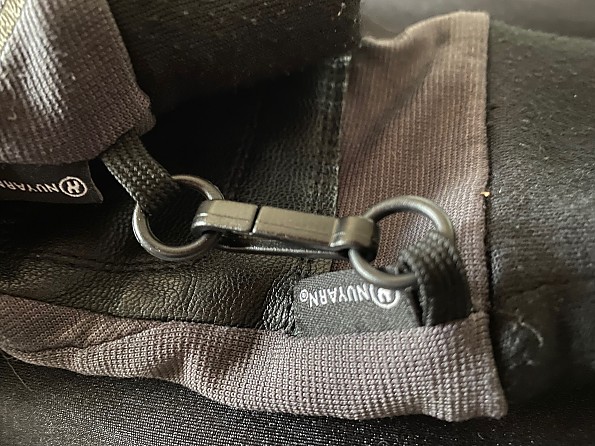 Construction & Durability:
The HeavyWeight WoolTech Liner is constructed with a hi-tech blend of fibers—Polyester and Nylon for the soft-shell outer, and NuYarn Merino wool as the insulator. Black Diamond has styled a glove liner that is well made, and should be expected to wear for years to come. That being said, signs of pilling on the exterior of the glove are evident after approximately two months of frequent use. As typical to most synthetic outer soft-shell materials, the glove would expectedly fray if contacted with briars, brambles, thorns, etc.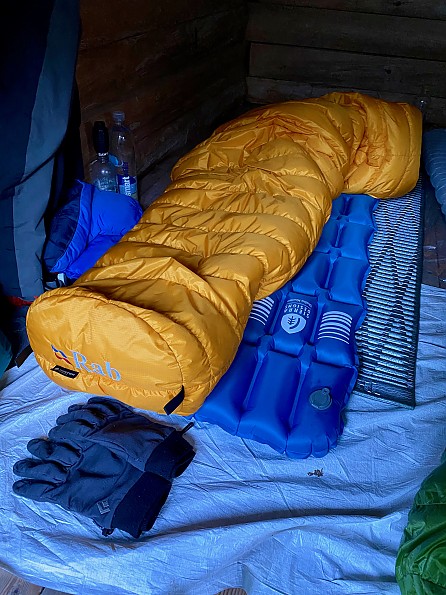 Note: These gloves did not see harsh treatment during testing, like processing firewood, and other camp chores. The leather palms are stitched well, and should stand up well to trail chores. Black Diamond specs the gloves to 60g/2.1oz, which was found to be approximately an ounce lighter than the actual weight of 84g/3oz.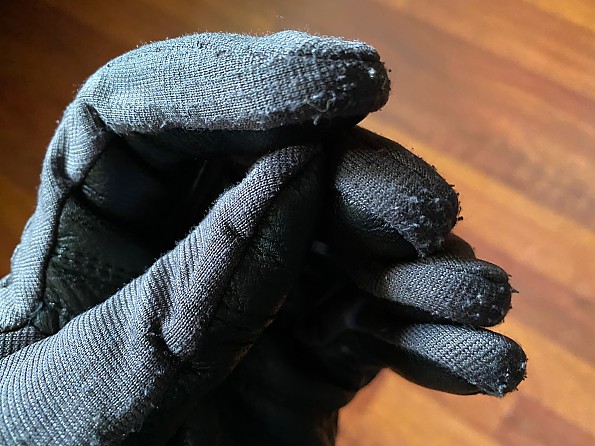 Aside from the soft-shell material pilling, these glove liners come highly recommended especially at the price-point of $44.95 USD. Whether one is backpacking on the trail, cross-country skiing, or simply taking the dog for a walk, these gloves cover a host of possible uses!  
Conditions:
The Black Diamond HeavyWeight WoolTech Liner has been in testing since early December 2019 in the mid-Atlantic east coast USA area. These gloves have been tested on a near-daily basis on overnight backpacking trips, multiple day hikes, and regular use around town.
Many thanks to the people at Black Diamond for the opportunity to test the HeavyWeight WoolTech Liner for the Trailspace Gear Review Corps.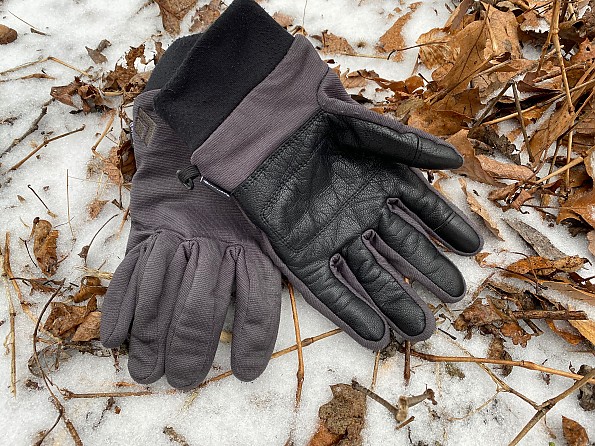 Experience
The product tester has been an avid hiker and backpacker for several decades, based in the mid-Atlantic USA. Whether it is volunteering time ridge running on the Appalachian Trail, guiding multi-night backpacking trips, or putting Wilderness First Responder certification to use, gear has been put to the test—Leaving No Trace since the 1970s.

Source: received for testing via the Trailspace Review Corps (Sample for testing and review provided by Black Diamond)

You May Like
Recently on Trailspace