Black Diamond Moonlight

The Moonlight has been discontinued. If you're looking for something new, check out the best headlamps for 2023.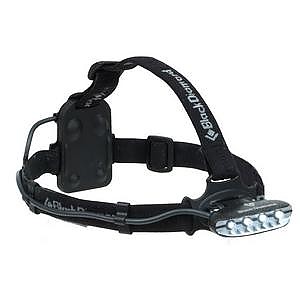 I've hung this headlamp from the top of my tent at night as a lantern and it provides ample light for such a situation. Unfortunately, if you're looking for a headlamp you can bring on a night hike or see clearly across your camp at night, you'll need something much brighter. The battery life is amazing though.
Overall a great product, although showing its technological age. I bought mine about 4 years ago.
I bought this unit for use on backpacking trips because it's lightweight and very bright. I have used it at least once a week since and often more. I use it in many around-the-house projects.
I had the older single "Strength" unit - I bought my sons the newer adjustable light with three bulb brightnesses plus a strobe feature. All have been good performers. My unit did have a malfunction when one of the wires became loose at the switch. I found it and re-soldered the wire to the switch and it was back in action. I see this unit has been superceded by newer units and is in the "bargain bin" now - good deal if you are looking to save a few $$.
Pros - Light weight
Bright
Long lasting (3 AAA) batteries

Cons - The blueish light is not the best spectrum for humans to see. Pure white is better (at least for me).
Does not project a long distance beam - works best within about 15 ft.

Price Paid: $30

I bought this headlamp because of the price. You see, I am on an extreme budget. I was greatly surprised by the quality. It produces good light, and as has been said already by many people, the batteries last forever. I just took it on its first night hike, and was impressed with it. I was worried at first because the light doesn't focus to a good beam, but it was fine, I had no problems navigating the trail. The only thing is that I wish you could focus it to a beam, but I can live without that, especially for the price.
Price Paid: $17

I've had this headlamp for about four years or so and I'm not that big of a fan. The light it produces is okay at best. Good luck trying to see something in the distance. One plus is that the batteries last forever. If you're looking for a headlamp that produces good light close up and at a distance I would look at something else like the Petzl Tikka XP.
For: very reliable and tough, batteries last ages, comfy fit, low weight.
Against: cable flex will wear it out, doesn't form a beam, barely bright enough for night-hiking.
There are newer superior products using single super-bright LEDs e.g. Petzl Tikka XP.
Price Paid: approx £30

Good light. I have gone through three of them. Even lighting for close work and general night movement. I've also been in situations where I took the top strap off and used it around my neck. The wire, after constant use, will break. It's happened to me twice. I replace the wiring with sturdy stuff and press on. That's a real pain, so I switched to the Gemini. I won't take this light into the field again; I can't take the risk.
Price Paid: $20

Worked OK. Super light and great price, but not very bright. All the wires to the battery pack were kind of a pain and annoying. Used it on my caving helmet and now one of the wires doesn't connect with the battery pack right, so it's kinda fragile. Got dimmer really fast after new batteries.
Price Paid: $20

A great headlamp -- not too good for nighttime nav on its own but when you're with mates it's fine. I've taken it on two caving trips as well as on all my bush and alpine trips. Only niggle is that the battery pack isn't 100% waterproof when it's underwater... so as long as you avoid waterfalls you can't go wrong with the Moonlight.
Price Paid: NZD $74.99

This light won't do if you need a searchlight, but for general travel in the wilds it is great. The variable brightness settings are great for reading and general business around camp. Others have made most of the important points, but I'll add that this is a wonderful gift to make to guides, cooks, aids, etc. in less civilized countries because the batteries last so long. I've given Moonlights and spare batteries away in rural Papua New Guinea and Mongolia and made some folks VERY happpy.
Older versions can be had through Sierra Trader and REI Outlet for quite reasonable rates.

Price Paid: 20-25 dollars (I forget)

I love this headlamp! This is awesome, I use it for everything, light goes forever on a set of batts and at 17 bucks don't feel bad about gettin it dirty. E-mail me if you have any questions about this light.
Price Paid: $17

I have had this light since 2000 and have used it extensively. This torch lasts forever on a set of batteries. I have used it on a weeklong winter trip for several hours a night on one set. It is lightweight and tough. It produces a good amount of usable light. It does not produce a beam of light but a very good amount of wide glowing light it is not a spot lamp but it was never intended to be.
Price Paid: $30

Light as they come. Great fit on head, no need for a hat. The only light I pack. Have taken it on three trips and have not had to change power source once.
Price Paid: $29.99

This thing is a true jem. It is now the only source of light I carry when backpacking. Fits well, stays put on your head, no wiggling, wobbling or slipping and is so lightweight you hardly know it's there. I can use it for three nights and never have had to replace the batteries.
You do not need a hat to wear this.
I even use the lamp for nighttime running up to 8 miles.
Make sure to get the latest model with the variable light output!
I find that the light output for around camp use is too bright (even on low setting). Get some red automotive lens repair tape at the auto parts stores and cover the LED's.
Not only does the tape give the lamp a soft red glow, it attracts less bugs.
Haven't found a thing to complain about so far with the Moonlight.
Price Paid: $29.95

Your Review
You May Like
Specs
Price
Historic Range: $17.93-$29.95
Reviewers Paid: $17.00-$30.00

Recently on Trailspace