Black Diamond Soliras

The Soliras has been discontinued. If you're looking for something new, check out the best headlamps for 2023.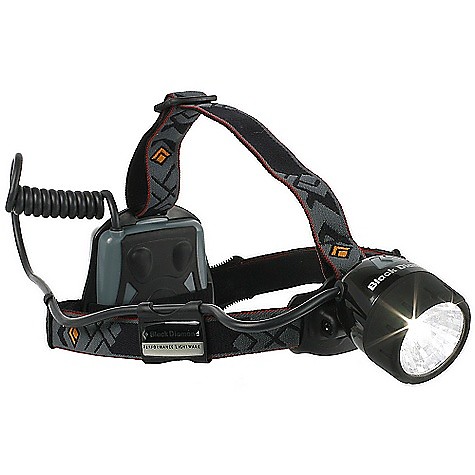 The Soliras has been a dependable friend in the backcountry. I never really realized what a good light could do for me before using this lamp.
I bring it on all of my 'dark' trips: early morning backcountry skiing, early alpine starts, late night routefinding, etc, etc.
Sure, it's expensive and heavy, but so is a good warm sleeping bag, and if you spend a lot of time on the move in the dark, trust me, it's worth it.
Pros:
(1) The battery life is incredible. I can leave it on its lowest setting for weeks of 24-7 use and it still has juice. With my more average use (occasional use of the high halogen beam, and otherwise mostly using the brightest LED setting) I can use it about 60 field days before a recharge (compared to about 10-20 field days with other 'normal-battery' headlamps).
(2) The light is incredible. Even though I somehow always get stuck in the front of a group to routefind when I bring it (no one else's headlamp ever even comes close) it always makes me breathe a sigh of relief that I can actually work safely in the dark. Other people always want to borrow it when I'm not using it, and more than once I've gotten the joking comment "Oh thank goodness, the sun came back up" when I turn on the bright setting to resume travel after a quick break.
(3) I can charge it in the car (aka at the trailhead). Enough said.
Cautions:
(1) The 'IPX' waterproof standard doesn't mean it's waterproof - it just means it will return to normal function after completely drying out. For me, this meant four days of leaving everything disassembled to dry (and not having a functioning lamp) after total immersion. This is true for all Black Diamond headlamps though, not just the Soliras.
(2) It is heavy and bulky compared to the modern 'normal' compact LED headlamp. When mounted on my helmet, if my helmet is not completely tight it causes my helmet to swivel in opposition to my head a little bit! It certainly doesn't fit in my pocket, but then again I guess most halogen headlamps don't.
Overall, the Soliras is great. It's total overkill for just normal daytime trail backpacking. But, get stuck out once off trail with it in the dark, I'll bet it will blow you away, and (like me) you'll probably never leave home to do a dark trip without it again.
Happy Trails.
Price Paid: Retail

I've had my Soliras for a week now and can tell you that it is the most unbelievable headlamp I have ever used! I did read some negative reviews about it before I bought it, but boy am I glad I didn't listen! The only light I found that even compared was the Marwi Night Pro. But the Soliras won out because I have the option of using the lith-ion battery or the easy to find double A batteries in a pinch. It also has a car charger so I can charge it on the road. Plus the Soliras has an LED optional light source that gives you more flexability, and battery power conservation as well.
If you are having any doubt . . don't even wait around because you will kick yourself for every day that passes that you don't have this awesome, multifaceted headlamp. Once you have used it, you will wonder how you ever got along without it!
-Brandon Stengel
Nashville, Tennessee

Price Paid: $104

Basically a good piece of gear, comfortable, good battery/battery charging setup, but let down by a beam that has nothing like advertised range.
The problem is that it has a poor reflector for beam usage (it is better as a directed flood light).
I replaced the reflector with one taken from a cheap headlamp and adapted to fit, the result was an excellent lamp.
But should you have to do this with a lamp costing $148?
Price Paid: $148

Your Review
You May Like
Specs
Price
Historic Range: $51.03-$220.00
Reviewers Paid: $104.00-$148.00

Recently on Trailspace