Black Diamond StormLine Stretch Rain Pant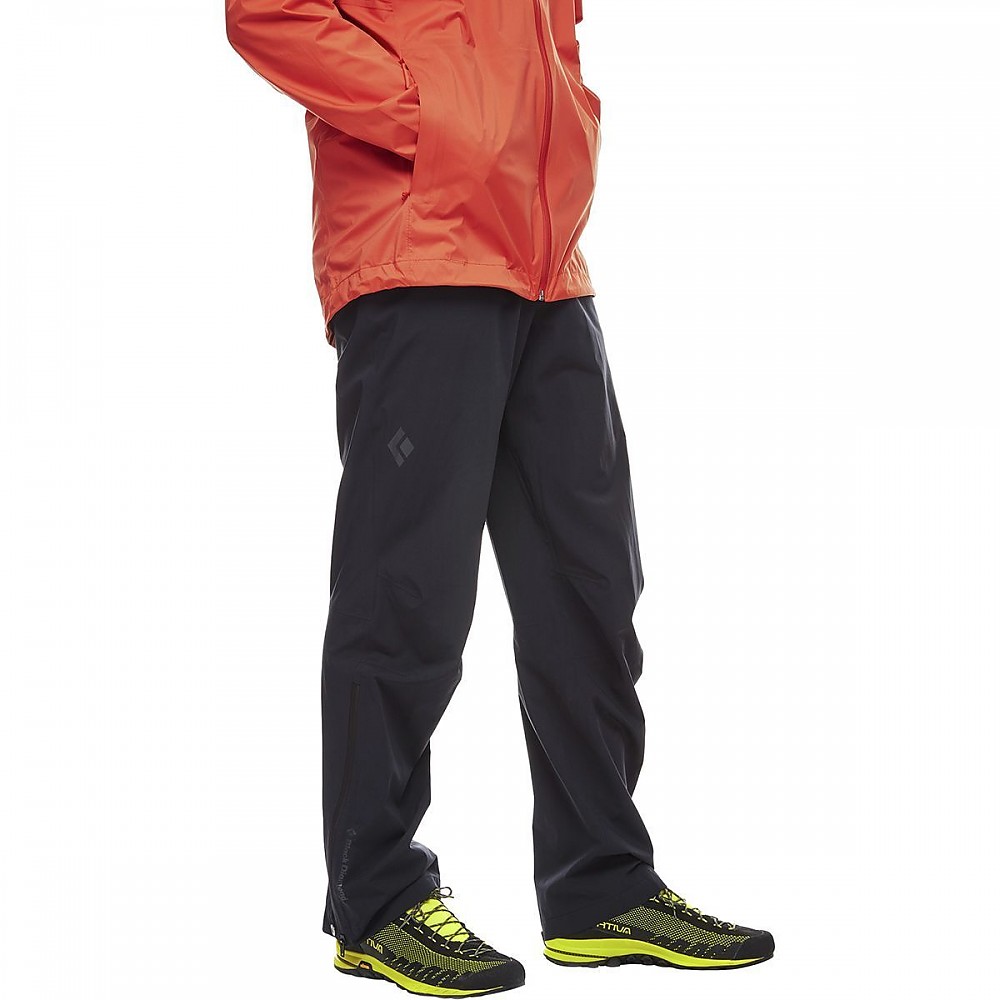 A light and waterproof pair of rain pants that have some nice stretch to them, making them easy to move in and take along for multiple outdoor pursuits. I found them best when hiking and camping, with enough room for thin layers underneath, but a little maxed out when wearing thicker layers underneath.
Pros
Lightweight, yet durable
Low profile
Ankle openings for easy on/off
Packable
Cons
A little snug in the crotch when wearing layers
Limited sizes
No long option
Only only color available
Construction & Durability:
In my experience, there are typically two kinds of rain pants, either a) ultralight and easily rip when stretched too far, brushed up against vegetation, etc, or b) super durable, ultra GoreTex'd out and really heavy. Black Diamond has made a pair that is neither of those, but instead, is both light and durable, fashioned with its BD.dry solution that meets the company's claim of being a "waterproof/breathable/windproof solution."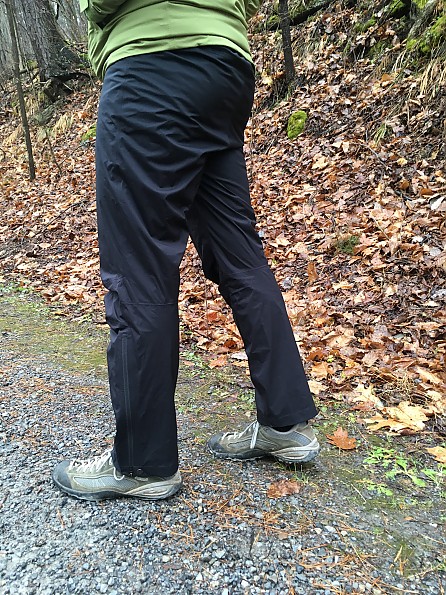 Fit and Comfort:
Quick reference: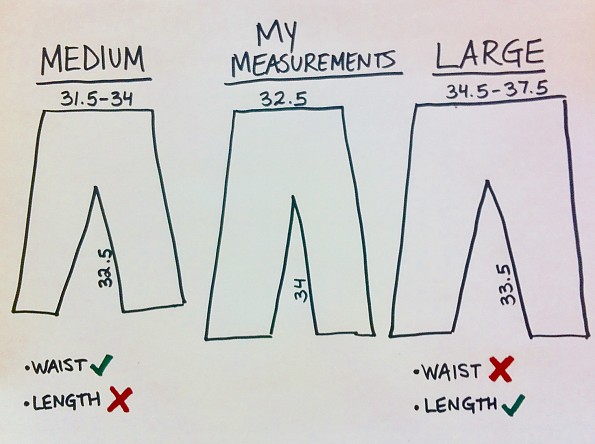 In case words you can't decipher my hand-drawn sketch, I have a 32.5" waist and a 34" inseam, so like many (most) companies, Black Diamond doesn't have a perfect size for me in these pants since they sell them from XS-XL. The StormLine Stretch Rain Pants size Medium fits the waist better (BD says Medium waist is 31.5"-34" and Large is 34.5"-37.5"), but the Large has a more accurate length for me (BD says Medium inseam is 32.5" and Large is 33.5"). I tested the Medium due to the need for the pants to stay up, allowing my boots to close the 1.5" gap at the end of the pant leg. Ideally, I think BD (and all manufacturers for that matter) should offer pants in a Long option for users whose legs are longer than average (size inclusivity, pretty please?).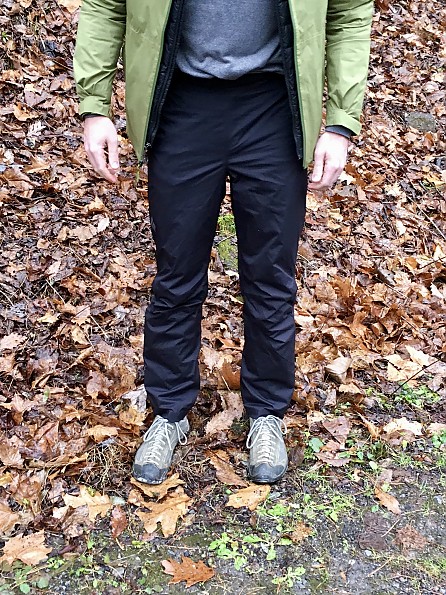 The fabric has a generous stretch to it, but not yoga-pants-level or anything like that. The stretch is subtle yet noticeable and makes them really comfortable to wear and move in. It also allows them to closely resemble regular hiking pants and not look like some over-the-top rain shell that friends and strangers laugh at (speaking from experience here, I have a military-grade Gore-Tex rain shell and pants that have definitely garnered a few chuckles). Because I sized down a little bit, the fit is a little snug in crotch when wearing pants underneath, but the stretch in the fabric makes up for the snugness by making them easy to maneuver in.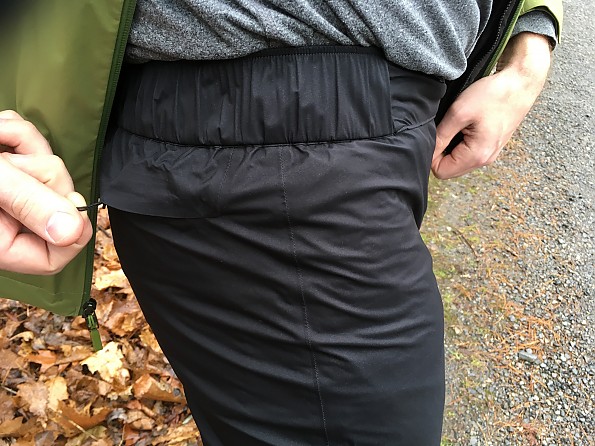 Weight and Packability:
7.6 oz for size medium.
The pants stuff easily into the rear pocket, which has a reversible zipper enclosure and loop for easier carrying (e.g. attach to outside of your pack for quick access if the weather is calling for rain showers).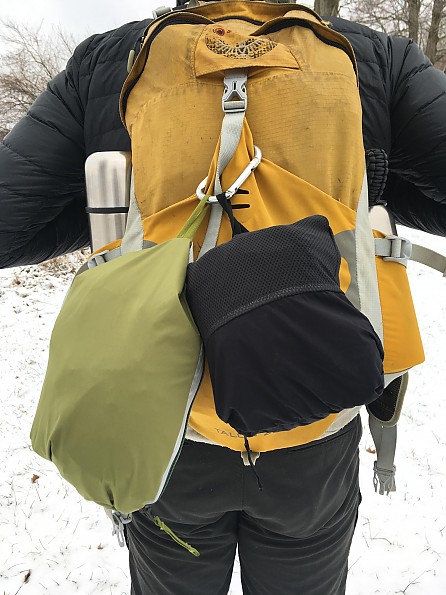 Attached to the outside of my daypack alongside the BD StormLine Stretch Rain Shell. The forecast called for rain/snow mix and I wasn't going to take any chances. 
Adjustability:
The StormLine Stretch Rain Pants have a semi-useful internal drawcord around the waist. I say "semi-useful" because it is a continuous loop, making cinching it tight not as simple as if it were two cord ends. This hasn't been much of an issue for me though, as the pants fit well enough on the waist to not warrant use of the internal drawcord.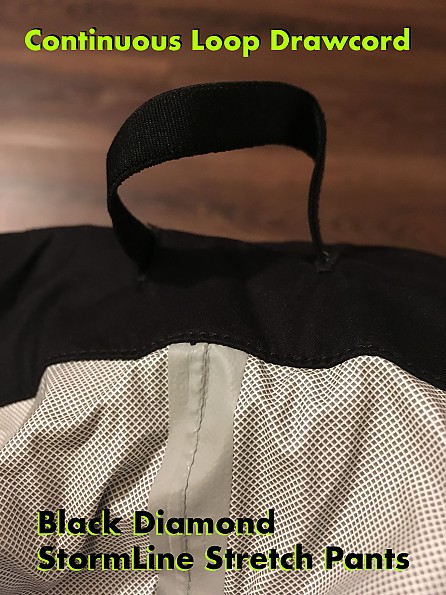 As for the hems, they can be opened up via a calf-high zipper and button enclosure. This is particularly useful when wearing bulkier boots and trying to slip the pants on/off. More on that in the layering section. Note: Black Diamond does make a full-length zip version of these pants, known as the StormLine Stretch Full Zip Rain Pants.
Waterproof and Breathability:
Water doesn't seep in, period. That's all there is to say about that.
Actually, let me say a little more. The longest continuous exposure to rain was about three hours of hiking, with non-stop, steady rain (not drizzle, I'm talking rain). It was pretty chilly out (40s F), so I wasn't overheating too much, but I needed to stay dry in those temps. The StormLine Stretch Rain Pants with its BD.dry technology that the manufacturer claims as a "waterproof/breathable/windproof solution" worked its magic.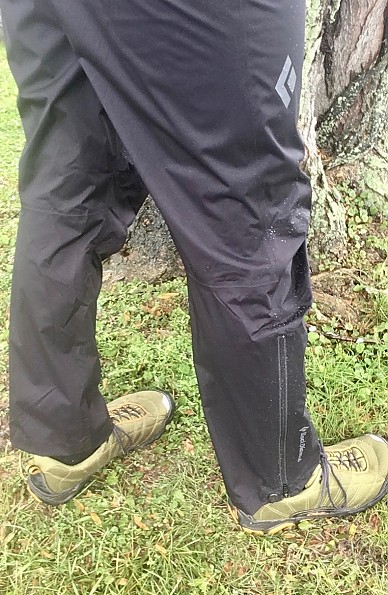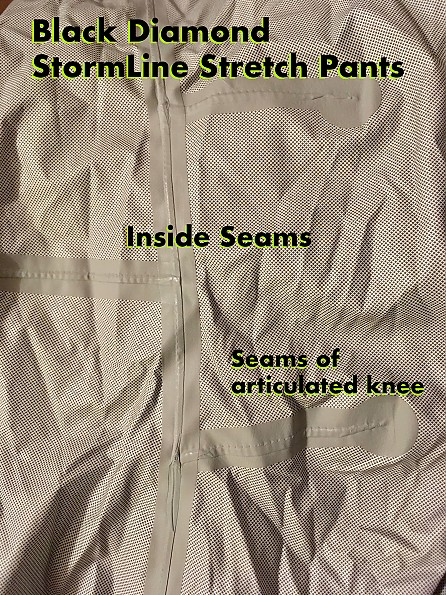 During the aforementioned hike, the StormLine Stretch Rain Pants kept me fairly well ventilated, causing no noticeable overheating or excessive sweating issues. The same could be said for all other times I wore the pants, with slight differences taking place depending on what I was wearing underneath.
Generally speaking, I get warm very quickly when hiking, so the BD.dry technology helped as much as it could in terms of breathability. Obviously wearing shorts underneath was better for breathability than wearing denim or duck canvas. When I needed it most (55-60°F and rainy/humid), I wore lightweight shorts underneath and the breathability was noticeably good. I've had rain pants in the past that I almost dread wearing due to their suffocating-like barrier, but these are no such pants. In short, the BD.dry solution is effective.
Layering:
In my humble opinion, layerability is perhaps paramount for any pair of rain pants, as they often need to be slid on or off with other layers underneath and over shoes/boots. With the calf-high zipper opened up at the hems, these pants slide on and off fairly easily, as long as the layer underneath isn't super bulky. A thick and baggy denim pair of pants may be too big for these to easily slide over, but most hiking pants, particularly lighter ones, as well as baselayers, are easily layered with these rain pants.
The bulkiest I've worn under the pants was while hunting; I wore a wool baselayer, coupled with a thick pair of duck canvas pants. The rain pants were a bit maxed out at this point, especially tight in the crotch. I probably should have removed the duck canvas pants first, but it was beginning to rain and I didn't want to make any more movements than I absolutely needed to. And in case you're wondering, I found them to be a little too loud when hunting. Like most rain pants, they make a swooshy sound when walking, so I wore them only when sitting during hunting.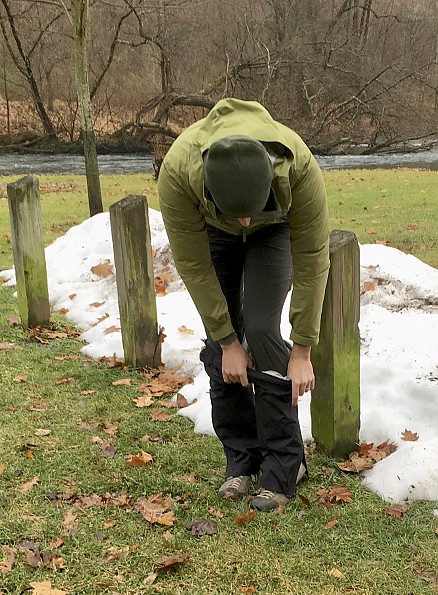 More comfortably, I've worn them over top of various styles of shorts (biking), polyester/cotton blend hiking pants (hiking and camping), wool and polyester baselayers (camping), and demin (around town), with my most common and comfortable setup being a pair of light hiking pants underneath (with or without a baselayer underneath, temperature dependent).
The one layering snafu I keep making while wearing the pants is forgetting about the lack of hip pockets. Without hip pockets, I've left items in my regular pants/shorts pockets and then slid these pants over top, only to be forced to reach my hands down the front of the rain pants and into my other pants' pockets to retrieve something. Needless to say, my wife gets embarrassed when I do this, especially when others are around.  
As for getting them on and off easily with various footwear, it can be done very easily (even while standing) with any shoes or shorter boots (5") (and decent balance), but is trickier with taller boots (8"), which requires sitting down and wrestling with them a little bit, but that still beats taking boots off in the rain. If you're a tall boot wearer, perhaps the full-length zip version of these pants, known as the StormLine Stretch Full Zip Rain Pants, would be a better option.
Abrasion:
While I haven't trudged through thorn-riddled thickets or spelunked into the depths of the earth while wearing them, these pants have held up to normal abrasion concerns like brushing up against feral branches, rubbing on the ground as I sit to rest, stuffed into my pack with who knows what else, and some a couple hunting trips, etc. The stretch nylon material is enough to withstand common wear and tear, but it is a lightweight material, so I wouldn't go pushing the limits.
Available Color Options:
In addition to the limited sizes available, BD has also limited the color choices for these pants to either black or black. This is likely due to manufacturing costs increasing for every color or length available. Unlike its counterpart jacket (BD StormLine Stretch Rain Shell), which has nine colors to choose from, there is only one choice for the pants. I understand it, but would personally love to see some options like navy blue or gray (captain and ash, respectively per BD's color-naming conventions).
Recommendation / Best for:
Not really tailored for any one specific outdoor activity, I'd say the StormLine Stretch Rain Pants are best for the "average joe/average jane" who might be doing low-impact pursuits (i.e. hiking, biking, camping) and needs to stay dry. The flexibility/stretchability of the pants allow for use in multiple rain-soaked pursuits and their relative low-weight makes them easy to carry along on most trips.
Acknowledgement:
Many thanks to both Trailspace and Black Diamond for allowing me the opportunity to test the StormLine Stretch Rain Pants.
Cold and rainy days in Pennsylvania. Perfect weather for the Black Diamond StormLine Stretch Rain Pants and the Black Diamond StormLine Stretch Rain Shell (reviewed separately). 
Experience
I tested the Black Diamond StormLine Stretch Rain Pants throughout a historically wet and rainy summer, autumn, and early winter in Pennsylvania, so the pants were worn fairly frequently in a variety of situations including camping, hiking, hunting, biking, and everyday activities like walking to the post office (my neighbors probably wondered why I was walking in the rain).

The pants were tested in conjunction with the Black Diamond StormLine Stretch Rain Shell but were reviewed separately. The jacket and pants work well together, particularly because of both being made from the same stretch-like nylon material and they each utilize the BD.dry technology for increased breathability and waterproofness, however they could just as easily be worn separately.
Source: received for testing via the Trailspace Review Corps (Sample for testing and review provided by Black Diamond)

Your Review
Where to Buy
Help support this site by making your next gear purchase through one of the links above. Click a link, buy what you need, and the seller will contribute a portion of the purchase price to support Trailspace's independent gear reviews.
You May Like
Specs
Men's
Price
Current Retail: $66.75-$130.00
Historic Range: $66.75-$130.00

Women's
Price
Current Retail: $120.00-$149.95
Historic Range: $64.97-$149.95

Recently on Trailspace