Black Diamond StormLine Stretch Rain Shell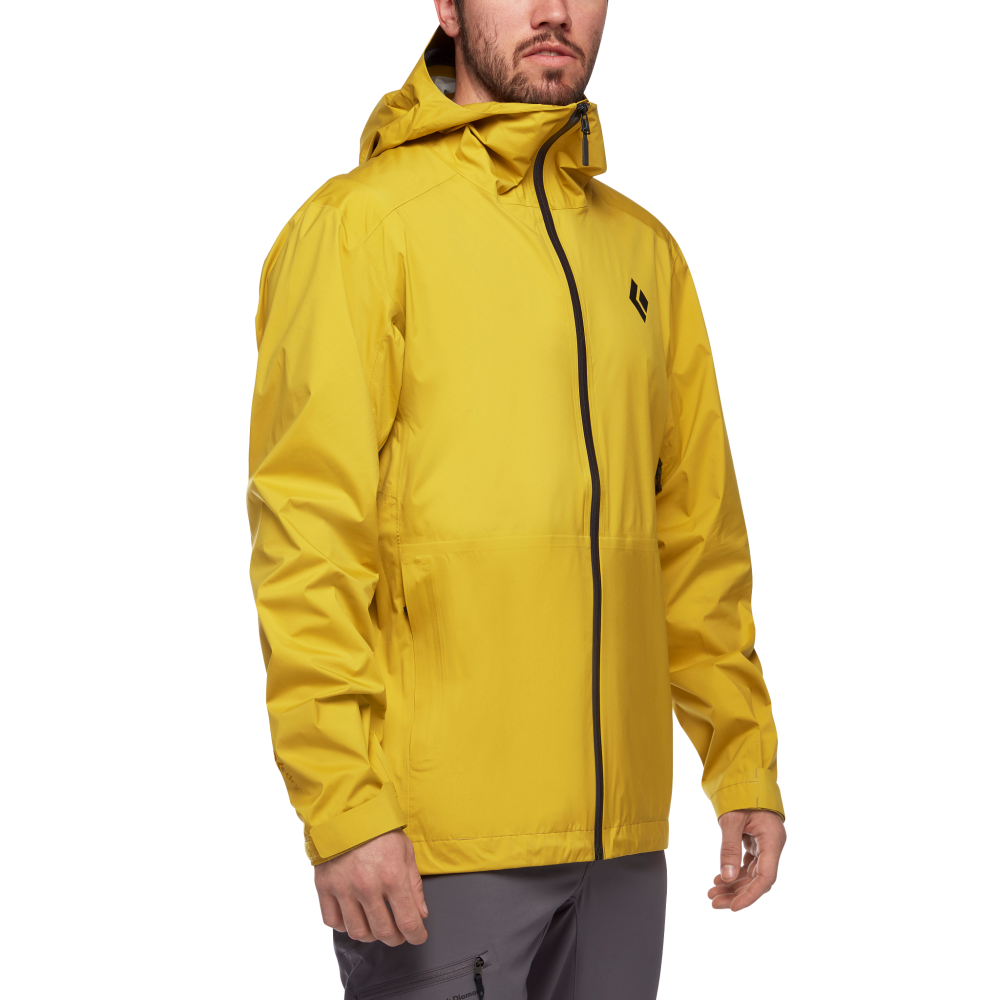 A well-engineered rain jacket that kept me dry throughout a historically wet summer, autumn, and early winter while hiking and camping. While not super technical, this jacket would more than suffice for the average outdoor enthusiast. This jacket was tested in conjunction with the Black Diamond StormLine Stretch Rain Pants, but was reviewed separately.
Pros
Lightweight (9.7oz / 275g)
Well-sealed zippers
Integrated pocket for packability
Great colors options (which are actually hard to find in today's market that seems to be either too bright or simply black)
Cons
Hood size and function
Zipper resistance
Features:
The Black Diamond StormLine Stretch Rain Shell is a pretty straightforward rain jacket with two, ample-sized zippered hand pockets; long pit zips for ventilation; an adjustable, helmet-compatible hood; and a seam-sealed middle zipper. It's made with Black Diamond's proprietary BD.dry technology, which claims to be breathable/waterproof/windproof. So I put those claims to the test.
Claim #1 - Breathable:
I don't often wear rain jackets if I'm going to be sweating a lot, but I wore this during an incredibly rainy summer and autumn in the eastern U.S., so hot, humid days were somewhat inevitable. The max temp I wore the jacket in was right around 75°F (24°C). Anything above that and I simply don't bother putting rain jackets on. At that temp and below, however, the breathability really surprised me more than any other feature of the jacket. In addition to long, 11-inch (28cm) pit zips, the jacket's material just doesn't cause the hot and clammy feeling many other rain shells cause.
The best case was when hiking a simple weekender trip (two-nighter) with on-and-off rain both mornings but humid and hot afternoons. I wore the jacket in the mornings to avoid being wet all day, and simply took it off when the rain passed and the temps started going northward.  
Long pit zips, very useful in warmer temps, but I also found them helpful during the cold rain when my body temperature is running hot. 
Claim #2 - Waterproof:
Testing the waterproofness of the jacket wasn't difficult, as it was worn during countless rainy days, some during hikes and camping, others simply during everyday use. The longest continuous time it was exposed to rain was during a three-hour non-stop rain day hike with a 22L pack in which the jacket never seeped water. If only my shoes had done the same.
I was a little uncertain about seepage into the pockets, as they don't offer the same zipper as the front chest (the pocket zippers a little more standard), but nonetheless, no issues of water trickling in.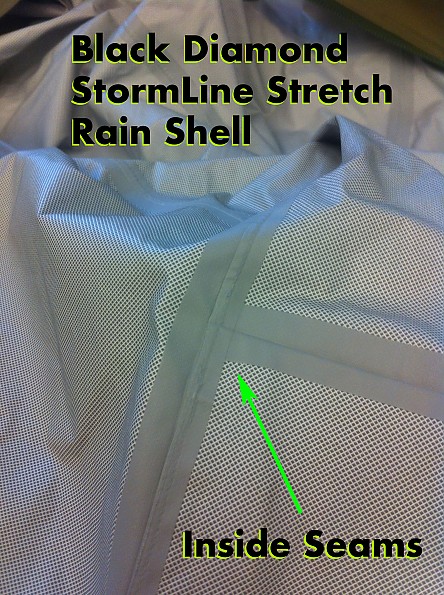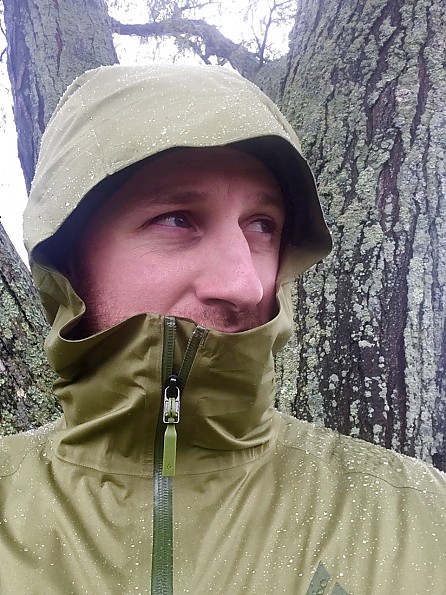 The BD.dry technology keeping the water out. This was about an hour into a day hike when I stopped under a tree to shed some layers and snag a couple photos. 

Claim #3 - Windproof:
It's tough to say what the windiest conditions were when testing the jacket (I can't easily calculate wind speed), but the jacket does adequately cut the wind, but it's not going to cut the cold chill that often comes with wind (particularly in autumn and winter).
Due to it being thin, generally speaking, if it's windy and not rainy, I'm going to choose a thicker coat than this one, but this one can be added as an extra layer of protection on top of a decent soft shell. If it is windy and rainy, I'll gladly choose this rain jacket and layer underneath according to the temps.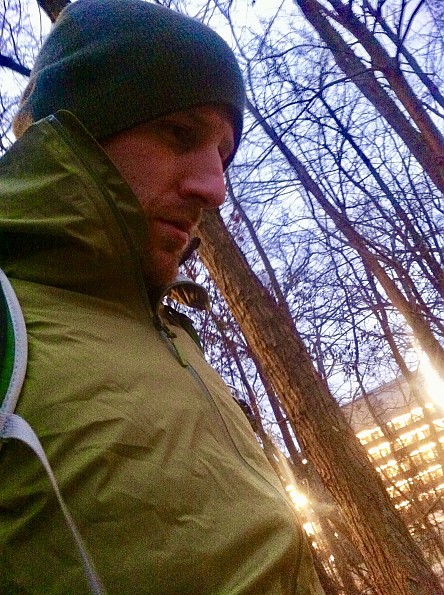 Cold and windy day walking home from work.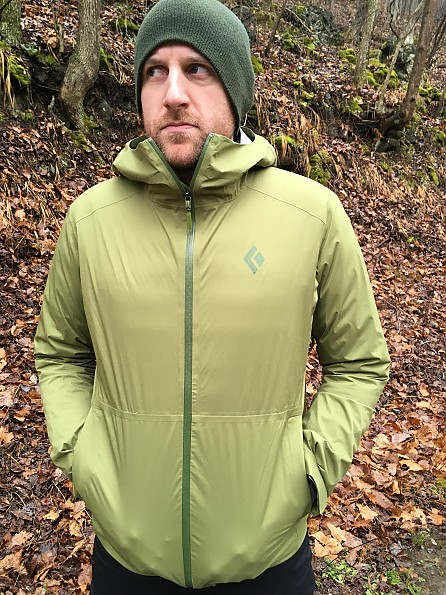 Another day of cold on-and-off rain apparently made me angry for this photo. Worn here with a down layer underneath for added warmth.
Weight:
The size Medium jacket clocks in at 9.7 oz. To me, this is a very respectable weight for a breathable and waterproof shell.
Tester Measurements:
6' 2" (1.88m)
200 lbs (90.7kg)
16" neck
34" sleeve length
42" chest
Tested a size Medium
Comfort and Layerability:
The fabric is very light and flexible, making for a comfortable wear with or without full-length layers underneath.
I've worn this jacket with a combination of layers, from as minimal as a polyester t-shirt, to as robust as a wool baselayer, polyester long-sleeve, and down jacket, all with no issues whatsoever. The jacket doesn't really add much bulk or weight and the flexibility of the fabric enables mobility.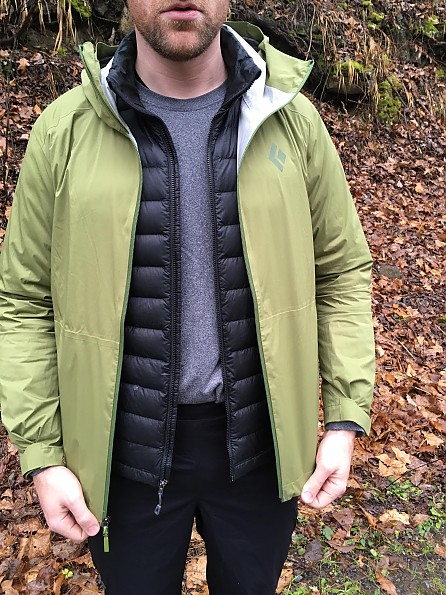 Layered with a Patagonia Down Sweater Jacket and an REI lightweight base layer top. 
Packability:
The jacket's front right hand pocket doubles as a zippered pouch for easy packability by simply stuffing the jacket into the pocket inside out. The pocket includes a zipper and attachment loop. I've found this to be the ideal method for carrying the jacket in my daypack.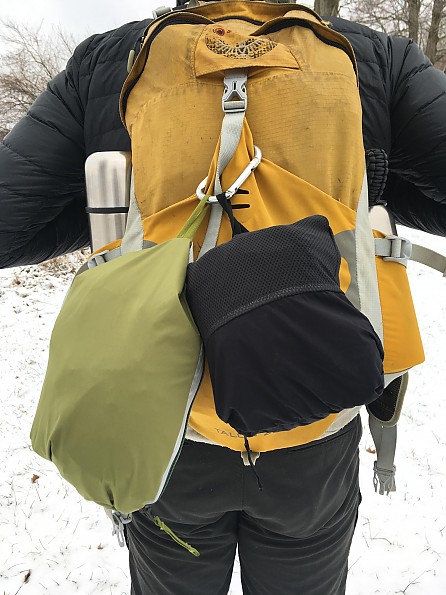 Attached to the outside of my daypack alongside the BD StormLine Stretch Rain Pants. The forecast called for rain/snow mix and I wasn't going to take any chances. 
The Little Things (Zippers, Loops, Etc.):
Black Diamond didn't mess around with flimsy, wimpy zippers that may break off. Instead, the main chest zipper is noticeably stronger and stouter than many other shell-like jackets I own. This is both good and bad...good because it feels very strong and durable, but bad because coupled with the watertight seals they use on the zipper, make for a tough pull. There is simply more resistance to the zipper than most other jackets I own. It almost feels like a catch, but it isn't. In fact, the zipper has remained completely catch-free thus far, just a little stiff.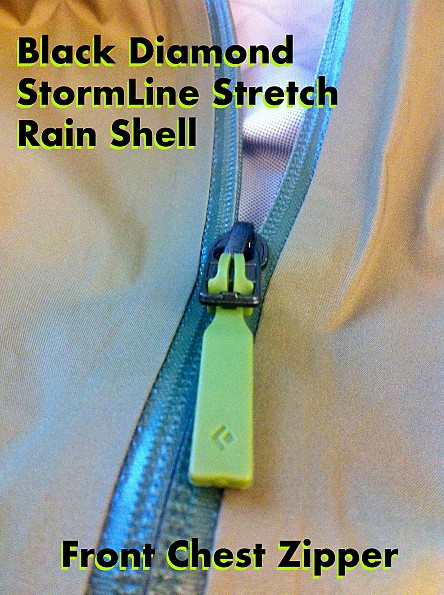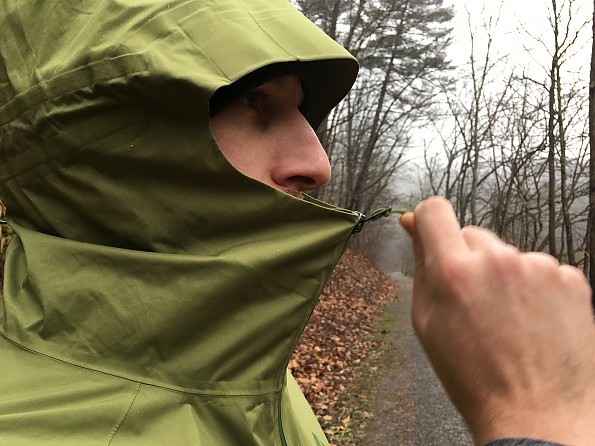 I really appreciate the small, yet stable, hang loop on the inside of the jacket. Because I mostly hang jackets on a hook and not a hanger, the hang loop is a great way to hang it without hanging it from the hood (which I've seen stretch out the hood or damage waterproofing in other jackets). It's a small thing, but a good touch.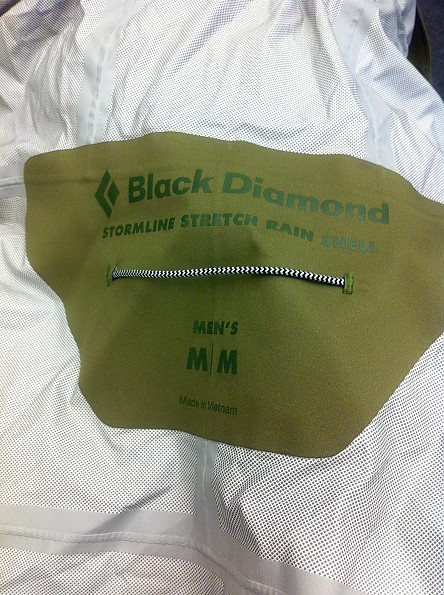 The little piece of cord is a very small yet very effective addition to the jacket, allowing me to hang it on a hook by the cord and not the hood.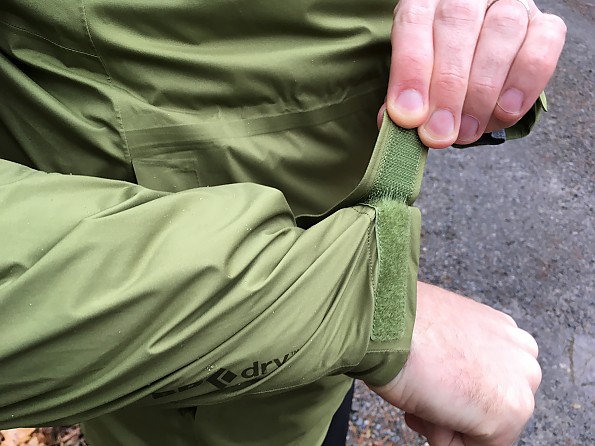 Not my personal favorite, but the velcro adjustments on the wrists work fine.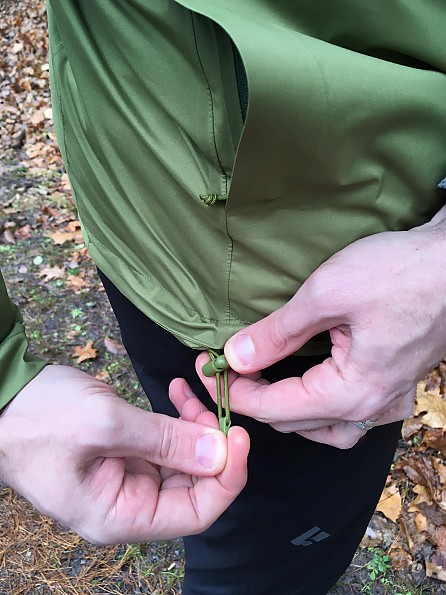 Hem adjustment cord. Easy to use. 
Hood:
I'm not sure about the hood. On one hand, it has a very nice integrated soft brim that does a good job at keeping the elements out of my eyes, be it sun, wind, or rain. However, the size of the hood, as well as the placement of the adjustable cord, are both question marks for me and they go hand-in-hand.
The hood is marketed as being "climbing helmet compatible," and while that is true, it is also big enough for use with much larger helmets like some used in bicycling. This isn't necessarily a bad thing, and some may even say it is good. But I ask myself, how often do I need a hood over a helmet in rainy conditions? Personally, if it's raining enough to need a rain jacket, I'm probably not going climbing and I know a lot of people who would say the same (I also know plenty who don't care what the weather is, they are going!).
If I'm doing another helmet-related activity like mountain biking or kayaking, I'm almost never going to wear a rain jacket because I don't care if I get wet. And the jacket is not really made for activities in the winter that may require a helmet (snowboarding/skiing).
So the question is, does the hood really need to be "climbing helmet compatible" or could they trim it down and make it fit a helmetless head better? Unless it is specifically targeted for the climbing community (which the manufacturer claims the jacket's close cousin, the FineLine Stretch Rain Shell, is the more climbing-specific of the two jackets), then I think this jacket would be better off with a smaller hood.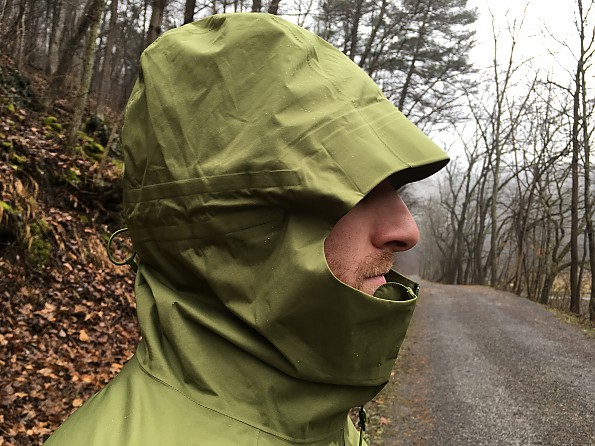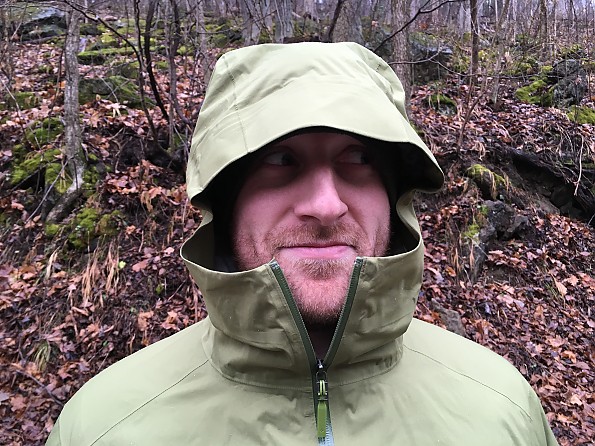 I have a pretty large head (i.e. one-size-fits-all almost never fits me) and this hood makes it look tiny. I also am wearing a beanie underneath the hood. 
Which brings me to the adjustable cord. The placement at the back of the neck makes for a somewhat awkward pull (i.e. two hands up over your head to adjust). I've seen and used jackets with front-facing adjustments and prefer them much more. But, if the hood weren't so big, I wouldn't be using the adjustments so much.
The hood is the main area that I think could use some improvements. I do like the brim and think it serves well to keep the elements at bay. However, I think the overall hood size is too big and cord adjustments are in a difficult to reach spot.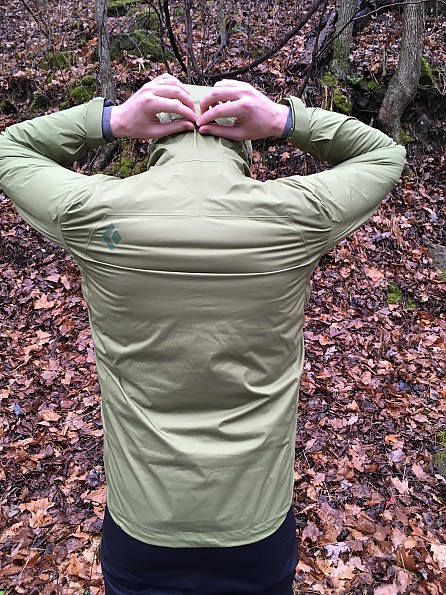 Adjustment is a bit awkward of a motion. Also I didn't notice it until seeing the photo, but notice the stretching across the back of the jacket. The jacket does stretch well, so I don't suspect this will become an issue.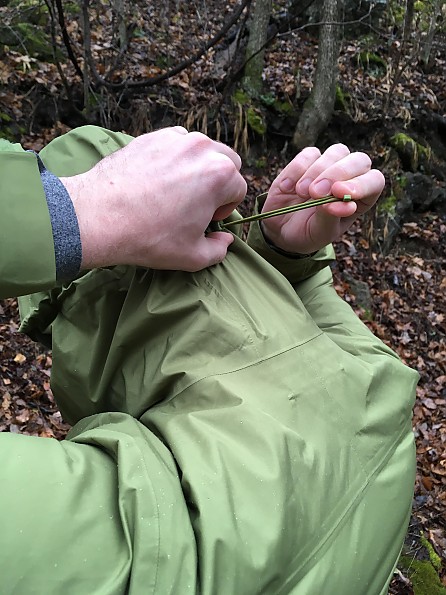 Recommendation / Best for:
While Black Diamond has a solid reputation with climbers and skiers, this jacket is tailored more toward the average outdoor enthusiast who wants some of the advantages of mountain gear (e.g. minimal weight, solid waterproofing, easily packable) without having to buy something highly technical or outrageously priced.
Acknowledgement:
Many thanks to both Trailspace and Black Diamond for allowing me the opportunity to test the StormLine Stretch Rain Shell.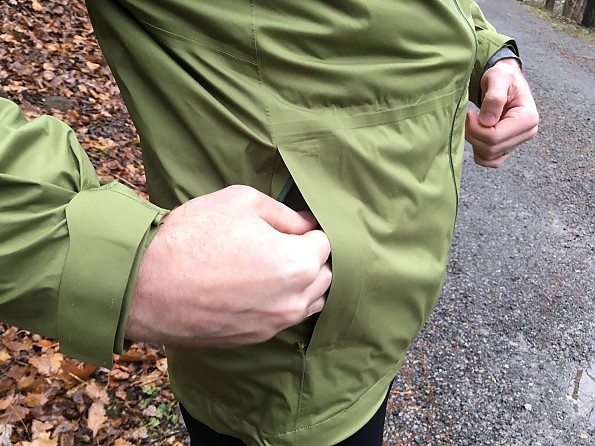 Generous hand pockets. Doubles as pack-away storage.
Cold and rainy days in Pennsylvania. Perfect weather for the Black Diamond StormLine Stretch Rain Shell, along with the Black Diamond StormLine Stretch Rain Pants (reviewed separately). 
Background
I tested the Black Diamond StormLine Stretch Rain Shell throughout a historically wet and rainy summer, autumn, and early winter in Pennsylvania, so this jacket was worn fairly frequently in a variety of situations including camping, hiking, biking, and everyday activities like running to the grocery store or heading to work.

This jacket was tested in conjunction with the Black Diamond StormLine Stretch Rain Pants but was reviewed separately. The jacket and pants work well together, particularly because of both being made from the same stretch-like nylon material and they each utilize the BD.dry technology for increased breathability and waterproofness, however they could just as easily be worn separately.
Source: received for testing via the Trailspace Review Corps (Sample for testing and review provided by Black Diamond)

Overall, the BD StormLine is a great addition for casual wear or serious hiking. The fabric is lightweight, comfortable, wind and waterproof. The long pit zips allow for temperature regulation in addition to the semi-breathable fabric. Sleeve gussets allow for freedom of arm movement. A worthwhile piece of clothing to add to one's outdoor collection!
Pros
Wind and waterproof
Waterproof front zipper
Lightweight
Packable in its own pocket with hang loop
Selection of colors
Cons
Not sure of durability or abrasion resistance since my jacket is new
The StormLine is carefully crafted in many points: lightweight, comfortable fabric that is seam-sealed; wind and waterproof, packable in its own right pocket, long pit zips, zippered pockets, a high zip neckline, waterproof front zipper, Velcro cuff closures, a hang cord, and adjustable cords at the hem and hood.
I purchased a Men's Medium on sale during the fall of 2018. I am a woman, but with narrower hips that often fit better in a men's style.
I agree with KiwiKlimber that the most peculiar feature of the jacket is the hood fit. However, the cord adjustment does allow for a decent fit without a helmet if one wears a hat or beanie. I'm a fan of BD in general because I sense they pay attention to detail and try to innovate in their various lines of clothing and equipment. The StormLine is part of their BD.dry series. 
Background
I have owned multiple rain and wind jackets over a decade. The light weight of the StormLine fabric makes me cautious about packing it under a heavy backpack; I haven't tried this arrangement yet. However, by itself or under a daypack, the jacket performs well as a comfortable and functional wind and water barrier.
Source: bought it new
Price Paid: $111.71

Your Review
Where to Buy
Help support this site by making your next gear purchase through one of the links above. Click a link, buy what you need, and the seller will contribute a portion of the purchase price to support Trailspace's independent gear reviews.
You May Like
Specs
Men's
Price
Current Retail: $45.00-$180.00
Historic Range: $45.00-$180.00
Reviewers Paid: $111.71

Women's
Price
Current Retail: $79.00-$180.00
Historic Range: $36.73-$180.00

Recently on Trailspace