Black Rock Gear Hadron Hat

Top 25 in unisex Winter Hats
The Hadron Hat has been discontinued. If you're looking for something new, check out the best winter hats for 2023.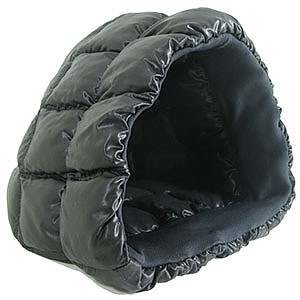 If you are looking for one of the lightest down-filled hats on the market, the Black Rock Gear Hadron is likely the one you are going to want to buy. It is a lighter version of the Original designed for those who are true gram counters.
Pros
Great warmth
High quality
Excellent warmth-to-weight ratio
Cons
Not waterproof
Lightweight material makes it not as tough as others
Many people feel it is priced a bit high
A few years ago I bought a down hat from a company called Black Rock Gear which has turned out to be one of very few items that has gone with me on every single hiking trip that I have been on in the last two years. It was called, simply enough, The Black Rock Hat.
It is hard for me to express enough how much I love this hat. I have talked about it in a few of my YouTube videos and it is apart of all of my gear lists, including my sub-2 pound base pack weight setup — which is pretty impressive!
After having used the Black Rock Hat for well over a year I bought one of their Under Mitts (read my review) to use in the winter season, which I loved and gave a five star rating for, and it was well deserved.
A short while ago I got an email from the owner of Black Rock Gear letting me know that they had a new model of the Black Rock Hat coming out and if I was interested in getting one to try it out, compare it to my existing hat and share my thoughts about it, which of course I was more than willing to do!
When they responded back to me with some of the changes from the Original to the newest model (it is important to note that this is not an updated version, but rather a whole new model in their product line) I was downright impressed with the statistics that they were presenting to me... and to be honest, if I had not already come to fully respect the Block Rock Gear brand, I probably would not have believed their data — it is that impressive.
So allow me to introduce to you, The Block Rock Gear Hadron Hat!
SevenD fabric
900fp goose down
Headlined with ultralight Dryline
30% lighter than the original
18.3 grams - for a Large (!!!)
Yes, you have read that correctly - a 18.3 gram goose down hat that can easily handle all three-season conditions! For those who cannot calculate grams->ounces in their head (which includes myself) this hat weighs in at an amazing 0.645 ounces!
As I have come to expect from Black Rock Gear the manufacturing of this hat is impeccable. The sewing is of the highest quality. The individual baffles are straight and true. And if you have followed my blog or my videos for any period of time you know that the lightest weight gear that is of the highest quality that I can find, is what I want in my backpack!
I honestly did not think I would ever find a lighter weight down hat than my Black Rock Gear Original hat, but it turns out, the guys at Black Rock Gear decided to not sit and wait for somebody else to do it, they took the initiative and did it themselves — and did it impressively!
Differences:
Let's just take a look a some of these changes:
Weight:
Original: 19 grams for their smallest version, 26 grams for their largest version
Hadron: 16 grams for their smaller version, 18 grams for their larger version
Usage:
Original: A true 4 seasons, from the desert to the top of the world (literally)
Hadron: A solid 3 seasons, from the deserts to probably not much under 30-degrees Fahrenheit.
Material:
Original: Heavier material, more goose down
Hadron: Seven Denier Ripstop (with DWR coating)
Pricing:
Original: $59 USD
Hadron: $75 USD
My final thoughts:
First I want to talk about the material. The Hadron uses nearly identical material to what Montbell used in their "Tachyon Anorak Windjacket" which I consider to be the best SUL windjacket ever created! (2.3 ounces) It is a truly unbelievable material for those who are very conscious of treating their gear in a respectful manner.
7D is not something you wear when have to plow through blackberry bushes. Respect it, because it has to be respected. It is considered the lightest weight material that can be used in clothing. This is not to say it will rip on you just by looking at it harshly, but it does require you to be aware of your environment - and let's face it, you should be treating your gear in a respectful manner in the first place, it is all that stands between you and being forced off of a trail.
The 7D on the Hadron is slightly more slippy than what my MB Tachyon Anorak is, but that is not a problem, because it is on your head after all.
Secondly is how it wears. The Hadron is slightly more flexible than my Original version. This is due to the differences in material. I actually like the fact that it stretches a little bit more. When doing long distance thru-hiking many hikers often let their hair grow long, which results in needing a slightly larger hat. A few times the Original that I own has been just a bit tight, so the extra elasticity of this model is going to be nice!
The different material that Black Rock Gear has used for the headliner is a nice change. It really seems to help keep the hat on my head, whether my hair has not been cut for a month, or whether I have a bald head.
Third, price. The Original is priced at $59 bucks. I understand those who feel that a down hat priced at this price point seems a bit much. I thought so first before I got mine. But after a buddy let me borrow his for a trip I went on, one of the first things I bought after I got back from the trip was one of these Original Black Rock Gear hats. A single usage of it on the trail convinced me that $59 bucks was worth it.
So, this new version, the Hadron, is priced at an even higher price point... that just begs the question "Is it worth it?" I have to be honest and say "perhaps" - Not a "no", but not a "yes"... but rather a "perhaps".
Allow me to explain this: If you are the type of person who already has spent thousands of dollars on your gear in the quest to get SUL/XUL gear, than you are the type of person who this hat was designed for — those of us who are willing to break the bank in order to save a few grams of weight from our backpack.
If however you are not a gram-weenie, if you do not care whether your backpack weighs 12 pounds or 15 pounds, save yourself the extra $16 bucks and buy the Original. This will save you a few bucks and leave an extra one of these Hadron hats for those who are looking for the lightest gear available.
Lastly, is manufacturing. As I have already said I believe that Black Rock Gear is of the very finest when it comes to manufacturing. They are a cottage company (which we all need to be supporting) which means that quality and control has got to be near perfect for them. In continued tradition, Black Rock Gear is true to themselves and the cottage industry when it comes to the quality of manufacturing of this hat. They indicated to me that they weigh every baffle down to the 1/10th of a gram. Remembering that these are handmade, the sheer man hours it must take to construct even a single one of these Hadron hats has got to be significant.
Like many hikers in the SUL/XUL world, I just have to demand that the gear I have is of the highest quality. A single piece of gear that fails to perform can result in the early termination of a trip. The Black Rock Gear Hadron has now replaced my Original Black Rock Gear in both my three season and my summer gear setups.
My new Hadron hits the scales at exactly 18.3 grams (0.645 ounces) - at that weight, considering it keeps my bald head warm down to the freezing temps, it is worthy of making it into even my sub 2 pound base pack weight setup - I am not sure a greater testament can be said than that right there.
I welcome your thoughts and feedback and questions about this product. Visit my full review on this product to share your thoughts!
Source: bought it new
Price Paid: Pre-release sample for T&E

Your Review
You May Like