BodyGlide Anti-Chafe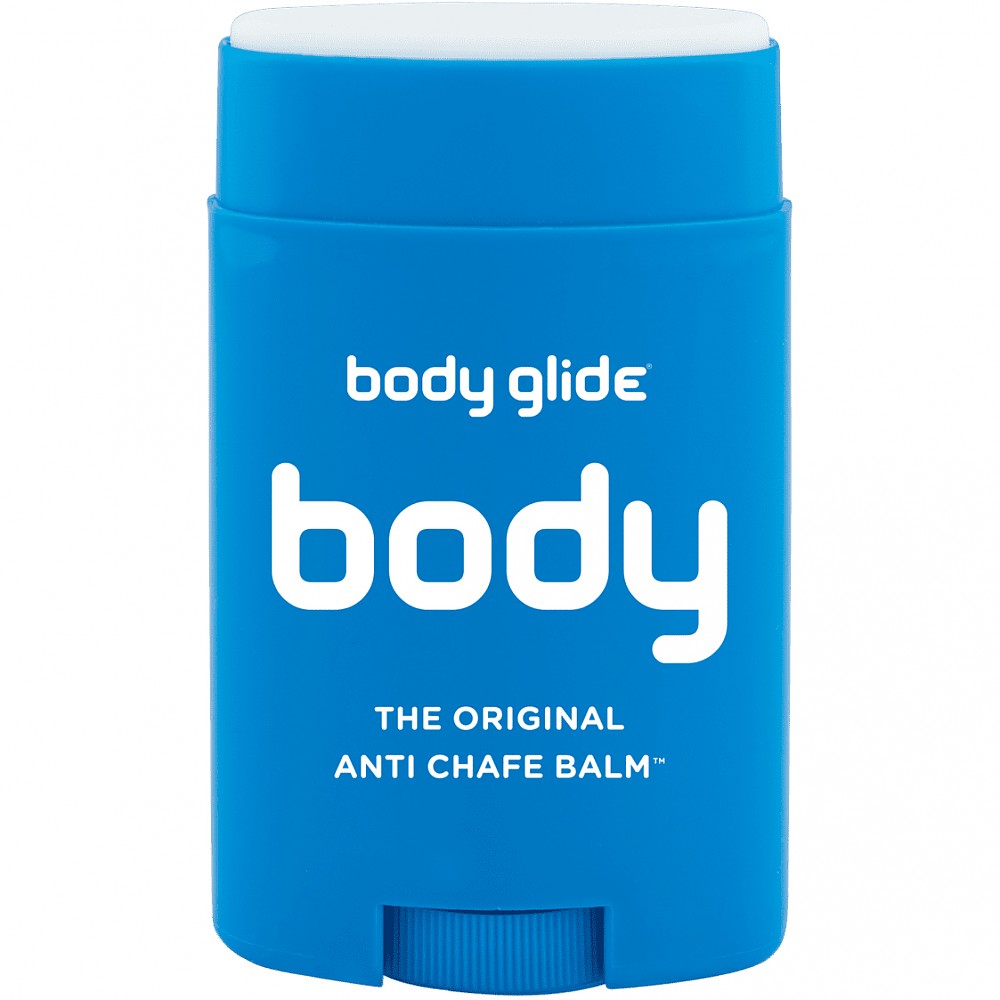 How would you like to float down the trail, with little or no pain? BodyGlide product can help with the second part of that. It can be a real problem solver for the skin discomfort, the bane of many outdoor adventurers, blisters and chafing! Provided that the gear has the right physical design, non-aggressive surface texturing, and size for you, test this as your potential solution.

Basically it makes your skin surface less wettable, thus less swellable. And it adds some tenacious slick, slipperiness that can be washed off later. Smoother skin texture, with better skin glide, literally allows the problem to slide away.

(This review is on the same product in older packaging).
Pros
Works everywear on skin, such as on toes, heals, under arms, upper leg/croutch interface
Easy to apply, just like underarm deodorants
Odorless, no fragrance, and hypoallergenic
One container can last a very long time
Cons
Might cause oil/wax like stains on some materials, especially if you over apply
Could melt and drain out in your car or pack if left in hot sun
Will disappoint you as a deodorant, if you grab the wrong container
Will disappoint you as BodyGlide, if you grab the wrong container
One container can treat your whole hiking club (not a pretty concept)
Happy Thanksgiving 2015!  I'm thankful for BodyGlide ... you might be too?
Your body is important and it can really hurt if you don't treat it right.  I really enjoy the name of this product. Just saying it gives me visions of a hiker-like Aladdin. I apply magic stuff and somehow then glide effortlessly up the mountain.
Actually the description is pretty accurate! It works like magic, it does cause almost effortless gliding, and I can dream (can't I ?) that I look like Aladdin. However, the glide zone is very localized on your and is technically better termed 'slide*'
* I suspect that the BodySlide name is already taken by the Slip and Slide maker?
BodyGlide, in generous quantity, comes in handy application container that many of us already know how to use!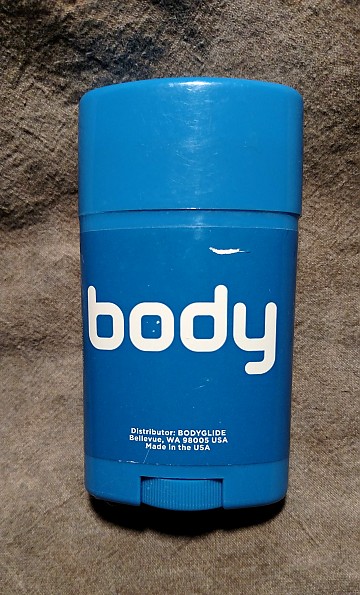 Like again today on Thanksgiving, we often take a couple hour+ local hike before partaking in the family feast of Roasted Beast(s) (Eggplant?), Gluten Free whatevers, and Squashed Pumpkins, best for me served as Pie. Squak, Tiger and Cougar mountains around Issaquah work well for this.
My wife on late fall and early winter Squak Mountain hikes
So what started MY quest for slick glider sliding agents?  As with most gear research frenzies, it was a trip episode gone partially and potentially very wrong! We were on Squak Mountain on a fun 7.5' mile stroll with only about 1,200' elevation gain (then the often more gear-testing loss) expected. We were nearing the first of the multi-mini-peaks in what they loving call the 'Issaquah Alps' out here.  T
hen there it was a newly bush wacked bunny Trail, visually suggesting one my find a route over the center top of perhaps ALL of the little peak tops, rather skirting around this first one. I should have known better when I saw for the first time what I call the 'Witch of Squak Mountain', a crafty kinda sinister looking, snag of a tree stump.
The 'Witch of Squak Mountain' appearred just before the fun began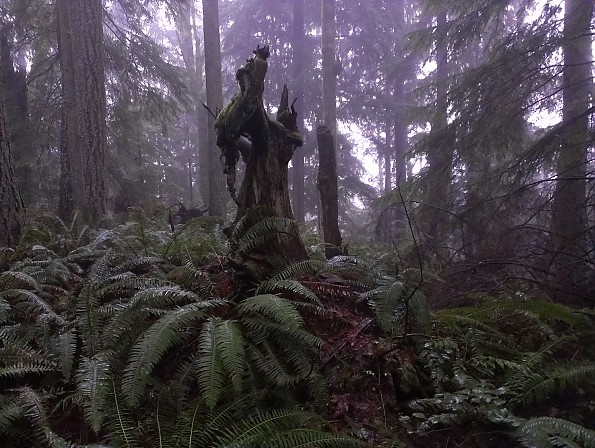 That bunny trail found steep zones that we didn't know existed. We were lifting our knees waist high to get over mossy fallen trees and taking plunging long steps up and down very non trail like terrain (much of this east below the ridges and 'Old Grizz' trail. We finally after about 10+ miles ported out in the middle on the little mountain and had to walk alongside the traffic for maybe a couple miles back to Issaquah Nice little hamlet of a town!  
The biggest insult to my body, and your reason for having to read this section, was that the plunging steps had caused the seams of some very familiar pants to unexpectedly wear 1"raw inner skin holes on both sides of my inside upper legs. And some boot chaffing not experienced before caused some toe and heal blisters to threaten.  Those worn through areas were extremely painful and required large Band-Aids to be used for more than a week.  Longer legged underwear, expedition grade cushion socks and strategically placed BodySlide BodyGlide has prevented injury since.  
Because we are sure as heck, not avoiding new potentially fun bunny trails. (Oh, the 'Old Grizz' trail sign, and news that Washington State is talking about reintroducing Grizzly Bears here, makes one wonder if bells and pepper spray someday might warrant investigation.)
My wife uses BodyGlide at times between her toes and hesls to stop chaffing in new boots.
Initial labeling of the product was pretty funky, they have improved it. But I am stuck with my old bottle for a very long time ... unless I apply it generously to all of the hikers in our weekly groups for a couple of hiking seasons.  That sounds very weird. Leaving it in the sun sounds like a better idea!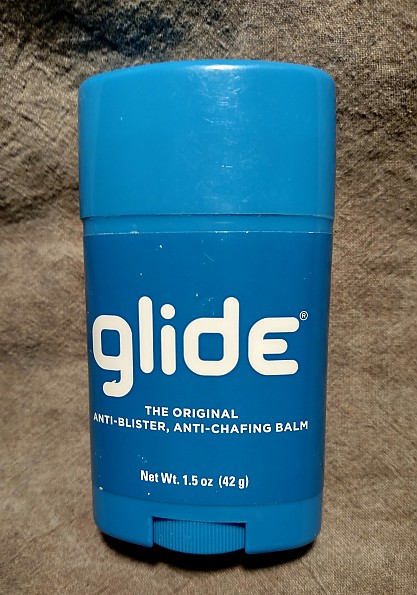 BodyGlide is easily opened and only the glide slider stuff need touch you.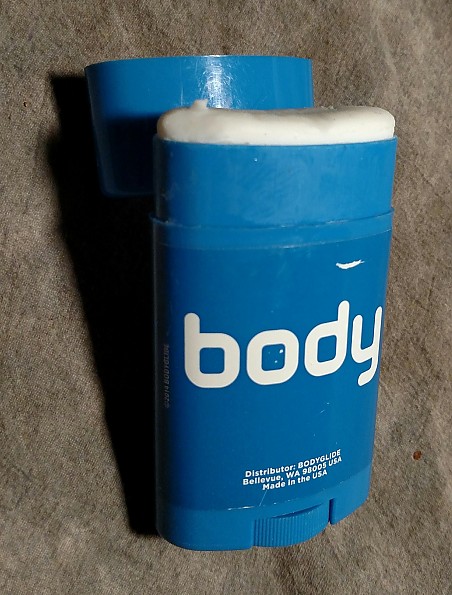 It looks white in bulk ... but then the magic begins ... it goes on clear! Thus, no staining occurs and ones display of ethnic originality preserved. Furthermore, misguided strokes unknowingly resulting in shocking literary statements or iconic graphic symbology does not occur, and harmony between cultures is also preserved.  I'd have photographed some on me to demonstrate. However, the only visual indicator of use would more smile and the appearance of less pain and grief.  The are clear verbals indicating use during an putting. More laughing, less swearing and crying.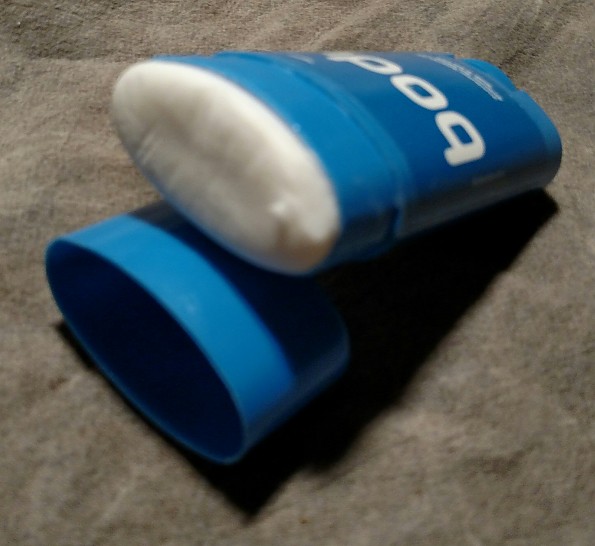 Buddy/My Lady if this doesn't work, bring a little biodegradable soap to wash it and apply large bandaid, surgical tape or moleskin to before chaffing results in blisters or worn through bleeding sores.  For outtings, under harsh environmental conditions, finding a product that works for YOU can literally be a life saver!
Source: bought it new
Price Paid: Sports Authority $6

Your Review
Where to Buy
Help support this site by making your next gear purchase through one of the links above. Click a link, buy what you need, and the seller will contribute a portion of the purchase price to support Trailspace's independent gear reviews.
You May Like
Specs
Price
Current Retail: $8.99-$11.00
Historic Range: $3.93-$11.00
Reviewers Paid: $6.00