Boreas Gear Lost Coast 45

Boreas Gear is no longer in business, and the Lost Coast 45 has been discontinued. If you're looking for something new, check out the best overnight packs for 2023.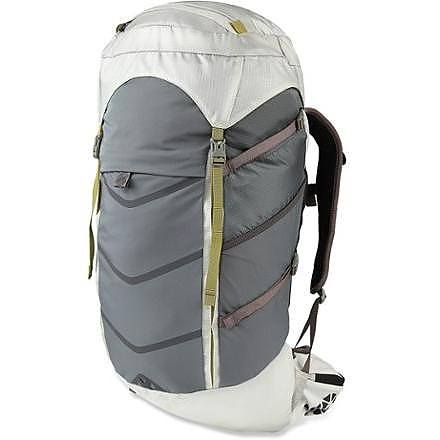 A moderately lightweight backpack that is smartly designed and does a lot of things well. I found the suspension very comfortable for carrying weight 35 pounds or less, and good but not ideal for heavier loads. While the backpack looks and functions as a very simple bag in some respects, it offers a surprising amount of versatility. The few design features I would tweak are relatively minor; overall, a really nice and creative solution from a fairly new company.
Pros
Light and innovative suspension
Great hip belt pockets
Lots of small but smart design quirks
Cons
A 'tweener' — neither a load-hauler nor an ultralight
Side stretch pocket openings
Some might dislike hip belt
Boreas appears to be a fairly new backpack company; the 45 liter "Lost Coast" is the medium-sized version of their relatively full-featured backpack, which is also available in 30 and 60 liter sizes.  The torso length is not adjustable, so you need to know what size you are — they come in 'medium' (torso length 20" or less) and 'large' (over 20").  
My medium weighed right around what the manufacturer indicated, a hair more than 3 pounds. That's heavier than backpacks which appeal to people who are intent on carrying the lightest loads possible, but a fair bit lighter than some alternatives this size.
Here is what it looks like, loaded up, after a morning hike: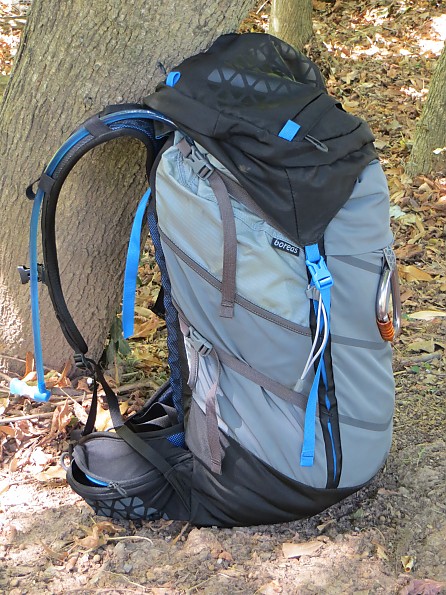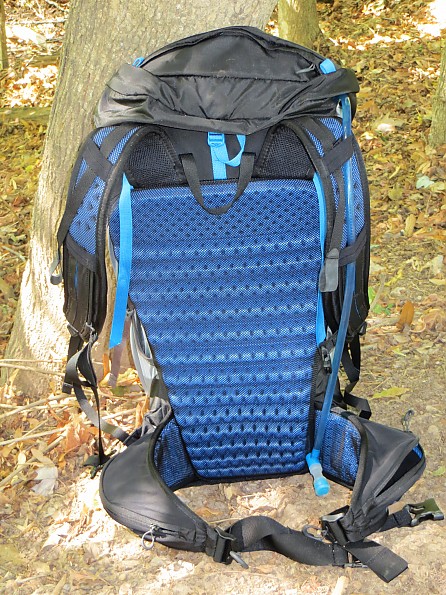 As the photos show, the outside of the backpack looks fairly streamlined, the back pad is a little unusual, and the hip belt has really big pockets. It's worth a deeper dive to see what this backpack is all about.
SUSPENSION
The bumpy foam is what stands out visually. It is fairly firm and is covered by thin mesh, and it is both perforated and ridged to allow some air flow. What isn't immediately apparent is the plastic frame sheet underneath helps ensure that the foam is firmly against your lumbar area. That the foam is ridged and perforated allows some air flow, but also helped (in my experience) keep the pack firmly seated on my back and hips.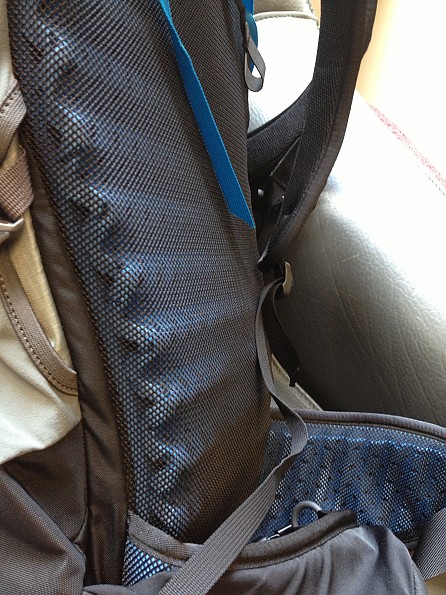 Side view shows the back pad nicely. Also, you can see below that the foam in the hip pads is pretty thin, intended to wrap around your hips but not provide tons of cushioning, and the hip belt pads are 'partial' in that they extend around the sides of your hip bones, but they do not cover the front at all. 
I don't mind that the front is all strap and no pad, but some people might not like that. I also liked the fact that the straps on the hipbelt adjust by pulling inward, not outward.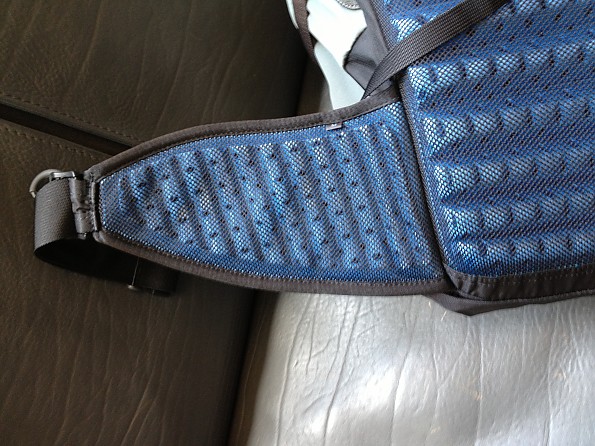 Other than demonstrating that I should be doing a few more sit-ups, you can see where the hip belt pad ends and where the pockets are sitting.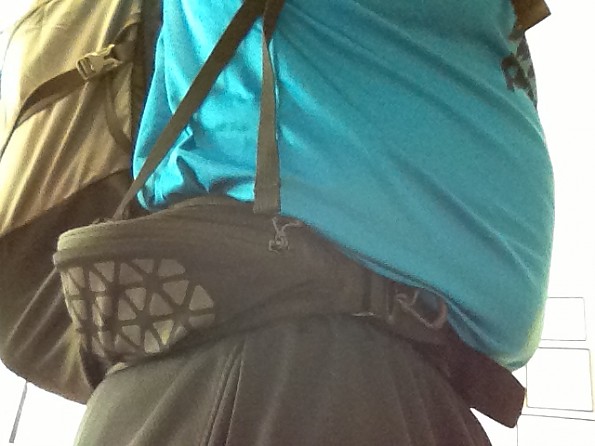 Ventilation is clearly a priority for this backpack in that the shoulder straps are also perforated. Like the hip belt, the shoulders are made of thin but firm foam, with light mesh covering it.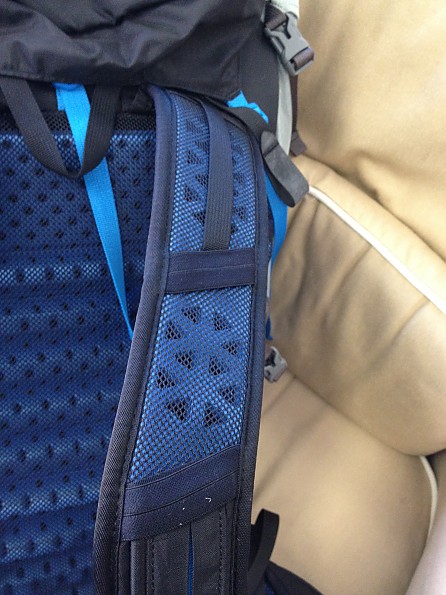 The suspension adjusts shoulder strap length like any good backpack and has load-lifter straps that attach to the top of the frame. If you look at the photo above, you will see the load lifter strap with its black rubbery loop dangling near the upper part of the shoulder strap.
The pulls at the ends of the straps are nice; very easy to tighten. Loosening them isn't so easy because the buckle at the top of the load lifter rides underneath the top — it's hard to reach without taking the top off.  I don't generally adjust these anyway and didn't experience and slipping during my walks. 
OTHER COOL THINGS I NOTICED
BIG pockets on the hip belt. Stretchy. They hold a lot. Note the minimal zipper pulls. Also, worth noting that while these pockets are really easy to open, their size and relative lack of structure makes it harder to close the zipper — I had to hold one finger against the end of the zipper while pulling. A minor contortion.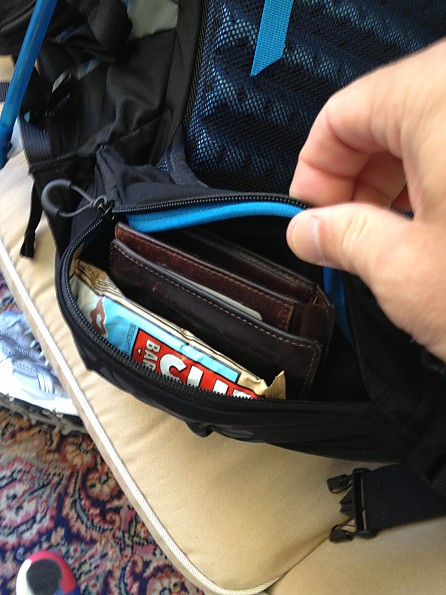 And it swallows the wallet and Clif bar with room to spare. I can easily put my compact super zoom camera and not-small portable GPS in these pockets.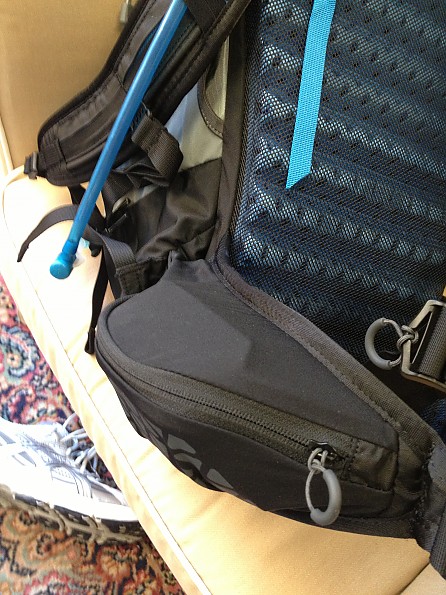 Hidden daisy chain loops — both on the shoulder strap and running down both sides of the back.  Pull them out if you need them, hide them if you don't. Nice.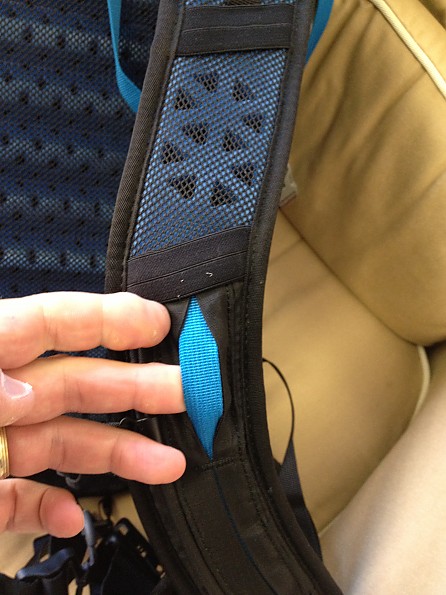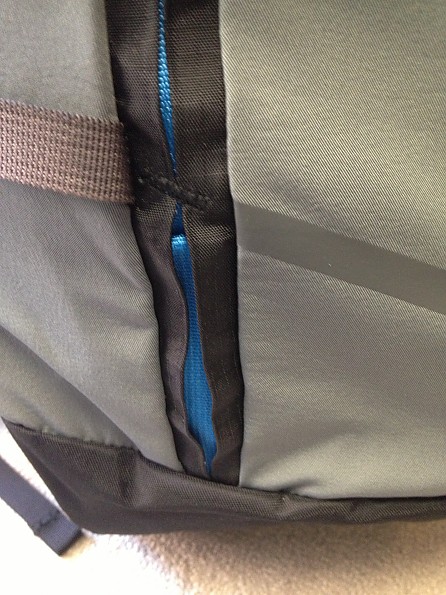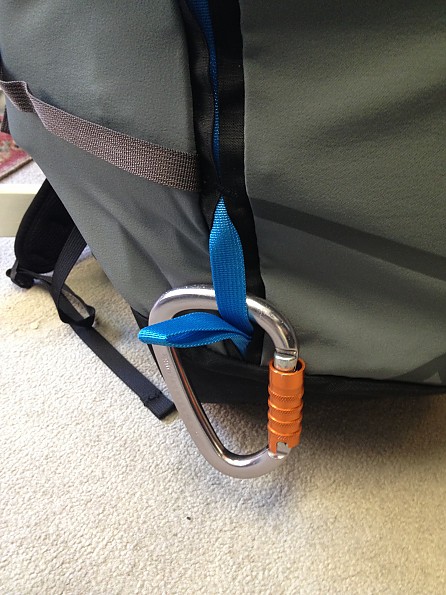 Note there are also hidden dual bottom loops for ice axes. 
The stretchy side pockets have some issues. They can hold a one-liter bottle, but it's pretty darn hard to reach the bottle unless you have very flexible shoulder joints. Also, note how the lower compression strap crosses the pocket — don't tighten that strap if you want a bottle or other stuff in there.
Also, the pocket has a strangely-situated hole. I couldn't figure out what it is for. Needless to say, that hole makes the pocket fine for hats, mittens, etc., but not for really small items that might fall out. Maybe you could put a smaller (less than one liter) bottle into that, angled and much easier to reach, but I haven't tried that.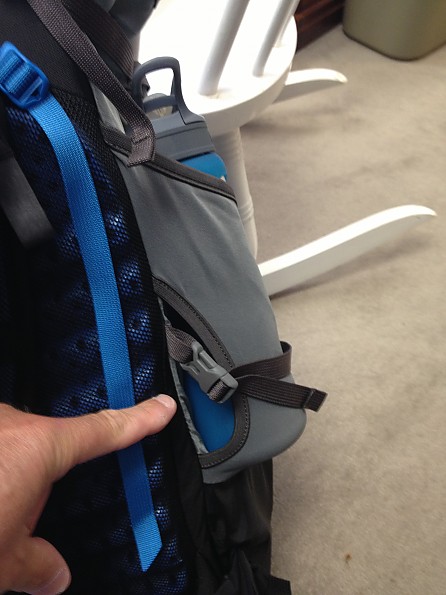 P.S. I'm much more accustomed to hydration bladders these days, and this pack has very standard and good means to do that — an inside sleeve with a clip/loop to grab the top hook if needed, hydration ports on both sides, and elastics on both shoulder straps for the hose. Works very well.
Lots of separate storage in the top (which is removable), a mesh pocket underneath, plus dual large pockets on the top, with openings in the front and the back.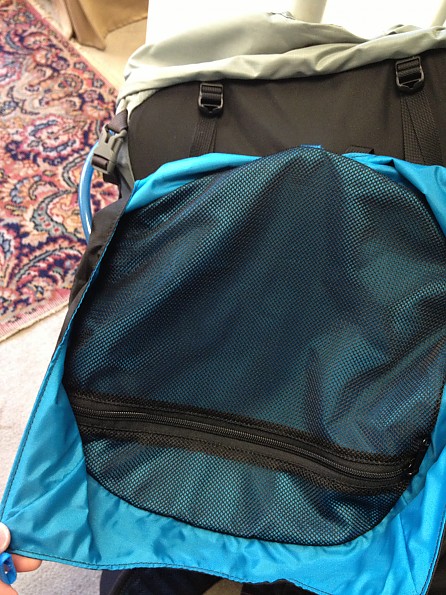 Pocket that faces the back: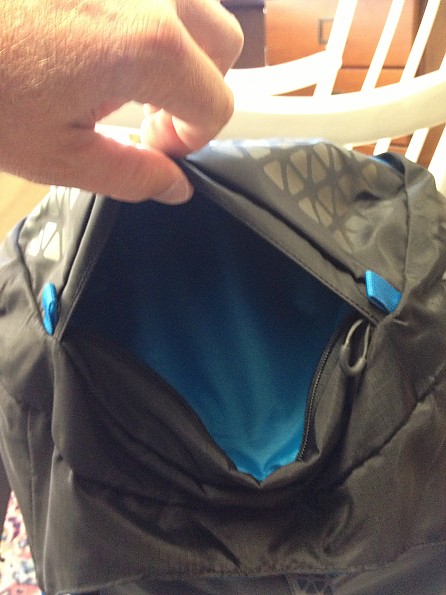 Pocket that faces the front: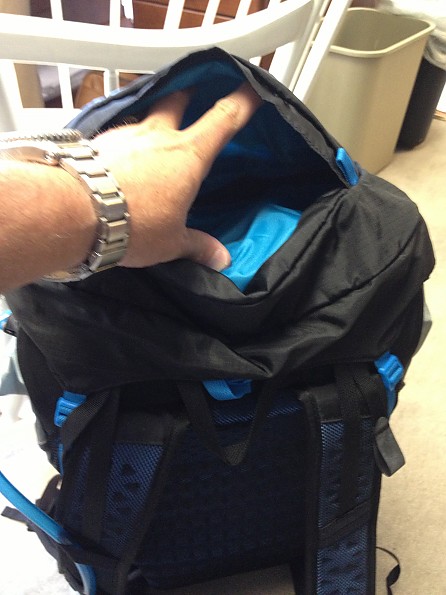 Clever cord pull that keeps the pack shut — very easy to pull open and shut: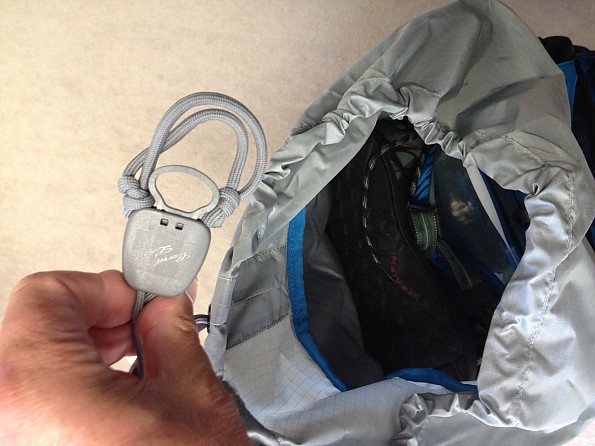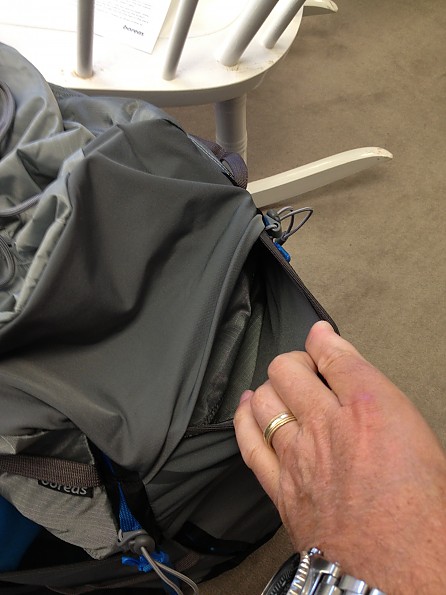 Finally, the entire back of the backpack is a big stretchy pocket, capable of swallowing a wet hard shell or small tent fly that's wet, with a little pull tab. That's my carabiner hanging from the tab.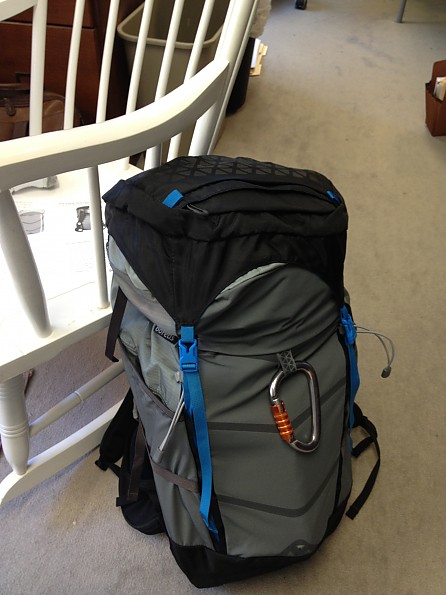 ENOUGH WITH THE FEATURES - HOW WELL DOES IT WORK?
I have taken a series of hikes with this backpack on local trails by the river near where I live. I varied the weight from 20 to 45 pounds. My focus was on how well it carried the weight, did I have to adjust it a lot, how much (if at all) did the pack sway when I walked, and did all that business with the back pad make a difference in how cool/ventilated it felt?
Also, I wanted to determine whether those downward-arrow thingies on the pack bag would make any difference, as they are supposed to give the pack bag some structure. Finally, I generally wanted to see how I feel about such a lightweight pack material. It's a relatively stretchy nylon, only the bottom is made from fairly sturdy, stiffer nylon. 
Well, the suspension works. I carry backpacks a lot, and 35 pounds felt great — no strain on my shoulders, nothing pulling on my hips. I had to haul the hip straps pretty tight to get those small pads locked onto my hip bones, but with that done, it carries really, really well for a lighter-weight backpack.
It has a hard plastic sheet with a relatively light aluminum wire frame around the perimeter of the sheet. So, 40 and 45 pounds was fine too, but I felt it a little in my shoulders after a few hours. I would probably avoid larger loads with this.  by comparison, the gregory balloter 65 i use has a very stiff aluminum bar frame and heavier-duty padding that easily totes 50 pounds or more. but the Gregory weighs a lot more.  
Regarding those arrow thingies, I couldn't tell if they had an impact. I'm carrying 35 pounds in the photo below, and you can see the pack bag. It's sagging a little. However, I couldn't tell while I was walking, didn't actually notice until I saw the photo after the fact. 
One thing about this backpack, even loaded to what I considered to be a maximum weight of 45 pounds, it is very stable with the compression straps pulled tight. The trails I usually hike on involve a fair bit of rock-hopping, and this backpack felt extremely secure throughout.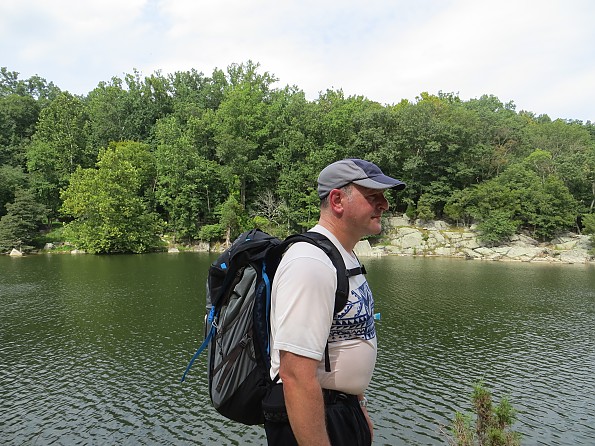 It's too early to tell how durable the mesh, foam, and stretchy material is, all of them might have some propensity to snag and tear. On the other hand, companies like Granite Gear have been using materials like this for years with great success. 
Ventilation was pretty average, though I was plagued with some really warm days.  I will say this — the back pad itself barely felt damp when I took the pack off after a long and very warm hike. 
Source: bought it new
Price Paid: $109

Your Review
You May Like
Specs
Price
Historic Range: $59.00-$179.95
Reviewers Paid: $109.00

Recently on Trailspace