Brooks-Range Cloak 15

Brooks-Range is no longer in business, and the Cloak 15 has been discontinued. If you're looking for something new, check out the best 3-season down sleeping bags for 2023.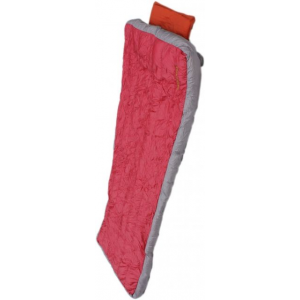 Do not fear the quilt. Unless you're a wild thrasher, in which case a quilt might actually be good for you. Worked for cynical old me.
Pros
Very light
Very warm
Dries rapidly
Cons
As light as it is, I would love it to be a bit more generous in size.
I decided a few months back to get serious about paying off my credit cards, but couldn't help one last splurge before dumping the plastic in the shredder. I was also absolutely sure I didn't want to spend another 2-3 weeks in the Sierra in a less than perfect sleeping bag, or as I was leaning towards, more and more—a quilt. 
Hours of spotty on-line research, following the crowds and what everyone else was buying up—the cottage industry quilts and so on and I finally just went with brand loyalty. I own a few other Brooks Range Mountaineering products and so their quilts got my attention. 
Still, I was really worried about the idea of a quilt and whether or not it would actually do the job. I realized this could be another, almost $400 blunder and as soon UPS got to my doorstep I began to get a bit worried—it weighed so little and even less once I'd carefully removed the Cloak 15 from the box and fluffed it up—it was like shaking out a paper towel. 
I had a few weeks to go before heading out to do the middle section of the Sierra High Route, but after just a few minutes of time under the Cloak 15, on the living room floor, I tossed it in the gear closet and awaited my fate. 
I own two other bags. One a 1972 Trailwise Slimline Chevron, rated somewhere in the low-teens to somewhere in the minus. Made for winter expeditions and not really a great summer Sierra bag. I never ever got cold, but I was often way too hot and tended to just sleep under the bag, quilt-style. It also weighs 5.5 pounds. 
A few years ago in Nepal, I walked into a very nice mountaineering shop and handing over the plastic, bought what I thought would be a very nice, very light minimalist sleeping bag from Millet. It weighs nothing, has a 3/4 zipper and if you've ever seen a butterfly trying to escape from a cocoon, that's pretty much what my nights in that bag became; cold and restless...Warning; if you are in a foreign country and asking questions that they keep answering yes to, you might be in trouble. 
...and so there I was first night out with the Cloak 15, high in the Sierra and in spite of the absolute grandeur of it all, the big thought on my mind and what I was anticipating most that first night was, how good would this Brooks Range Mountaineering Cloak 15 actually be? 
I was not disappointed. I was almost too warm a few nights. I also had this fear that I wouldn't be able to stay under the quilt and that there'd be a bunch of cold spots around the edges, but again, a night and then another proved me wrong. 
I'd only seen one on-line video review and the guy was 6'2" and slightly heavy, I am 6'1" (and not) and think if you're over 6'3" or just really rotund, this isn't the quilt for you. 
A lot or most of the quilts I've seen seem to be just stripped down sleeping bags, with a round foot-box and no zipper. The Cloak series are all flat. The toe box, very wide. The side baffles, generous—it really is a quilt, flat, warm, roomy. 
I also chose the 15 degree with an eye towards spring back-country ski trips, but also, considering the Sierra, I couldn't see spending a lot of money on a quilt only rated to 30 or 45. 
If you're on the fence (or a rock, or cliff . . . no, wait, go back to the fence) about buying a quilt, jump off and give the Brooks Range Cloak series a try. 
Source: bought it new
Price Paid: $369 +

Your Review
You May Like
Specs
Price
Historic Range: $184.97-$277.46
Reviewers Paid: $369.00

Recently on Trailspace