Buffalo Mountain Shirt

#9 in men's Synthetic Insulated Jackets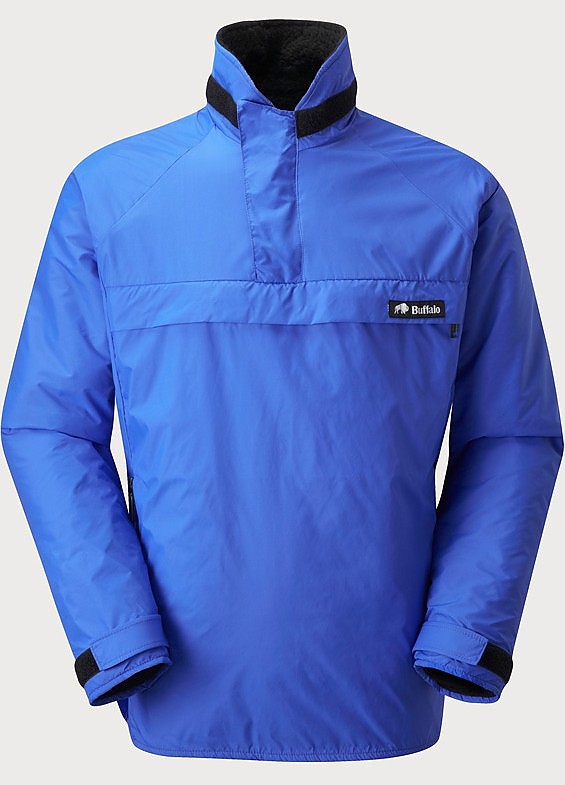 Incredibly functional, warm, and featherlight protection for high effort activity in wet, windy, or cold climates.
Pros
Lightweight
Very well engineered to maximize simplicity
Warm for its weight
A better solution for active use in the rain than GTX if used in the intended temp range
Cons
Limited temperature range
You'll need a change of clothes to grab a beer indoors with your friends afterwards.
Not able to try on before you buy, unless in England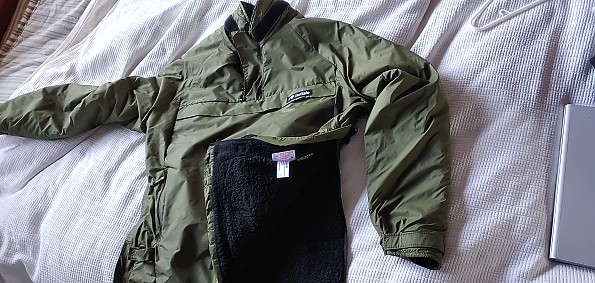 After suffering the last 30 years hiking the PNW in a 3l hard shell, being too hot walking uphill, and shivering all the way down because I was soaking wet inside from sweat, I decided I'd had enough. Did some internetting and found out about Buffalo.
The Mountain Shirt fits comfortably loose. The Special 6 is the same, just longer and therfore better for the over 6'2" crowd or those looking to push the lower end of the temp range. A 44 fit my 43" chest with enough room that I could wear a thin layer under it, but I don't, as I prefer to use as intended: bare skin.
The pullover, when paired with an Eddie Bauer GTX brimmed hat, is perfect for a 2-3 hour strenuous hike up a hill and back in the rain. It has easy to use vents that keep the perspiration from running down your arms, however, if wearing a pack, you will wet out on your back and feel the sweat. Works great for me with softshell pants no matter how windy or hard it's raining. For a longer time out, I'd want a poncho to shelter in during rest breaks.  
The material is a lightweight nylon type windbreaker sewn to a long haired fleece, about the same as an old Patagonia R2. It is much lighter than a softshell, much warmer, and more water resistant, not wetting out until about 1.5 hours in pouring rain. The concept is to use your body heat generated from activity to drive moisture away from your skin and maintain a heat envelope next to your skin.
For me, this works at temps 35-45f in the dry, and 40-50 in the wet.  Above 50, too hot unless I lower my activity level. Below freezing, needs high effort or another layer to add over when resting. If I were to wear a comparable shell, but with a separate mid layer and a wicking base layer, the wicking base holds the moisture closer to the skin and is colder when descending or creating less internal heat. The sewn-in fleece is the magic. It is a wonderful feeling to be warm returning to the car park, even though the outer materials are wetted out.  
The downsides are the very specific temp range. They make their garments to work individually as a system as opposed to components to create a system. I haven't yet tried the Buffalo Techlite shirt to see if this system works just as well in warmer weather.
Source: bought it new
Price Paid: $250

The most versatile outdoor garment I've ever used. Possibly the best return, for the initial purchase price, of any athletic kit I've bought.
Pros
Lightweight
Wind resistant
Water resistant but not entirely waterproof
Multi-functional
For active use in exposed locations
Easy ventilation/heat management
Quick drying
Quality manufacture, fabrics, and fastenings
Easy to wash and dry, therefore...
Excellent, for extended hikes, cycle tours and other backwoods expeditions
Cons
Not designed to be waterproof
Extra ventilation options (even more) would be helpful (dependent on use and individual physiology)
I've had at least one Mountain Shirt in my kit bag, since 1990. A great three-season climbing, hiking, paddling, and cycling layer, designed to fit close, wick away moisture from the skin and as a barrier to wind chill. I sometimes use a thin polypropylene under vest and would want a waterproof extra layer for heavy, prolonged rain, extended rest stops, or while belaying.
More versatile than many competing garments, tough and easy to care for.  The zips and fastenings are very reliable and easy to use, with gloves or cold fingers. The smock styling can be a little awkward to put on and remove, if, like me, you have shoulder injuries.
Buffalo shirts keep you warm even when wet and dry quickly, from your body heat. You become used to adjusting the ventilation, as atmospheric conditions and terrain change—and this becomes second nature, after a while. This is a confidence-inspiring piece of kit, which will do its job, as part of a well thought out clothing setup, in a variety of situations.
The side zips allow great temperature control, whilst protecting your chest and back, from the effects of wind chill. Great when climbing a long hill, on your bike, or working against a difficult current on a cold river.
Durability is great—assuming you don't abrade the outer fabric on too many rock pitches, or scramble through too much thorny brush country. You probably need some Kevlar for that!
Sometimes your arms may feel damp from perspiration if you are generating a lot of heat, which would be alleviated by armpit zips. A longer neck zip and lower chest pocket, would also offer more utility for some users. The kangaroo pocket is roomy and zipped on either end: a great hand warmer or glove stash.
Buffalo shirts are all about function. They don't claim to do everything and they aren't designed to impress people in the bar. Nothing is for ornamentation—although some of the colour choices are pretty bright—which you want on a road bike, but maybe not when bird watching.
As a tough, versatile, windproof warm layer that maintains your body temperature, resists rain, and doesn't make you feel damp and miserable, they are hard to beat. The product has been available, with only tiny modifications, for more than 35 years...and there are reasons for that.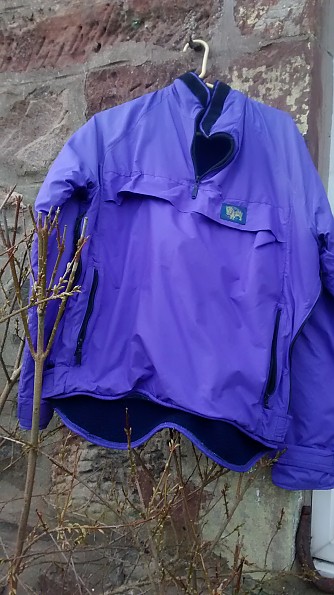 Experience
Three decades....on the bike, on long and short backpacks and hikes, for climbing, canyoneering, canoeing and caving. Just way more versatile than any other piece of outdoor clothing I've ever used.
Source: bought it new

Special gear that needs an Active/Static rating table for reference.
Pros
Will keep you safe in hypothermic conditions
There's a reason Search and Rescue uses this system so they don't have to worry about themselves getting in hypothermic trouble during rescue.
Cons
Needs an Active/Static temperature rating table to help guide users.
Great garment to keep you safe in the wilderness, I would say 0°F to 40°F depending on activity.
Especially good and safe in the 25°F to 35°F range.
Comfortable to wear in static conditions above 40°F. 
Experience
Colorado and Wyoming
Source: bought it new

A reliable, fast drying synthetic jacket which puts a lot of emphasis on staying warm through a high level of breathability.
Pros
Very warm when active
Very breathable
Relatively windproof
Useful chest and hand warmer pockets (big enough for maps etc)
Cheap for what you get
Cons
No hood included, must be bought separately
Reduced maneuverability when the jacket is pulled tight by the straps
Pertex does not stay waterproof over long exposure to the rain
When stationary for long periods of time, coat is not as warm an down jacket competitors
Tight fitted collar offers no protection for the face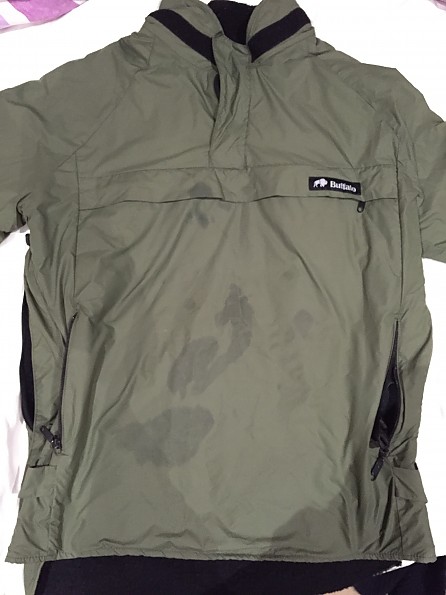 The Buffalo Mountain Shirt is an excellent choice of clothing for anyone who wants an extremely breathable and affordable coat for use while active.
I have had this coat for a year and a half now, and while I mainly use it in winter due to the fact that it's usually too warm for summer use, its low weight of 630g allows it to act as a nice backup when wildcamping or backpacking in summer — just in case the weather takes a turn for the worse.
As you can see, mine has a few stains on — which is probably my fault rather than the jacket's (one too many sloppy pizzas while drunk!). However, it must be said that these stains do not seem to come out in the wash.
I question Buffalo's claim that the garment works best worn next to the skin, as when it's windy a lot of the trapped warm air is lost from the jacket. In my opinion a baselayer is needed under the jacket. This also allows for the jacket to be taken off if necessary, for example when inside a cafe or restaurant.
I personally really like the look of the jacket, and not only wear it for outdoor pursuits such as climbing, but also wear it for things like commuting to and from sixth form. For me, the olive green is very tasteful, much nicer than the 'Royal Blue' colour option (yuck!). I also like the pull-over smock design which feels secure, however the three zips sometimes become tedious when taking the coat on and off.
Just be aware that it's not the most waterproof and is likely to let water in if exposed to rain for extended periods of time (however this is a worthy compromise for such a high level of breathability). Also, it's annoying on particularly bad weather days that the coat does not come with a hood, which must be bought separately. 
Despite these flaws I would definitely recommend the Mountain Shirt to a friend any day. It's an incredibly cheap coat for what you get, and for a coat with the same level of performance from one of the big outdoor brands you would probably pay a couple of hundred quid. 
If they're good enough for mountain rescue teams then they're good enough for me. 
Source: received it as a personal gift

Your Review
Where to Buy
Help support this site by making your next gear purchase through one of the links above. Click a link, buy what you need, and the seller will contribute a portion of the purchase price to support Trailspace's independent gear reviews.
You May Like
Specs
| | |
| --- | --- |
| Price | Reviewers Paid: $250.00 |
| Weight | 730g (size 44) |
| Windproof | to 50 mph |
| Material | Pertex Quantum shell (formally known as Pertex Classic) |
| Lining | AquaTherm pile lining |
Recently on Trailspace