Bushnell PowerView 12x 25mm Folding Binoculars

Specs
| | |
| --- | --- |
| Price | Reviewers Paid: $20.00 |
| Weight | 11.3 oz / 320 g |
| Magnification x Obj Lens | 12x 25mm |
| Close Focus | 25 ft / 7.6 m |
| Field of View | 240 ft @ 1000 yards / 80 m at 1000 m |
Reviews
1

review

5-star:

0

4-star:

0

3-star:

1

2-star:

0

1-star:

0
A good choice for a lightweight compact pair of binoculars. They are durable, easily adjustable, and have relatively good optics for the price. I don't carry them every trip but miss them on trips with good views or lots of leisure time for wildlife watching.
Pros
Durable
Good magnification/objective for use
Decent optics for price
Easy wheel focus
Adjustable diopter
Compact and light
Rubber eyecups fold back for glasses
Light carrying case with belt strap
Cons
Some clouding over time (10 years)
Low light/distance clarity
Some rusting of screws after 5 years
Thin neck lanyard
Magnification makes it a bit shaky
Eye relief could be better for glasses
I guess you could say I have a love-hate relationship with binoculars on backpacking trips. I looked back through my notes from many trips since I bought the Bushnell Powerview 12x25's on a whim (Target around 2005 for $20), and see almost an equal number of notes saying I shouldn't have lugged along binoc's and ones saying glad I took them or regret leaving them behind.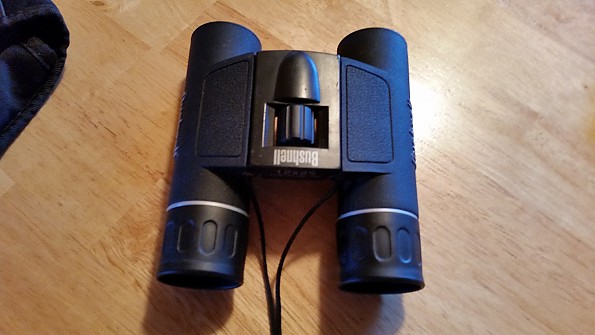 First the specs, for those interested:
Dimensions

Closed:   4.5" x 2.5" x 1.75"
Open:     4.5" x 4.25" x 1.5"

9.2 ounces
12x25 magnification x objective (240 ft at 1000 yds)
Fully coated optics
Non-slip rubber coating
Adjustable diopter
Roof prism optics
Usage/Testing
As mentioned above, I have carried these off and on for almost 10 years. It is difficult to figure out how many trips, but the Bushnells keep showing up in photos over the years…either hanging around in my "office" on the stabilizer strap (but not obviously keeping us focused!).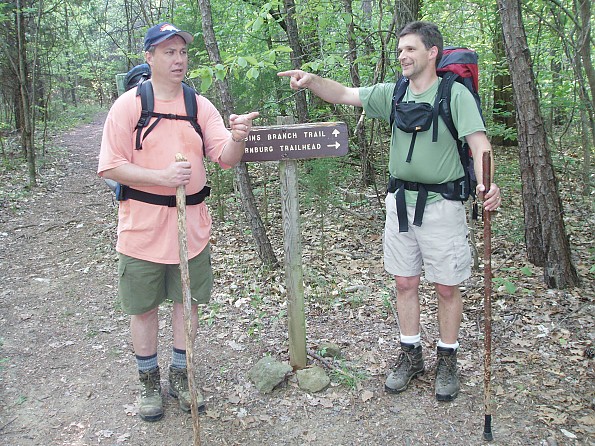 Or lying around the tent after use for sky gazing and bird watching...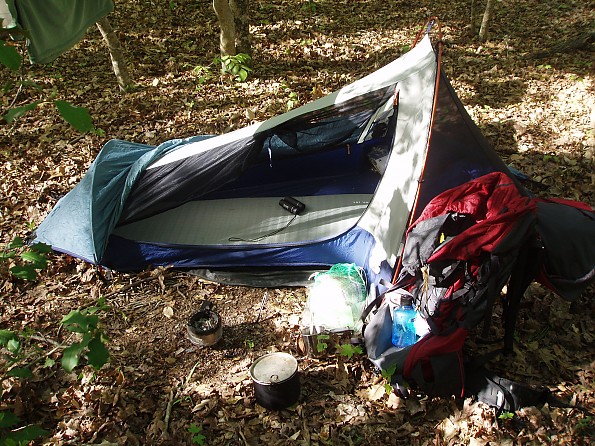 I keep the binoc's handy during the day for occasional birding, studying views, and route finding especially when bushwacking (including detailed scoping of upcoming ridges and valleys trying to "see" thickets or other obstacles). Probably my most common use is those really fantastic weather days when you can hang out for a long lunch or break on a rock outcrop and study the opposite ridge or watch a hawk circling.
The Bushnell Powerview binoculars have a relatively strong 12 x magnification that gives good detail. Within a mile or two you can make out much detail, but things do get fuzzy as you would expect for longer distances. 
Here is a photo of a mountain about 8 miles off, and then at the same zoom on the camera taken through the Powerviews.
Please note that the cloudiness and fuzziness in the second photo is not due to the binoculars  but my photographic technique. I can vouch that it was clear enough to see a small cell tower on the top through the binocs.  I show you these two photos only to provide an example of the magnification.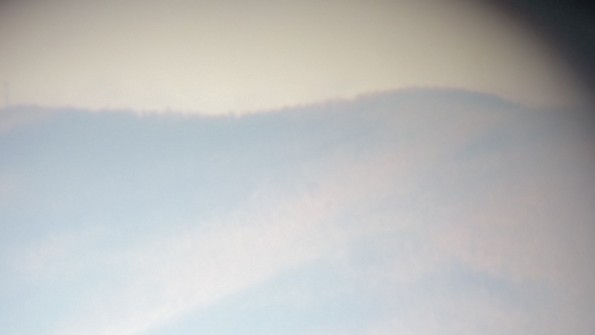 Due to this relatively strong magnification which limits the field of view, I find them a bit shaky. Steadying them with two hands or resting on a branch or trekking poles alleviates this issue for the most part.
Clarity/Color
Clarity is pretty good during daylight hours, but in low light it is difficult to make things out. I had difficulty the other week determining if a shadowed knob about 5 miles away was part of a ridge or behind it until the sun peeked out and lightened up the view, then it was clearly behind the ridge.
The Powerview 12x25 binoculars have an exit pupil of 2.1 mm. This means not much light gets in when things get darker at dusk or dawn. Colors are also a bit muted in the view. However, in comparison to similarly priced and sized options, these hold par. When scouting vegetation ahead, I can tell the different depths of green of pines, rhododendrons, etc. 
Durability
Durability is where the Powerview 12x25s excel, in my experience. I have carried them on many trips over 10 years. They have hung loosely to the pack bouncing around occasionally, been dropped multiple times, and survived 10 degree nights and several days of rain without damage. There is a slight cloudiness in the lenses now, only noticeable at certain times and didn't occur until recently that I am aware of. The only wear and tear I notice is slight rusting at the screws that hold the neck lanyard to the body.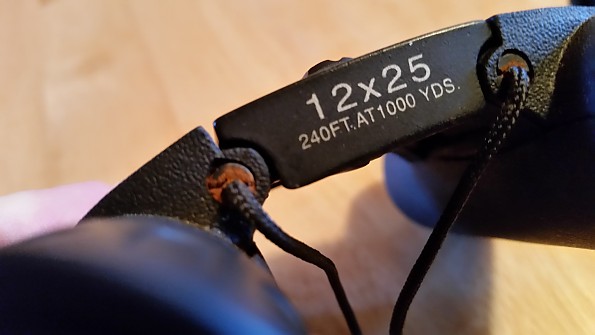 Compactness/Packability/Comfort
As seen in the specs, the Powerviews pack down to about a 4 by 3 by 2 shape that is easy to slip into an existing belt pocket or into the carry case that can be strapped on as described below. They are easily expanded from their compact form to open without adding much bulk, and usually the adjustable diopter stays at the same setting as last use.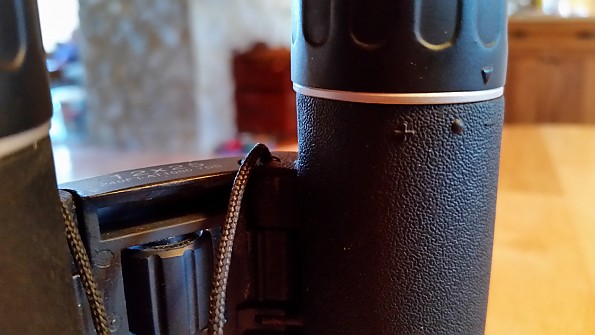 As I mentioned above, I have not used the Bushnells on every trip but have carried them on several packs in different ways. Depending on the pack and the amount of use I expect while walking, I often loop the neck strap through a loop in the pack's shoulder strap, and slip the carry case onto either the stabilizer strap across my chest or the waist belt.
The former is not the best as it can slip on and off when the pack is removed, but it makes it really convenient to grab them to look at wildlife etc. The neck strap has held up to much abuse, but is not that comfortable to use long term around your neck as it is thin.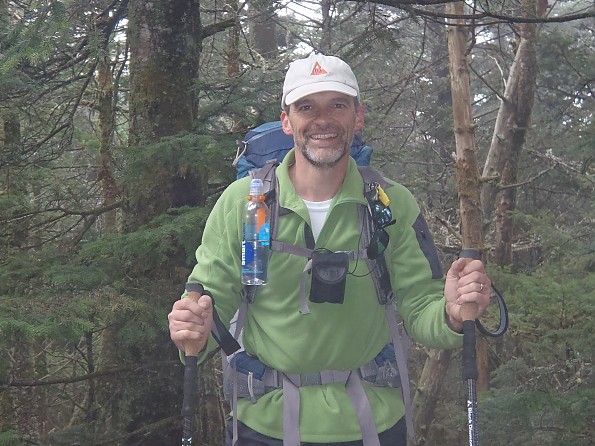 Your personal preference and pack will influence how to carry them, but you have to watch for the binoculars getting in the way of putting the pack on and off.
If you decide to carry compact binoculars and don't want to invest a lot, the Bushnell Powerviews are a good choice for the low price point. I'll continue my love-hate relationship with these as I take them sometimes and not others, then regret whichever choice I made!
Source: bought it new
Price Paid: $20

You May Like
Recently on Trailspace