CamelBak Better Bottle .75 Liter

The Better Bottle .75 Liter has been discontinued. If you're looking for something new, check out the best water bottles for 2023.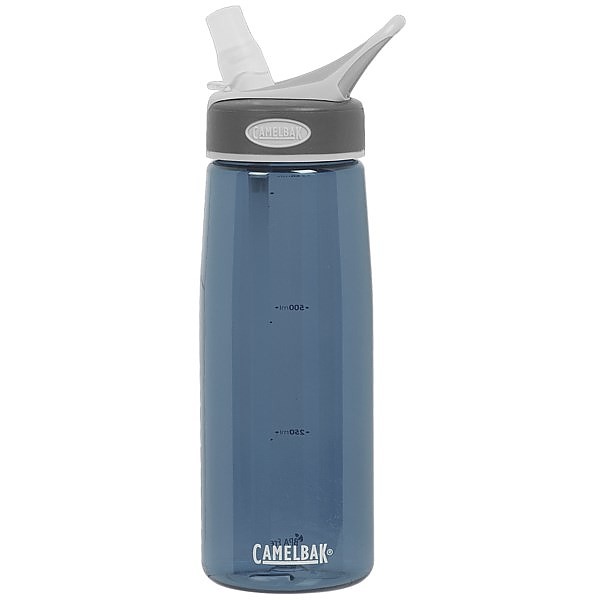 I would highly recommend this product! While some argue that it grows mold easily I have found that with proper use it doesn't at all and Camelbak honors its warranty so any issues that may arise they are happy to help/ send a new item if there is something wrong with the one you have.
Pros
Easy to drink from
Popular and trusted brand
Cons
The chance for mold if not dried properly
The water bottle is easy to refill and the perfect size to take with you on the go with easy access and NO LEAKING!!!! It will not leak as long as you don't make the mistake I did and remove the wall flat rubber piece underneath the cap. You probably won't even notice it. But if there is leaking for some reason they will send you replacements in a quick amount of time!
Very durable. I use it every day and even on my 8-mile hike. Several drops and it is still completely functional and scratch free. Great bottle! 
Source: received it as a personal gift

Great for hiking. It's very convenient that it fits perfectly in a car cup holder.
Great value. I drink a ton of water and it has ample capacity. Very durable. I like the clear one. Is it my imagination but does it keep my water cool?
Source: bought it new
Price Paid: $13

Solid, tough, good for staying hydrated. Compatible with the Camelbak All Clear.
Pros
Tough
Easy to slurp down a lot of water
No BPAs
Cons
Bite valve?
A bit heavier than a hydration bladder
Just a water bottle, of course, but a well-designed and efficient one.
I bought the Camelbak All Clear UV system, which comes complete with the same bottle, but with only a standard top with no bite valve. The idea was to swap the tops after treatment so I'd have two bottles, and it worked perfectly. Now, one has the standard solid lid that comes with the All Clear and the other has the 'Better Bottle with wide-bore straw and bit valve.
I suspect the bite valve will be the weak point but it does work well, allowing you to get enough water easily without gulping it. Unlike a hydration bladder, you get a good idea of the amount of water you're drinking and how much you have left. And by alternating the bottles, you can keep track of which one's fresher (and colder). I also notice that Camelbak offers a 'lifetime warranty' so if I do run into a problem, I know I'm covered.
On the downside, a pair of bottles is heavier than a bladder, but I prefer a system where I have some redundancy for crucial elements. If a bladder bursts, you have nothing to carry water in. Even if one Better Bottle breaks, you still have one more for backup.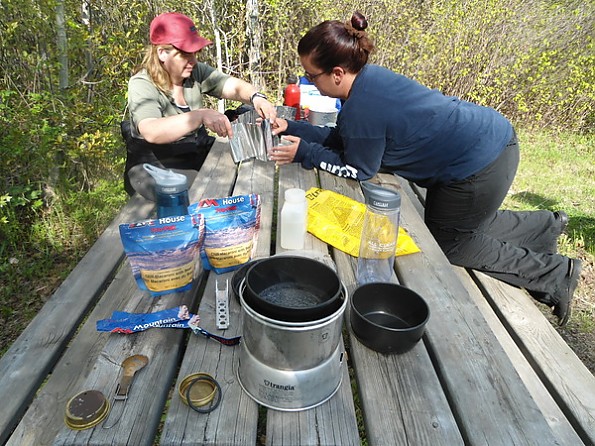 Notice the pair of bottles.
Source: bought it new
Price Paid: $12.50

I am an athlete on the go....I'm in Cross Country, Wrestling, and Track and this bottle has stood up to a long Cross season with a lot of abuse and has so far stood up to this years wrestling season.
This bottle is tough, yet I consider it a "luxury bottle" since it is so nicely constructed. I am extremely tough on it, and the only sign of age is a small plastic piece has broken off the bite valve thingy that helps you pull up the bite valve (kind of a pain, but my abuse was most likely the reason for its break).
I used this bottle EVERYDAY during Cross season since I needed to stay hydrated during the day (an average 2 liters per school day). I really love the loop for carrying, it is perfect for the crook of my finger, and it can be clipped via a carabiner to anything.
During wrestling I need to watch how much water I consume and again the Camelbak Better Bottle is BETTER. I can see how much I have drank and it restricts chugging....brilliant.
I caught the trailing/backpacking bug this past summer and I have yet to use my bottle on a trip but I am sure it would service just fine.
BUY THIS BOTTLE NOW, you will not regret. (I think the .75L size is just right, but if i was to buy again I might go with the bigger 1L version just because of the small price increase and added capacity, but if you are going to be filling this at a water fountain like @ school this would be the max size and you can't even fill it entirely from the school type water fountain).
Price Paid: $12

This is a great, drip-free water bottle. The wide straw is helps you drink more fluid without feeling like you're chugging to stay hydrated. This size is just right for cup holders!!
Price Paid: $14 (REI)

I use it every day and there is no dripping, cracking or problems in general. Dishwasher safe and very durable.
Your Review
You May Like
Specs
Price
MSRP: $14.00
Historic Range: $5.96-$23.95
Reviewers Paid: $12.00-$14.00

Recently on Trailspace