CamelBak Cypher

Top 25 in Hydration Packs
The Cypher has been discontinued. If you're looking for something new, check out the best hydration packs for 2023.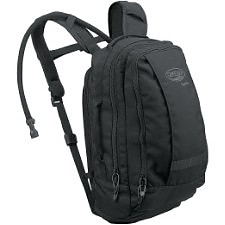 I got a Camelback Cypher as a gift in September of 2005 when I was in Arizona working as a missionary for the LDS church. The pack stayed with me through bike crashes, scourging weather, and the occasional monsoon storms.
I took it to Brazil and back to the US and now (Feb 2011) I still use it for school. It has enough room to fit a small first aid kit and food plus all my school stuff. I love the pack and am surprised that it is still in good condition.
The only drawback: every zipper in the Cypher has a metal "thing" (can't think of the word) that is used to pull the zipper open and closed. With time this metal "thing" starts to wear out and eventually break. I have only 3 of the original "things" left, so I had to replace them with key chains. But the zippers themselves are not broken, they open and close without sticking and are not giving me any trouble even after using it daily for almost 6 years. 
I would recommend this Camelbak to anyone interested in having a reliable, compact, and comfortable companion for school or travel.  
Price Paid: Was a gift from a friend

I purchased a CamelBak Cypher about 2 years ago and have carried it every day since. I pack it full of textbooks for college, and use it when I get the opportunity to fish or hit the trails. The pack is extremely good quality. It is the best pack I have ever purchased.
Your Review
You May Like