CamelBak Vantage 30

Top 25 in men's Hydration Packs
The Vantage 30 has been discontinued. If you're looking for something new, check out the best hydration packs for 2023.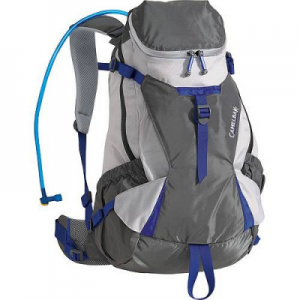 I received the Vantage 30 as a gift and was able to give it a try on a short 2 mile day hike the other day. This was my test hike for my normal 5-12 mile day hikes.
I loaded it down intentionally with a change of clothes, water in the reservoir, my DSLR camera in the top pocket and some other items. I will tell you that this is a very nice pack. I had purchased an Osprey Talon 33 pack last year and it was not what I had expected and the hip belt did not allow enough adjustment for larger people like me.
It was a large size but the Osprey's hip belt only went to a about a 36 waist size comfortably which I thought was a little odd and disappointing. Also the Osprey did not have a stay of any kind for support and this made it no better than my old rucksack-enough bashing on the Osprey.
The Camelbak Vantage 30 has many pockets. The hip belt pockets are large enough for a Garmin or a cliff bar without squishing it. What is really great is the top pocket. Someone was thinking about photography here! You can put an SLR camera in the pocket lens down and it rides perfectly and securely.
The metal stay is in a horse shoe fashion and offers good support. You could probably put much more weight in the pack than what's recommended with the really comfortable shoulder straps, hip belt and sternum strap.
The D.V.I.S. backpanel even with me wearing my R4 fleece jacket kept me from sweating too much - This backpanel conforms to your back better than others I have seen and still offers exceptional ventilation.
I am looking forward to more longer hikes with this very well constructed pack. I just wish people would begin to realize that Camelbak has packs that can compete and beat some of the more premier brands out there like Deuter, Osprey, Lowe Alpine.
Size: Large
Number of Pockets: Quite a few
Max. Load Carried: 10-15 Lb so far
Height of Owner: 5'11"
Price Paid: Gift

Attention Mountain Bikers! Looking for a pack that will stay tight to you, can carry a large load, fit comfortably, and look awesome?
I'm an avid biker, and am always worried that when I go on long treks by myself that I will either carry a large and uncomfortable bag, or not have what I need in a small bag. I bought this in June 08 for a trip to Moab, Utah. Let me tell you...this bag ROCKS!
Twenty mile days in 100+ heat...you need to carry a ton of water. On this trip, I carried 8 liters of water with no problem! I used the 3 liter pouch it came with, another 3 liter pouch in the main compartment, and two 1 liter bottles on either side.
On top of that, I carried enough food and supplies to last me 3 days alone in the Moab desert. Overall, I had more than 30 lbs of gear in this pack. Most bikers out there are reading this and thinking to themselves, "That has to be uncomfortable, there's no way you can bomb the downhills and crank the uphills with a pack that heavy on!" Well...I can, and I did!
First of all, there is a nicely padded hip belt, and a breast strap to hold the shoulder straps together. But that's not the best part: there are also 4 tightening straps on the bag to cinch everything down tight to the plastic frame (which by the way is extremely strong and flexible).
When tightened right, this bag WILL NOT MOVE! It feels like it's glued to my back. Whether I'm carrying 30lbs in it, or just a couple pounds, you can tighten it enough so it feels like it's part of you! No matter what you put in it, you can bomb downhill as fast as you want and it will not move an inch! And forget about lateral movements cranking uphill! It won't happen!
On side notes, this bag is equally great for day hikes and short overnight trips. Lightweight and comfortable. I don't go on any trip without it!
There's only one downside of this pack that I could find, and that was the waterproof zippers. They're a bit small, and when the pack is tightly packed, they get hard to pull and I think I'm going to break them. Not a big problem, this is a solid pack and has surely taken a beating for me and has held up great!
In a nutshell, mountain bikers and hikers...It's well worth the price!
Design: Internal Frame
Size: 30L
Number of Pockets: 5 (excluding the water puch)
Max. Load Carried: ~30lbs
Height of Owner: 6ft
Price Paid: $125

This pack would be the perfect day pack if it had some cushion on the shoulder straps. It carries well with no slipping or sliding, the unique back panel keeps sweat to a minimum, and the inside lid is well designed for good organization of your small gear.
Max. Load Carried: 30lbs
Height of Owner: 5'6
Price Paid: $130

Your Review
You May Like
Specs
Price
Historic Range: $69.95-$154.95
Reviewers Paid: $125.00-$130.00

Recently on Trailspace