Campmor 20 Degree Down

The 20 Degree Down has been discontinued. If you're looking for something new, check out the best 3-season down sleeping bags for 2023.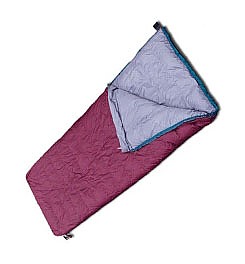 I have owned two of these bags. The first one I used on an AT thru hike on nights as cool as the teens. The following year I used it 10 nights on the Colorado Trail again in the teens. By the second trip it was getting drafty, but I had about 150 nights in it and I was quite dirty. I think I washed it poorly and never got the loft to restore.

I bought a second one and have about 20 nights on it with no issues.
Pros
Price can't be beat
It survived an AT thru hike and an additional 50 nights of backcountry use
Just as light as much more pricey bags
I will keep buying these if they make them. My first experience was on an AT thru hike. I saw snowy nights and lows into the teens and I was fine. I may have slept with a hat and base layers on the coldest nights. I never had a cold night even at the end by the time I reached Maine. Body grime took its toll and I had to wash the bag. I didn't dry it properly and never got the loft back.  
The next summer I hiked 10 days on the Colorado Trail sleeping well above 10,000 feet. I had some chilly nights in the teens and struggled but this was because of my poor washing. I continued to use it on warmer summer trips including a three-week bike tour. I had some feathers loss occasionally, but I had over 200 grimey nights in the bag at this point.
I bought a second bag 10 years later and did a 185-mile hike on the Cohos Trail and through Presidentials in Northern N.H. The bag performed great. Two years later I hiked 190 miles of the Long Trail in Vermont in late Sept/early Oct in some wet cold nights and never was cold.
I'm on the small side 5'7" 150 lbs and it fits me fine with room to spare. I'm comfortable in the shoulders and feet and I'm a rolly sleeper. The bag packs quite small in the standard stuff sack, a compression sack would make this tiny. The bag is as light as most 600 and 700 fill 20°F bags .
I still have my first bag and use it for car camping and leave it in my car for emergencies.  
My only gripe is the purple isn't my favorite and I did have some zipper snagging issues occasionally.
Source: bought it new
Price Paid: $119

This is my first down bag. It is rather small. I'm 5'10" on a good day and the standard model said it was good for someone up to 6'. If you are anything over 5'9" I recommend getting the tall version. My shoulders are average width but I think I could do with an inch or so more shoulder room as well.
It is as warm as any other twenty degree bag I have owned. The purple color isn't cool like the more expensive bags but I sleep with my eyes closed. Workmanship is average. I liked the cotton storage bag that it came with so I didn't have to keep it wadded up in the stuff sack.
I'd buy it again but I'd get the long version. A thinner person under 5' 10" might love this bag. I certianly love the price.
Update: July 25, 2011
Now that I have used this two years I will add a few thoughts.
I like it more than I did at first.
My inflatable pad went flat on Mt. Adams a couple weeks ago and I was still warm in this bag, sleeping on sand not snow. It was about 30°F at night and I slept in a hat, socks, and base layers. I sleep warm-ish but I don't think that 20°F would be too comfy.
The no-snag tape inside the zipper is fantastic, no snags yet.
The shell material is pretty much down-proof, no leaks yet, unlike my OR down sweater. 
The tightness issue I think is a non-issue, it's snug so my body will have to heat up less air but I still think anyone over 5' 10" wants the longer bag. 
If it's really cold, I'll need to wear more clothes inside, get a good pad to sleep on and a bivy sack.
I still like it.
Design: Mummy
Fill: 550 goose down
Temperature Rating: 20 degrees
Weight: 2 lbs, 4 oz
Price Paid: $119

This bag won't keep you warm in weather cooler than 40, ESPECIALLY if you mate it w/another...for warm weather only. I've had mine for 5 years.
Wow! I figured I was taking a real risk by ordering such a cheap down bag. This bag is really well made! Not a feather flew as I shook it to test the construction. Usually cheap down bags leak feathers like a sieve (my girlfriend is usually covered in feathers after a night in her LL Bean 550 down bag that cost $170) I am truley impressed with this bag, especially considering you can't get a good synthetic bag for this price. Only have one complaint, the draft tube is skimpy and it is sewn to the bottom of the bag instead of the top. Great anti-snag tape though that keeps the zipper running smooth. If you are short on $ (I'm a college student) or just cheap (no shame, some of us are cheap) this bag is worth considering.
Design: Mummy
Fill: 550 fill down
Temperature Rating: 20 F
Weight: 2lbs 6oz
Price Paid: $119.99

I've used this bag on several trips to the Sierras and it has kept me comfortable to tempuratures in the 20's. I wouldn't use it for lower temps, though. The long bag was perfect for my 6'4" frame. I found it to be a little cramped in the shoulder area, but its extremely light and packs down very small. Its a great value for the price.
Design: Mummy
Fill: 550 fill down
Temperature Rating: 20 F
Weight: 2.6
Price Paid: $124.99

A really nice bag for the price that stuffs to the size of a large loaf of bread. Featherlight, too. People over 5'10" should buy a long, however.
Design: mummy
Fill: 550 fill down
Temperature Rating: 20F
Weight: 2lbs.4oz.
Price Paid: $119

I just finished my first year of ownership of my Campmor bag, and so far it has exceeded my expectations. I used it regularly during early winter and spring trips, and I felt its rating was right on. It stuffs into a small sack, and the shell repelled average condensation well. It will NOT keep more than average wetness away, though, so extra care needs to be taken during rainy or snowy trips. Overall, it's hard to beat for a bag so cheap.
Design: mummy
Fill: 550 fill down
Temperature Rating: 20
Weight: 2.6
Price Paid: $119

Your Review
You May Like
Specs
Price
Historic Range: $109.98-$139.99
Reviewers Paid: $119.00-$125.00

Recently on Trailspace