Cascade Mountain Tech Carbon Fiber Quick Lock Trekking Poles Cork Grip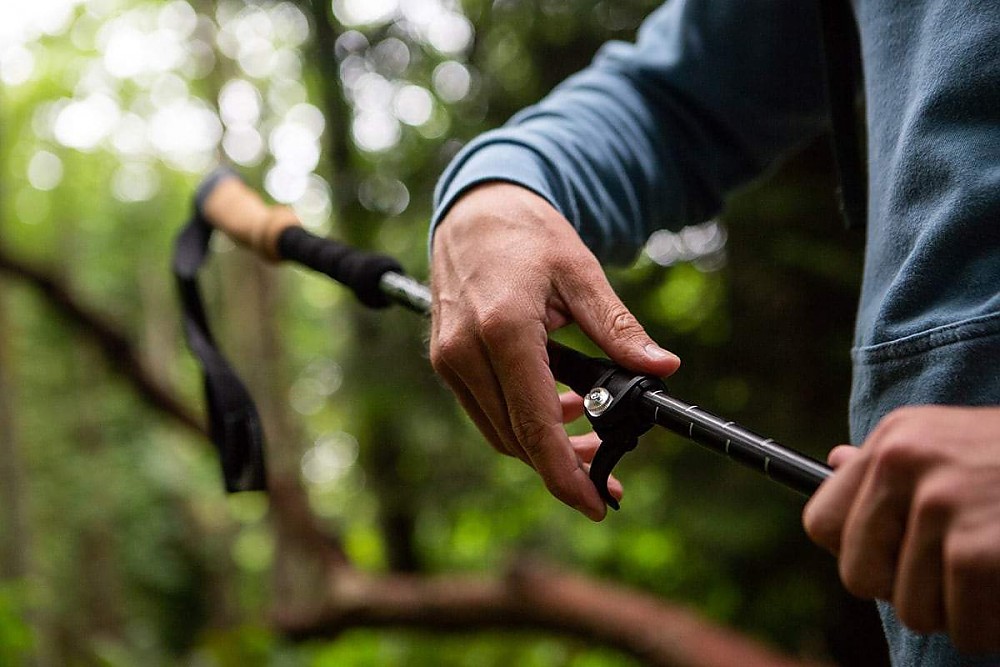 The Cascade trekking poles are a very good design and construction. They appear to be very durable long-term. They are certainly a bargain for the price, delivering good performance, as good or better than many better-known, higher priced poles.
Pros
Strength (made from carbon fiber)
Inexpensive, meaning the least expensive quality pole I have seen
Very light
Good "swing"
Easily adjustable
Cork upper handgrips with foam extension grips below the handgrip for traversing
Four different interchangeable baskets/tip covers included
Cons
Tensioning adjustment piece is easy to lose
Handstrap difficult to adjust
Handstrap excessively long (OK for big cold-weather mittens)
Noisy – rattles on many surfaces
Excessive packaging is not very environmentally friendly
Background: The conventional wisdom is that poles provide better balance, promote rhythm when hiking, and "4 points on the ground", especially on steep, rough trails, when carrying heavy loads. I have been using poles since I was very young, first as sticks I picked up along the trail, then single purpose-made staves (made from bamboo or various woods), often decorated with little plaques that showed where I had hiked.
I will have to say that my favorite hiking staff is the one presented to me when I retired as Scoutmaster of Troop 5. Second favorite is the plain pole that I branded with the Boy Scout fleuer de lis and added numerous plaques from events I participated in. While neither of these was ever used to pitch a tent or lash together with 2 other poles to hold a pot of stew over a campfire, I do have one that was made and used for that purpose. These staves work well for hiking over a range of terrains.
And they even can be used when skiing with a single pole, the method used until the 1800s. A cave painting dated to 4000 BC shows a man skiing with a single pole. Skiers started using two poles in 1741. John B Dickson made the first steel ski poles in 1933, while Edward Scott made the first aluminum poles in 1959, reducing the weight by a large amount. Carbon fiber poles were introduced in 1975, which reduced the weight still further while increasing the strength significantly.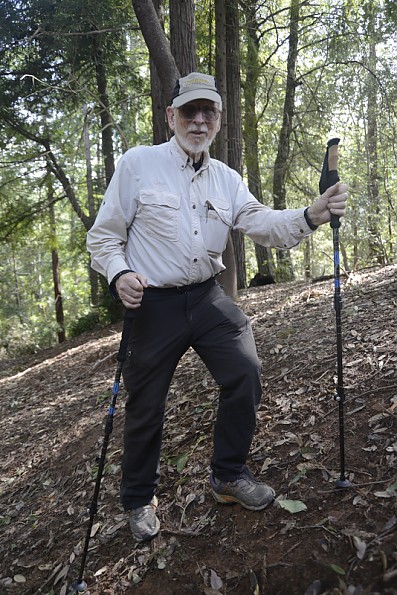 Using the foam extension of the cork hand grip when side-hilling

The modern pole is usually used in pairs, whether called a ski pole or trekking pole, though some prefer a single pole. Traditionally, ski poles were of a fixed length, with adjustable-length poles being called "trekking poles". Some trekking poles have an internal "shock absorber" (which is really just a spring inside the pole without damping like automotive shock absorbers). Based on my experience with "shock absorber" poles, I do not use them anymore. I find that they wear out fairly rapidly, and the benefits are minimal. On some types of trails, the shrinkage when weighted can give an unstable sensation, although the compression is slight. OTOH, some people really like the cushioning effect.
The idea of adjustable length was originally developed for back-country skiing, where it is common to adjust the length of the poles to accommodate climbing and traversing slopes. Some poles, like the pair reviewed here, have a grip that extends below the top of the pole, allowing the uphill pole to be gripped lower on the pole, as in the photo above.
Barbara and I have collected 20 pairs of ski poles, ranging from very long XC poles (for Nordic racing and ski orienteering) to Black Diamond Z-poles. A number have been retired from active use because the locking mechanism for length adjustment has failed (all twist-locks—based on my experience over the years, do NOT buy twist-locks. Get the flick-locks).  
Testing and criteria:  When testing gear for Trailspace or looking to buy items for personal use, I always set out a list of criteria that I expect the product to meet. Since poles may be used for skiing, snowshoeing, or hiking, the following are my expectations:
Good balance and good "swing"
Durability with light weight
If adjustable, the section locking mechanism must support full body-weight without collapsing
If intended for travel, must be able to shrink size to fit within pack size available
If baskets are used, they must provide support in the medium used (powder snow, soft soil, etc.)
Straps must be adjustable for hand size, including gloves or mittens
Price must be reasonable.
Details – First impressions: I discovered the Cascade Mountain Tech Carbon Fiber Trekking Poles in Costco, of all places. In the past year or so, Costco has started carrying a lot of high quality (and some not so high quality) outdoor gear (Patagonia Nano Puff jackets and vests, ski gloves, ski helmets, goggles, and other items). These are primarily seasonal items. Some (like the Patagucci items) are priced at the regular MSRP or higher.
The Cascade poles, on the other hand, are a real bargain at $29.99. Many other trekking and ski poles cost close to or even more than $100. I should note that Cascade itself is asking $48 (+ shipping, handling, etc), and other sources as over $50. 
The first thing that jumped out at me on the heavy-duty cardboard labelling was the series of claims:
"Burn up to 45% more calories"
"Reduce impact on knees and back"
"Enhance upper-body toning"
"Increase balance"
The last three claims have been around with respect to staves and trekking poles for decades, and have been validated through studies. However, burning more calories (45% more???) seems to go against why most people use poles. Are they saying that, if I burn 4000 kCal during a day's hike with some other brand of poles, I will burn 5800 kCal doing the same hike? When backpacking, skiing, or snowshoeing, I already burn plenty of kilocalories.
After a few discussions with friends who backpack and hike a lot, we concluded that this claim might refer to speed-walking, an activity that has been growing in popularity in recent years. In other words, the use of the poles might provide some incentive to practicing active outdoor exercise. OTOH, that speculation might be a bit of a reach.
The packaging was a plastic, form-fitting shell plus a heavy-duty cardboard hanger that required a very sharp pair of shears to remove, just a part of what I consider an excessive amount of packaging. The cardboard contained a list of the features.
My calibrated scales gave a slightly higher weight for the poles (minus the add-on tips and baskets) than the cardboard listing of 15.7 oz/445 gm. The stated adjustable length (given as 26 to 54 in/ 66.04 to 137.16 cm) matched my measurement from the top of the handle to the end of the carbide tip.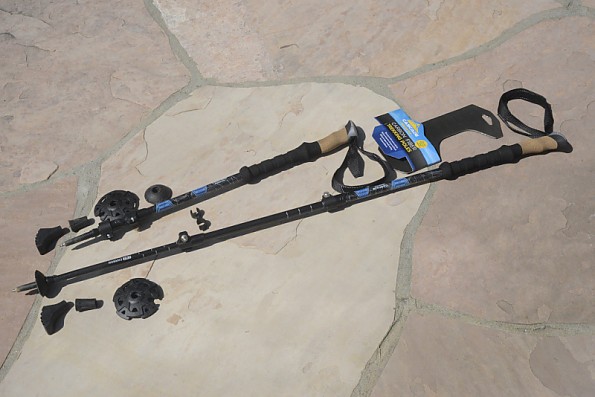 With the accessory tip covers and baskets, out of the plastic packaging
The Mountain Tech pole sections are made of carbon fiber, hence should be expected to be quite strong and durable, as well as light. There are three sections, with the adjustable sections having length markings both in metric and English units.  The length is adjusted by flicking the locking lever for each section, extending the section to the desired length, and closing the lever, similar to the Black Diamond Flick-lock and Leki Speed-lock arrangements.
The tightness of the lever is adjusted by a small knurled knob that tightens down against a machine bolt. I noted that, due to the slight taper of the sections (notably the bottom section), the tightener must be adjusted to guarantee that the pole will not collapse when putting full weight on the pole.
Comparative Dimensions when compressed or folded to smallest size for storage:
Cascade Mountain Tech                     26 in/67 cm     15.5 oz/443 gm      w/o snow basket
Black Diamond ski Z-pole                  15 in/39 cm     13-3/8 oz/381 gm   w/snow basket
Black Diamond Expedition pole         25 in/64 cm     22-5/8 oz/644 gm   w/snow basket
Black Diamond probe ski pole           38 in/97 cm     21-3/8 oz/609 gm    w/snow basket
Leki Makalu                                       27 in/69 cm     19 oz/542 gm           w/o snow basket
 All of these poles are adjustable in length, and have served me well skiing and backpacking. The BD Z-pole is primarily intended as a ski pole (they have a similar Z-pole of fixed length intended for trekking). The BD Expedition pole is second shortest of this group, though the heaviest. It has served me well in Antarctica, backcountry ski tours, and trekking in the Andes.
The BD probe pole is longer for the simple reason that it is designed to use the bottom section of each pole to make a reasonable length probe pole, in case part of the group gets caught in an avalanche. But this means at its most compact, it is still long. The Leki has also served me well for skiing, snowshoeing, and backpacking. At retail, though, you could buy 2 or 3 of the Cascades for the price of one of the others.      
The weights of the accessory pieces are:
   Round ends for storage and hard surfaces  --- 13 g/ 3/8 oz
   Rubber "boot" for hard surfaces  --- 36 g/1 ¼  oz
   Small basket for soft dirt, wet mud, and sand – 9 g / ¼ oz
   Ski basket for snow --- 23 g / ¾ oz
I quickly noted a potential design flaw with the Cascade. The knurled tightener for the clamps for length adjustment that Mountain Tech calls "Quick Locks", has a high probability of getting lost, because the tightener can unscrew itself (due to any slight vibrations when the pole is attached to the outside of your pack) if not firmly tightened before stowing. BD uses a machine bolt and Leki uses a transparent outer piece on a metal nut, both of which seat more firmly and are less subject to self-untightening.
The transparent knurled nut on the Cascade is transparent and small enough to disappear if dropped in snow, leafy ground, or dark-colored ground. Reasonable care should prevent loss, but be sure to tighten the transparent plastic nut firmly when collapsing the poles for temporary stowing or storage. The clamping mechanism looks similar enough to the Black Diamond and Leki lever-style locks to have been inspired by, if not copied, from them.
In my experience with BD and Leki lever-style locking poles, I have occasionally had to make small adjustments to the clamps to compensate for the taper of the sections or due to gathering dust or other contaminants. All adjustable poles (especially twist-lock) require occasional disassembly and cleaning.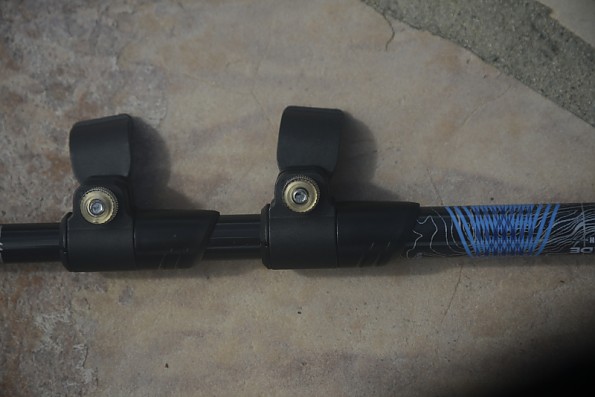 This photo shows the Quick Locks open with the transparent plastic tightener facing.
The poles themselves are very light, even with one of the accessory tips or baskets in place. My quick test with the various accessory ends in place showed that the poles, at least adjusted to my height, have a very good "swing". Adjustment of the length is quick, enough so that I found myself making adjustments while moving on some of my regular trails through areas where I wouldn't have bothered. Although I rarely use the extended grips, I quickly found in traverses that it was easy to move the uphill hand down onto the extended foam grip.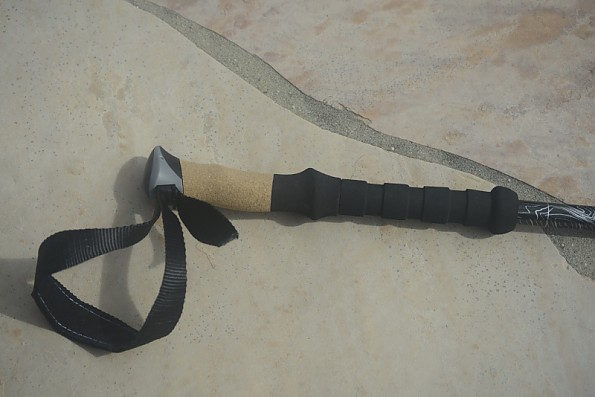 The cork grip with the extended foam grip for side-hilling
The hand strap is adjustable in length, albeit a bit on the stiff side to make the adjustment and reinsert the strap lock. I found that each time I wanted to adjust the strap length, I had to resort to having to hold the handle down by stepping on it to get enough leverage to pop the plastic block that serves to lock the strap in place, then press very hard to re-insert the block to re-lock the strap. The strap is quite long, although this would be good on a cold winter's day when wearing mittens of insulated gloves.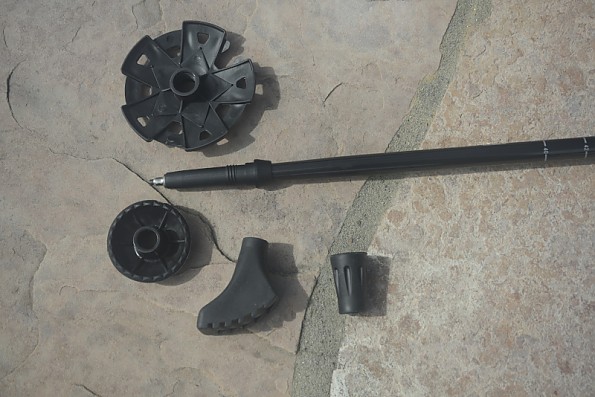 The 5 variations of tips for trail and storage
The poles come with 5 different tips according to different trail conditions—the common carbide tip, the traditional cylindrical rubber tip cover, a rubber "boot", a small rubber "dirt/sand/soft surface" basket, and a traditional snow basket. The two baskets screw on and off easily. The cylindrical cover is used for storage in your pack or duffel bag when traveling and on hard surfaces, while the "boot" is for hard surfaces.
All of my other adjustable poles have their length markings in metric in most cases visible in only 1 rotational position. The Mountain Tech has metric and English length markings that are very visible from 2 sides of the section.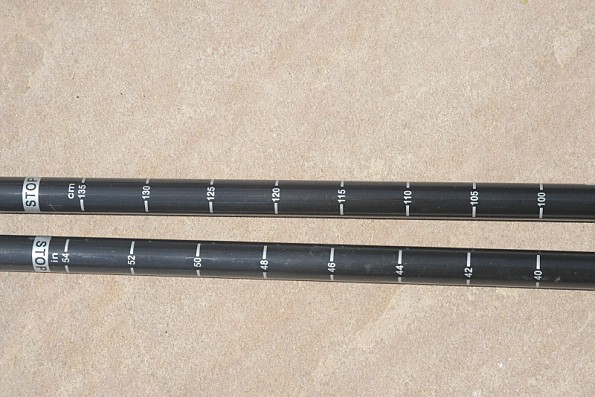 The sliding sections of the poles are graduated in both metric and English units.
Details: Testing - We go to Costco a lot for their low prices and generally good quality items. The downside of Costco for the most part is that the low prices are because most items are sold in bulk (6 months supply of Cheerios, for example, and 20 pound bags of rice). Their gasoline is usually the cheapest per gallon around (although we in California pay extra for the "special blend" needed to pass the State's emission standards – not sure that with the way most people neglect maintenance on their cars plus spend hours sitting still in commute traffic that it helps a lot).
I discovered the Cascade Mountain Tech poles when stopping in to buy some milk (2 gallons minimum, but at less than the neighborhood Safeway for a single gallon) and other items. The combination of carbon fiber, $29.99 price, and well-thought out design immediately had me picking up one of the pole pairs and examining it carefully (as well as I could in the plastic bubble container—thumbs firmly down for ecological mayhem).
Since we had the second session of the High Adventure Training for adult Scout leaders coming up the next day, it seemed worthwhile to get a pair to show the students that you can find adequate gear for not too exorbitant a price (we generally emphasize ultralight gear, but with the proviso it has to be sufficiently durable). After seeing my pair, a number of the students in the course bought them as well.
I put in mileage on the poles in four different parks in the nearby Santa Cruz Mountains, during the weekend outdoor session for the High Adventure Training Course, and in Pinnacles National Park, in different configurations—carbide tip only, round tip covers on sidewalks and paved trails, the soft surface basket (including the muddy trail sections produced during our El Niño storms), and the "boot" walking around the block in the neighborhood.
I also used the poles as tent poles with my Zpacks Triplex UL tent, where the ease of adjustment got the tent tensioning just right. I also carried them in a duffel in a collapsed form to see how they would work for travelling to distant places. Due to conflicting demands and weird weather, I did not get a chance to get to the snow to try out the snow baskets. But the ease of swapping among the various tip accessories gives me confidence that these will work well (they are the size of some of my older ski pole baskets).
Overall, the poles performed well. I never had the all-too-common pole collapse (levered locks are far superior to twist-locks).
Areas and Conditions of Use: As noted above, most of the mileage put on the poles was done during training hikes in our local hills. Those hikes are typically 10 miles and 1500 to 2500 ft of elevation gain. A bit over half were done during El Niño rains, with several others during brief hot spells (80° - 90°F).
In closing: Overall, I am well-pleased with the Cascade Mountain Tech Trekking Poles. While there are some features that I find mildly annoying (the rattling on certain surfaces and the possibility of losing the knurled tensioning knobs), I give them 4.5 stars. As I stated in the summary, they are well made, appear to be long-term durable, and an excellent bargain.
Source: bought it new
Price Paid: $29.99

Carbon fiber hiking poles with top of the line features and from Costco for $29.95.

Pros
All sections are carbon fiber
Camming type lever locks for adjustment
Cork grips
Fast-adjust straps
Two sizes of baskets
Two sizes of tip caps
Tungsten carbide tips
Amazing price, even for a Chinese made product
Cons
Carbon fiber from this manufacturer is unproven
The list of pros above says it all. These poles offer great features for a very low price.
I did cut off the foam "extended grips" below the cork handles because they added unused weight, at least for me. 
I like that the poles came with both small on-piste snow baskets and large backcountry baskets as well as a "foot-shaped" tip cap for muddy conditions. (See Bill's photos above.)
The pole straps, aside from being quickly adjustable, have nicely wider strap fabric where the back of one's hands contact the strap. Yes, I often see people using pole straps improperly (or cutting them off!) because they have no clue about how to properly use pole straps to assist them and ease their grip on the handle, thus relaxing their forearm muscles as well.
The "effort" saved by losing the weight of the pole straps is far less than the effort of constantly having to use your grip on the poles. But Super Ultra Light (SUL) backpackers are often "difficult to convince" (read stubborn), as in trying to convince them of the advantage of a frame pack over a frameless pack. Ah well, "We get too soon old and too late smart." as the old Amish saying goes.
These pole straps were not too difficult to re-configure for right and left hand use. XC skiers will know what I mean but basically the strap upon which your thumb's largest muscle rests on should come out of the grip under the the other strap end to give the large muscle of your thumb more room. Twisting a strap for this purpose results in chafing so it is advisable to try to change the strap "exit" orientation as I described so the trap always lays flat around your hand.
Flex? NOPE! Carbon fiber is noted for its lack of flex and in a hiking pole this can be good because energy is not wasted flexing the pole but goes entirely into propulsion.
Yes, buying from an "unknown" company (Cascade Mountain Tech) is a bit risky but at least they have an online store where they can be contacted in the event of problems. One reviewer said he got a replacement part so that is nice to know.
As Bill mentioned in his review, the knurled tension nut on the clamping levers can loosen. My solution was to put stainless steel lock washers under the nuts to maintain tension on them. It they still loosen I'll have to put blue Loctite thread "glue" on the clamp bolts.
In fact the poles I purchased from Costco were Cascade's top of the line poles and were advertised at $49.99., $20. more than the Costco price. At least Cascade M.T. offers free shipping.
This is my first pair of poles with camping clamp levers instead of internal expanding collets. I hope they hold up better than my Leki and Eddie Bauer hiking pole internal clamps.
What's really nice is the light weight of the poles, even with the round rubber tip caps. The poles appear to be well made and I hope that perception is reality, even if the Costco price goes up by $20.
Source: bought it new
Price Paid: $29.95

Surprisingly tangible benefits right out of the gate.
Pros
Incredibly light
Easy to use
Very adjustable
Provide great stability and support
Helped take pressure off lower body on all facets of the hike.
Cons
Blister formed on inside of right thumb...but that could also be operator-error
I bought these from Costco (got a few hours to kill? Google "Trekking Poles"...got a few days to kill? Search up "Costco Trekking Poles") after reading more than a few stories about the many benefits of using trekking poles while hiking. I used to think that I could just pick up some old ski poles from Goodwill if I ever needed them.
Anyway, there are TONS of options available from all the major online outdoor retailers, as well as the local brick and mortar shops. After doing quite a bit of research, I felt like these offered the most bang for my buck.
Here are the technical specs:
Features: 
100% Carbon Fiber
Comfortable wrist straps
Cork grip material
Quick lock mechanism
Single pole weight (without rubber tips): 8oz
Pole extension lengths: 26"-53"
Price: $69.99 SHIPPED
Oh yeah, did I mention that price is for TWO pair??? (four poles total)
Great deal on something that proved itself to be amazingly useful on trails ranging from "Easy" to "Moderate" and finally today, "Strenuous". 
The cork handles are a nice touch and will undoubtedly bring years of enjoyment to our adventures, but I do think they take some getting used to...the small blister on the inner part of my thumb says he is not an "early-adopter" of this new to me trail-traversing technique.


Experience
Aside from playing with some at REI and the gift shops at a few state parks, I have no prior experience with trekking poles.
Source: bought it new
Price Paid: $69.99 shipped

Excellent build quality and easily worth the price. I would probably say that if I had paid $75 instead of $45. They directly compare to $120+ carbon poles from Leki, Black Diamond, Komperdell, etc. If you are looking for sensibly lightweight carbon trekking poles with good cork handles that adjust easily and don't slip the CMT Quick Lock Carbon Cork poles are hard to beat.
Pros
Lightweight (Carbon)
Solid construction (Carbon tubes aren't too thin)
Excellent value at affordable price
Quick Locks don't slip
Cork grips
Cons
Almost all quick lock poles have a nut you could lose
After reading many reviews all over the interwebs raving about the quality for the price of these poles I followed their lead and purchased a pair. I am impressed with the quality and they have been excellent on trail. The 8 ounces per pole weight, cork grips, and the fact that the quick locks don't slip on the glossy carbon epoxy have been great so far on trail.  
My only qualm about poles with quick locks in general is that most have a knurled thumb nut on the backside to capture the thru bolt of the cam mechanism. Although unlikely that nut could get loose and lost when the poles are retracted and bottom section quick lock is not under pressure.  My prevention for this is to put a little dab of blue locktite on the end of the screw to act as a stop for the nut before it could spin all the way off.
Source: bought it new
Price Paid: $45

Your Review
Where to Buy
Help support this site by making your next gear purchase through one of the links above. Click a link, buy what you need, and the seller will contribute a portion of the purchase price to support Trailspace's independent gear reviews.
You May Like
Specs
Price
MSRP: $49.99
Current Retail: $64.99
Reviewers Paid: $29.95-$69.99

Shaft Material
100% Carbon Fiber

Grip Material
Cork

Locking Mechanism
Quick Lock

Single Pole Weight
7.8 oz (without rubber tips)

Fully Collapsed
26 in

Fully Extended
54 in

Disassembled
Upper 20.75", Middle 20", Lower 21.25"

Tip Material
Tungsten carbide

Carry Case
29 x 5.25 in

Recently on Trailspace